Skip Navigation
Perry Goldstein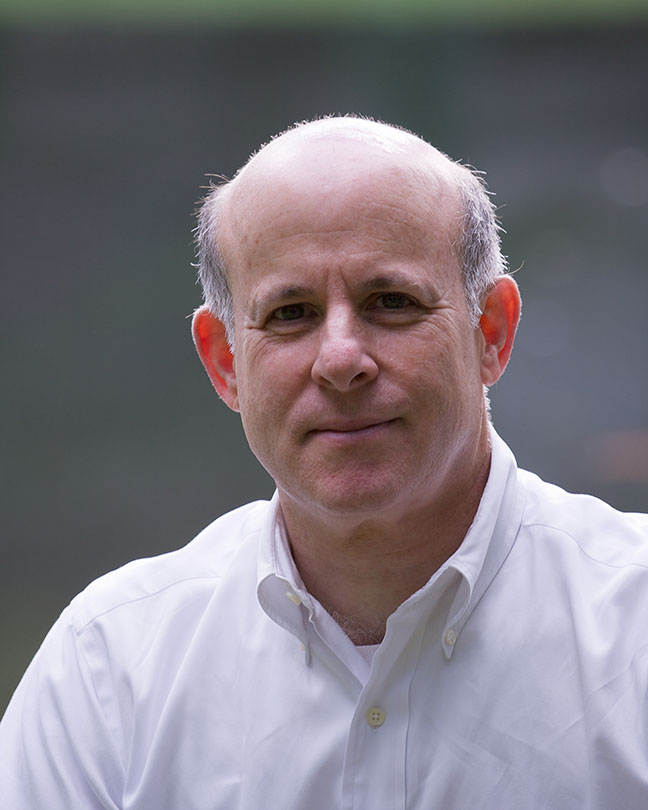 Professor; Musicianship, Composition, & Theory
perry.goldstein@stonybrook.edu
(631) 632-7330
Perry Goldstein (born 1952 in New York City, New York) studied at the University of Illinois, UCLA, and Columbia University, from which he received a doctorate in music composition in 1986. His principal composition teachers were Herbert Brün, Chou Wen-Chung, Mario Davidovsky, Ben Johnston, and Paul Zonn.
Goldstein is the composer of over 50 works for a variety of mediums. He recently served as composer-in-residence at the Great Lakes Music Festival, which gave the premieres of Birding By Ear on texts written for the project by Pulitzer Prize-winning novelist Richard Powers and performed by members of the Emerson String Quartet, and Jittery Engine, performed by the trio F-Plus. Other recent works include Sutra (2023) for the Bourbon Quartet at the University of South Carolina, The Slender Thread (2022), a horn trio for David Jolley, and of Wines and Wines (2019), representations of wine varietals co-composed with Dutch composer Guillermo Lago for the New Amsterdam Clarinet Quartet.  
Goldstein is well-known for his contributions to the saxophone literature and many of his pieces are now considered standard repertoire for the medium. Among his twenty works for saxophone are included seven quartets, including Blow!, Motherless Child Variations, and Angelus Novus, all written for the Aurelia Saxophone Quartet, rough places plain, written for the Aurelia Saxophone Quartet and Branford Marsalis, and Flex, commissioned and recorded by the Capitol Quartet. Abundant Air: Concerto for Saxophone Quartet and Band was composed for and recorded by the West Point Saxophone Quartet and the U.S. Military Academy Band at West Point. Other pieces include …shreds and patches… for Stony Brook piano faculty Gilbert Kalish, (W)eeeeeeee! for Juilliard String Quartet cellist and pianist Gilbert Kalish, Should This Be Found, a song cycle on texts by explorer Robert Falcon Scott as arranged by novelist Richard Powers, who also wrote the texts for Late Night Thoughts from the V.A., for baritone voice, horn, and piano.  Arrested Lightning: Ten Paul Klee Impressions for clarinet, violin, and piano and written for faculty at Ithaca College is performed with projections of Paul Klee paintings. Goldstein's music embraces such vernacular music as blues, jazz, spirituals, and work songs, and incorporates old music as well, such as in the Quintet for Cello and String Quartet, composed for Stony Brook faculty cellist Colin Carr, which includes music by of 16th-century English composer Thomas Tallis.
Recordings include Michael Lowenstern's rendering of Total Absorption (called "an I-dare-you contraption" by Fanfare Magazine), on New World Records; the Aurelia Saxophone Quartet's recording of Blow! (declared a "vivacious firework" by the Aachener Zeitung and "a raw-boned tour-de-force" by the Buffalo News), on Vanguard Classics and Challenge Records; Motherless Child Variations (described as a work of "consummate structural and inventive artistry" by CD Spotlight), on New Dynamic Records; Lessons of the Master on Challenge Records; Noir (called a "complex and sometimes sensuous piece" by The American Record Guide), on Crystal Records; and The Abundant Air: Concerto for Saxophone Quartet and Band, and Should This Be Found: Six Songs on Scott's Final Expedition on United States Military Academy Recordings. Pianist Eliza Garth's recent recording of Of Points Fixed and Fluid on the Albany record "Tour de Force" garnered much praise. His works appear on 20 compact discs, including on the Albany, Bridge, Challenge, Crystal, Innova, New World, U.S. Military Academy, and Vanguard record labels, and he is published by Reed Music in Australia and Global Music Facilities in Slovenia.
Goldstein has been involved in a variety of activities in the service of contemporary music. In the 1970's, he produced and hosted programs on contemporary music for NPR-affiliate WILL in Urbana, Illinois. He has written extensively for, among other publications and organizations, The New York Times, The Library of Congress, Carnegie Hall, Strings Magazine, National Public Radio, Deutschlandfunk (German radio), the Los Angeles Philharmonic Orchestra, the San Francisco Symphony, Speculum Musicae, the League-International Society for Contemporary Music, "Music Today" of the 92nd Street "Y," the San Antonio Symphony, and for the Arabesque, Bridge, Challenge, CRI, GM, Folkways, New World, and Vanguard Classics recording labels. He has been a National Advisor to the League-ISCM and a music panelist for the New York State Council on the Arts. In 1992, he served as the United States delegate to the UNESCO-sponsored International Rostrum of Composers in Paris, subsequently producing four radio programs of the event for American Public Radio.  He is the author of Rudiments of Music, by Kendall Hunt, and is co-author, with Edward Smaldone of Queens College, of the widely-used textbook, A New Approach to Sight Singing, which will be published by W.W. Norton in its seventh edition in 2024.
A dedicated educator, Goldstein received the "Teacher of the Year Award in the Arts and Humanities" in 1987 from Wilmington College of Ohio (where he served from 1987-1992), and a 1997 "Chancellor's and President's Award for Excellence in Teaching" from the State University of New York and Stony Brook University. He also received the 2006 "Student Life Award" at Stony Brook for "student development and enhancement of campus life." Since 1992, he has been a member of the music faculty of Stony Brook University, where he was the inaugural Director of the College of Arts, Culture, and Humanities (2003-2007), Undergraduate Studies Director (2001-2009), Graduate Program Director (2009-2012), and Chair of the Department of Music (2012-2020).  In 2016, he was invited to join the SUNY Distinguished Academy with the title, "Distinguished Service Professor."