Skip Navigation
David Jolley
Artist-in-residence, horn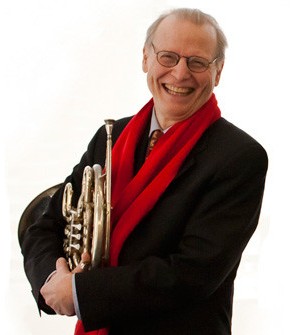 jolley3782@aol.com

David Jolley has garnered praise from many quarters (The New York Times called him a hornist of "remarkable virtuosity" while Gramophone Magazine ranked him "a soloist second to none"). He has collaborated with some of the finest artists of our time, including the Kalichstein-Laredo-Robinson Trio, the Guarneri Quartet, the American String Quartet, the Beaux Arts Trio, Musicians from Marlboro, and the Chamber Music Society of Lincoln Center. He was a founding member of the Orpheus Chamber Orchestra and currently plays with the wind quintet Windscape and he can be heard on over two dozen recordings.
A frequent soloist with orchestra, Jolley has appeared with symphonies across the U.S., including Detroit, Rochester, Memphis, San Antonio, Phoenix, Florida West Coast, New Mexico, and Vermont. Internationally, he has appeared with the National Symphony of Brazil in Rio de Janiero, the Kamerata Orchestra of Athens, the Israel Sinfonietta, and the Israel Kamerata in Jerusalem and Tel Aviv. Jolley most recently performed with the Netherlands Symphony Orchestra in Enschede, where he performed Joseph Swenson's Horn Concerto, "The Fire and the Rose."
Jolley's keen interest in enlarging the solo horn literature has led to the composition of many new works for him, including Ellen Taaffe Zwilich's "Concerto," which Jolley premiered with Orpheus at Carnegie Hall. Other memorable works composed for Jolley include "Twilight Music" by John Harbison, "Dust and Shiver" by George Tsontakis, and George Perle's "Duos for Horn and String Quartet," premiered by Jolley and the Orion String Quartet at Alice Tully Hall. He most recently premiered the "Concerto for Horn" by Lawrence Dillon with the Carolina Chamber Orchestra.
He has performed in many summer festivals, including Marlboro, Sarasota, Aspen, Mostly Mozart, Bowdoin, and the Music Academy of the West. Jolley has six solo recordings under the Arabesque label, including Mozart Concerti and Strauss Concert iwith the Israel Sinfonietta. Jolley is on the faculty of the University of North Carolina School of the Arts, Mannes College of Music, and Queens College-CUNY.

More Info
Department of Music
3304 Staller Center
Stony Brook, NY 11794-5475
Phone: (631) 632-7330
Fax: (631) 632-7404