Skip Navigation
Pablo Lavandera
Artist-in-Residence, Piano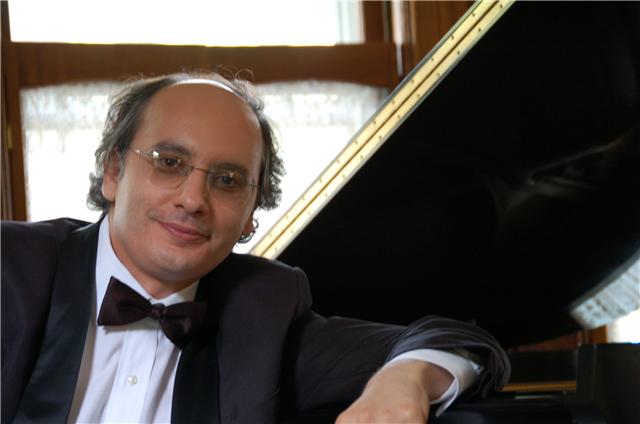 pablolavandera@hotmail.com
Dr. Pablo Lavandera, the First Prize Winner of the 2009 Liszt-Garrison International Piano Competition in the collaborative artist category (Baltimore, USA) has appeared as a recitalist, chamber musician, soloist with orchestra and music educator through the Americas and Europe at such venues as Carnegie Hall (Weill Hall), Steinway Hall and Yamaha Hall in New York, Jordan Hall in Boston, Teatro Colon in Buenos Aires as well as various venues in Germany and Poland. Future engagements include a US tour with violinist Joanna Kaczorowska and a concert at the Steingraeber Chamber Music Hall in Bayreuth Germany during the Wagner Festival in August 2010.

As an avid proponent of contemporary music his collaborations with living composers has resulted in the premiere of many new pieces, notably; the New York and European premieres of award winning American composer Gabriela Frank's "Sueños de Chambi" for violin and piano, in duet with violinist Joanna Kaczorowska; the South American premiere of "Levante" written by Pulitzer Prize winner Osvaldo Golijov and the New York City world premiere of Israeli composer Lior Navok's latest piano composition. Dr. Lavandera was also the pianist for the Indiana University New Music Ensemble (Bloomington) where he worked and recorded with many contemporary composers as well. Other premiers in the U.S.A. include solo and chamber works by John Arrigo Nelson, Laurence LeMasters and Joshua Feltman. In his native country he won the coveted "Annual Performer's Prize" from the Argentinean Society of Composers for his passionate commitment to performing works by Argentinean composers of the past as well as premiering new musical creations from his homeland.

Dr. Lavandera has concertized with his country's main orchestras including the National Symphony, performing concertos by Haydn, Mozart, Beethoven, Liszt and Shostakovich as well as various Argentinean composers. He was featured as a recitalist at the Wagnerian Association Young Outstanding Performers series in Buenos Aires and won first prize in several national competitions in Argentina. Through his extensive collaboration with Argentinean composers he has been invited to perform and record their music, including participation in the "Argentinean Music Anthology", published by the Argentinean National Endowment for the Arts. Dr. Lavandera can also be heard on six commercial CDs, including participation in Muzio Clementi's complete piano works recording (Aurophon), the Ensemble Antognazzi CD, and works by contemporary composers (Irma Urteaga complete works, Indiana University New Music Ensemble).

After coming to the United States as a Fulbright Scholar in 1998, Mr. Lavandera earned a Doctorate in Piano Performance from the State University of New York Stony Brook, a Performer Diploma from Indiana University (Bloomington) and a Master's in Piano from the New England Conservatory. He also holds the Highest Piano Pedagogy degree in Argentina (Profesor Superior de Piano) from the Gilardo Gilardi Conservatory. His main teachers in the US include Gilbert Kalish, Menahem Pressler, Leonard Hokanson, Stephen Drury Evelyne Brancart, Emile Naoumoff, and in Argentina Aldo Antognazzi, Dante Medina, Norma de Bonini and Ema Centurio

Currently Dr. Lavandera is a Artist in Residency at the State University of New York Stony Brook where he teaches piano, chamber music and an accompanying class at the undergraduate level. Prior to this post, he was a teacher assistant of Gilbert Kalish at SUNY Stony Brook and a guest teacher at the Juilliard School of Music, The New England Conservatory and Stony Brook University pre-college programs.
See pages

ensembles in residence

See pages

faculty & staff

See pages

Affiliated Scholars

See pages

Ensemble Directors

See pages

History Theory Ethnomusicology

See pages

graduate profiles

See pages

History Theory Ethnomusicology
See pages

ensembles in residence

See pages

faculty & staff

See pages

Affiliated Scholars

See pages

Ensemble Directors

See pages

History Theory Ethnomusicology

See pages

graduate profiles

See pages

History Theory Ethnomusicology
Department of Music
3304 Staller Center
Stony Brook, NY 11794-5475
Phone: (631) 632-7330
Fax: (631) 632-7404