Skip Navigation
Pablo Lavandera
Artist-in-Residence, Piano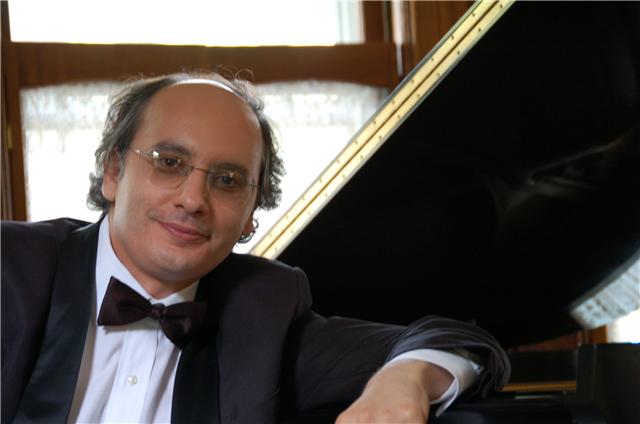 pablo.lavandera@stonybrook.edu
Pablo Lavandera has appeared as a recitalist, chamber musician and soloist with orchestra throughout the Americas and Europe. He has performed in New York City's Carnegie Hall (Weill Hall), Lincoln Center (Bruno Walter Auditorium), Steinway Hall, Yamaha Hall, Metropolitan Museum of Art, NYU's Skirball Center, DiMenna Center for Classical Music,  Manhattan School of Music, Tenri Cultural Institute, Baruch College, WMP Concert Hall, , Argentinean Consulate, Polish Consulate,Plaxall Gallery, among other venues and in Boston's Jordan Hall, Baltimore's Notre Dame University, Virginia's James Madison University in Virginia, Bloomington's Indiana University Bloomington. In his native Argentina he performed at the main venues including Teatro Colón in Buenos Aires. In Europe he performed in various cities in Germany and Poland including the Steingraber Rococo Saal concert series in Bayreuth.
He was the First Prize Winner of the 2009 Liszt-Garrison International Piano Competition in the collaborative artists category (Baltimore, USA), with violinist Joanna Kaczorowska in the collaborative artist category. Musicians from 25 countries competed at the Liszt-Garrison that year.
He resides in New York City and came to the United States as a two year Fulbright Scholar from Argentina in 1998. Prior to his arrival to the US he had concertized with his country's main orchestras, including the National Symphony and won first prize in several national piano competitions. Through his extensive collaboration with Argentinean composers, he has been invited to perform and record their music, including participation in the "Argentinean Music Anthology," published by the Argentinean National Endowment for the Arts and received the coveted annual prize by the Argentinean Society of Composers and Authors given to a single performer that is dedicated to the dissemination of Argentinean art music.
As an avid proponent of contemporary music, his collaborations with composers have resulted in the premiere of many new pieces, notably the New York and European premieres of Grammy Award- winning American composer Gabriela Frank's "Sueños de Chambi" for violin and piano; the South American premiere of "Levante" for piano solo written by Pulitzer Prize winner Osvaldo Golijov, the collective New York City world premiere of Israeli composer Lior Navok's "The Old Photo box" . Dr. Lavandera was also the pianist for the Indiana University New Music Ensemble (Bloomington) where he worked and recorded with many contemporary composers. Other workd premieres include composers Daniel Weymouth, Niloufar Nourbakhsh, John Arrigo Nelson, Laurence LeMasters, Joshua Feltman, and Seth Boustead.
He collaborated with late composer and multiple Grammy Award winner Claudia Montero in performing her music, as well as with Sheila Silver, Irma Urteaga, Roberto García Morillo, Angel Lasala, among others.
He is a founder member of "Sonus" Guastavino, a collective of international performers dedicated to the promotion of this composer's music and participated in the first international Sonus Guastavino Music Festival held online in 2020.
 
He is a the pianist with the New York Chamber Musicians, an innovative chamber music series created in 2012 and directed by violinist Joanna Kaczorowska. He is a pianist for RAM (Random Access Music) a high caliber New York musician and composer's ensemble dedicated to delivering exciting performances of works by composers of the 20th and 21st centuries including music by living American Composers. He is also part of the TransAtlantic Piano Duo with German pianist Evelyn Ulex.
Dr. Lavandera recordings include piano, chamber music and Concerto repertoire , including participation on the Franz Liszt "Visionary" CD, contributions for the Muzio Clementi's complete piano works project recording (Aurophon), the Ensemble Antognazzi CD, and works by contemporary composers: Irma Urteaga complete works, Indiana University New Music Ensemble, Rodolfo Arizaga's piano concerto, and the music of the award-winning documentaries "The Muse is the Mountain" and "Four Journeys" by filmmaker Teresa Mular.
Lavandera earned a Doctorate in Piano Performance from Stony Brook University, a Performer Diploma from Indiana University (Bloomington), and a Master's in Piano from the New England Conservatory. He also holds the highest Piano Pedagogy degree in Argentina (Profesor Superior de Piano) from the Gilardo Gilardi Conservatory. His main teachers in the United States include Gilbert Kalish, Menahem Pressler, Leonard Hokanson, Stephen Drury, Evelyne Brancart, Emile Naoumoff, and in Argentina, Aldo Antognazzi, Dante Medina, Norma de Bonini and Ema Centurio.
Currently Dr. Lavandera is an Artist in Residence at Stony Brook University, where he is on the faculty and teaches piano, chamber music, and an accompanying class at the undergraduate level. Prior to this post, he was a teaching assistant of Gilbert Kalish at Stony Brook University and has been a guest teacher at the Juilliard School of Music, The New England Conservatory, and Stony Brook University Pre-College Programs.
His former students at Stony Brook University have been admitted to many prestigious graduate music programs after graduation, including Stony Brook University, Peabody Conservatory, Royal Academy of Music in London, New York University, Queens College, Longy School of Music of Bard College, University of South Carolina, University of Denver among others. He develops a pre-college pedagogical activity and many of his students were admitted in prestigious pre-college programs.
He was recently elected Vice President of the Associated Music Teachers League (AMTL)
a music organization founded in New York City in 1925. The membership consists of professional musicians, music teachers, university and conservatory faculty and students, and performing artists.
He has adjudicate for the regional piano and duo piano competitions of the Music Teachers National Association ( MTNA) and the US and International Piano division of the New York Performer's Prize (NYPP) advanced and college categories.
 He is a member of the American Liszt Society and the Suffolk Piano Teachers Foundation for which he has presented lecture demonstrations.
He is also the Music Director and Organist at the First Presbyterian Church of Smithtown (NY).
Department of Music
3304 Staller Center
Stony Brook, NY 11794-5475
Phone: (631) 632-7330
Fax: (631) 632-7404