Skip Navigation
Perry Goldstein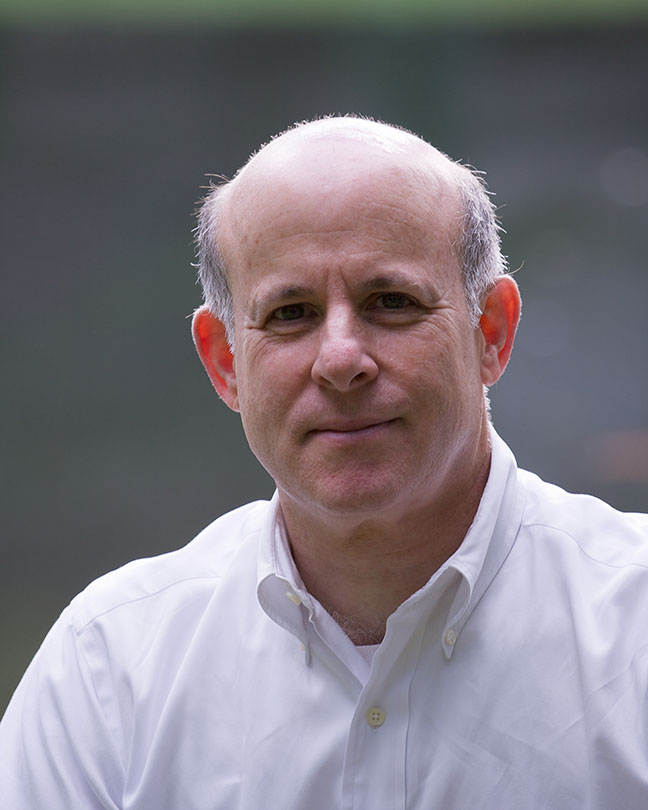 Chair, Department of Music
Professor; Musicianship, Composition, & Theory
perry.goldstein@stonybrook.edu
(631) 632-7330
Perry Goldstein (born 1952 in New York City, New York) studied at the University of Illinois, UCLA, and Columbia University, from which he received a doctorate in music composition in 1986. His principal composition teachers were Herbert Brün, Chou Wen-Chung, Mario Davidovsky, Ben Johnston, and Paul Zonn.
Recent works in "Quintet for Cello and String Quartet," composed for Stony Brook faculty cellist Colin Carr; ... shreds and patches..., for Stony Brook faculty, pianist Gilbert Kalish;   rough places plain, for Branford Marsalis and the Aurelia Saxophone Quartet; and  Everyday Pleasures  for the Duo Montagnard.
One of the most widely-performed composers of music for saxophone, Goldstein's recent works for the instrument include   Mischief   (2011) and   Angelus Novus   (2011) for saxophone quartet;   Kaleidoscope   (2009) for alto saxophone, clarinet, bassoon, and piano;   Flex   (2007) for saxophone quartet; and   Quintet for Alto Saxophone and String Quartet   (2006). Other pieces include   Arrested Lightening: Eleven Paul Klee Impressions   (2010), for clarinet, violin, and piano and   Late Night Thoughts from the V.A.   (2008), for baritone, horn, and piano.   Should This Be Found: Six Songs on Scott's Last Expedition   (2004) and   The Abundant Air: Concerto for Saxophone Quartet and Band   (2003) were composed for the United States Military Academy Band at West Point. Other works include   Motherless Child Variations   (2002) for the Aurelia Saxophone Quartet;   (W)eeeeee!   (2001) for Juilliard Quartet cellist Joel Krosnick and pianist Gilbert Kalish;   Against the Grain   (1998), for the Aurelia Saxophone Quartet and Slagwerkgroep den Haag; and   Fault Lines   (1998), for alto saxophone and piano, for saxophonist Arno Bornkamp and pianist Ivo Janssen. Recordings include Michael Lowenstern's rendering of   Total Absorption   (called "an I-dare-you contraption" by Fanfare Magazine), on New World Records; the Aurelia Saxophone Quartet's recording of   Blow!  (declared a "vivacious firework" by the Aachener Zeitung and "a raw-boned tour-de-force" by the Buffalo News), on Vanguard Classics and Challenge Records;   Motherless Child Variations   (described as a work of "consummate structural and inventive artistry" by CD Spotlight), on New Dynamic Records;   Lessons of the Master   on Challenge Records;   Noir   (called a "complex and sometimes sensuous piece" by The American Record Guide), on Crystal Records, and   The Abundant Air: Concerto for Saxophone Quartet and Band, and   Should This Be Found: Six Songs on Scott's Final Expedition  on United States Military Academy Recordings. His works appear on 19 compact discs, including Albany, Bridge, Challenge, Crystal, Innova, New World, U.S. Military Academy, and Vanguard Records, and he is published by Reed Music and Global Music Facilities.
Goldstein has been involved in a variety of activities in the service of contemporary music. In the 1970's, he produced and hosted programs on contemporary music for NPR-affiliate WILL in Urbana, Illinois. He has written extensively for, among other publications and organizations, The New York Times, The Library of Congress, Carnegie Hall, Strings Magazine, National Public Radio, Deutschlandfunk (German radio), the Los Angeles Philharmonic Orchestra, the San Francisco Symphony, Speculum Musicae, the League-International Society for Contemporary Music, "Music Today" of the 92 nd  Street "Y," the San Antonio Symphony, and for the Arabesque, Bridge Challenge, CRI, GM, Folkways, New World, and Vanguard Classics recording labels. He has been a National Advisor to the League-ISCM and a music panelist for the New York State Council on the Arts. In 1992, he served as the United States delegate to the UNESCO-sponsored International Rostrum of Composers in Paris, subsequently producing four radio programs of the event for American Public Radio.
A dedicated educator, Goldstein received the "Teacher of the Year Award in the Arts and Humanities" in 1987 from Wilmington College of Ohio (where he served from 1987-1992), and a 1997 "Chancellor's and President's Award for Excellence in Teaching" from the State University of New York and Stony Brook University. He also received the 2006 "Student Life Award" for "student development and enhancement of campus life." Since 1992, he has been a member of the music faculty of Stony Brook University, where he was the inaugural Director of the College of Arts, Culture, and Humanities (2003-2007), Undergraduate Studies Director (2000-2009), Graduate Program Director (2009-2012) and current Chair of the Department of Music.  In 2016, he was invited to join the SUNY Distinguished Academy with the title, "Distinguished Service Professor."
Department of Music
3304 Staller Center
Stony Brook, NY 11794-5475
Phone: (631) 632-7330
Fax: (631) 632-7404