Skip Navigation
College of Business Fast Facts

Majors, Minors, and Specializations 
Business Management Major
Accounting Minor
Specializations within the major include: Accounting, Finance, Marketing, and Operations Management 
High-achieving students can also choose to apply to the Business Honors Program. 
Graduate Programs
MBA
MBA fully online (part-time)
MBA with concentrations:  Innovation or Operations Analytics
MBA in Accounting
MBA in Finance
MBA in Health Care Management
MBA in Marketing
MS in Accounting
MS in Finance
MS in Technology Management
Advanced Graduate Certificate in Finance 
MBA Fast Track Program
Undergraduate 
Enrollment
1,547
1,347 Business Management Majors
162 SUNY Korea Business Management Majors
123 Accounting Minors
3 Business Minors
From 2018 to 2022, 60 undergraduate students have participated under College of Business faculty guidance in URECA (Undergraduate Research and Creative Activities).
In the 2020/2021 academic year, 64 students participated in internships for credit.  The COB Office of Student Services collaborates with the SBU Career Center and employers, and provides students with workshops and events to help prepare them for internships. 
Graduate
Enrollment
447
217 MBA General or with Concentration in Innovation or Operations Analytics
24 MBA in Accounting
54 MBA in Finance
51 MBA in Health Care Management
52 MBA in Marketing
37 MS in Accounting
29 MS in Finance
2 AGC in Finance
26 MBA Fast Track*
* MBA Fast Track enrollment not included in overall graduate enrollment number.
56% of College of Business students
are Male and 44% are Female.
Faculty
39.25 Faculty FTE
9 full professors
18 associate professors
4 assistant professors
4 research professors
4 lecturers
1 affiliated professor
1 emeritus professor
Research strengths in organizational and consumer behavior, operations analytics, finance, and accounting;
interdisciplinary faculty with backgrounds in economics, psychology and political science.
An Engaged Student Body
COB students are involved in a wide assortment of business-related clubs, honors organizations, and professional fraternities
Alpha Kappa Psi
American Marketing Association
Beta Alpha Psi (petitioning chapter)
Delta Sigma Pi
Finance Society
Investment Club
MBA Alumni Network
Risk Management and Insurance Club
Women in Business



According to our 2020 MBA Exit Survey:

A recent survey of business management majors indicates the following of survey respondents:

Companies our alumni are working at include:
Bain Capital
Broadridge Financial Solutions
Brookhaven National Laboratory
Christian Dior
Deloitte
ESPN/Disney
EY
FactSet Research
Google
KPMG
Lincoln Investments
Morgan Stanley
PwC
Sterling National Bank
Travelers
Visa
And More!
From Fall 2012 to Spring 2020, SBU Granted 191 Graduate Degrees in Accounting.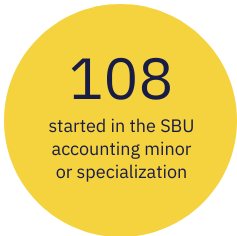 Of the 145 alumni we have employment data on: