Skip Navigation
Educating the Next Generation of Business Leaders
This is a great time to study Business Management at AACSB-accredited Stony Brook! You'll learn the foundations of essential business concepts, with a focus on career development. Our faculty members are particularly interested in teaching and have gained a university-wide reputation as among the most dedicated and student-oriented professors on campus. You'll be encouraged to complete an internship in your area of specialization to complement your academic course work in the classroom, and you will also have opportunities to get involved in faculty-led research, business-related clubs, co-ed business fraternities, and our Business Honors Program.
Who should study business?
The College of Business admits students with the talent and drive to become business leaders. We are looking for students have demonstrated critical and analytical skills, a record of academic achievement, potential to excel in a challenging environment and the ambition to grow in their careers. 
If you're ready to gain the business skills and experiences you need to stand out in any career, Stony Brook's College of Business has a program for you.
Our rigorous and relevant curriculum, combined with exposure to a wide variety of career-related and experiential programming guides students to realize their potential and emerge as career ready and confident graduates.
Students in the business management major, accounting minor, and real estate and insurance minor become well-prepared for internships and jobs in a variety of industries including finance/investment banking, accounting, marketing, operations, healthcare management, real estate, insurance, human resources, and more. 
Partners in Your Success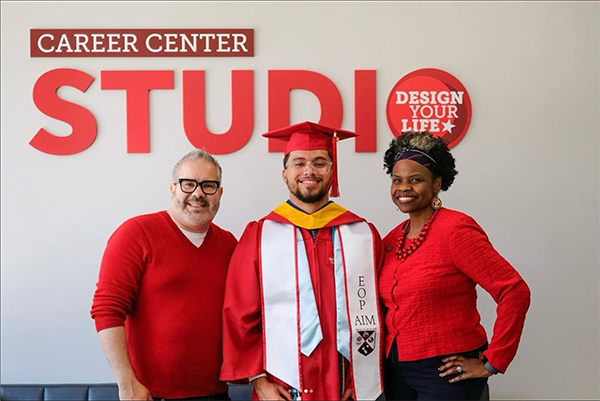 The College of Business collaborates with SBU's award-winning Career Center to further support students in their career journeys.
From connecting students with internships, to organizing industry job fairs to hosting alumni events, the Career Center is a resource that is available to CoB students at every stage of their careers.
Beyond the Classroom
As an undergraduate student in the College of Business, you will want to take advantage of all we have to offer, from a wide variety of business-related clubs and co-ed professional fraternities, to experiential learning opportunities such as the Broadridge Executive-in-Residence program, to academic support resources, and scholarships, which totaled more than $33,000 in the 2022-2023 academic year.
AACSB
accredited
programs
____________
10
student clubs and
professional fraternities
____________
$33K
scholarships awarded
to students in 2022
____________
3rd
largest major
at Stony Brook University
____________
Studying business management at Stony Brook University enabled me to experience a rigorous academic curriculum and a diverse student population. I am incredibly grateful for the enriching experiences and supportive community that has provided me with a skillset to tackle real world challenges. 
Srishti Desai '23
How To Apply
First-Year Students

If you are seeking to enter Stony Brook University as a freshman, you should apply as a First-Year student. Information can be found on the Undergraduate Admissions website. Please pay special attention to the Restricted Majors section for information for business majors.

Transfer Students

If you have ever registered at a college or university, you are considered a transfer student. To apply, visit the Undergraduate Admissions website. Please pay special attention to the Restricted Majors section for information for business majors. If you would like the College of Business to evaluate business courses taken at another institution that you believe can be transferred over to fulfill business course requirements, complete this form. Before you submit your evaluation request, please check the Transfer Course Equivalency Database to see if your course has already been evaluated. If the evaluation is listed in the database, you do not need to request an evaluation through this form.

Current SBU Students

Bachelor of Science in Business Management

Students who did not apply for the major and those who were not accepted into the major when they entered the University may apply to the major provided that their cumulative grade point average (including, for transfer students, course-work complete at other institutions) is 3.2 or higher.

Business Management Major Application

Minors

Students in any major may apply to a College of Business minor at any time during their academic career provided that their cumulative grade point average is 3.20 or higher. 

Accounting Minor Application    Real Estate and Insurance Minor Application