Skip Navigation
Rupesh Joshi (MS CE 2015)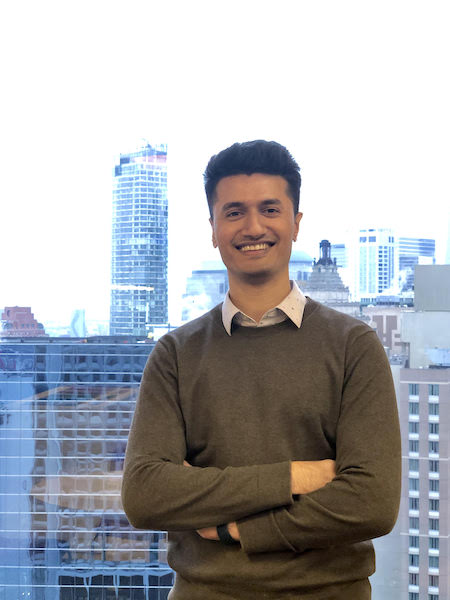 New York City is the financial epicenter of the world and, as such financial professions are usually in high demand, but so are technically trained professionals and engineers. One example is alumnus Rupesh Joshi who earned a Masters in Computer Engineering in the Department of Electrical and Computer Engineering in 2015. Rupesh is now an Associate Vice President at Morgan Stanley in its Wealth Management Division.
Rupesh started out working at a different leading financial institution with a summer internship. His role included in-house application integration within the firm's technical ecosystem to ensure robustness and reliability from a security point of view. Becoming a Technology Analyst at the same firm, Rupesh worked designing and implementing architectures for computer networks and systems where software was an important element of this effort.
In 2018 Rupesh joined Morgan Stanley where he works on DevOps engineering. This is short for development and operations: a set of practices that automates the processes between software development and information technology (IT) teams. The concept of DevOps is founded on building a culture of collaboration between teams that historically functioned in relative siloes.
For Rupesh, his most positive Stony Brook experiences were the outcome of dealing with negative experiences such as keeping up with stringent assignment deadlines, maintaining work-study balance, living in a new land on his own, and ultimately finding a job. These experiences helped Rupesh in the long run and showed him different aspects of life which he might not have encountered otherwise.
Rupesh also enjoyed local cultural activities and campus celebrations at Stony Brook.
When asked about a memorable professor. Rupesh says every professor has helped him in different ways. One of the most interesting and difficult courses he took at Stony Brook though was Network Programming taught by Prof. Hussein Badr of the Department of Computer Science at Stony Brook. The experience of doing the projects of this course helped in a few workplace projects in the future.
Rupesh's advice for current students is that balance and working smart are the keys for success when dealing with complex coursework and other activities in graduate school. He recommends seeking out professors and senior students because they have been through the same situation and can be the best mentors.