Skip Navigation
Accounting Programs at Stony Brook: A Pathway to the CPA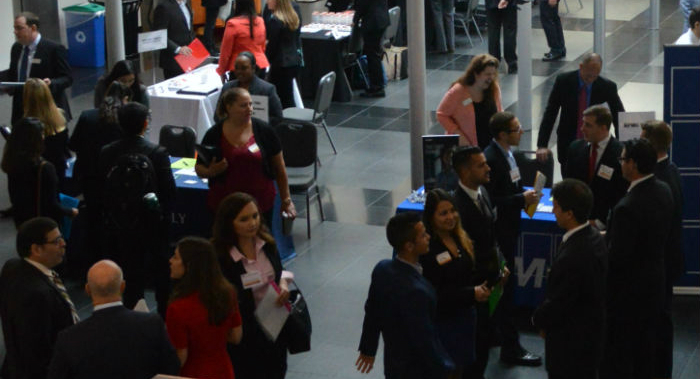 According to the US Department of Labor, employment for accountants and auditors is expected to grow by 11 percent from 2014 to 2024, or faster than the average for all careers. And,  accounting is often ranked as one of the most desirable professions available—including being ranked as one of the top 25 jobs in 2016 by   U.S. News & World Report.  In 2016, CareerCast.com ranked the career of "accountant" in the top 50 best jobs in terms of work environment, income, employment outlook, physical demands, and low level of stress. Salaries are also strong for accountants. In 2015, accountants and auditors earned a median salary of $67,190, according to the U.S. Department of Labor, earnings that are much higher than the national average ($48,320) for all careers. 
In New York and nearly every state, you must have 150 credit hours of study for CPA eligibility, 30 credits more than the typical undergraduate degree, making graduate education a necessity.  And your 150 credits cannot just be any credits – they need to include 36 credits of business and 33 credits of accounting.
Stony Brook has two pathways for students to attain the additional 30 credits to meet the 150 credit hour requirement, as well as be prepared to sit for the CPA exam: The MBA in Accounting and the MS in Accounting.    Stony Brook has the highest CPA pass rate (63.2%) on Long Island, and one of the highest in New York State. *  According to the National Association of State Boards of Accountancy.    The NASBA Report on the CPA Exam: Candidate Performance on the Uniform CPA Examination, 2018 Edition
Students coming into Stony Brook Graduate Programs in Accounting must meet pre-requisite requirements.  Students who have completed the   Stony Brook Accounting Minor    are eligible as are students from other university's undergraduate accounting programs.  We recommend you discuss your undergraduate transcripts with a College of Business Graduate Advisor prior to applying.
Accounting Prerequisites
Stony Brook University's College of Business accounting programs require specific prerequisite courses. Complete this   form  so that our admissions team can assess what classes you may need to take prior to applying and/or starting a graduate program in accounting at Stony Brook.
The MBA in Accounting requirements:  Minimum of 18 accounting credits to include: Financial Accounting, Managerial or Cost Accounting, Auditing, US Federal Income Taxation, and 3 general business credits. Applicants who have not completed US Federal Income Taxation should contact Cobgraduate@stonybrook.edu for options to meet this requirement.  
MS in Accounting: Minimum requirements:12 credits in accounting to include Financial Accounting, Managerial or Cost Accounting, Auditing, US Federal Income Taxation plus 30 credits in general business courses. Applicants who have not completed US Federal Income Taxation should contact Cobgraduate@stonybrook.edu for options to meet this requirement.    
Students who graduate with the MBA in Accounting degree from Stony Brook University will be well suited for careers in public accounting, private industry, government and not-for-profit accounting. National and local firms are invited to campus each semester to recruit and network with students and faculty. Our annual Student/Firm Accounting Networking Breakfast, which takes place every Fall, is an opportunity for students and firms to meet to discuss internships, mentoring, and full-time opportunities.
Requires a minimum of 18 accounting credits at the undergraduate level and another 15 at the graduate level.
The graduate level MBA program curriculum for accounting also includes 21-33 additional credits in various areas of business, including finance, economics, marketing, operations, and more. 
This program features a rigorous accounting and management curriculum, designed to be both prepared for a career in accounting and a pathway to eligibility to sit for the New York State CPA examination.
Students may come into the program having already fulfilled the 24 credit Stony Brook University Accounting Minor (or equivalent at another university), which will help to count towards the 150 required credit hours for NYS CPA eligibility.
If candidates do not have the prerequisite credits in accounting, they may be able to take these classes as a non-matriculated student before starting the MBA in Accounting program.
Students are placed into a 48 credit track unless they have an undergraduate degree in business, in which case they are placed into a 36 credit track.  
All students must meet the accounting prerequisites.
The MS in Accounting is a program suited for accounting professionals who seek to advance their accounting skills, as well as students with a background in business management and accounting, such as the Stony Brook College of Business Accounting Minor, or students who are majoring in accounting at another institution. 
Students in this program would strengthen their accounting education and through the additional credits, achieve eligibility to become a Certified Public Accountant (CPA) in New York State. 
For students who are majoring in accounting at another university, this program will provide the additional credits necessary to reach the 150 hours as well as the additional accounting credits to reach the 33 credit requirement. 
Qualified students will take a prescribed 30 credits (10 classes) in the accounting area (as well as classes in ethics and communications), all taught by leading College of Business accounting and management faculty. 
The program includes a capstone experience class which requires students to complete an accounting industry based class that focuses on contemporary issues in financial accounting, auditing and regulation.  The class is team-taught by three accounting professors. 
The program can be completed full time in two semesters or part-time over the course of several semesters, and it can be started in the Fall or Spring semester. Domestic students may begin in the Summer I term.  
The SBU Accounting Society is a student organization that meets weekly under the guidance of Professor Christie Comunale, and hosts accounting firm talks, career readiness programs and networking events.  For the past eight years, The College of Business has hosted an accounting firm/student networking event in the Fall semester, giving students and firms the opportunity to discuss internships and full time jobs.  Many students have received positions in the big four, as well as other sized firms, based on the events taking place on campus.  "We want to provide our students with the best possible academic experience, and this includes much more than sitting in the classroom," states Dr. Comunale.  She continues, "The attention that we are getting from the accounting profession speaks volumes to the excellence of student we are turning out.  Our graduates come equipped with the knowledge and the professionalism that is essential to succeed in this field." 
The following firms have attended our Fall Accounting Networking Event and/or other Accounting Society events, and hire our students for internships and full time jobs.
20/20 Financial Solutions
Baker Tilly
BDO USA
CA Technologies
CBIZ
CohnReznick
Cullen & Danowski
Deloitte
EY
Giambalvo, Stalzer & Company
Grassi & Co
Janover
KPMG
LeverPoint Management
Marcum
Margolin, Winer & Evens
Mazars USA
Nawrocki Smith
Office of the New York State Comptroller
PwC
Rossman Tax Service
Schwartz & Company
Sheehan & Company
State of California Franchise Tax Board
Strategic Financial & Tax Planning Services 

 

 
If you would like to speak with an advisor about accounting programs, please email COBgraduate@stonybrook.edu or call 631-632-7171.