Skip Navigation
News Archive 2009
---
12/07/2009
Ruoyi Jiang, a Ward Melville High School senior, won the top individual prize in the Siemens Competition in Math, Science & Technology announced today at New York University in Manhattan.
"I sort of am in a state of shock right now," said Jiang, 17, of East Setauket, after winning a $100,000 scholarship. "I didn't think I'd get past the regionals, to be honest . . . I think we're all winners at this competition."
Jiang also thanked his mentor, Stony Brook University's Carlos Simmerling , an associate professor of chemistry.
11/21/2009
Ruoyi Jiang of Ward Melville High School, who has been mentored in research by Prof. Carlos Simmerling , has been named a national finalist in the Siemens Competition in Math, Science, and Technology. He will compete for the top scholarship awards at NYU in December. The title of his project is "Targeting Loop Dynamics in BetaI/BetaIII Isotype Tubulin: The Application of In Silico Techniques in Combatting Chemotherapy Drug Resistance."
11/18/2009
At the Faculty Awards Dinner on Wednesday Nov. 18, several Chemistry faculty were recognized for awards received during 2008-9. They comprised Profs. Elizabeth Boon (Presidential Early Career Award, NSF ARRA award, and ONR Young Investigator Award), Isaac Carrico (NSF Career Award), Benjamin Hsiao (Cheung-Kong Scholar), Joseph Lauher (Distinguished Teaching professor), and Kathlyn Parker (Garvan-Olin Medal of the ACS, ACS Fellow). The eight cited awards exceeded those of any other department. Also present at the Dinner were Distinguished Profs. Chu , Hanson , Kerber , and Ojima .
10/30/2009
Eight students who worked in the Chemistry Department last summer have been designated as Siemens semi-finalists or regional finalists in the Siemens competition. They are: (see below) Congratulations to these students and to their mentors.
Candice Gurbatri
Half Hollow Hills HS West, Dix Hills, NY. Siemens semi-finalist Mentor: Dr. Elizabeth Boon
Aditya Ramesh
Sachem HS East, Farmingville, NY. Siemens semi-finalist Mentor: Dr. Elizabeth Boon
Ruoyi Jiang
Ward Melville HS, E. Setauket, NY. Siemens regional finalist Mentor: Dr. Carlos Simmerling
Kevin Zhao
Ward Melville HS, E. Setauket, NY. Siemens regional finalist Mentor: Dr. Carlos Simmerling
Daniel Katz
John L Miller Great Neck North HS, Great Neck, NY. Siemens semi-finalist Mentor: Dr. Roy Lacey
Matthew Kim
Commack HS, Commack, NY. Siemens semi-finalist Mentor: Dr. Benjamin Hsiao
Cara Lin
Ward Melville HS, E. Setauket, NY. Siemens semi-finalist Mentor: Dr. Benjamin Hsiao
Sahil Khetpal
Texas Academy of Math & Science, Denton, TX. Siemens regional finalist Mentor: Dr. Iwao Ojima
10/29/2009
Professor Daniel Raleigh has been elected President of the Protein Society, the largest international scientific organization devoted to protein science. Professor Raleigh has also accepted an appointment as a visiting Professor at the University of London.
09/17/2009
Congratulations to Prof. Joanna Fowler , senior scientist at Brookhaven National Laboratory and adjunct faculty member of the Chemistry Department at Stony Brook for winning the prestigious National Medal of Science. The award news has just been released by C&E News https://cen.acs.org/articles/87/i5/Chemists-Among-AcademiesHonorees.html
08/12/2009
Jason Karelis, recent graduate of Ward Melville HS, who has been doing summer research in Peter Tonge's lab has won a $25,000 award for second place in a National Competition.
07/27/2009
Congratulations to John Alexander and Kathy Parker for being amongst the prestigious Inaugural class of ACS Fellows honored for excellence in chemistry and service to society! According to Past-President Bruce E. Bursten, "these members share a common set of accomplishments, namely true excellence in their contributions to the chemical enterprise coupled with distinctive service to ACS or to the broader world of chemistry." ACS NEWS ARTICLE
07/07/2009
Congratulations to Prof. Elizabeth M. Boon for winning the Presidential Early Career Award for Scientists and Engineers (PECASE). University Press release.
05/12/2009
Congratulations to Prof. Joseph Lauher , who has just become a Distinguished Teaching Professor! This year, SUNY Board of Trustees appointed 26 faculty to Distinguished Service and Teaching Professor Rank. The Distinguished Teaching Professorship recognizes and honors mastery of teaching at the graduate, undergraduate or professional levels. Please check the SUNY article for details.
05/06/2009
Departmental Commencement exercises on Friday May 22 . There is a bright-and-early reception at 8:30 AM in the Wang Center Theater Lobby, followed by the ceremonies at about 9:15 AM. All graduates and their families are cordially invited to participate, and no tickets are required. There will be awards to outstanding graduates, and all graduates will receive individual recognition. The commencement speaker will be Dr. Robert Aslanian, Senior Research Director, Schering-Plough Corp, and SBU Ph.D., 1985.
04/28/2009
Please join in congratulating Prof. Clare Grey on winning a 5-year "Energy Frontier Research Grant" grant from the Department of Energy to establish the Northeastern Chemical Energy Storage Center (NOCESC) at Stony Brook.
Professor Grey has brought together a team of world experts at Stony Brook, Brookhaven National Laboratory and other leading US institutions to attack a series of key fundamental research issues, that directly impact our ability to use lithium ion batteries in a wider range of applications - particularly in combination with new renewable energy sources and in the field of transportation. At Stony Brook, in addition to synthesizing new materials, the teams proposes to develop new diagnostic tools to determine how batteries function and why they sometimes fail, so as to use this information to help design the next generation of lithium ion batteries.
04/09/2009
Work presented by Prof. Clare Grey at the Salt Lake City ACS meeting was recently featured in an article in Chemical & Engineering News: http://pubs.acs.org/cen/news/87/i13/8713news4.html
03/25/2009
The Long Island Science and Engineering Fair (LISEF) competition finals took place yesterday, and we are delighted to announce that the other three of Professor Ojima's four summer high school students will be joining Re-I Chin (Walter Johnson H.S., Maryland) at the Intel International Science & Engineering Fair (Intel ISEF) from May 10-15 in Reno, NV! Preya Shah (Ward Melville H.S.), who recent placed 8th in the National Intel Science Search competition, advanced to the finals in the individual category and Samantha McKenna (Plainview-Bethpage JFK) and Shalini Pammal (Commack H.S.), a Simons Fellow, won First Place Grand Award in the team competition and were among the top eight teams to move on to the finals. Thus, the Ojima Lab, the Chemistry Department , and Stony Brook University will be well represented at the prestigious competition.
Further, last week Shalini Pammal participated in the Long Island Junior Science and Humanities Symposium held at Stony brook University and advanced from the first round to the finalist round with her Intel project submission. She then place fourth in the Finalist Round. Placing among the top five merits an expense-paid trip to Colorado Springs, CO for the National JSHS Competition which will be held from April 29th-May 3rd. Shalini will be doing a lot of travelling from late April to mid May!
CONGRATULATIONS AND GOOD LUCK TO ALL FOUR OF THESE TALENTED AND RESOURCEFUL YOUNG WOMEN!!
03/23/2009
Another of Professor Ojima's high school summer researchers and Simons Fellow, Re-I Chin, was named a Grand Prize winner at the county science fair yesterday in her home state of Maryland! More specifically, she took first place in the chemistry category and was chosen as one of the top four presenters out of ~120 entrants. In addition to winning $500 ($50 of which came from the FDA) and a first prize award from the U.S. army, Re-I is going to represent Maryland, the Ojima lab, and Stony Brook University Chemistry Department at the Intel International Science & Engineering Fair (Intel ISEF) to be held in Reno, Nevada from 5/10-5/15. ( http://www.societyforscience.org/ISEF/).
03/18/2009
The Graduate School has announced the annual university-wide graduate eduation awards, and the Chemistry Department has two awardees. Please join me in congratulating Melissa Patterson, recipient of the President's Award to Distinguished Doctoral Students, and Katherine Hughes, recipient of the Dean's Award for Excellence in Service to Graduate Education by a Graduate Program Coordinator.
03/10/2009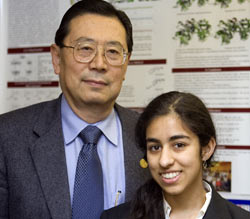 Preya Shah, a student from the InStar program at Ward Melville H.S. approached Professor Ojima last winter asking to be accepted to do research under his supervision, and was one of the four selected from a pool of over a dozen very strong candidates. Her day-to-day mentor in the Ojima Laboratory was Edison Zuniga.
This year's Intel Science Talent Search Finalists come from 17 States and represent 35 schools. Of the more than 1,600 high school seniors who entered the Intel Science Talent Search 2009, 300 were announced as semifinalists in January. Of those, 40 were chosen as finalists and invited to Washington, D.C. to compete for the top 10 awards.
Eighth Place: Preya Shah, 17, of Setauket, N.Y., received a $20,000 scholarship for designing and synthesizing a tumor-targeting drug for cancer treatment that represents a new approach to delivery of chemotherapy agents and possibly treatment of multi-drug resistant cancer without causing significant side effects.
Preya is not the first Ojima Group student to reach the Intel finals, but she is the first to actually win one of the top prizes. CONGRATULATIONS!!
03/05/2009
Joanna Fowler was inducted last night into the Long Island Technology Hall of Fame. See
https://www.stonybrook.edu/commcms/techisland/docs/LITHFAD2009.pdf . (also see entry made on 12/22/08)
01/22/2009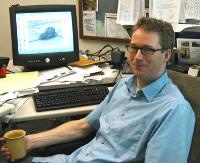 The department welcomes Robert B. Grubbs who joins the faculty as Associate Professor. Prof. Grubbs was most recently at Dartmouth and will have a joint appointment at the Brookhaven National Laboratory.
His research group is interested in the common ground shared by polymer, organic, and materials chemistry and they are involved in the design, synthesis, and characterization of polymer-based organic materials. Polymer physics provides a framework for understanding the basics of copolymer self-assembly in the bulk and in solution and this knowledge, in turn, suggests concepts for the design of novel polymers and copolymers that will organize into predictable arrangements on the nanometer scale. Such assemblies, many inspired by biological systems, are predicted to exhibit novel properties in a range of possible applications.
01/02/2009
Carlos Simmerling's work on the mobility of gate-keeping molecular flaps in HIV protease inhibitors as a key to antiviral drug resistance is highlighted in C&E News.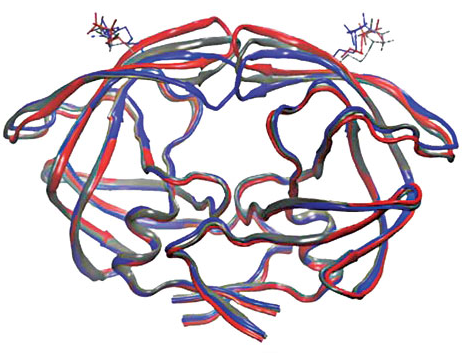 HIV-1's protease enzyme mutates to elude drugs that block its active site, but some mutations occur outside the active-site cavity and are not well understood. To picture how such mutations might lead to drug resistance, a team led by Gail E. Fanucci of the University of Florida and Carlos Simmerling of the State University of New York, Stony Brook, combined electron paramagnetic resonance (EPR) spectroscopy with molecular dynamics simulations (J. Am. Chem. Soc., DOI: 10.1021/ja807531v). Other teams have surmised that the mutations affect the mobility of two gate-keeping molecular flaps near the active site. To test that idea, Fanucci's team used EPR to measure how the distribution of distances between flaps changes in different drug-resistant HIV-1 proteases. Simmerling's team then built a computer model that jibed with the EPR data and provides a molecular view of how the proteases move around. The mutations alter the flaps' flexibility, possibly changing the way the gate engages inhibitors, the team says.