Skip Navigation
News Archive 2010
---
8/23/2010
Professors Eric Kaler and Iwao Ojima were elected to the Fellows of the American Chemical Society. More
8/11/2010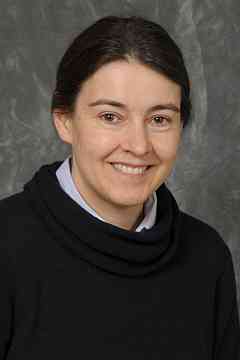 Prof. Clare Grey has been named the 2010 recipient of the John Jeyes Award by the Royal Society of Chemistry, "in recognition of her world leadership role in the use of solid-state NMR methods to study structure and function in inorganic materials and specifically for the development and application of novel NMR methods to study structure and dynamics in lithium-ion battery materials." Ref: RSC News, Aug 2010, p. 15.
6/23/2010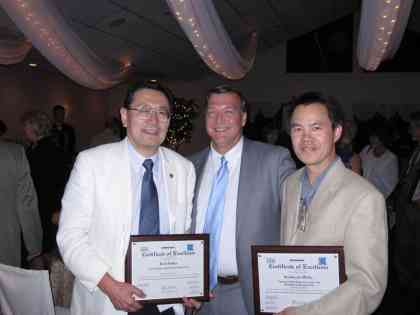 Professors Stanislaus Wong and Iwao Ojima were recently recognized for their discoveries and innovations at the First Annual Inventor's Reception hosted by Mark Lesko, the Town of Brookhaven Supervisor. The Town of Brookhaven's First Annual Inventor's Reception took place at the Flowerfield in St. James on Wednesday, June 23, honoring the scientific achievements of the 2009 patent holders from Stony Brook University, Brookhaven National Laboratory and Cold Spring Harbor Laboratory. Professor Wong was recognized for his three patents entitled "Ternary Oxide Nanostructures and Methods of making Same" (U.S. Patent Number: 7,585,474), "Metal Oxide and Metal Fluoride Nanostructures and Methods of Making Same" (U.S Patent 7,575,735), and "Methods for Osmylating and Ruthenylating Single-Walled Carbon Nanotubes" (US Patent 7,481,990). Professor Ojima was recognized for his patent entitled "Anti-Tuberculosis Taxane Compounds" (U.S. Patent 7,615,653) . The Keynote Speakers of the ceremony among others were Dr. Samuel Stanley, President of SBU and Dr. Samuel Aronson, Director of BNL.
(Left to Right: Dr. Ojima, Dr. Stanley, and Dr. Wong)
5/27/2010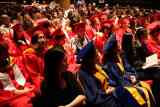 The Chemistry Department held its 40th Departmental Convocation (and the University its 50th Commencement) on Friday, May 21, a warm day in both senses of the word. The Convocation speaker was Prof. Kenneth Leopold (SBU B.S. 1977), Distinguished Professor at the University of Minnesota. About 50 Bachelor's, 19 Master's, and 26 PhD degrees were conferred. The Maria Tzamarioudaki Outstanding Doctoral Student was Fanling Meng, and the Lee Myers Award was made to Hao Lu. Seven additional PhD graduates were also recognized for the excellence of their thesis work. Twelve Bachelor's graduates were recognized with Honors in Chemistry, and 17 received University Honors. Special recognition went to Elizabeth Millings and Taemee Pak as Outstanding Chemistry Student graduates, and awards for excellence in undergraduate research were given to Seanna Forrester and Tolga Sevinc. Prof. Koch announced that two of the three highest service awards bestowed by the University to graduating students had been received by chemistry majors: Alexandria Imperato received the Elizabeth C. Couey Award for "outstanding contributions toward the improvement and growth of student services and programs." Brian Antono received the William J. Sullivan Award for "particularly outstanding service contributions to the development of academic and student life on campus." Taemee, Elizabeth, and Alexandria were among the 14 SBU seniors who received Chancellor's Awards for Student Excellence.
02/03/2010
Congratulations to Professor Peter Khalifah for winning the NSF Career Award!
01/29/2010
The Institute of Chemical Biology and Drug Discovery (ICB&DD) at Stony Brook has been awarded a $1.4 million grant by the Defense Threat Reduction Agency of the Department of Defense to develop an antidote to botulism, a rare but potentially fatal disease that could potentially be used in biowarfare. Please read on ... Article 1 , Article2