Skip Navigation
News Archive 2014
---
12/16/2014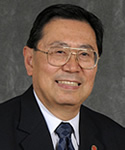 Professor Iwao Ojima Named a Fellow of the National Academy of Inventors
The distinction recognizes Dr. Ojima's prolific global work in chemistry and drug discovery
STONY BROOK, N.Y., December 16, 2014 – Iwao Ojima, PhD, SUNY Distinguished Professor in the Department of Chemistry, and Director of the Institute of Chemical Biology & Drug Discovery (ICB&DD) at Stony Brook University, has been named a Fellow of the National Academy of Inventors (NAI).  Read more

11/25/2014
Erwin London was elected Fellow of the American Association for the Advancement of Science (AAAS).
11/19/2014
Chemistry BS/MS student, Dana Castro, seeks better living through Chemistry
11/14/2014
2015 Chemistry Graduate Research Fellowships
10/30/2014
Ph.D. Student Uses Research to Wage War On Tuberculosis
10/29/2014
Esther Takeuchi has more patents than any American woman....
10/11/2014
Kenneth Dill Elected to American Academy of Arts and Sciences
10/3/2014
Stony Brook University Student Meng Yang Wins 2014 Mow Shiah Lin Scholarship
9/28/2014
Remembering Prof. Takanobu Ishida
To our father's colleagues and friends,

It is with great sadness that we report the passing of our father Takanobu Ishida on September 28, after a long illness. He passed away peacefully with immediate family beside him.

The Chemistry Department at Stony Brook was the focus of his life, and we thank all of his friends and colleagues throughout the years for their friendship and support.

Noby and Emi Ishida
09/24/2014
STONY BROOK RESEARCHERS QUANTIFY UNDERLYING LANDSCAPE OF CANCER
Findings from two newly published papers may help provide a design for new anticancer tactics.
09/2014
The Department of Chemistry presents Dr. Daniel G. Nocera at the 24th Annual Jacob Bigeleisen Lecture, Friday, September 26, 2014
The Department of Chemistry welcomes Dr. Daniel G. Nocera, Patterson Rockwood Professor of Energy, Department of Chemistry and Chemical Biology at Harvard University to be our distinguished speaker at our twenty-fourth annual Jacob Bigeleisen Endowed Lecture, on Friday, September 26, 2014 at 4 PM in the Simons Center Auditorium. The title of his talk is "The Artificial Leaf." The purpose of the endowment is to sponsor an annual lecture in chemistry by an internationally renowned scholar. Light refreshments will be served at 5:15 pm in the Simons Cafe. For further information, please contact the Chemistry Department at 632-7884. More information...
08/2014
SBU Professor Receives NSF EAGER Award for Brain Initiative Research
The National Science Foundation (NSF) has awarded Stony Brook University's Scott Laughlin, PhD , an Early Concept Grant for Exploratory Research (EAGER).
07/2014
Chemistry Department encourages high school students to do research. Read more about this summer's group of students with Dr. Peter Tonge.
07/2014 



Congratulations to Prof. Stephen Koch for being elected Fellow of the American Chemical Society.
06/23/2014
Hee Nam Lim, a 2013 chemistry PhD whose work with Professor Kathy Parker has resulted in three research publications and one review article, has been selected as a Reaxys Prize finalist.

Reaxys, the organic chemistry database, sponsors an annual competition for PhDs awarded in synthetic chemistry. Three winners receive awards of $2,000 each and winners and finalists receive travel awards to the 4-day Reaxys Inspiring Chemistry Conference in Grindelwald, Switzerland. The conference hosts a Symposium and a Poster Session to which all finalists are invited to contribute. Winners of the Reaxys Prizes will be announced in early July.
06/20/2014
Stony Brook receives $10 Million DOE Grant for New Energy Frontier Research Center
Stony Brook University received notification from the U.S. Department of Energy that the proposal led by renowned energy storage researcher, Esther Takeuchi, PhD, who holds a joint appointment in the Department of Chemistry and the Department of Materials Science and Engineering at Stony Brook University, and is Chief Scientist in Brookhaven National Laboratory's Global and Regional Solutions Directorate, was selected to receive a $10 million Energy Frontier Research Center (EFRC) award. Read more.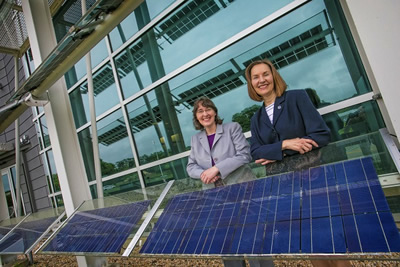 m2m Center Project Director, Esther Takeuchi (r) and m2m Center COO Amy Marschilok, at the NYS Center of Excellence in Advanced Energy Research at Stony Brook University.
May 2014
05/23/2014
Commencement 2014
Speaker, Dr. Ruth Heidelberger
05/22/2014
05/01/2014
Second Annual Francis Johnson Lecture, speaker Dr. Carolyn Bertozzi. Read more and see photos
April 2014
Researcher of the month - Dara Bobb-Semple.


Congratulations to Dr. Susan Oatis who just received the Provost's Outstanding Lecturer Award! This recognition is well-deserved for all that Dr. Oatis does in our undergraduate laboratories and masters program to the benefit of our students.
Two SBU professors elected into AAAS - Congratulations to Ken A. Dill, PhD, Distinguished Professor of Physics and Chemistry, and Director of the Laufer Center for Physical & Quantitative Biology, and Jules Ralph Feiffer, an artist and writer, and core faculty member of the Graduate Arts Campus. Read more.
Congratulations to our four NSF Graduate Research Fellowship awardees: Dara Bobb-Semple in Chemistry, Stephen K. Lee in Biomedical Engineering, Marisa Lim in Ecology & Evolution, and Micah Mumper in Psychology/Cognitive Science. Read more.
March 2014
The Department of Chemistry is delighted to announce that Dr. Melanie Chiu, currently a postdoctoral fellow at Stanford University with Professor Zhenan Bao, and Dr. Christopher Johnson, a postdoctoral fellow at Yale University with Professor Mark Johnson, will be joining the faculty on September 1, 2014
Dr. Chiu carried out undergraduate studies in chemistry at Dartmouth College and received her PhD in Chemistry from UC Berkeley under Professors Robert Bergman and Dean Toste. Dr. Chiu's research interests utilize synthetic and physical organic chemistry to design new catalysts for conjugated polymer synthesis, and as well as new photoswitchable catalysts. Her research endeavors address challenges in polymer synthesis with important applications in materials science and organic semiconductor technologies, such as organic light‐emitting diodes and organic photovoltaics.
Dr. Johnson carried out his undergraduate studies in Physics at Butler University and received his PhD from the University of California, San Diego under Professor Robert Continetti. Dr. Johnson's research training is in structure and dynamics using mass and vibrational spectroscopy. His research endeavors address challenges in atmospheric chemistry and understanding the role of aerosol particles in climate change.
February 2014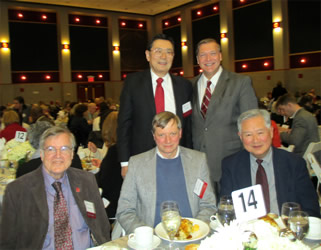 Congratulations to the University Service Awards Recipients from Chemistry for 2013: Benjamin Chu (45 years), Frank (Bill) Fowler (45 years), Francis Johnson (40 years), Stephen Koch (35 years), Iwao Ojima (30 years), and Bradford J. Tooker (25 years). We are proud and grateful for their continued contribution to the Chemistry Department.