Office of the President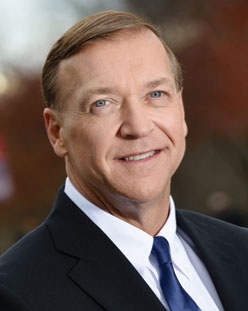 Samuel L. Stanley Jr., MD, President
Samuel L. Stanley Jr., MD is fifth President of Stony Brook University. He received his MD (1980) from Harvard Medical School. After completing his internship and residency at Massachusetts General Hospital, he did postdoctoral work in immunology at Washington University, St. Louis, and was appointed to the faculty in the Division of Infectious Diseases of Washington University Medical School, one of the nation's most highly ranked Schools of Medicine. In 2003, he was named Director of the Midwest Regional Center for Excellence for Biodefense and Emerging Infectious Diseases Research and Vice Chancellor for Research in 2006. Dr. Stanley is a distinguished medical researcher and has published extensively.
---
Office of the Provost
The Office of the Provost carries responsibility for the academic mission of the west campus, providing direct supervision for all academic units, support services and operations, and coordinating all academic programs. The Deans and Directors of the Colleges, Schools, Libraries, Centers and Institutes, other than those in the Health Science Center, report to the Provost. The Provost acts on behalf of the President in the absence of the President. The Provost works closely with the Dean of the Medical School/Vice President of the Health Sciences Center and the Vice President for Research in academic and research issues that concern the University as a whole.
Visit the Office of the Provost
---
Stony Brook Council
The Stony Brook Council serves as an oversight and advisory body to the campus and to Stony Brook's president and senior officers. In accordance with New York State Education Law, The Council comprises ten members; nine who are appointed to seven-year terms by the governor of the State of New York, and one student member elected in alternating years from among the campus' undergraduate and graduate students.