Skip Navigation

Version 11
Red Rays with Image and Text Area
The Boxes snippets allow you to place a row of three or four boxes, each of which includes a title field with a red rays background and an image. When you mouse over the image, a text description appears with a button that links to another page or more information. There is also a single box option, as well as 'Section' options that place a headline and subhead text above the row of three or four boxes.
Note:This is a 'full-width' snippet that can only be placed in a Promo Section and not in a Main Content Area.
Examples
How to Use
1. Click on the snippet button in the toolbar.
2. Select the Boxes category
3. Choose Red Rays with Image and Text Area snippet

4. In the table, for each box, select a background image to use, title text, the description text for the mouseover, the text for the button, the URL that the button should link to, and whether the link goes to an external site or not.

Each box appears as its own column in the snippet table.
5. You have the option to display 2, 3 or 4 boxes on a row.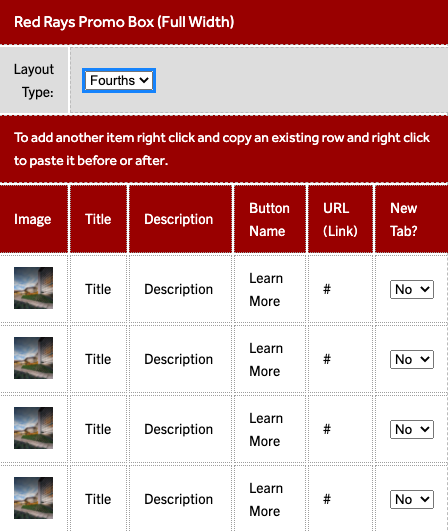 6. Save and preview the page. Publish.