Skip Navigation

Version 11
Buttons
Instead of relying on simple text links, you can create buttons that can change color on mouseover or appear in bold black-and-white, which are particularly eye-catching for calls to action, like APPLY NOW or LEARN MORE.
The buttons will look like this:
There are 2 ways to create a button:
One - Create a link and apply a class to it. This is the simplest way to create a button and is the one we recommend using for most button needs.
Two - Use the button snippet. Using this snippet provides a few more style options and is only suggested for use in rarer cases, for buttons that open a lightbox for video viewing, or for creating buttons with a certain fixed width.
1. Creating a Link and Applying a Class
Highlight the text to be linked and click the insert/edit link button in the toolbar. In the Insert Link dialogue box, choose one of two button options in the Class dropdown.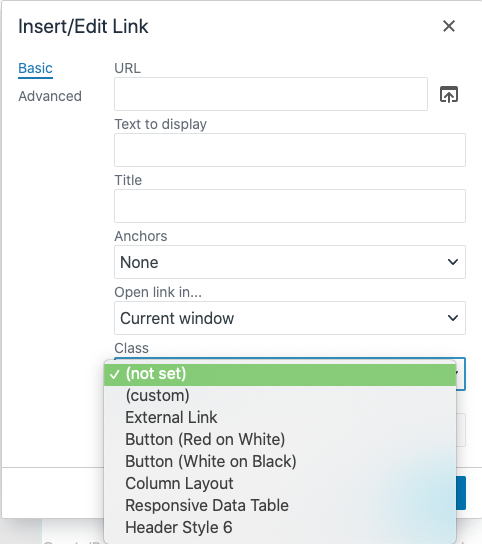 One is 'Button (Red on White)' which is red text on a white background, and the other is 'Button (White on Black)' which is white text on a black background. Select the class an click OK. (If you're linking to an external site, also change the target to 'New Window.)
View our tutorial on using the button class
2. Using the Brand Button Snippet
Stony Brook University
Office of Communications and Marketing
Stony Brook, NY 11794-0605