Skip Navigation

Version 11
Large Tabbed Accordion (1 Column)
The Large Tabbed Accordion provides a tabbed accordion that fits within a full-width Promo Section.
Note that this cannot be used in a Main Content Area, only a Promo Section, and you may only use one tabbed accordion per page.
Example:

How to Use
1. Select the snippet button in the toolbar, go to the Page Layouts category and select '1 Column Large Tabbed Accordion.'
2. Under Section Options, you can leave the default settings as they are standard. You will likely want to change the background image. Select the image and click the 'Insert/Edit Image' button in the toolbar. Click the browse button next to the 'Source' field to find a background image to use.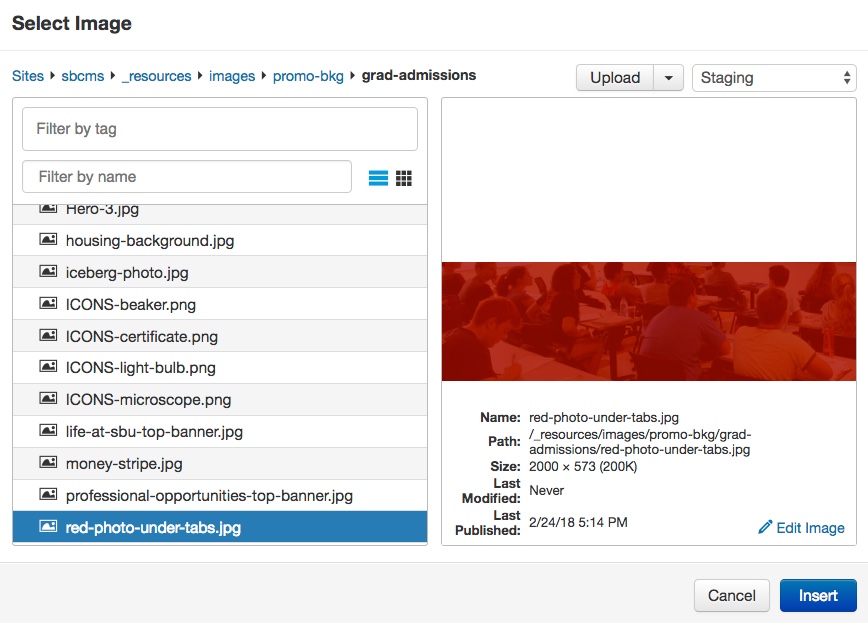 An image is preselected, but you can use the breadcrumbs at the top of the window to go back to other image categories. Choose an image and click INSERT. Don't forget to give the image a description before clicking 'OK.'
3. Scroll down to 'Column 1' to input the content of the accordion. By default the snippet gives you three tabs, and each tab has an item.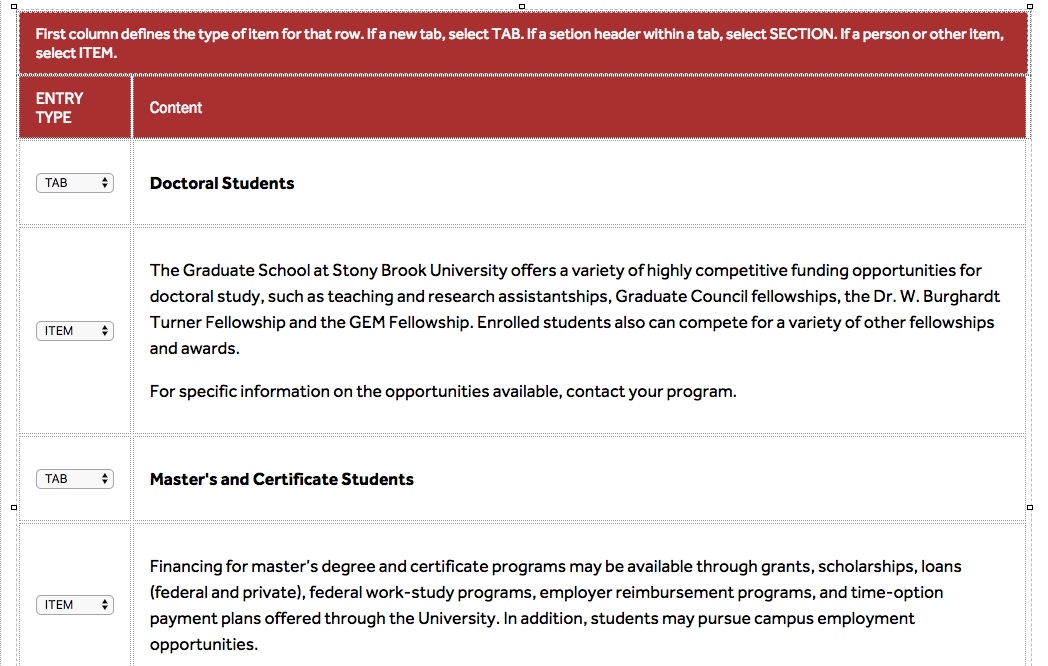 For TAB, the content would be the title of the tab.
For ITEM, the content would be whatever you want to see in that tab.
Note that you can have multiple sections within a tab. For that, you would need to set the ENTRY TYPE for the row after a TAB to SECTION, and the content would be the title of that section. The next row ENTRY TYPE would be ITEM, with the content of that section. The next row would be a new section, followed by ITEM, etc. for however many sections.
To insert more rows in the snippet, right-click in the last row and select ROW > COPY ROW, then ROW > PASTE ROW AFTER.  You can then edit the entry type and content as needed.
4. When finished entering content in the snippet, save the page and publish when ready.
Stony Brook University
Office of Communications and Marketing
Stony Brook, NY 11794-0605