Skip Navigation
Launch Your Career Further, Faster.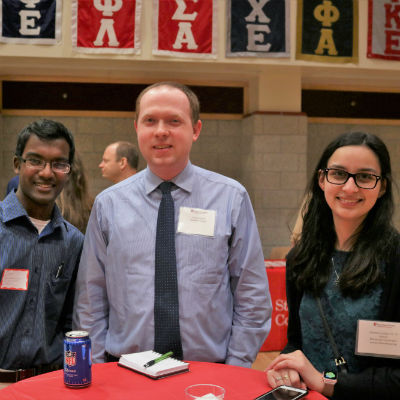 A Stony Brook University College of Business MBA or MS degree can take as little as a year, but will provide you with a lifetime of educational and career possibilities.  Our programs will give you a level of knowledge and confidence that take you far beyond your undergraduate degree, preparing you for management and leadership roles, or perhaps a PhD program. No matter what you studied as an undergraduate, a graduate business degree from Stony Brook will help launch you wherever you want to go.  
Full Time Programs
Stony Brook University's College of Business MBA programs include an MBA, MBA in Finance, MBA in Marketing, MBA in Health Care Management, and MBA in Accounting. The MBA offers the option to choose a concentration in operations analytics or innovation. MBA programs are either 36 or 48 credits; applicants with an undergraduate degree in business qualify for the 36 credit track; all others will be placed into the 48 track. The College of Business also offers 30-credit MS in Accounting and MS in Finance degree programs.
Full time graduate students can take full advantage of college life, attending the many workshops sponsored by the Career Center, guest speaker events across campus; and joining student clubs and business fraternities such as Delta Sigma Pi, the Accounting Society, the American Marketing Association, and the Finance Society, just to name a few.
Flexible Scheduling Options
Many of our full time students work on a part time basis, so we understand that students rely on flexible schedules. MBA courses are offered with a mix of daytime, evening, Saturday and online course options.  Courses are offered in Fall and Spring semesters, during the 3-week Winter session, and during our two 6-week Summer sessions.
Unique Combined Degree Programs
MBA students have the opportunity to earn two Master's degrees concurrently. These include Master of Public Health/MBA, Master of Arts in Public Policy/MBA, Medical Degree/MBA, Master of Science in Computer Science/MBA, Master of Art in Art History and Criticism/MBA, Master of Science in Mechanical Engineering/MBA, and Master of Science in Biomedical Engineering/MBA.
Research Opportunities
Interested students may be able to work with faculty on a variety of research projects and in research laboratories such as the Center of Entrepreneurial Finance, Leadership & Creativity Research Lab or the Consumer Affiliative Processes Lab.  Some areas of research expertise include Consumer Behavior; Operations Management/Decision Analytics; Organizational Behavior; Behaviorial Finance and Accounting.   
Hear what a current student has to say about the program.
Ready to apply or learn more?  
Visit our admissions page for details on how to apply. Or contact us to set up an appointment by emailing COBgraduate@stonybrook.edu or calling 631-632-7171.