Skip Navigation
Science Talent Search (STS) 
Below are listings of students who did their research with Stony Brook mentors
(including participants in the Garcia Center Research Summer program, the Simons Summer Research Program; and independent research students). 
Congratulations to these students, and to the SB faculty, post docs, graduate and undergraduate students who helped them in their research! 
Please contact Karen Kernan if you have additional information. We rely on you to help keep this listing up-do-date.



2023

 

Regeneron STS 2023

HIGH SCHOOL STUDENTS

PROJECT TITLES

STONY BROOK FACULTY ADVISORS

Samir Batheja
Half Hollow Hills HS, Dix Hills, NY
Regeneron STS Scholar


Association Between Sleep and Fatigue in Depression: Role of GABA and Glutamate

Dr. Christine DeLorenzo


Center for Understanding Biology using Imaging Technology (CUBIT); Psychiatry; Biomedical Engineering

Hiral Chavre
George W. Hewlett HS, Hewlett, NY
Regeneron STS Scholar

NMDA Receptor Mutation and KCC2 Inhibition Induce Changes in Brain Development Associated With Neurodevelopmental Diseases

Dr. Howard Sirotkin,
Amalia Napoli, Neurobiology & Behavior
James Hou
Bishops School, CA
Regeneron STS Scholar


Near Real-Time Seismic Human Fatality Information Retrieval From Social Media With Few-Shot Large-Language Models

Dr. Susu Xu
Civil Engineering
Emily Kim
Jericho High School, Jericho, NY
Regeneron STS Finalist

The Dual Roles of Activated Carbon as an Adsorbent and Photocatalyst for Azo Dye Removal

Dr. Taejin Kim
Materials Science & Chemical Engineering
Ashley Lam
Herricks HS
New Hyde Park, NY
Regeneron STS Scholar



Novel Zinc Oxide/Nanocellulose Composite as a Photocatalyst for Water Purification

Dr. Benjamin Hsiao
Chemistry
Anna Liu
Rancho Bernardo HS, San Diego, CA
Regeneron STS Scholar



A Selective Removal of Carboxylated Perfluoroalkyl Substances (PFAS) via Silver-Assisted Coagulation

Dr. Benjamin Hsiao
Chemistry

Kiele Morgan
Bronx HS of Science, Bronx, NY
Regeneron STS Scholar


The Effect of NMDA Receptor Blockade on Neurogenesis and Neural Crest Development

Dr. Howard Sirotkin
Amalia Napoli, Neurobiology & Behavior

Amit Saha
William A. Shine Great Neck South HS, Great Neck, NY
Regeneron STS Scholar


Deep Learning Accelerated Lattice-Boltzmann Simulations for Multiscale Modeling of Thrombosis

Dr. Yuefan Deng, Y. Zhu, P. Zhang , Applied Mathematics & Statistics; M. Rafailovich, Materials Science & Chemical Eng.

Holy Mary Zaher
Smithtown HS Saint James, NY
Regeneron STS Scholar
The Correlation Between Peroxisome Levels and Short-Term Memory Loss
in a PINK1 -/- Rat Model of Parkinson's Disease

Dr. Mary Kritzer
Neurobiology & Behavior

2022

 

Regeneron STS 2022

HIGH SCHOOL STUDENTS

PROJECT TITLES

STONY BROOK FACULTY ADVISORS

Sabrina Chen
Syosset HS, Syosset, NY
Regeneron STS Scholar

Negative Charges at T168, S169, and/or S170 of 

ECM11

 Promote Wild-Type Meiotic Progression and Synapsis in Meiotic 

Saccharomyces cerevisiae

 Cells

Dr. Nancy Hollingsworth
 Biochemistry & Cell Biology

 

Ben Choi
Potomac School, McLean, VA
Regeneron STS Finalist

An Ultra-Low Cost, Mind-Controlled Transhumeral Prosthesis Operated via a Novel Artificial Intelligence-Driven Brainwave Interpretation Algorithm


Dr. Ji Liu
Electrical & Computer Engineering

 
Jonathan Chung
Smithtown HS East, St. James, NY
Regeneron STS Scholar

Microbial Associations Constrain Coral Adaptations to Heat Stress: An Integrative Multi-Dataset Analysis

Dr. Robert Thacker
Ecology & Evolution
Amy Feng
Pittsford Sutherland HS, Pittsford, NY
Regeneron STS Scholar


Extending Choice Probability to High Dimensional Neural Data
Dr.  Il Memming Park
Neurobiology & Behavior
Jessica Liang
Coppell HS, Coppell, TX
Regeneron STS Scholar
CS-VAE: Compressive Sensing-Based Variational Autoencoder: Theory and Design
Dr. Wei Zhu
Applied Mathematics & Statistics

Roberto Lopez
Brentwod HS, Brentwood, NY
Regeneron STS Finalist

Evaluating Phragmites australis Wrack Accumulation in a Long Island Salt Marsh Ecosystem and Assessing Its Effect on Carbon Sequestration, the Nitrogen Cycle, and Sediment Biota
Dr. Dianna Padilla
Ecology & Evolution;
Dr. Rebecca Grella
Brentwood HS

Ricardo Lopez
Brentwod HS, Brentwood, NY
Regeneron STS Scholar



Evaluating Salt Marsh Restoration at Sunken Meadow: Analysis of Sediment Loss and Accretion

Dr. Dianna Padilla
Ecology & Evolution;
Dr. Rebecca Grella
Brentwood HS

Yash Narayan
The Nueva School, San Mateo, CA
Regeneron STS Finalist

DeepWaste: Applying Deep Learning on a Mobile Device for Accurate, Low Cost, and Ubiquitous Waste Classification

Dr. William Holt,
 Dr. E. Troy Rasbury Geosciences
Sarah Schubel
Smithtown HS, East Saint James, NY
Regeneron STS Scholar

Loss of NMDA Receptor Signaling Results in Excess Proliferation of CNS and Neural Crest-Derived Cells

Dr. Howard Sirotkin; Neurobiology & Behavior


Harshita Sehgal
Roslyn HS, Roslyn, NY
Regeneron STS Scholar

Understanding the Evolutionary Development of Radio-Resistance in the Brassicae Family

Nicolette Sipperly, Ph.D. candidate - Ecology & Evolution (Davalos research group)

Emily Zhou
The Harker School, San Jose, CA
Regeneron STS Scholar

Computer-Assisted Detection of Intracranial Aneurysms Using a Transformer Deep Neural Network in 3D MR Angiography

Dr. Miriam Rafailovich
Materials Science & Chemical Engineering

2021

 

Regeneron STS 2021

HIGH SCHOOL STUDENTS

PROJECT TITLES

STONY BROOK FACULTY ADVISORS

Ashley AlcantaraBrentwod HS, Brentwood, NYRegeneron STS Scholar

Farming Biodegradable Packaging Using Pleurotus ostreatus Mycelium

Dr. Dianna Padilla
Ecology &Evolution
and
Dr. Rebecca Grella
Brentwood HS
Michael Batavia
Bronx HS of Science, Bronx, NY
Regeneron STS Scholar

New Computational Model For Mitosis to Save Lives from Cancer

Dr. Yuefan DengApplied Mathematics & Statistics 
Derek Chien
The Davidson Academy of Nevada, Reno, NV
Regeneron STS Scholar



Curing COVID-19: Novel Design and Computational Evaluation of Potential SARS-CoV-2 Helicase Inhibitors

Dr. Iwao Ojima
Chemistry
Ethan Ocasio
The New School of Northern Virginia, Fairfax, VA
Regeneron STS Scholar
Deep Learning Prediction of Mild Cognitive Impairment to Alzheimer's Disease Conversion at 3 Years Using Longitudinal and Whole-Brain 3D MRI
Dr. Tim DuongRadiology
Julia Salatti
Kings Park HS, Kings Park, NY
Regeneron STS Scholar


Utilizing MR Imaging to Analyze Tumor Texture and Its Effects on Long Term Survival in Patients with Glioblastoma Multiforme
Dr. Tim DuongRadiology

2020

 

Regeneron STS 2020

HIGH SCHOOL STUDENTS

PROJECT TITLES

STONY BROOK FACULTY ADVISORS


William Borges
Roslyn HS, Roslyn, NY
Regeneron STS Scholar

An Innovative Approach to Recover Nitrogen from Wastewater Using Nanostructured Cellulose Sulfate

Dr. Benjamin Hsiao
Chemistry


Isha Brahmbatt
Ardsley HS, Ardsley, NY
Regeneron STS Scholar



Removal of Rare Earth Metal Ions from Contaminated Water by Sustainable Carboxycellulose Nanofibers Derived from Agave through Nitro Oxidation Process

Dr. Benjamin Hsiao
Chemistry
Feiyang Dai
Jericho Senior HS, Jericho, NY
Regeneron STS Scholar

Predicting Major Depressive Disorder Treatment Response: Examining Pretreatment Biomarkers GABA and Glx

Dr. Christine DeLorenzo
Psychiatry, Biomedical Engineering, CUBIT
Arushi Dogra
Del Norte HS, Del Norte, CA
Regeneron STS Scholar
 

The Role of C1q and CD4+ T-cells in the Pathogenesis of Systemic Lupus Erythematosus (SLE)

Dr. Berhane Ghebrehiwet
Medicine
Maximilian Du
Fayetteville-Manlius HS,  Manlius, NY
Regeneron STS Scholar

Decreasing Renewable Energy-Induced Power Grid Instability Through the Improvement of LSTM Neural Networks for Better Short-Term Wind Power Predictions

Dr. Zhenhua Liu
Applied Mathematics & Statistics, Computer Science
Ashley Guo
Palo Alto HS, Palo Alto, CA
Regeneron STS Scholar

Metabolic Regulation in Neuronal Morphogenesis

Dr. Shaoyu Ge , 
Dr. Qiaojie Xiong
Neurobiology & Behavior

Sejal Gupta
Hicksville HS, Hicksville, NY
Regeneron STS Scholar

Development of a Machine Learning Algorithm to Predict the Path of Joints for Gait Rehabilitation

Dr. Anurag Purwar
Mechanical Engineering
Carrie Hsu
Herricks HS, New Hyde Park, NY
Regeneron STS Scholar
 

Development of a Frustrated Total Internal Reflection Biosensing System for Noninvasive Terahertz Imaging and Detecting Cell Growth

Dr. Hassan Arbab
Biomedical Engineering

Jordan Klein
Ward Melville HS,
East Setauket, NY
Regeneron STS Scholar



Prevalence of Tick-Borne Diseases in Fire Island Deer Ticks

Dr. Jorge Benach
Dr. Santiago Sanchez-Vicente
Microbiology & Immunology

Jeffrey Li
Gilman School
Baltimore, MD
Regeneron STS Scholar

Biopolymer-based Pore Fluids for Sustainable Geotechnical and Civil Engineering Applications

Dr. Dilip Gersappe
Materials Science & Chemical Engineering

Stephanie Lin
Smithtown HS, Smithtown, NY
Regeneron STS Scholar

Convolutional Neural Network of Dynamic Contrast Enhanced MRI Detects Axillary Lymph Node Metastasis in Breast Cancer Patients Pre Neoadjuvant Chemotherapy

Dr. Tim Duong
Radiology


 

Nithin Parsan
William P. Clements HS, Sugar Land, TX
Regeneron STS Scholar

Examining the Role of Chromatin Remodeler 

skp-1

(snw1) During 

C. elegans

 Anchor Cell Invasion

Dr. David Q. Matus 
Biochemistry & Cell Biology

Mariam Quraishi
Ward Melville HS,
East  Setauket, NY
Regeneron STS Scholar


The Effect of Sibling Status of Adolescents with Autism Spectrum Disorder on Symptom Severity and Social Development

Dr. Matthew Lerner
Psychology

Abishek Ravindran
Tresper Clarke HS , Westbury, NY
Regeneron STS Scholar


Implementation of Novel Sector Weight and Google Trends Data Objectives using MOEA/D Curtails Systematic Risk for Quintessential Investors

Dr. Yuefan Deng
Applied Mathematics & Statistics

Kreena Totala
Plainview-Old Bethpage John F. Kennedy HS, Plainview, NY
Regeneron STS Scholar



The Novel Quantification of White Matter Microstructural Alterations in Thalamocortical Tracts as a Predictive Measure of ADHD Behavior and Subtype in a Pediatric Population

Dr. Tim Duong
Radiology

Caitlin Wilkinson
Smithtown HS, Smithtown, NY
Regeneron STS Scholar



Rates and Traits: The Potential for Utilizing Above-ground Plant Traits to Predict Denitrification in Long Island Salt Marshes

Dr. Stephen Baines
Ecology & Evolution

Janice Yang
Dougherty Valley HS, San Ramon, CA
Regeneron STS Scholar

A Novel Machine Learning Method to Predict Breast Cancer Patient Response to Neoadjuvant Chemotherapy and Progression Free Survival from Axillary Lymph Node MRIs

Dr. Tim Duong
Radiology

Sophie Zhang
High Technology HS, Lincroft, NJ
Regeneron STS Scholar

Developing a Microporous Hydrophobic Membrane from Hydrophilic Cellulose for Membrane Distillation

Dr. Benjamin Hsiao
Chemistry

Lucy Zou
East Brunswick HS, East Brunswick, NJ
Regeneron STS Scholar

The Computational Development of a Novel Class of Boronic Acid-Containing Chalconoids and Cis-Restricted Combretastatin A-4 Analogs for Tumor Vasculature Disruption

Dr. Iwao Ojima


Chemistry

2019

 

Regeneron STS 2019

HIGH SCHOOL STUDENTS

PROJECT TITLES

STONY BROOK FACULTY ADVISORS

Anthony D'Amore
Smithtown HS East, Saint James, NY
Regeneron STS Scholar
Habitat Preference Drives Brain Shape in Crocodylomorphs
Dr. Alan Turner
Anatomical Sciences


Kelsey Ge
Ward Melville HS, East  Setauket, NY
Regeneron STS Scholar
 Multidecadal Trends in Tropical Cyclone Behavior within North Atlantic Sub-Basins
Dr. Brian Colle
School of Marine & Atmospheric Sciences
Julia Grossman
George W. Hewlett HS, Hewlett, NY
Regeneron STS Scholar
Use of Fluorine as a Proxy to Determine the Effect of Geothermal Fluids on Strain Rate, Effective Crustal Viscosity and Landscape Evolution in the Great Basin

Dr. E. Troy Rasbury
Dr. William Holt
Geosciences

Angie Jang
Edgemont HS, Scarsdale, NY
Regeneron STS Scholar
 Investigating the Role of Cell Cycle State During Convergent Extension in D. rerio
Dr. Benjamin Martin
Dr. David Q. Matus
Biochemistry & Cell Biology
Se Ri Lee
Choate Rosemary Hall, Wallingford, CT
Regeneron STS Scholar
A Study on the Correlation Between the Structure and Desalination Efficiency of Reverse Osmosis Membranes Fabricated by Interfacial Polymerization
Dr. Benjamin Hsiao
Chemistry
Serena Lee
Syosset HS, Syosset, NY
Regeneron STS Scholar
The Effect of Hydroxychloroquine on Oral Regeneration in Nematostella vectensis
Dr. Gerald Thomsen
Dr. Patricia Bossert
Biochemistry & Cell Biology
Arianna Pahlavan
Jericho HS, Jericho, NY
Regeneron STS Scholar
 Discretizing a Hybrid Cardiac Reconstruction: A Novel Simulation of Sustained Fibrillation
Dr. James Glimm
Applied Mathematics & Statistics

Maya Peña-Lobel
Ward Melville HS, East  Setauket, NY
Regeneron STS Scholar


Changes in Gene Expression of Ion Regulatory Proteins in Developing Atlantic Silverside (Menidia menidia) Subjected to Ocean Acidification Conditions
Dr. Janet Nye 
Dr. Nolwenn Dheilly
School of Marine & Atmospheric Science

Ahmad Perez
Brentwood HS, Brentwood, NY
Regeneron STS Finalist



Assessing Marsh Degradation in Two Long Island Salt Marshes and a Method for Restoration
Dr. Sherif Abdelaziz
Civil Engineering

Stefan Philip
Plainview-Old Bethpage John F. Kennedy HS, Plainview, NY
Regeneron STS Scholar



Forecasting the Progression of Temporal Orientation Through the Language of Social Media Using Machine Learning
Dr. Andrew Schwartz
Computer Science

Alexander Rodriguez
Smithtown HS, Smithtown, NY
Regeneron STS Scholar

A Genomic and Pharmacological Analysis of Adenosine Receptors in the Sea Anemone Nematostella vectensis
Dr. Joshua Rest
Ecology & Evolution
Dr. James Dilger
Anesthesiology
Shruthi Shekar
Jericho HS, Jericho, NY
Regeneron STS Scholar


MALAT1 & SOX: Understanding Progression of Cancer Metastasis Post Application of Negative Pressure Wound Therapy on Tumor Resected Wound Beds

Dr. Gurtej Singh


Surgery
Katie Sierra
Northport HS, Northport, NY
Regeneron STS Scholar
 
Effects of Multiple Stressors on Survivorship and Growth in Juvenile Mytilus edulis
Dr. Dianna Padilla
Ecology & Evolution
Megan Specht
Ward Melville HS, East  Setauket, NY
Regeneron STS Scholar
Effect of Micronutrient Consumption in Association with p53 status on Colon Cancer Progression: A Prospective Study in Racial Health Disparity
Dr. Jennie Williams
Family, Population & Preventive Medicine
Elizabeth Wang
Ward Melville HS, East  Setauket, NY
Regeneron STS Scholar
A Novel Effect of Cannabidiol (CBD) on Microglial Activation in the Presence of Epileptic Activity
Dr. Styliani-Anna Tsirka
 Pharmacological Sciences
Matthew Weltmann
Half Hollow Hills HS East, Dix Hills, NY
Regeneron STS Scholar
Palbociclib Treated MDA-MB-231 Breast Cancer Cells Exhibit Increased Invasive Behavior in Zebrafish Xenograft Model
Dr. Benjamin Martin
Dr. David Q. Matus
Biochemistry & Cell Biology
Vincent Zhang
Sachem HS East, Sachem, NY
Regeneron STS Scholar
MRI Texture Analysis for Detection of Axillary Lymph Node Metastasis in Breast Cancer Patients
Dr. Tim Duong
Radiology 
Brandon Zhu
The Wheatley School, Old Westbury, NY
Regeneron STS Scholar


 Efficient Zero-Knowledge Using Garbled Circuits Under the Plain Model
Dr. Omkant Pandey
& Allen Kim (PhD student),
Computer Science

2018

 

Regeneron STS 2018

HIGH SCHOOL STUDENTS

PROJECT TITLES

STONY BROOK FACULTY ADVISORS

Sarah Adamo
Smithtown HS West, Smithtown, NY
Regeneron STS Scholar
Acetylcholine and Nicotine Potentiate Currents in Cells Isolated from the Sea Anemone Nematostella vectensis
Dr. James Dilger
Anesthesiology
Mutahara Bhuiyan
Jericho HS, Jericho, NY
Regeneron STS Scholar
Sustainability in Water Treatment: Heavy Metal Remediation via Nitro-Oxidized Carboxycellulose Nanofibers
Dr. Benjamin Hsiao
Chemistry

Sydney Bracht
Smithtown HS East, St. James, NY
Regeneron STS Scholar

 A Reverse Genetic Approach to Identify Novel Regulators of Cell Invasive Behavior
Dr. David Matus
Biochemistry & Cell Biology
Bethany Chen
Winston Churchill HS, Potomac, MD
Regeneron STS Scholar
 Generation of a Therapeutic Monoclonal Antibody for Acute Myeloid Leukemia by Employing the U937 Cell Line as a Surrogate Antigen
Dr. Berhane Ghebrehiwet
Medicine
Chelsea Chen
Hunter College HS, New York, NY
Regeneron STS Scholar


 Design of Optimal Network Topologies for Supercomputers
Dr. Yuefan Deng
Applied Mathematic & Statistics
Brendon Choy
Hunter College HS, New York, NY
Regeneron STS Scholar
Cutting off Cancer - Design, Analysis, and Synthesis of Novel Vascular Disrupting Agents
Dr. Iwao Ojima
Chemistry
Hannah Cole
Newton South HS, Newton, MA
Regeneron STS Scholar
SR-18662 Targets Krüppel-Like Factor 5 (KLF5) and Tumor Growth in Colorectal Cancer
Dr. Vincent Yang
Medicine

Ella Feiner
Horace Mann School,
Bronx, NY
Regeneron STS Scholar & Finalist

Exploring Posterior Growth in D. rerio Using a Live Cell Cycle Biosensor
Dr. Benjamin Martin
Dr. David Q. Matus
Biochemistry & Cell Biology

Rose Hong
Del Norte HS, San Diego, CA
Regeneron STS Scholar

Modeling 3D Bioprinting: Short-Term and Long-Term Effects of Fluid Flow and Shear Stress Forces on Squamous Cell Carcinoma, Keratinocyte, and Fibroblast Suspensions Sheared in Polyethylene Glycol Solutions
Dr. Miriam Rafailovich, Materials Science & Chemical Engineering
Dr. Marcia Simon
Oral BIology

Brian Huang
Hunter College HS, New York, NY
Regeneron STS Scholar



On Sufficient Conditions for Trapped Surfaces in Spherically Symmetric Spacetimes
Dr. Marcus Khuri
Mathematics

Kavya Kopparapu
Thomas Jefferson HS for Science & Technology, Alexandria, VA
Regeneron STS Scholar& Finalist

GlioVision: A Platform for the Automatic Assessment of Glioblastoma Tumor Features, Molecular Identity, and Gene Methylation from Histopathological Images Using Deep Learning K
Dr. Fusheng Wang
Computer Science

Chiu Fan Bowen Lo
Jericho HS, Jericho, NY
Regeneron STS Scholar & Finalist

Near-Field Nanoscopy Simulation by Incorporating Harmonic Demodulation and Cone-Shaped Probing Tip
Dr. Mengkun Liu
Physics & Astronomy

Michael Lu
Ward Melville HS, East  Setauket, NY
Regeneron STS Scholar

MicroRNAs Contribute to Angiotensin II-Mediated Electrical Remodeling of the Heart
Dr. Ira Cohen
Physiology & Biophysics

Gilbert Spencer
Half Hollow Hills HS West, Dix Hills, NY
Regeneron STS Scholar

A Novel Method to Deconvolute the Ice Core Record of Carbon Dioxide
Dr. John Mak
School of Marine & Atmospheric Sciences

Kenneth Stier
Academy for Medical Science Technology, Hackensack, NJ
Regeneron STS Scholar

Blockade of gC1qR at the C1q Binding Site Inhibits Growth in a Biphasic Mesothelioma Cell Line Expressing gC1qR but not C1q.
Dr. Berhane Ghebrehiwet
Medicine

Sreyans Tanga
Lawrenceville School, Lawrenceville NJ
Regeneron STS Scholar

A Novel Procedure Using Algae-Based Cationized Dialdehyde Cellulose to Improve the Dewatering Stage in Wastewater Treatment
Dr. Benjamin Hsiao
Chemistry

Shrey Thaker
Smithtown HS East, St. James, NY
Regeneron STS Scholar

The Role of miR-34a in Colorectal Cancer Racial Health Disparity
Dr. Jennie Williams
Family, Population & Preventive Medicine

Cindy Wang
William A. Shine Great Neck South HS, Great Neck, NY
Regeneron STS Scholar

Observation of the Chiral Magnetic Effect in the Quark-Gluon Plasma Produced in Au+Au Collisions at the Relativistic Heavy Ion Collider
Dr. Roy Lacey
Chemistry

Yunyan Wu
Jericho HS, Jericho, NY
Regeneron STS Scholar

Ciliogenesis Facilitated by Ciliopathy Genes Wdpcp and Rpgrip1l: A Requirement for Hair Follicle Development
Dr. Jiang Chen
Pathology, Dermatology

Michelle Xing
William A. Shine Great Neck South HS, Great Neck, NY
Regeneron STS Scholar

Direct Functionalization of Algal Nanocellulose to Enhance Biosorption for Lead(II) Remediation
Dr. Benjamin Hsiao
Chemistry

Sherry Xu
Troy HS, Fullerton, CA
Regeneron STS Scholar

Intraspecific Genome Size Variation in Draba verna
Dr. Jesse Hollister
Ecology & Evolution

Andre Yin
Westview School, San Diego, CA
Regeneron STS Scholar

A Novel Approach to Increasing the Permeability of Desalination Membranes
Dr. Benjamin Hsiao
Chemistry

2017

 

Regeneron STS 2017

HIGH SCHOOL STUDENTS

PROJECT TITLES

STONY BROOK FACULTY ADVISORS

Annette Chang
Woodbridge HS, Irvine, CA
Regeneron STS Scholar
Elucidating a Relationship Between Ligand-Flap Interactions and Drug Potency in HIV-1 Protease with Molecular Dynamics Simulations
Dr. Carlos Simmerling
Chemistry
Aurnov Chattopadhyay
University HS, Irvine, CA
Regeneron STS Scholar
Sustainable Heavy Metal Remediation Through Novel Nanocellulose Coagulants Synthesized Directly from Raw Biomass
Dr. Benjamin Hsiao
Chemistry
Alan Chen
Herricks HS, New Hyde Park, NY
Regeneron STS Scholar
Understanding the Mobility of Important Trace Elements During Basalt Weathering with Implications for the Mars 2020 Rover Mission
Dr. Joel Hurowitz
Dr. Troy Rasbury
Geosciences
Abbigayle Cuomo
Commack HS, Commack, NY
Regeneron STS Scholar
A Study of Westward Recurving Tropical Cyclone Tracks in the Atlantic
Dr. Brian Colle
School of Marine & Atmospheric Sciences
Grace Hu
Jericho Senior HS, Jericho, NY
Regeneron STS Scholar


Advanced Au-SPIONs: Synthesis and Comparison of Multifunctional Nanoparticles for Personalized Nanomedicine
Dr. Ya S. Wang
Mechanical Engineering
Alby Joseph
Walter Tresper Clarke HS, Westbury, NY
Regeneron STS Scholar
Optimized Fatty Acid Binding Protein Inhibitors: Augmenting the Viability of a Novel Pain-Relief Mechanism
Dr. Iwao Ojima
Chemistry
Matthew Ko
John L. Miller Great Neck North HS, Great Neck, NY
Regeneron STS Scholar
Extraction of the Specific Shear Viscosity of the Quark-Gluon Plasma from Measurements of Flow Harmonics in Au + Au Collisions at 200 GeV
Dr. Roy Lacey
Chemistry 
Sandra Li
Jericho HS, Jericho, NY
Regeneron STS Scholar
Elucidating Cancer Racial Health Disparities: The Differential Response of African and Caucasian American Colon Cancer Cells to Vitamin E
Dr. Jennie Williams
Medicine-Cancer Prevention
Veda Murthy
Lexington HS, Lexington, MA
Regeneron STS Scholar
Towards a More Accurate Convolutional Neural Network (CNN) to Classify Glioma Nuclear Images
Dr. Dimitris Samaras
Computer Science
Michael Nachman
Paul D. Schreiber HS,
Port Washington, NY
Regeneron STS Scholar
An Analysis of Presidential Primaries as General Election Predictors
Dr. Helmut Norpoth
Political Science
Kirti Nath
Ward Melville HS, E. Setauket, NY
Regeneron STS Scholar
Assessing the Developmental and Metabolic Toxicity of Neuroactive Pharmaceuticals Using Early Life Stage Zebrafish (Danio rerio)
Dr. Anne McElroy
School of Marine & Atmospheric Sciences
Erika Nemeth
Smithtown HS East, 
Saint James, NY
Regeneron STS Scholar 


Cell-Based Delivery of Gene-Silencing Products via Gap Junction
Dr. Peter Brink
Physiology & Biophysics
Emily Peterson
Smithtown HS East, 
Saint James, NY
Regeneron STS Finalist


Lecithin-Retinol Acyl Transferase in Squamous Cell Carcinoma: The Relationship Between Oncology and Wound Repair
Dr. Marcia Simon
School of Dental Medicine
Dr. Miriam Rafailovich, 
Materials Science & Engineering
Ben Rhee
Syosset HS, Syosset, NY
Regeneron STS Scholar 


An Analysis of Power Dissipation in Extratropical Cyclones
Dr. Brian Colle
School of Marine & Atmospheric Sciences
Alia Rizvon
Half Hollow Hills HS East, Dix Hills, NY
Regeneron STS Scholar 
A Potential Role for CCDC11 in Cytokinesis Evidenced Through Colocalization with Acetylated a-Tubulin Adjacent to Midbody During Abscission
Dr. Ken-Ichi Takemaru
Pharmacological Sciences
Yash Samantaray
Syosset HS, Syosset, NY
Regeneron STS Scholar 
Impact of Coating Dithiocarbamate-Protected Ruthenium Nanoparticles on the Nafion® Membrane in the Performance of a Polymer Electrolyte Membrane Fuel Cell – a Novel Approach
Dr. Miriam Rafailovich, 
Materials Science & Engineering
Rubin Smith
William A. Shine Great Neck South HS, Great Neck, NY
Regeneron STS Scholar 
Modeling Topography and Mammal Species Diversity within the Western U.S Basin and Range from 36Ma
Dr. William Holt
Geosciences
Arjun Subramaniam
The Harker School, San Jose, CA
Regeneron STS Finalist


 CadML: A New, Computational Approach to Optimizing Antibody Affinity for Design of Antibody Therapeutics
Dr. Tom MacCarthy
Applied Math & Statistics 
Natalie Tan
Herricks HS, New Hyde Park, NY
Regeneron STS Scholar 


The Effect of Titanium Dioxide Nanoparticle Exposure on Undifferentiated and Differentiated U937 Cell Susceptibility to Staphylococcus aureus infection and Dextran Bacterial Antiadhesive Properties in Adipose-derived Stromal Cells
Dr. Miriam Rafailovich 
Materials Science & Engineering
Dr. Stephen Walker
Dental Medicine
Kavya Tangella
Ward Melville HS, E. Setauket, NY
Regeneron STS Scholar


Hearing Sounds, and the Illusion of Seeing Longer-Lasting Shapes
Dr. Arthur Samuel
Psychology
Jessica Tian
Del Norte HS, San Diego, CA
Regeneron STS Finalist
 Antibacterial Property of Cellulose Paper Decorated with Ag/TiO2 Nanocomposites
Dr. Benjamin Hsiao
Chemistry
Nestor Tkachenko
Ward Melville HS, E. Setauket, NY
Regeneron STS Scholar
Can Cars Fly? Eddy Current Levitation as Viable Technology
Dr. Sergey Suchalkin
Electrical & Computer Engineering
Ruisi Zhong
Smithtown HS East, 
Saint James, NY
Regeneron STS Scholar 
 Activation of Ventral Subiculum Neurons by Cued Emotional Learning
Dr. David Talmage
Pharmacological Sciences
Dr. Lorna Role
Neurobiology & Behavior

2016

 

Intel STS 2016

 HIGH SCHOOL STUDENT

  

PROJECT TITLE

 FACULTY MENTOR

Eleni Aneziris
Ward Melville HS, E. Setauket, NY
Intel semi-finalist
Effects of Predictability on the Startle Reflex in Anticipation of Emotionally-evocative Pictures
Dr. Greg Hajcak
Psychology
Lee Blackburn
Lawrence HS, Cedarhurst, NY
Intel semi-finalist


Incorporation of Platinum and Gold Partially Reduced Graphene Oxide into Polymer Electrolyte Membrane Fuel Cells for Increased Output Power and Carbon Monoxide Tolerance
Dr. Miriam Rafailovich 
Materials Science & Engineering
Arthur Chen
Lawrence HS, Cedarhurst, NY
Intel semi-finalist
The Effect of Graphene Oxide/Reduced Graphene Oxide Functionalized with Metal Nanoparticles on Dermal, Bacterial, and Cancerous/Non-cancerous Epidermal Cells
Dr. Marcia Simon, Oral Biology & Pathology 
Dr. Miriam Rafailovich, Materials Science & Engineering
Krista Chen
The Wheatley School, Old Westbury, NY
Intel semi-finalist
Novel Combination Chemotherapy Targeting Cancer Stem Cells with a Tumor Targeted Drug Delivery System Potentiated by Natural Remedies, EGCG and/or Curcumin
Dr. Iwao Ojima
Chemistry
Audrey Cheng
Henry M. Gunn HS, Palo Alto, CA
Intel semi-finalist
Enhancing the Efficiency of Self-assembled Organic Solar Cells with the Addition of a Second Electron Donor and Graphene
Dr. Miriam Rafailovich 
Materials Science & Engineering
Ayesha Chhugani
Herricks HS, New Hyde Park, NY
Intel semi-finalist
A Novel Magnetic Field Trap Using Superconductors for Transporting Polarized Ions for Medical Imaging
Dr. Abhay Deshpande
Physics & Astronomy
Sophia Chen
Ward Melville HS, E. Setauket, NY
Intel semi-finalist
On Steady Super-Kähler Ricci Solitons
Dr. Martin Rocek
Physics & Astronomy
Patrick Chi
Niskayuna HS, Niskayuna, NY
Intel semi-finalist
Using Power Dissipation as a Novel Approach to Rank and Categorize Tropical Cyclones 
Dr. Brian Colle
SoMAS
Dessie DiMino
Garden City HS, Garden City, NY
Intel semi-finalist
Production of a 3D Printed Hyaluronic Acid Hydrogel Scaffold through Optimization of the Molecular Weight, Functional Domains, and Viscoelastic Properties of Bioink
Dr. Miriam Rafailovich 
Materials Science & Engineering
Emma Feldman
Paul D. Schreiber HS, 
Port Washington, NY
Intel semi-finalist
Electrospun Hydrophobic Nanofibrous Membranes for Use in Membrane Distillation
Dr. Benjamin Chu,  Dr. Benjamin Hsiao,
Chemistry
Daniel Guo
Homestead HS, Cupertino, CA
Intel semi-finalist


Analysis of Heterochiasmy and Recombination Rates in Gibbons
Dr. Krishna Veeramah
Ecology & Evolution
Adarsh Karnati
Redmond HS, Redmond, WA
Intel semi-finalist


A Novel Design of an Ocean Wave Energy Harvester Using a Linear Cam Release Approach
Dr. Ya S. Wang
Mechanical Engineering
Ariel Leong
Ward Melville HS, E. Setauket, NY
Intel semi-finalist
Systematic Discovery of Genes and Networks in Colon Cancer Stem Cells Implicated in Chemoresistance
Dr. Jingfang Ju
Pathology
David Li
Commack HS, Commack, NY
Intel semi-finalist


A Wireless Tracking System for At-home Durable Medical Equipment during Natural Disasters
Dr. Fan Ye
Electrical & Computer Engineering
Emily Li
Hunter College HS, New York, NY
Intel semi-finalist
The Role of No tail and Wnt in Regulating Stem Cell Division in the Zebrafish Tailbud
Dr. Benjamin Martin
Biochemistry & Cell BIology


Michael Li
James M. Bennett HS, Salisbury, MD
Intel finalist
Deciphering Neural Coding for Sensorimotor Decision-making
Dr. Il Memming Park
Neurobiology & Behavior

Emily McDermott
Smithtown HS East, Saint James, NY
Intel semi-finalist



Developing an Experimental Model for Natural Variation in Genetic Robustness
Dr. Joshua Rest
Ecology & Evolution
Harriet O'Brien
Ward Melville HS, E. Setauket, NY
Intel semi-finalist
The Characterization of Immunomodulatory and Remyelinating Agents on Microglial Polarization
Dr. Stella Tsirka
Pharmacological Sciences
Benjamin Schiffer
University of Illinois Laboratory HS, Urbana, IL
Intel semi-finalist
Elucidating the Mechanism of a Human Transcription Factor's Movement Along DNA with Molecular Dynamics Simulations
Dr. Carlos Simmerling
Chemistry
Kameron Sedigh
Kings Park HS, Kings Park, NY
Intel semi-finalist
Structural and Kinetic Analysis of Methicillin-resistant Staphylococcus aureus MenE, an acyl-CoA Synthetase of the Bacterial Menaquinone Biosynthesis Pathway as a Novel Antibacterial Target
Dr. Peter Tonge
Chemistry
Anu Sharma
Oak Hall School, Gainesville, FL
Intel semi-finalist
Sustainable Green Production of Carboxycellulose Nanofibers 
Dr. Benjamin Chu,  Dr. Benjamin Hsiao,
Chemistry 
Matthew Sun
Thomas Jefferson HS for Science & Technology, Alexandria, VA
Intel semi-finalist
Hyperacute Temporal Resolution with a Neural Population for Biologically Plausible Firing Rate Change Detection
Dr. Il Memming Park
Neurobiology & Behavior
Fangrui Tong
Ward Melville HS, E. Setauket, NY
Intel semi-finalist
A New Approach to Chemical Sensing Using Tunable Optical Properties of Unique Nanostructures of TiO2 Coated Morpho peleides Butterfly Scales
Dr. Alexander Orlov
Materials Science & Engineering


Ziheng Wang
St. Paul's School, Concord, NH
Intel semi-finalist
High Throughput Drug Design by a Novel Grid-based Computational Method
Dr. Carlos Simmerling
Chemistry
David Yang
Academy for the Advancement of Science & Technology, NJ
Intel semi-finalist
Role of APOBEC3 in the Diversity and Evolution of Herpes Simplex Virus 1
Dr. Thomas MacCarthy
Applied Mathematics & Statistics
Rachel Zhang
Parkway South HS, Manchester, MO
Intel finalist
Statistics of Intersections of Curves on Surfaces
Dr. Moira Chas
Mathematics
Richard Zhang
Redmond HS, Redmond, WA
Intel semi-finalist
The Effect of Asymmetrically Coated Nafion Membranes on the Performance and CO-poisoning Resistance of Proton Exchange Membrane Fuel Cells
Dr. Miriam Rafailovich 
Materials Science & Engineering

 

 

 




 

2015

 

Intel STS 2015

 

 

 HIGH SCHOOL STUDENT

 PROJECT TITLE

 FACULTY MENTOR

Aswin Bikkani
Westlake HS, Westlake, OH
Intel semi-finalist
Regulatory Interactions of Lipid Droplet Associating Perilipin Orthologs in Saccharomyces cerevisiae
Dr. Aaron Neiman
Biochemistry & Cell Biology
Emma Dong
Manhasset HS, Manhasset, NY
Intel semi-finalist

Custom Multilayered Nanoparticles in Targeted Hyperthermia for Cancer Treatment Using
COMSOL Multiphysics Modeling and Near-Infrared Plasmonic Photothermal Therapy

Dr. Ya Wang 
Mechanical Engineering


Charles Gulian
Ossining HS, Ossining, NY
Intel finalist
A Search for Tidally-Distorted White Dwarf Binaries in the Kepler Survey
Dr. Michal Simon
Physics & Astronomy
Robbin Jang
William Shine Great Neck S. HS, Great Neck, NY
Intel semi-finalist

Synthesis and Observations of Novel Acetyl-CoA Carboxylase Inhibitors: Precursors to Bivalent Compounds

Dr. Peter Tonge
Chemistry
Jessica Ju
Ward Melville HS/ *InSTAR, 
E. Setauket, NY
Intel semi-finalist 

Using Python to Apply Phonological Rules for the Transcription of Korean

Dr. Jiwon Yun
Linguistics
Arjun Kapoor
The Wheatley School, Old Westbury, NY
Intel semi-finalist

The Construction of Low Entropy Quasi-Optimal Interconnection Network Topologies

Dr. Yuefan Deng
Applied Mathematics & Statistics
Jessica Kim
Manhasset HS, Manhasset, NY
Intel semi-finalist

Enhancing the Power Conversion Efficiency of Inverted Organic Photovoltaics with GoldFunctionalized
Reduced Graphene Oxide and Phase-Separated Polymer Morphology

Dr. Miriam Rafailovich
Materials Science & Engineering
Ien Li
Jericho HS, Jericho,NY
Intel finalist
Statistical Modeling of Major Depression: Bridging the Gap between Brain and Behavior
Dr. Christine DeLorenzo  
Psychiatry
Zak Marcone
Kings Park HS, Kings Park, NY
Intel semi-finalist

The Influence of Anomalous Gauge Coupling on Diphoton Fusion Induced W-boson
Production in the Forward Direction at the Large Hadron Collider

Dr. Michael Rijssenbeek
Physics & Astronomy
Scott Massa
Commack HS, Commack,NY
Intel finalist
The Importance of Endocytosis to Neuregulin1 Back Signaling: Implications in Neuropsychiatric and Neurodegenerative Disorders
Dr. David Talmage, Pharmacological Sciences; 
Dr. Lorna Role, Neurobiology
Saranesh Prembabu
Dougherty Valley HS, CA
Intel finalist


Coupled Electric and Magnetic Properties in Artificially-Layered Perovskite Thin Films
Dr. Matthew Dawber 
Physics & Astronomy
Ilana Radinsky
Stella K Abraham HS for Girls, Hewlett Bay Park, NY
Intel semi-finalist

Effects of Carbon Chain Length in Thiol-Functionalized Gold Nanoparticles Coating a  Nafion® Membrane on PEM Fuel Cell Efficiency

Dr. Miriam Rafailovich
Materials Science & Engineering


Vaishnavi Shrivastava
Mission San Jose HS, CA
Intel semi-finalist



A Noninvasive Regenerative Stem Cell Treatment for Osteoporosis through an Injectable
Nanocomposite Orthopedic Implant and Low-Intensity Pulsed Ultrasound Stimulation

Dr. Yi-xian Qin 
Biomedical Engineering
Eric Wang
Ward Melville HS/ *InSTAR, 
E. Setauket, NY
Intel semi-finalist 

A Novel Approach to Water Desalination: Reverse Osmosis by Fabrication of  Graphene Oxide Membranes

Dr. Benjamin Chu,   
Dr. Benjamin Hsiao, &
Dr. Hongyang Ma, Chemistry
Ji Whan (Kevin) Yoon 
Oxford Academy, Cypress, CA
Intel semi-finalist

Fabrication and Modification of Nanofibers with Superhydrophilic- Superhydrophobic
Surface for Membrane Distillation

Dr. Benjamin Chu,  
Dr. Benjamin Hsiao, &
Dr. Hongyang Ma, Chemistry
Glenn Yu 
Hunter College HS, NY
Intel semi-finalist
Naturalistic Painkillers: Design, Synthesis, and Biological Evaluation of Novel Fatty Acid Binding Protein Inhibitors
Dr. Iwao Ojima
Chemistry 
Gina Yuan 
Dougherty Valley HS, San Ramon, CA
Intel semi-finalist
Designing Tablets for Personalized Medicine
Dr. Dilip Gersappe
Materials Science & Engineering
Vivian Zhong
Syosset HS, Syosset NY
Intel semi-finalist
Describing Images: The Effect of Modern Communication on Personal Lexicon
Dr. Arthur Samuel 
Psychology
Jay Zussman
William Shine Great Neck S. HS, Great Neck, NY
Intel semi-finalist



Zip1 C-terminal Phosphorylation Promotes Zip1-Sgs1 Interaction in Meiotic Cells

Dr. Nancy Hollingsworth 
Biochemistry & Cell Biology

2014

 

 Intel STS 2014




 

HIGH SCHOOL STUDENTS

PROJECT TITLES

STONY BROOK FACULTY ADVISORS

Cameron Akker
Redmond HS, Redmond, WA
Intel semi-finalist



Graphene Oxide and Reduced Graphene-Oxide Coated Nafion Membranes For Enhanced Performance in Polymer Electrolyte Membrane Fuel Cells

Dr. Miriam Rafailovich
Materials Science & Engineering
Priya Alegesan 
Manhasset HS, Manhasset, NY
Intel semi-finalist

Defining Region-Specific Interactions of Members of the Leading Edge Protein Complex in  Saccharomyces cerevisiae

Dr. Aaron Neiman
Biochemistry & Cell Biology 
Bhavani Ananthabhotla 
Kings Park HS, Kings Park, NY
Intel semi-finalist 
The Efficacy of Mechanical Stimulation to Improve Cortical Bone Quality in a Diet-Induced Obesity Model, as Determined by an Investigation of Mechanical, Areal and Material Property

Dr. Clinton Rubin & Dr. Ete Chan, Biomedical Engineering 

Kathy Camenzind 
California HS, San Ramon, CA
Intel finalist
Quantifying Trapping Forces in a Simplified Optical Tweezers Setup

Dr. John Noé & Dr. Marty Cohen, Laser Teaching Center-Physics & Astronomy 

Austin Cao 
Homestead HS, Mequon, WI
Intel semi-finalist

Evaluating the Developmental Toxicity and Genotoxicity of Oxygenated Polycyclic Aromatic  Hydrocarbons Relative to Their Parent Compounds in Oryzias latipes

Dr. Anne McElroy
Marine & Atmospheric Sciences, School of (SOMAS)

Aaron Coraor 
Huntington HS, Huntington, NY
Intel finalist - 6th place

Pressure Dependent Azeotropic Melting Relations in the Mg2SiO4-Fe2SiO4-NaAlSi3O8-CaAl2Si2O8   System: A Critical Role in Lunar Highlands Formation?

Dr. Donald Lindsley, 
Geosciences
Catherine Feldman
Smithtown HS,  Smithtown,  NY
Intel semi-finalist
Phylogenetic and Dietary Signals in the Dentition and Mandible of Carnivora (Mammalia, Placentalia): A Geometric Morphometric Approach

Matthew Borths (Ph.D. Student) in research group of  Dr. Erik Seiffert, Anatomical Sciences

Evangeline Giannopoulos 
Great Neck South HS, 
Great Neck, NY
Intel semi-finalist

The Identification of Novel Runt and Even-Skipped Transcriptional Co-factors in Drosophila 
Dr. J. Peter Gergen  
Biochemistry & Cell Biology 

Anika Gupta 
The Harker School, San Jose , CA
Intel semi-finalist

Novel Drug Delivery Systems Targeting Cancer Stem Cells for Next-Generation Chemotherapy
Dr. Iwao Ojima
Chemistry 

Luran He
Ward Melville HS/ *InSTAR, 
E. Setauket, NY
Intel semi-finalist 

Emergence of Chaos in a Scattering System 
Dr. Philip Allen
Physics & Astronomy 

Harrison Li
Ward Melville HS/ *InSTAR, 
E. Setauket, NY
Intel semi-finalist 

Multidecadal Changes in the Frequency and Ambient Conditions of Warm Season Convective  Storms over the Northeastern United States

 
Dr. Brian Colle
Marine & Atmospheric Sciences, School of (SOMAS)

Michelle Moffa
Holy Spirit HS, Absecon, NJ
Intel semi-finalist 

 A Point-of-Use Water Filter for Developing Countries - Year III: Improving Effectiveness, 
Practicality, and Sustainability of Arsenic-Removing Biosand Filters

Dr. Benjamin Chu &  Dr. Benjamin Hsiao
Chemistry

Dohee (Diane) Na
Jericho HS, Jericho, NY
Intel semi-finalist

Elucidation of Racial Disparity Between Caucasian and African American Prostate Cancer for the Development of Personalized Pharmacogenetics 


Dr. Jennie Williams
Medicine

Emily Pang
Dougherty Valley HS, 
San Ramon, CA
Intel finalist



The Opposing Roles of Tumor Suppressive cC1qR and Oncoprotein gC1qR as Mechanisms for  Inhibiting Cancer Pathogenesis

Dr. Berhane Ghebrehiwet
Medicine

Parth Shah
Chatham HS, Chatham, NJ
Intel semi-finalist



Underrepresentation of Cytidine Deaminase Hotspots Reveals Key Genes and Tropism 
for Herpesviruses

Dr. Tom MacCarthy
Applied Mathematics & Statistics

Sachit Singal 
Herricks HS, New Hyde Park, NY
Intel semi-finalist 

Chemical and Computational Biology Approach to Identifying the Binding Site of NovelAnti-Tubercular Agents Targeting Mtb-FtsZ

Dr. Iwao Ojima
Chemistry

Rahul Sridhar 
The Harker School, San Jose , CA
Intel semi-finalist

Understanding the Effect of Hinge Mutations on Domain-swapping in Antiviral LectinCyanovirin-N

Dr. David Green
Applied Mathematics & Statistics

Yongpeng (Bill) Tang

Smithtown East HS, St. James, NY

Intel semi-finalist

Data Sonification 

 

of the Seismic Signature of Ocean Surf 

Dr. Henry Bokuniewicz
Marine & Atmospheric Sciences, School of (SOMAS)                               Timothy Vallier (PhD Student), Music

Kent Ueno 
Earl Vandermeulen HS, Port Jefferson, NY
Intel semi-finalist

Design and Synthesis of Tumor-Targeting Drug Conjugates for Imaging Study 
Dr. Iwao Ojima
Chemistry 

Jessica Yamada 
The Winsor School, Boston, MA
Intel semi-finalist

For Want of an Arginine, the Termination Was Lost: Characterizing the Structure and 
Function of the R169Q MTERF1 Variant

Dr. Miguel Garcia-Diaz
Pharmacological Sciences

 

2013

 

 Intel STS 2013

HIGH SCHOOL STUDENTS

PROJECT TITLES

STONY BROOK FACULTY ADVISORS

Eliana Applebaum
Ma'ayanot Yeshiva HS for Girls, Teaneck, NJ
Intel semi-finalist

A New Approach to Cancer: The Effects of Titanium Dioxide (TiO 2 ) Nanoparticles 
on Human Cervical Adenocarcinoma (HeLa) Cell Membrane Mechanics

Dr. Miriam Rafailovich
Materials Science & Engineering
Puja Bansal 
Half Hollow Hills HS East, 
Dix Hills, NY
Intel semi-finalist
Three Dimensional Molecular Imprinting for the Detection of Viral Pathogens
Dr. Miriam Rafailovich
Materials Science & Engineering
Andrew Chen
Dougherty Valley HS, San Ramon, CA
Intel semi-finalist

Utilizing Novel Graphene Oxide Langmuir-Blodgett Film Catalysts to Enhance the Cost Efficiency of a PEM Fuel Cell

Dr. Miriam Rafailovich
Materials Science & Engineering
Andrew Chen
Lawrence HS, Cedarhurst, NY
Intel semi-finalist

Incorporation of Graphene into Organic Polymer Solar Cells via Chemical Functionalization with Metal Nanoparticles

Dr. Miriam Rafailovich
Materials Science & Engineering
Kevin Chen 
Mission San Jose HS, 
Fremont, CA
Intel finalist
Development of a Low-Cost Analyzer for Ferroelectric Characterization
Dr. Matthew Dawber 

 




Physics & Astronomy

Deriam Chirinos
John L. Miller Great Neck North HS, Great Neck, NY
Intel semi-finalist
Throwing Dice in QCD: Using Random Matrices to Study the QCD Hadron Spectrum
Dr. Jacobus Verbaarschot
Physics & Astronomy
Wesley Cox
Kings Park HS, Kings Park, NY
Intel semi-finalist
Design of an Electromagnetic Energy Harvester for Wildlife Tracking
Dr. Lei Zuo
Mechanical Engineering
Yonatan David
North Shore Hebrew Academy HS, Great Neck, NY
Intel semi-finalist

Exploration of the Chiral Magnetic Effect in Quark Gluon Plasma via Charge-Separation 
Measurements

Dr. Roy Lacey
Chemistry
Nicholas Fiacco
Manhasset HS, Manhasset, NY
Intel semi-finalist

Localization of Pkc1p with the Septins in Sporulating S. cerevisiae Is Dependent 
on GIP1 Expression

Dr. Aaron Neiman
Biochemistry & Cell Biology
John Gee
Calhoun HS, Port Lavaca, TX
Intel semi-finalist

Developing an Automated Event Detection Algorithm for HIV-1 Protease's Flap Backbone 
Dihedral Change

Dr. Carlos Simmerling
Chemistry
Nakul Gupta
Farmindale HS, Farmingdale, NY
Intel semi-finalist

Employing siRNA to Recruit KCNQ1 through microRNA Pathways: Implications 
for Long QT Syndrome

Dr. Peter Brink
Physiology & Biophysics
Kavita Jain
Smithtown HS West, 
Smithtown, NY
Intel semi-finalist

Demonstrating Relationships between the Morphology of the Trigeminal System and Feeding Performance in the American Alligator: A New Tool for Understanding Feeding Evolution

Dr. Alan Turner & Dr. Paul Gignac
Anatomical Sciences
Tammy Jin 
Half Hollow Hills HS East, 
Dix Hills, NY
Intel semi-finalist
Variable M3-S2 Linker Tension Modulates N-Methyl D-Aspartate Receptor Activity in a Subunit Specific Manner
Dr. Lonnie Wollmuth
Neurobiology & Behavior
Minah Kim
Paul D. Schreiber HS, Port Washington, NY
Intel semi-finalist
Inhibition of the FabI Enoyl-ACP Reductase from Burkholderia pseudomallei
Dr. Peter Tonge
Chemistry
Arvind Kumar
Roslyn HS, Roslyn, NY
Intel semi-finalist

A Model of Dropout Propensity Among Heterogeneous Adolescents: The Role of Resilience

Dr. Debra Dwyer
Health Technology & Management
Brendan Liu
Jericho HS, Jericho, NY
Intel semi-finalist



Polyvinylamine Grafted Electrospun Polyacrylonitrile Membranes for Cr(VI) Adsorption

Dr. Benjamin Chu & Dr. Benjamin Hsiao
Chemistry
Jerry Liu
Los Altos HS, Los Altos, CA
Intel semi-finalist

Modeling the Lithiation of Crystalline-Amorphous Silicon Nanowires using 
the Lattice Boltzmann Method

Dr. Dilip Gersappe
Material Science & Engineering
Prady Manepalli
Smithtown HS, Smithtown NY
Intel semi-finalist

An Effective Application of Graphene Oxide Nanoribbons as a Chemotherapeutic 
Drug Delivery System

Dr. Balaji Sitharaman
Biomedical Engineering
Phoebe McAuliffe
Ward Melville HS/ *InSTAR, 
E. Setauket, NY
Intel semi-finalist

Understanding the Connection between Metabolism and the HPG Axis by Linking Kisspeptin and Akt and Mapping p110g in Female Mouse Brains

Dr. Maricedes Acosta-Martinez
Physiology & Biophysics
Rebecca Monastero
Sayville HS, W. Sayville, NY
Intel semi-finalist

Interactions of Mercury and Omega-3 Fatty Acids in Avid Seafood Consumers

Dr. Jaymie Meliker
Graduate Program in Public Health
Kenan Mutlu
Kings Park HS, Kings Park, NY
Intel semi-finalist

The effects of Shifting the Subject of Suspense during Cognitive Appraisal in Relation to Suggestibility and Cued Recall Capacity

Dr. Nancy Franklin
Psychology
Alexander Nie
Livingston HS, Livingston, NY
Intel semi-finalist

Gelatin Hydrogels as a Cellular Scaffold: The Effect of Glucose on Gel Structure 
and Fibroblast Behavior

Dr. Miriam Rafailovich
Material Science & Engineering
Grace Pan
Dougherty Valley HS, San Ramon, CA
Intel semi-finalist
Investigating Effects of Ferroelectricity on Current Properties in Electron Tunneling Junctions
Dr. Matthew Dawber 
Physics & Astronomy
Benjamin Pleat
Herricks HS, New Hyde Park, NY
Intel semi-finalist
A Novel Approach to Locating Geothermal Systems in Relation to Geodetic Crustal Deformation and Strain Rate Tensors
Dr. William Holt 
Geosciences
James Shamul
Plainview-Old Bethpage JFK HS, 
Plainview, NY
Intel semi-finalist
A Search for Novel MicroRNAs Triggering Liver Cancer Development
Dr. Valentina Schmidt
Medicine


Avigael Sosnowik
Stella K. Abraham HS for Girls, Hewlett Bay Park, NY
Intel semi-finalist

The Coactivation of Positive and Negative Feelings: Film Genres' Effects on Adolescent 
Emotions

Dr. Miriam Rafailovich
Material Science & Engineering
Nicholas Spiezio
Smithtown HS East, St. James,  NY
Intel semi-finalist
Cellular Delivery of Gene-Silencing Products
Dr. Peter Brink
Physiology & Biophysics
Mayuri Sridhar
Kings Park HS, Kings Park, NY
Intel finalist
Computational Analysis of the DNA-Binding Mechanism of the p53 Tumor Suppressor and its Inactivation through the R249S Mutation
Dr. Carlos Simmerling
Chemistry
Raghav Tripathi
Westview HS, Portland, OR
Intel finalist
Design and Synthesis of Novel Fatty Acid Binding Protein Inhibitors for Analgesic and Anti-Inflammatory Effects through Increases in Endogenous Anandamide Concentrations
Dr. Iwao Ojima


Chemistry

Alexandra Tse
Lawrence HS, Cedarhurst, NY
Intel semi-finalist

Grit vs. IQ: Assessing the Relative Impacts of Effort & Intelligence in Academic Success 
Among "Tweens"

Dr. Miriam Rafailovich
Materials Science & Engineering
Jacob Wax
Harborfields HS, Greenlawn, NY
Intel semi-finalist
Investigating the Sensitivity and Specificity of the Potentiometric Biosensor Mechanism 
through Bacteria and Bacterial Spore Cross Testing
Dr. Miriam Rafailovich
Materials Science & Engineering
Jared Weiss
Syosset HS, Syosset, NY
Intel semi-finalist
Automatic Annotation of Large Image Datasets via Human Gaze
Dr. Dimitris Samaras
Computer Science
Michael Zhang
Smithtown HS East, St. James,  NY
Intel finalist
Role-Inducted Perspective Visual Behavior during Scene Free-Viewing
Dr. Gregory Zelinsky
Psychology
Gloria Zheng
Ward Melville HS/ *InSTAR, 
E. Setauket, NY
Intel semi-finalist
 The Potentiation of Human Glycine Receptor Channels in HEK-293 Cells by Sevoflurane
Dr. James Dilger
Anesthesiology
Julia Zhuang
John L. Miller Great Neck North HS, Great Neck, NY
Intel semi-finalist

Analysis of Cascadia Episodic Tremor and Slip Events using Time-Dependent Displacement 
and Strain Fields Derived from GPS Data

 
Dr. William Holt 
Geosciences

 

2012

 

 Intel STS 2012

HIGH SCHOOL STUDENTS

PROJECT TITLES

STONY BROOK FACULTY ADVISORS

Emily Bai 
William A. Shine Great Neck South HS, 
Great Neck, NY
Intel semi-finalist
Design and Synthesis of a Novel Diphenyl Ether Targeting InhA from Mycobacterium Tuberculosis to Aid Future Drug Discovery
Dr. Peter Tonge
Chemistry
Sean Ballinger 
Phillips Academy, Andover, MA 
Intel semi-finalist
Enhancing a Hydrogen PEM Fuel Cell Stack with Gold-Dodecanethiolate Core-Shell Nanoparticles
Dr. Miriam Rafailovich
Materials Science & Engineering
Asia Brown 
Sanford Calhoun HS, Merrick, NY
Intel semi-finalist
Analysis of Altered Gene Expression in Human Colon Cancer Cells Exposed to the Methylation Inhibitor 5-aza-2'deoxycytidine
Dr. Ellen Li
Medicine
Sarah Chapin 
Herricks HS, New Hyde Park, NY
Intel semi-finalist
Computer-Aided Drug Discovery: Structure-Based Design and Evaluation of Small Molecule Botulinum Neurotoxin Inhibitors
Dr. Iwao Ojima
Chemistry
Juliana Coraor 
Huntington HS, Huntington, NY 
Intel finalist
The Impact of Compressive Misfit Strain on Improper Ferroelectricity in Lead Titanate/Strontium Titanate Superlattices
Dr. Matthew Dawber 
Physics & Astronomy
Rachel Davis 
Smithtown HS East, St. James, NY
Intel finalist
Engineering Biodegradable Flame Retardant Polymers
Dr. Miriam Rafailovich
Materials Science & Engineering
Samantha Garvey 
Brentwood HS, Brentwood, NY 
Intel semi-finalist
The Effects of the Physical Environment and Predators on Phenotypic Plasticity in Geukensia demissa
Dr. Dianna Padilla
Ecology & Evolution
Hannah Kenagy 
Half Hollow Hills HS East, 
Dix Hills, NY
Intel semi-finalist
Understanding the Pathogenesis of Acid-Resistant E. coli: Computational Modeling of pH-Dependent Conformational Changes in GadB
Dr. Carlos Simmerling
Chemistry
Savina Kim 
Commack HS, Commack, NY
Intel finalist
Cognitive Deficits in Neuropsychiatric Disorders: A Schizophrenia Model Associated with Neuronal Alpha7 Nicotinic Acetylcholine Receptor Localization
Dr. David Talmage, Pharmacological Sciences 
Dr. Lorna Role, Neurobiology & Behavior 
Claire Leibowicz
John L. Miller-Great Neck North HS, Great Neck, NY
Intel semi-finalist
The Neuropsychology of Social Instincts: A Behavioral and Information-Theoretic Analysis of the Cues Involved in Trustworthiness Evaluations
Dr. Lilianne Mujica-Parodi
Biomedical Engineering
Ryan Lindeborg 
Dana Hills HS, Dana Point, CA 
Intel semi-finalist
The Effects of Surface Modification of PMMA Scaffolds through Plasma Etching andDifferent Media on the Proliferation and Migration of Fibroblasts
Dr. Miriam Rafailovich
Materials Science & Engineering
Neil Mehta 
Jericho HS, Jericho, NY 
Intel finalist
Co-Restoration of Type III Nrg1 Back Signaling through Depolarization: Implications for Schizophrenia
Dr. David Talmage, Pharmacological Sciences 
Dr. Lorna Role, Neurobiology & Behavior
Rocco Morra 
Ward Melville HS/ *InSTAR, 
E. Setauket, NY
Intel semi-finalist
Development of a Novel Human Serum Albumin Nanoparticle Formulation for DHA-SB-T-1214
Dr. Iwao Ojima
Chemistry
Jin Pan
Henry Gunn Sr. HS, Palo Alto, CA
Intel finalist
A Novel Protein Translation Kinetics Model Supports the Ribosomal Pause Theory
Dr. Bruce Futcher
Molecular Genetics & Microbiology
Eric Parigoris
Kings Park HS, Kings Park , NY 
Intel semi-finalist
Low-Intensity Vibration as a Potential Treatment for Wound Healing through Modulation of the Inflammatory Response and the Differentiation of Macrophage Progenitor Cells Under the Challenge of a Bacterial Endotoxin
Dr. Clinton Rubin
Biomedical Engineering
April Pun 
Jericho HS, Jericho, NY 
Intel semi-finalist
DNA Repair Mechanisms: Investigations of BER in Differentiated CAD Cells
Dr. Bruce Demple  
Pharmacological Sciences
Sagar Rambhia 
Jericho HS, Jericho, NY 
Intel semi-finalist
Rupture Risk Assessment of Cardiovascular Pathologies: Patient-Based Fluid-Structure
Interaction Simulation Study
Dr. Danny Bluestein
Biomedical Engineering
Kunal Sangani 
Fayetteville-Manlius HS, Manlius, NY 
Intel semi-finalist
Modeling and Environmental Analysis of Hydraulic Fracturing in Upstate New York
Dr. Miriam Rafailovich
Materials Science & Engineering
Arjan Saraon 
Paul D. Schreiber HS, Port Washington, NY 
Intel semi-finalist
The Effect of Social Media on Grassroots Movements: Analysis on the Usage of Twitter
Dr. Michael Schwartz
Sociology
Anna Sato 
Ward Melville HS/ *InSTAR, 
E. Setauket, NY
Intel finalist
A Novel Adsorptive Filtration Approach for the Removal of Radioactive Isotopes of Iodine and Cesium from Water
Dr. Benjamin Chu &  Dr. Benjamin Hsiao
Chemistry
Evan Schneider 
Roslyn HS, Roslyn Heights, NY 
Intel semi-finalist
Targeted Delivery of Toxic Nanoparticles: A Novel Innovation for Cancer Treatment
Dr. Miriam Rafailovich
Materials Science & Engineering
Shubha Sekar 
Ward Melville HS/ *InSTAR, 
E. Setauket, NY
Intel semi-finalist
On the Usability and Security of Graphical Password Schemes
Dr. Rob Johnson
Computer Science

Nithin Tumma
Port Huron N. HS, Port Huron, MI
Intel finalist - 1st PLACE 



Elucidating Pathways in Cancer Pathogenesis: Establishment of Interaction Between TGF-b/Ras Pathways and Identification of gC1qR as an Oncoprotein
Dr. Berhane Ghebrehiwet
Medicine
Shannon Wetzler 
Kings Park HS, Kings Park , NY 
Intel semi-finalist
Novel Determination of the Stopping Power and Other Characteristics of the Quark Gluon Plasma Based on Several Jet Modification Measurements
Dr. Roy Lacey
Chemistry
Susan Wu 
John L. Miller-Great Neck North HS, Great Neck, NY 
Intel semi-finalist
Reactive Transport Model of Anthropogenic Carbon Sequestration
Dr. William Holt 
Geosciences
Jesse Xing
Ward Melville HS/ *InSTAR, 
E. Setauket, NY
Intel semi-finalist
Synthesis of Diblock Copolymers PEG-PLA for Drug Delivery
Dr. Benjamin Chu ,  Dr. Benjamin Hsiao &  Dr. Robert Grubbs 
Chemistry
Garima Yadav 
Sachem HS North, Lake Ronkonkoma , NY 
Intel semi-finalist
Discovery of Novel Benzimidazole-based Antibacterial Agents Targeting FtsZ for Potential Treatment of Drug-Resistant Tuberculosis
Dr. Iwao Ojima
Chemistry
Jeong Yun Yang 
John L. Miller-Great Neck North HS, Great Neck, NY 
Intel semi-finalist
Cytotoxicity of Graphene Oxide Nanoribbons on Human Breast Cancer Cells
Dr. Balaji Sitharaman
Biomedical Engineering

Alissa Zhang 
Saratoga HS, Saratoga , CA 
Intel finalist - 9th place 



Molecular Fingerprinting of Glucose with Raman and SERS for Noninvasive Diabetes Monitoring
Dr. Miriam Rafailovich
Materials Science & Engineering
Jack Zhou
Ward Melville HS/ *InSTAR, 
E. Setauket, NY 
Intel semi-finalist
Multiplexed Molecular Imaging of Esophageal Cancer Using Molecularly Targeted SERS Nanoparticles and a Novel Endoscopic Probe
Dr. Jonathan Liu
Biomedical Engineering

 

2011


Intel STS 2011

HIGH SCHOOL STUDENTS

PROJECT TITLES

STONY BROOK FACULTY ADVISORS

Nathan Akhavan 
Rambam Mesivta, Lawrence, NY 
Intel semi-finalist
Enhancing Organic Polymer Solar Cell Efficiency through the Incorporation of Graphene and Graphene Oxide
Dr. Miriam Rafailovich
Materials Science & Engineering
Ishwarya Ananthabhotla
Kings Park HS, Kings Park , NY 
Intel semi-finalist
A Robotic Assistant for the Visually Impaired (RAVI): A Novel Autonomous System Employing Digital Image Tracking and Sonar Range Detection
Dr. Yu Zhou 
Mechanical Engineering
Norman Cao
Brentwood HS, Brentwood , NY 
Intel semi-finalist
Probabilistic Path Planning in Cooperative Unmanned Aerial Vehicle Chasing
Dr. Yu Zhou 
Mechanical Engineering
Julie Chang
Herricks HS, New Hyde Park , NY
Intel semi-finalist
Ultrasound Characterization of Progressive Bone Loss Using Quantitative Acoustic Imaging, Micro-CT, and Mechanical Testing
Dr. Yixian Qin,  Dr. Wei Lin,  Dr. Jiqi Cheng 
Biomedical Engineering
Kevin Chen 
Ward Melville HS/ *InSTAR, 
E. Setauket, NY 
Intel semi-finalist
A Pair-Rule Response Element for Wingless in the Drosophila Embryo
Dr. J. Peter Gergen 
Biochemistry & Cell Biology
Harry Chiang 
John L. Miller-Great Neck North HS, Great Neck, NY 
Intel semi-finalist
New Determination of the Transport and Thermodynamic Coefficients of the Quark Gluon Plasma
Dr. Roy Lacey
Chemistry
Joshua Cohen 
John F. Kennedy HS, Bellmore, NY 
Intel semi-finalist
Atmospheric Properties of Biogenic Aerosols Produced by Mangroves
Dr. Josephine Aller 
Marine & Atmospheric Sciences, School of
Kendra Cornejo
Brentwood HS, Brentwood, NY 
Intel semi-finalist
Revisiting Centaurea Phylogenetics with the Utilization of ITS Primers to Resolve the Phylogeny of C. nigrescens in the Jacea Clade

Rebeca Grella (PhD. student) -Gurevitch lab, Ecology & Evolution

Nevin Daniel 
Ward Melville HS/ *InSTAR, 
E. Setauket, NY 
Intel semi-finalist
Novel Asymmetric Trojan Horse PAMAM Dendrimer Conjugates as Model Systems for Optimal Anticancer Taxoid Drug Delivery
Dr. Iwao Ojima
Chemistry
Jonathan Goldman 
Plainview-Old Bethpage JFK HS, 
Plainview, NY 
Intel semi-finalist
A Novel Framework for Quasi-Dynamic Task Scheduling on Parallel Computers
Dr. Yuefan Deng
Applied Mathematics & Statistics
Dianna Hu 
Half Hollow Hills HS East, 
Dix Hills, NY
Intel semi-finalist
Computational Analysis of Specific Missense Mutations in the SMN Tudor Domain
Dr. Carlos Simmerling
Chemistry
John Kelly 
Ward Melville HS/ *InSTAR, E. Setauket, NY 
Intel semi-finalist
A Possible Indication of Local Strong Parity Violation via Charge Asymmetry Measurements
Dr. Roy Lacey
Chemistry
Abraham Killanin 
Lawrence HS, Cedarhurst, NY 
Intel semi-finalist
Platinum and Gold Nanoparticles' Permeability and Effects on Dental Pulp Stem Cell Growth 
and Differentiation
Dr. Miriam Rafailovich
Materials Science & Engineering
Jessica Lee 
York HS, Yorktown, VA 
Intel semi-finalist
The Effect of Amyloid Beta on Protein SUMOylation in Murine Astrocytes
Dr. Holly Colognato
Pharmacological Sciences
Bonnie Lei 
Walnut High School, Walnut, CA 
Intel finalist
Cryptic Species and Synonyms: A Reclassification of the Spurilla Genus Based on Morphological and Molecular Phylogeography
Dr. Liliana Davalos 
Ecology & Evolution
Aditi Malhotra
Ward Melville HS/ *InSTAR, 
E. Setauket, NY
Intel semi-finalist
Gender-Specific Impact of Body Mass Index on Left Atrial Size and the Presence
of Atrial Fibrillation
Dr. Luis Gruberg & Dr. Smadar Kort 
Medicine / Cardiology
Brian Miranda 
William A. Shine Great Neck South, Great Neck, NY
Intel semi-finalist
Molecular Dynamics Simulations Suggest a Structural Basis for the Slow-onset Inhibition of KasA by Thiolactomycin and Provide insights for TB Drug Discovery
Dr. Carlos Simmerling
Chemistry
Jonathan Nachman 
North Shore Hebrew Academy HS, 
Great Neck, NY
Intel semi-finalist
Green Micropatterning: Stamping Candida antarctica Lipase-B onto Poly(-caprolactone)
Dr. Miriam Rafailovich
Materials Science & Engineering
Hannarae Annie Nam 
Choate Rosemary Hall, Wallingford, CT 
Intel semi-finalist
Creating a Robust Optical Vortex Beam with a Single Cylinder Lens
Dr. John Noé &  Dr. Harold Metcalf
Physics & Astronomy
Wendi Oppenheim 
Pine Crest, Ft. Lauderdale, FL 
Intel semi-finalist
Out of Sight, Out of Mind: The Effects of Dispersants and Their Surfactants on Cyprinodon variegatus Embryos
Dr. Bruce Brownawell 
Marine & Atmospheric Sciences, School of (SOMAS) 
Sarah Pak
Roslyn HS, Roslyn Heights, NY 
Intel semi-finalist
To Log or Not to Log: The Effect of Mandatory Reading on Children's Intrinsic Motivation to Read
Dr. Christian Luhmann 
Psychology
Neil Pathak 
Herricks HS, New Hyde Park, NY
Intel semi-finalist
Polyfunctionalized Single-Walled Carbon Nanotubes for Multimodal Tumor-Targeted Therapy
and Biological Imaging
Dr. Iwao Ojima
Chemistry
Arpon Raksit 
Commack HS, Commack, NY
Intel semi-finalist
Modelling Heat Transport in Multiphase Materials
Dr. Miriam Rafailovich and  Dr. Dilip Gersappe 
Materials Science & Engineering
Brian Ralph 
Smithtown HS West, Smithtown, NY
Intel semi-finalist
The Evolution of Body Mass in Basal Dinosauria
Dr. Alan Turner 
Anatomical Sciences
Aaron Rosenthal 
Smithtown HS West, Smithtown , NY
Intel semi-finalist
An Eigenshape Analysis of Snake Vertebral Morphology and Its Correlation with Habitat
Jacob McCartney (Ph.D. student)-Kley lab 
Anatomical Sciences
Ilana Scandariato 
Ward Melville HS/ *InSTAR, E. Setauket, NY 
Intel semi-finalist
Children's Attachment Narratives: A Window into Secure Base Scripts in Middle Childhood
Dr. Harriet Waters
Psychology
Karan Sikka 
Syosset HS, Syosset, NY
Intel semi-finalist
A Temperature Controlled Investigation of Gold and Palladium Nanoparticle Catalysis for the Performance Enhancement of a PEM Fuel Cell
Dr. Miriam Rafailovich
Materials Science & Engineering
Sarah Toledano 
North Shore Hebrew Academy HS, Great Neck, NY
Intel semi-finalist
Strychnine Distinguishes between Two Populations of Homomeric Glycine Receptors Expressed in HEK cells
Dr. James Dilger
Anesthesiology
Sharon Varghese 
Brentwood HS, Brentwood, NY 
Intel semi-finalist
Assessing Population Variation of the Introduced Plant Species Centaurea nigrescens (Tyrol Knapweed) in Eastern North America, Using cpDNA trnT(UGA), trnL(UAA), and trnF(GAA) Genes

Rebeca Grella (PhD. student) -Gurevitch lab , Ecology & Evolution

Stephanie Wang 
Monta Vista HS, Cupertino, CA 
Intel semi-finalist
Effect of Trabecular Bone Orientation on Quantitative Ultrasound and Fracture Risk Prediction
Dr. Yixian Qin,  Dr. Wei Lin,  Dr. Jiqi Cheng 
Biomedical Engineering
Pamela Wax 
Harborfields HS, Greenlawn, NY
Intel semi-finalist
Exploring the Dose-Dependent Activity of the Drosophila Fushi-tarazu (Ftz) Homeodomain Protein
Dr. J. Peter Gergen 
Biochemistry & Cell Biology
Jenny Wu
Sanford Calhoun HS, Merrick, NY 
Intel semi-finalist
Synthesis, Biological Evaluation, and Potential Synergism of Taxoid SB-T-1214 and Topotecan in Tumor-Targeting Drug Conjugates Bearing Dual-Warheads
Dr. Iwao Ojima
Chemistry

 

2010

 

Intel STS 2010

HIGH SCHOOL STUDENTS

PROJECT TITLES

STONY BROOK FACULTY ADVISORS

Kayla Applelbaum 
Ma'ayonot Yeshiva HS for Girls, Teaneck, NJ 
Intel semi-finalist
The Protective Effects of a Multicomponent Polymer Coated Titanium Dioxide (TiO2) on Human Adiocytes and Lambda DNA in the Presence of Ultraviolet (UVA/UVB) Radiation
Dr. Miriam Rafailovich
Materials Science & Engineering
Dylan Assael 
Syosset HS, Syosset, NY 
Intel semi-finalist
An Unexpected Role for Picocyanobacteria in the Marine Silicon Cycle
Dr. Stephen Baines 
Ecology & Evolution
Deborah Boktor 
Bay Shore HS, Bay Shore, NY 
Intel semi-finalist
Electrospinning PVA: The Effects of Solution Conditions and Voltage on the Morphology and Fiber Diameter
Dr. Benjamin Chu &  Dr. Benjamin Hsiao
Chemistry
Yuval Calev 
Ward Melville HS/ *InSTAR, E. Setauket, NY 
Intel finalist
Language Perception, Production, and Memory: A Comparison of Older and Younger Adults
Dr. Arthur Samuel
Psychology
Jason Chaves 
Kings Park HS, Kings Park, NY 
Intel semi-finalist
Inaccuracies in the Single Nucleus Approximation Due to the Presence of Light Nuclei
Dr. James Lattimer 
Physics & Astronomy
Stephanie Chiang 
John L. Miller-Great Neck North HS, Great Neck, NY 
Intel semi-finalist
Characterization of Aerosolized Particles during a Cyanobacterial Bloom in Lake Agawam, NY: Implications for Cloud Condensation Nuclei (CCN) Formation
Dr. Josephine Aller 
Marine & Atmospheric Sciences, School of
Everett Coraor 
Huntington HS, Huntington , NY 
Intel semi-finalist
Experimental Insights into Evolved Magmas on Olympus Mons, Mars
Dr. Hanna Nekvasil &  Dr. Donald Lindsley 
Geosciences
Conor Diviney 
Ward Melville HS/ *InSTAR, E. Setauket, NY 
Intel semi-finalist
The Synthesis of Compounds as Inhibitors of the Menaquinone Biosynthetic Pathway in Mycobacterium tuberculosis
Dr. Peter Tonge
Chemistry
John Dodaro 
Smithtown HS East, Smithtown, NY 
Intel semi-finalist
Search and Identification of Cosmic Rays in Radar Echo
Dr. Helio Takai
Physics & Astronomy
Carly Emmer 
Half Hollow Hills HS East, 
Dix Hills, NY 
Intel semi-finalist
Time Series Study of Quaternary Ammonium Compounds in Sewage Sludge during Peak H1N1 Media Coverage at Various Treatment Facilities with Alternative Sewage Pressing Methods
Dr. Bruce Brownawell 
Marine & Atmospheric Sciences, School of (SOMAS)
Reena Glaser 
Smithtown HS West, Smithtown, NY 
Intel semi-finalist
Utilizing Cell-Surface Interactions for Adipose-derived Stem Cell Biomineralization
Dr. Marcia Simon 
Dental School
Ruoyi Jiang 
Ward Melville HS/ *InSTAR, E. Setauket, NY 
Intel finalist
Targeting Loop Dynamics in βI/βIII Isotype Tubulin: The Application of in silico Techniques in Combating Chemotherapy Drug Resistance
Dr. Carlos Simmerling
Chemistry
Pragya Kakani 
Jericho HS, Jericho, NY 
Intel semi-finalist
The Novel Use of Fluorescence Resonance Energy Transfer (FRET) to Observe Apoptosis in Oligodendrocytes
Dr. Joel Levine 
Neurobiology & Behavior
Jenny Kang 
Belmont HS, Belmont, MA 
Intel semi-finalist
Identification and Analysis of a Novel Cytotoxic T-Lymphocyte Antigen-4 Binding Partner in T-cells
Dr. Yixian Qin and Dr.  Wei Lin
Biomedical Engineering
Daniel Katz 
John L. Miller-Great Neck North HS, Great Neck, NY 
Intel semi-finalist
Using the Transport Coefficient to Probe the Coupling of the Quark Gluon Plasma Produced in Au + Au Collisions at the Relativistic Heavy Ion Collider
Dr. Roy Lacey
Chemistry
Brian Kelly 
Oceanside HS, Oceanside, NY 
Intel semi-finalist
An Evaluation of the Toxicity and Binding Affinity of Curcumin and Curcumin Sulfate on Cancer Cell Lines
Dr. Wolfgang Quitschke 
Psychiatry & Behavioral Science
Sahil Khetpal (Plano)
Texas Academy of Math and Science , Denton, TX 
Intel semi-finalist
Polyfunctionalized Single-walled Carbon Nanotubes as a Versatile Platform for Cancer Detection and Tumor-Targeted Dual Therapy
Dr. Iwao Ojima
Chemistry
Erica Lai 
Holmdel HS, Holmdel, NJ)
Intel semi-finalist
Density and Size Effects in Liquid Water: The Formation of Nanobubbles, Source of Water Anomalies
Dr. Marivi Fernandez-Serra 
Physics & Astronomy
Andrew Li 
Ward Melville HS/ *InSTAR, E. Setauket, NY 
Intel semi-finalist
An Estimate of the Viscosity of the Quark-Gluon Plasma via Anisotropic Flow Measured in Au + Au Collisions at the Relativistic Heavy Ion Collider
Dr. Roy Lacey
Chemistry
Brandon Li
Jericho HS, Jericho, NY 
Intel semi-finalist
Pore Size Reduction of Electrospun Polyacrylonitrile (PAN) Scaffolds for High Performance Microfiltration
Dr. Benjamin Chu &  Dr. Benjamin Hsiao
Chemistry
Jason Littman 
Plainview-Old Bethpage JFK HS, 
Plainview, NY
Intel semi-finalist
The Development of siRNA Delivery Systems for Oncogene Suppression in Human Cancers

Dr. Valentina Schmidt
Medicine

Paul Masih Das 
Lawrence HS, Cedarhurst, NY 
Intel finalist
A Novel Chemical Synthesis for >1 μm2 Graphene Sheets
Dr. Miriam Rafailovich
Materials Science & Engineering
Georgios Mourdoukoutas
Plainview-Old Bethpage JFK HS, Plainview, NY
Intel semi-finalist
Anesthetic Action of Isoflurane on Human Glycine Receptor Channels
Dr. James Dilger
Anesthesiology
Neil Muir 
Uniondale HS, Uniondale, NY 
Intel semi-finalist
Engineering Non Halogen Based Biodegradable Flame Retardants
Dr. Miriam Rafailovich
Materials Science & Engineering
Pooja Mysore
Ward Melville HS/ *InSTAR, E. Setauket, NY 
Intel semi-finalist
Effects of Algorithmically Derived Calcitonin Receptor Peptide on the Formation of Bone Matrix
Dr. Srinivas Pentyala, 
Anesthesiology, Physiology & Biophysics, Urology
Joshua Pfeffer
North Shore Hebrew Academy HS, 
Great Neck, NY
Intel finalist
Super Kähler-Ricci Flow
Dr. Martin Rocek
Physics & Astronomy
C.N. Yang Institute for Theoretical Physics
Rashmi Rao 
Ward Melville HS/ *InSTAR, E. Setauket, NY 
Intel semi-finalist
Pattern Classification of fMRI Data for Understanding Brain Activity in Drug Users
Dr. Dimitris Samaras, Computer Science &
Dr. Rita Goldstein, BNL
Alyssa Reimer 
Plainview-Old Bethpage JFK HS, 
Plainview, NY
Intel semi-finalist
Design and Synthesis of 11C-Labeled Tumor-Targeting Modules and a Taxoid-Based Drug Conjugate Containing Dual Tumor-Targeting Modules
Dr. Iwao Ojima
Chemistry
Alexander Spangher 
Smithtown HS East, St. James, NY 
Intel semi-finalist
Gold Nanoparticle Catalysis of CO- in PEM Fuel Cell
Dr. Miriam Rafailovich
Materials Science & Engineering
Charles Starr
William A. Shine Great Neck South, Great Neck, NY
Intel semi-finalist
The Effect of N-Terminal Mutations on Rad54 Function
Dr. Nancy Hollingsworth 
Biochemistry & Cell Biology
Solomon Swartz 
North Shore Hewbrew Academy HS, Great Neck, NY 
Intel semi-finalist
Development of a Novel Thermoresponsive Hydrogel for Post-Lumpectomy Breast Reconstruction
Dr. Benjamin Chu &  Dr. Benjamin Hsiao
Chemistry
Alexis Tchaconas
Commack HS, Commack, NY
Intel semi-finalist
A Genetic Investigation of Autism: The Role of Type III Neuregulin-1/ErbB4 Signaling and Contactin4 Expression in Neurodevelopment
Dr. Lorna Role, Neurobiology & Behavior 
Dr. David Talmage, Pharmacological Sciences
Nimali Weerasooriva 
Ward Melville HS/ *InSTAR, E. Setauket, NY 
Intel semi-finalist
Inhibition of Fatty Acid Biosynthesis in Mycobacterium tuberculosis: Towards a Novel Tuberculosis Chemotherapeutic
Dr. Peter Tonge
Chemistry

 

2009

 

Intel STS 2009

HIGH SCHOOL STUDENTS

PROJECT TITLES

STONY BROOK FACULTY ADVISORS

Patrick Abejar
Smithtown HS West, Smithtown, NY 
Intel finalist


Utilizing Boron Isotopic Secular Variation as a Proxy to Assess Climate Change
Dr. E. Troy Rasbury
Geosciences
2009
 
Wenting Cao 
Mission San Jose HS, Fremont, CA 
Intel semi-finalist
Optimization of Methane Hydrate Formation and Stability: Unlocking an Abundant Source of Alternative Energy via Organic Matter within Seawater
Dr. Miriam Rafailovich
Materials Science & Engineering
Re-I Chin 
Walter Johnson HS, Bethesda, MD 
Intel semi-finalist
Synthesis of Precursor to [11C]-labeled DHA-Taxoid for Studies of Drug Pharmacokinetics and Evaluations of DHA as a Tumor-Targeting Moiety
Dr. Iwao Ojima
Chemistry
Mitchell Feinberg 
Smithtown HS East, St.  James, NY 
Intel semi-finalist
Rescuing Electrical Function in the Diseased Heart: A Gene Therapy Approach to Sodium Ion Channel Optimization
Dr. Emilia Entcheva 
Biomedical Engineering
Talia Fox 
Ossining HS, Ossining, NY 
Intel semi-finalist
Assessing the Accuracy of an Analytical Method to Determine the Shape of Rotating Neutron Stars
Dr. James Lattimer 
Physics & Astronomy
David Gittin 
Ward Melville HS/ *InSTAR, E. Setauket, NY 
Intel semi-finalist
Differential Requirements for Human CBFβ Homologues Bro and Bgb in Drosophila Development
Dr. J. Peter Gergen 
Biochemistry & Cell Biology
Evan Goldaper 
Kings Park HS, Kings Park , NY 
Intel semi-finalist
Understanding Cyclone Predictability Over the Data Sparse Pacific through an Examination of Temporal and Flow Patterns
Dr. Brian Colle
Marine & Atmospheric Sciences
Michael Gurevich 
Ward Melville HS/ *InSTAR, E. Setauket, NY 
Intel semi-finalist
The General Anesthetic Propofol Prolongs Deactivation and Blocks Peak Current of Human Alpha1 Glycine Receptors
Dr. James Dilger
Anesthesiology
Robert Kaminski 
Kings Park HS, Kings Park , NY 
Intel semi-finalist
Analysis of Lithospheric Deformation in the Western United States Using Localized Velocities, Strain, Dilatation and Shear Rates
Dr. William Holt 
Geosciences
Jason Karelis 
Ward Melville HS/ *InSTAR, E. Setauket, NY 
Intel semi-finalist
Mechanistic Studies of MenD, A Novel Drug Target for Methicillin-resistant Staphylococcus aureus (MRSA)
Dr. Peter Tonge 
Chemistry
Esther Lee 
Jericho HS, Jericho, NY 
Intel semi-finalist
Sustained Release of Lidocaine via Thermoresponsive Hydrogel
Dr. Benjamin Chu &  Dr. Benjamin Hsiao
Chemistry
Sari Levy 
John L. Miller-Great Neck North HS, Great Neck, NY 
Intel semi-finalist
Investigating Confocal Ultrasound Stimulation as an Osteogenic Stimulus: A Novel Physical Modality 
for Accelerating Fracture Healing and Bone Regeneration
Dr. Yixian Qin &  Dr. Wei Lin
Biomedical Engineering
Amy Lin 
Ward Melville HS/ *InSTAR, E. Setauket, NY 
Intel semi-finalist
Effect of Body Mass Index on Early Outcomes in Female Patients Following Percutaneous Coronary Intervention
Dr. Luis Gruberg
Cardiology
Glen Meyerowitz 
Northport HS, Northport, NY 
Intel semi-finalist
Uncovering Elusive Ultra High Energy Cosmic Rays: Development of a Method to Detect Cosmic Rays
Dr. Helio Takai
Physics & Astronomy
Jie Min 
Ward Melville HS/ *InSTAR, E. Setauket, NY 
Intel semi-finalist
Metabolic Change and FAS Expression During Adipocyte Differentiation in 3T3-L1 Cells
Dr. Irwin Kurland & Dr. Gustavo Palacios, 
Medicine / Endocrinology Div.
Nityan Nair 
Hastings HS, Hastings-on-Hudson, NY 
Intel semi-finalist
Diffraction with a Twist: Forming Optical Vortices Using Spiral Zone Plates
Dr. John Noé
Physics & Astronomy/Laser Teaching Center
Naureen Osman 
Ward Melville HS/ *InSTAR, E. Setauket, NY 
Intel semi-finalist
Effect of Cognitive Load and Depressive Symptoms on Heart Rate Variability
Dr. Greg Hajcak 
Psychology
Taejoong Park 
Ward Melville HS/ *InSTAR, E. Setauket, NY 
Intel semi-finalist
Modeling of a Spark Ignition Direct Gasoline Injection Engine with T2C and Direct Water/Methanol Injection
Dr. Lin-Shu Wang 
Mechanical Engineering
Neil Patel 
Herricks HS, New Hyde Park, NY 
Intel semi-finalist
The Mechanical Enhancement of Electrospun Fibers with Polyhedral Oligomeric Silsesquioxanes
Dr. Miriam Rafailovich
Materials Science & Engineering
Preya Shah 
Ward Melville HS/ *InSTAR, E. Setauket, NY 
Intel finalist - 8th place 


Combating Cancer: Design and Synthesis of Dual-Warhead Tumor-Targeting Drug Conjugates
Dr. Iwao Ojima
Chemistry
Christine Shrock 
Ward Melville HS/ *InSTAR, E. Setauket, NY 
Intel finalist


Effects of Lid Dynamics on the Binding of MDM2 to the Tumor Suppressor Protein p53: Implications for Cancer Therapeutics
Dr. Carlos Simmerling
Chemistry
Aleksandr Sinelnikov 
Earl L. Vandermeulen HS, Port Jefferson, NY 
Intel semi-finalist
Testing Plastic Packages with Mid-IR Emitters for Presence of Food Bubbles in the Seal Area
Dr. Dmitri Donetski 
Electrical Engineering
Jordan Urbach 
Roslyn HS, Roslyn Heights, NY 
Intel semi-finalist
The Effect of Extracellular Signaling Molecules on Oligodendrocytes: Differentiation, Morphology, Proliferation and Survival
Dr. Holly Colognato
Pharmacological Sciences
Yuanchi (Victor) Zhao 
Ward Melville HS/ *InSTAR, E. Setauket, NY 
Intel semi-finalist
Implementing Thermal Feedback Control of a Helium-Neon Laser for Frequency Stabilization
Dr. John Noé
Physics & Astronomy/Laser Teaching Center
Patrick Abejar
Smithtown HS West, Smithtown, NY 
Intel finalist


Utilizing Boron Isotopic Secular Variation as a Proxy to Assess Climate Change
Dr. E. Troy Rasbury
Geosciences

 

2008

 

Intel STS 2008

HIGH SCHOOL STUDENTS

PROJECT TITLES

STONY BROOK FACULTY ADVISORS

Matthew Alpert 
Lawrence HS, Cedarhurst, NY 
Intel semi-finalist
Electron Transport through Self-Assembled Gold Alkanethiol Monolayers: The Observation of
Coulomb Blockade at Room Temperature
Dr. Miriam Rafailovich
Materials Science & Engineering
Steven Anderson 
Ward Melville HS/ *InSTAR, E. Setauket, NY 
Intel semi-finalist
Voice Separation: A Practical Solution to the Cocktail Party Problem
Dr. Marco Martens
Mathematics
Elie Bochner
Yeshiva University HS for Boys, New York, NY 
Intel semi-finalist
Improving the Feasibility of Avalanche Gain X-Ray Detectors
Dr. Miriam Rafailovich
Materials Science & Engineering
Ashok Chandran 
Smithtown HS East, St. James, NY 
Intel finalist


The Distinctive Molecular Signature of Nicotine in Breast Cancer Cells
Dr. Marian Evinger 
Pediatrics
Eric Cooper 
Ward Melville HS/ *InSTAR, E. Setauket, NY 
Intel semi-finalist
Solvation Energetics of Electron Transfer Reactions in Face-to-Face Porphyrin-Quionone Dyads
Dr. Fernando Raineri 
Chemistry
Isaac Degani 
Wellington C. Mepham HS, Bellmore, NY 
Intel semi-finalist
The Discrimination of Radio Signals Reflected by Atmospheric Ionization and Airborne Bodies
Dr. Helio Takai 
Physics & Astronomy
Patryk Marek Dziudziel 
Kings Park HS, Kings Park, NY 
Intel semi-finalist
Determination of the Spatial and Temporal Extent of High Energy Density Nuclear Matter Produced 
in Relativistic Au+Au Collisions at the Relativistic Heavy Ion Collider
Dr. Roy Lacey
Chemistry
Mary Freiss 
Ward Melville HS/ *InSTAR, E. Setauket, NY 
Intel semi-finalist
Path Analysis of Brain Addiction Network
Dr. Wei Zhu
Applied Mathematics & Statistics
Michael Gartner 
Ward Melville HS/ *InSTAR, E. Setauket, NY 
Intel semi-finalist
Observation of a Sonic Boom in the Quark Gluon Plasma (QGP) Formed in Au+Au Collisions
at Relativistic Heavy Ion Collider

Dr. Roy Lacey
Chemistry

Herman Gudjonson 
Ward Melville HS/ *InSTAR, E. Setauket, NY 
Intel finalist


Reduced Taste in Drosophila melanogaster Mutated for an Obesity Syndrome Protein

Dr. Maurice Kernan
Neurobiology & Behavior

Jin Guo 
Ward Melville HS/ *InSTAR, E. Setauket, NY 
Intel semi-finalist
Sirolimus Blunts CD40/CD154 Mediated IL-8 and MCP-1 Stimulation and ICAM-1 Production
via the SAPK/JNK MAPK, NF-κB and p70 S6 Kinase Signaling Pathways in Human Proximal Tubule Cells
Dr. Hongye Li &  Dr. Edward P. Nord 
Nephrology Div., Medicine
Robert Hackett 
Sanford Calhoun HS, Merrick, NY 
Intel semi-finalist
Tumor-Targeting SWNT-based Drug Conjugate with Double Warheads
Dr. Iwao Ojima
Chemistry
Bowei (Sharon) Ji 
Jericho HS, New Hyde Park, NY 
Intel semi-finalist
High Flux Filtration Medium Based on Nanofibrous Poly(Vinyl Alcohol) Substrate with UV-Curing
Dr. Benjamin Chu & Dr. Wei, 
Chemistry
Chun-Kai (Kenny) Kao 
George Schoolk Newtown, PA 
Intel finalist


Nanoparticle Enhancement of PEM Fuel Cell Power Output
Dr. Miriam Rafailovich
Materials Science & Engineering
Yang Li 
Ward Melville HS, *InSTAR, E. Setauket, NY 
Intel semi-finalist
Enhancement of Winter Mid-latitude Precipitation over North America by Upper Level Waves 
Propagating from the Pacific Ocean
Dr. Edmund Chang 
Marine & Atmospheric Sciences
Krista Mar 
Ward Melville HS, *InSTAR, E. Setauket, NY 
Intel semi-finalist
Synthesis of a Molecular Nanostructure for Applications in Single-Electronics
Dr. Andreas Mayr 
Chemistry
Mili Mehta 
The Wheatley School, Old Westbury, NY 
Intel semi-finalist
A Longitudinal Study Identifying and Tracking Depression in an Urban Dialysis Population
Dr. Miriam Rafailovich
Materials Science & Engineering
Elizabeth Min 
Stuyvesant HS, New York, NY 
Intel semi-finalist
Synthesis of a Slow, Tight-Binding Inhibitor of InhA in Mycobacterium tuberculosis
Dr. Peter Tonge 
Chemistry
Hillary Moss 
Ward Melville HS, *InSTAR, E. Setauket, NY 
Intel semi-finalist
Hemophilia B and Glycosylation Sites on Human Clotting Factor IX: How Do Mutations
on Factor IX Interact with the Body and Affect Glycosylation?
Dr. Robert Haltiwanger
Biochemistry & Cell Biology
Alexander Penn 
Monta Vista HS, Cupertino, CA 
Intel semi-finalist
Advancement of Printed Circuit Boards: Manipulating Metal Adhesion of Masked Polymer Thin 
Films through Exposure to Supercritical Carbon Dioxide
Dr. Miriam Rafailovich
Materials Science & Engineering
Anne Polyakov 
Ward Melville HS, *InSTAR, E. Setauket, NY 
Intel semi-finalist
SQIF Setup for Measurement of Extremely Low Absolute Magnetic Field
Dr. Vasili Semenov 
Physics & Astronomy
Radha Ramjeawan 
Uniondale HS, Uniondale, NY 
Intel semi-finalist
Nanomedicine: Utilizing Nanofibers and Nanoparticles to Enhance Transplant Techniques and Cancer Therapy
Dr. Miriam Rafailovich
Materials Science & Engineering
Kalyan Ray-Mazumder 
Ward Melville HS/ *InSTAR, E. Setauket, NY 
Intel semi-finalist
Do Perceptual Learning and Selective Adaptation Occur without Conscious Awareness?
Dr. Arthur Samuel
Psychology
David Rosengarten
John L. Miller -Great Neck North HS, Great Neck, NY 
Intel finalist - 6th place 


Rotation Curves in Five Dimensions
Dr. Martin Rocek 
Physics & Astronomy; 
C.N. Yang Institute for Theoretical Physics
Hamsa Sridhar
Kings Park HS, Kings Park, NY 
Intel finalist


A Novel Astigmatic Laser Mode Converter for Optical Vortex Tweezers
Dr. John Noé &  Dr. Harold Metcalf
Physics & Astronomy
Ryan Terbush 
Smithtown West HS, Smithtown, NY 
Intel semi-finalist
Optimizing Carbohydrate Recognition by Cyanovirin-N through Computational Methods
Dr. David Green
Applied Mathematics & Statistics
Pooja Vasudevan 
The Wheatley School, Old Westbury, NY 
Intel semi-finalist
Optimizing Cell Behavior Through Engineered Polymer Substrates
Dr. Miriam Rafailovich
Materials Science & Engineering
Dana Zhu 
Half Hollow Hills HS West, Dix Hills, NY 
Intel semi-finalist
Protein Identification and Quantification via Tandem Mass Spectrometry: Novel Techniques
Dr. Wei Zhu
Applied Mathematics & Statistics

 




 

 

2007

Intel STS 2007

HIGH SCHOOL STUDENTS

PROJECT TITLES

STONY BROOK FACULTY ADVISORS

Zeynep Basaran
Smithtown HS West, St. James, NY 
Intel semi-finalist
Mechanistic Studies on Internalization and Drug Release of DHA-Taxoid Conjugates
Dr. Iwao Ojima
Chemistry
Michael Ding
Glen Cove HS, Glen Cove, NY 
Intel semi-finalist
DNA Electrophoresis on Nanoporous Polyethersulfone Membrane Surfaces
Dr. Jonathan Sokolov 
Materials Science & Engineering
Crystalee Forbes
Uniondale HS, Uniondale, NY 
Intel semi-finalist
Cell Growth, Cytoskeletal Structure and Protein Expression in the Presence of Cloisite NA+
Dr. Miriam Rafailovich
Materials Science & Engineering
Kristin Hall
Smithtown HS East, St. James, NY 
Intel semi-finalist
Inducing Stem Cell Differentiation and Detecting Cancer at the Single Cell Level Using Biomechanics
Dr. Miriam Rafailovich
Materials Science & Engineering
Zachary Hollander 
Great Neck North HS, Great Neck, NY 
Intel semi-finalist
Genetic and Environmental Causes of Variation in Size and Growth Form in Dwarf and Normal Stature Pitch Pines, Pinus rigida, in Controlled and Field Experiments
Dr. Jessica Gurevitch 
Ecology & Evolution
Victoria Hung
Smithtown HS West, Smithtown, NY 
Intel semi-finalist
A Novel Mathematical Model of Single and en masse Fibroblast Migration on Hydrogels
Dr. Miriam Rafailovich, Materials Science & Engineering; & 
Dr. Richard Clark, Biomedical Engineering, Dermatology
Daniel Katz 
Hebrew Academy of the Five Towns & Rockaway, Cedarhurst, NY 
Intel finalist


Platinum Nanoparticles: From Hydrogen Storage to Cancer Treatment
Dr. Miriam Rafailovich
Materials Science & Engineering
Rebecca Kaufman
Croton-Harmon HS, Croton-on Hudson, NY 
Intel finalist - 5th place


Androgen Modulation of Cognitive Functions Relevant to Schizophrenia in Rats
Dr. Mary Kritzer 
Neurobiology & Behavior
Sarah Kirsch 
Ward Melville HS/ *InSTAR, E. Setauket, NY 
Intel semi-finalist
Gender Differences in Hypersensitivity Behavior in a Rat Model of Autism
Dr. Patricia Whitaker-Azmitia
Psychology
Esther Kwak 
Jericho HS, Jericho, NY 
Intel semi-finalist
Alginate Microspheres Combined with Pluronic Copolymers for a Controlled and Targeted Release of Lidocaine
Dr. Benjamin Chu &  Dr. Benjamin Hsiao
Chemistry
Benjamin Leibowicz 
Great Neck North HS, Great Neck, NY 
Intel semi-finalist
The Tolman VII Solution and the Upper Limit to the Central Density of a Neutron Star

Dr. James Lattimer




Physics & Astronomy

Emily Levine 
Stella K. Abraham HS for Girls, Hewlett Bay Park, NY 
Intel semi-finalist
Optimizing Recycled Polymer Blends Using Supercritical Carbon Dioxide
Dr. Miriam Rafailovich
Materials Science & Engineering
Hillary Lin 
Ward Melville HS/ *InSTAR, E. Setauket, NY 
Intel semi-finalist
Sex Differences in Brain Activation During the Viewing of Facial Affect
Dr. Turhan Canli
Psychology
Tina Liu 
Ossining HS, Ossining, NY 
Intel semi-finalist
The Impact of Vision-related Behavioral Factors on Myopia Development Within Each Level of Parental Myopia
Dr. Leslie Hyman 
Preventive Medicine
Samantha Palmaccio
Sachem HS East, Farmingville, NY 
Intel semi-finalist
Longitudinal Evaluation of in vitro Osteoblast Biomineralization and Differentiation Using Alkaline Phosphatase Quantification and Confocal Scanning Laser Microscopy
Dr. Nadine Pernodet, Dr. Yizhi Meng &  
Dr. Miriam Rafailovich, Materials Science & Engineering
Rachel Stephan 
Kings Park HS, Kings Park, NY 
Intel semi-finalist
Development of a Novel Method of Eliminating Polychlorinated Biphenyls from the Environment
Dr. Srinivas Pentyala, Anesthesiology, Physiology & Biophysics, Urology ; & 
Dr. Mario Rebecchi, Anesthesiology
Jason Strauss
North Shore Hebrew Academy HS, Great Neck, NY 
Intel semi-finalist
Polymer Confinement in 3D: Impact on Nanolithography
Dr. Miriam Rafailovich
Materials Science & Engineering
Nandini Venkateswaran 
Herricks HS, New Hyde Park, NY 
Intel semi-finalist
Synthesis of Cupric Oxide (CuO) Nanostructures for Gas Sensing and Catalysis Applications
Dr. Perena Gouma
Materials Science & Engineering
Victor Wang 
Great Neck South HS, Great Neck, NY 
Intel semi-finalist
Seeing the Phase of Light: An Experimental Investigation of Doughnut-shaped Laser Beams Produced by a Few-Mode Optical Fiber
Dr. John Noé &  Dr. Harold Metcalf
Physics & Astronomy
Debbie Yee 
Great Neck North HS, Great Neck, NY 
Intel semi-finalist
Using Thiol-functionalized Metallic Nanoparticles to Increase the Efficiency of the Polymer Electrolyte Membrane (PEM) Fuel Cell
Dr. Miriam Rafailovich
Materials Science & Engineering
Rui Hui (Rachel) Yu
Ward Melville HS/ *InSTAR, E. Setauket, NY 
Intel semi-finalist
Development of Molecular Single-Electron Device Components: Synthesis of Acetylide (Bisisocyanide) Rhenium Complex as a Corner of a Molecule Cage
Dr. Andreas Mayr 
Chemistry
Rui Zhi (Rebecca) Yu
Ward Melville HS/ *InSTAR, E. Setauket, NY 
Intel semi-finalist
On the Brink of Chaos: Study of Fermi-Pasta-Ulam Effects in 2D
Dr. Philip Allen
Physics & Astronomy

 

 

2006


Intel STS 2006

HIGH SCHOOL STUDENTS

PROJECT TITLES

STONY BROOK FACULTY ADVISORS

Samantha Baer
Ward Melville HS/ *InSTAR, E. Setauket, NY 
Intel semi-finalist
An Historical Correlation Between Increasing Acreage of a Flood Tide Delta and Tidal Wetland Loss Due to Long-term Anthropogenic Impacts

Dr. Glenn Richard, Geosciences / Mineral Physics Institute; and Dr. Fred Mushacke, NYS Dept. of Environmental Conservation

Brittany Bookbinder 
Kings Park HS, Kings Park, NY 
Intel semi-finalist
Temporal Organization of Spontaneous Blinking and Its Modulation by Sensory Input
Dr. Craig Evinger
Neurobiology & Behavior; Ophthalmology
Nicole Brenner 
Lawrence HS, Cedarhurst, NY 
Intel semi-finalist
Preparation of a Superparamagnetic Polymer Nanocomposite for Biomedical Applications
Dr. Miriam Rafailovich
Materials Science & Engineering
Anand Chandran 
Smithtown HS West, Smithtown, NY 
Intel semi-finalist
Gene Profiling of Medulloblastomas: Molecular Windows into the Development of Pediatric Brain Tumors
Dr. Marian Evinger 
Pediatrics
Alan Chou
William A. Shine Great Neck South HS, 
Great Neck, NY 
Intel semi-finalist
A Novel System to Study Multiple Double Strand Breaks in Arabidopsis thaliana
Dr. Tzvi Tzfira 
Biochemistry & Cell Biology
Jonathan Espitia 
Sachem HS East, Farmingville, NY 
Intel semi-finalist
The Effects of Titanium Dioxide Nanoparticles and Ultraviolet Light on Normal Skin Keratinocytes
Dr. Miriam Rafailovich
Materials Science & Engineering
Rachel Goldstein
Half Hollow Hills HS West, Dix Hills, NY 
Intel semi-finalist
An Association Between Dopamine and Serotonin System Related Genetic Polymorphisms in College Students
Dr. Turhan Canli
Psychology
Jana Hirsch
Ward Melville HS/ *InSTAR, E. Setauket, NY 
Intel semi-finalist
Seismic Signature of Ocean Surf as it Relates to Wave Energy and Coastal Erosion
Dr. Henry Bokuniewicz &  Dr. Josephine Aller
Marine Sciences Research Center
Allyson Ho 
William P. Clements HS, Sugar Land, TX
Intel semi-finalist
The Effects of Polymer Blending on Gas Permeability
Dr. Miriam Rafailovich
Materials Science & Engineering
Rafael Holzer
Rambam Mesivta, Lawrence, NY 
Intel semi-finalist
Modifying Surfaces of Polycarbonate to Achieve Enhanced Properties
Dr. Miriam Rafailovich
Materials Science & Engineering
Gabriela Jara 
Kings Park HS, Kings Park, NY 
Intel semi-finalist
Design and Synthesis of a Biotin Ligand in Anti-Cancer Drug Conjugates Comprised of Fluorescent Probes and SB-T-1214
Dr. Iwao Ojima
Chemistry
Catherine Kelso 
Ward Melville HS/ *InSTAR, E. Setauket, NY 
Intel semi-finalist
Unusual Structures of RNA and Damaged DNA Probed through Molecular Simulation
Dr. Carlos Simmerling
Chemistry
Daniel Kiridly 
Smithtown HS West, Smithtown, NY 
Intel semi-finalist
Spectral Dynamics of Inspiratory Motor Discharge During Augmented Breaths in C56BL/6 Mice in vivo
Dr. Irene Solomon
Physiology & Biophysics
Albert Ko 
Ward Melville HS/ *InSTAR, E. Setauket, NY 
Intel semi-finalist
A Gravitational Effective Action on a Finite Triangulation
Dr. Martin Rocek
Physics & Astronomy
C.N. Yang Institute for Theoretical Physics
Stephen Ko
Ward Melville HS/ *InSTAR, E. Setauket, NY 
Intel semi-finalist
Modifications to Jet Properties in a Strongly Interacting Quark Gluon Plasma
Dr. Roy Lacey
Chemistry
Praneet Korrapati
Half Hollow Hills HS East, Dix Hills, NY 
Intel semi-finalist
Development and Validation of a New Prostate Cancer Diagnostic Marker

Dr. Srinivas Pentyala, Anesthesiology/Physiology & Biophysics ; &Terry Whyard, Urology

Evan Lazer 
Northport HS, Northport, NY 
Intel semi-finalist
A Study of the Effectiveness of Quantitative Ultrasound for Assessing Bone Heatlh
Dr. Yi-Xian Qin
Biomedical Engineering
Hilana Lewkowitz-Shpuntoff 
William A. Shine Great Neck South HS, Great Neck, NY 
Intel semi-finalist
Behavioral and Neuroanatomical Chacterization of CIRL3-like Mutants
Dr. Miriam Rafailovich
Materials Science & Engineering
Jerrold Lieblich
Ward Melville HS/ *InSTAR, E. Setauket, NY 
Intel finalist- 5th place


When the Brain Doesn't Hear What the Mind Does: A Lexical Approach to McGurk Adaptation
Dr. Arthur Samuel
Psychology
Gavin Lund 
Comsewogue HS, Port Jefferson Station, NY 
Intel semi-finalist
A DSP Implementation of Particle Filtering for Single-target Tracking by Wireless Sensors
Dr. Petar Djuric 
Electrical & Computer Engineering
Alexander Luryi 
Ward Melville HS/ *InSTAR, E. Setauket, NY 
Intel semi-finalist
Inconsistencies of the Logistic Growth Law: Gause Experiment Expanded
Dr. Lev Ginzburg
Ecology & Evolution

Eric Meyerowitz
Northport HS, Northport, NY 
Intel finalist



Probing the Conformation and Dynamics of Allatostatin Neuropeptides: A Structural Model for Functional Differences
Dr. Smita Mohanty
Biochemistry & Cell Biology
Nora Micheva
Ward Melville HS/ *InSTAR, E. Setauket, NY 
Intel semi-finalist
Design and Development of Fluorogenic Probes for Study of Fatty-Acid-Second Generation Taxoid Conjugate Internalization and Release
Dr. Iwao Ojima
Chemistry
Amy Richards
Kings Park HS, Kings Park, NY 
Intel semi-finalist
Metalloproteinase Inhibitors, Catechins from Green Tea, Block Anthrax Lethal Factor in vitro
Dr. Sanford Simon
Biochemistry & Cell Biology; Pathology
John Schulman 
William A. Shine Great Neck South HS, Great Neck, NY 
Intel semi-finalist
On Einstein-Kahler Supermanifolds
Dr. Martin Rocek
Physics & Astronomy
C.N. Yang Institute for Theoretical Physics
Joshua Seidman
Wellington Mepham HS, Bellmore, NY 
Intel semi-finalist
The Search for Cosmic Ray Induced Lightning Strokes

Dr. Helio Takai
Physics & Astronomy, SBU & BNL

 

Patrick van Nieuwenhuizen
Ward Melville HS/ *InSTAR, E. Setauket, NY 
Intel semi-finalist
Does Smoothing Matter?
Dr. Martin Rocek
Physics & Astronomy
C.N. Yang Institute for Theoretical Physics
Peidi Wu 
Ward Melville HS/ *InSTAR, E. Setauket, NY 
Intel semi-finalist
A Novel Approach to Analyzing of Polyoxomolybdate Growth Using Dynamic and Electrophoretic Light Scattering
Dr. Benjamin Chu
Chemistry
Irina Zaitseva
Centereach HS, Centereach, NY 
Intel finalist


Stability of Sunscreen to UV Radiation and Reduction of Photocatalytic Activity of Titanium Dioxide
Dr. Miriam Rafailovich
Materials Science & Engineering
Harley Zhang
Ward Melville HS/ *InSTAR, E. Setauket, NY 
Intel finalist


Role of General Relativity in Core Collapse of Spherically Symmetric Supernovae
Dr. F. Douglas Swesty 
Physics & Astronomy

 




 

 

2005

 

 Intel STS 2005

HIGH SCHOOL STUDENTS

PROJECT TITLES

STONY BROOK FACULTY ADVISORS

Aisha Akhtar 
Ward Melville HS/ *InSTAR, E. Setauket, NY 
Intel semi-finalist
Development of a Thermo-responsive Graft Copolymer
Dr. Benjamin Chu
Chemistry
Brinda Alagesan 
Manhasset HS, Manhasset, NY 
Intel semi-finalist
Dynamics of Genomic DNA
Dr. Miriam Rafailovich
Materials Science & Engineering
Ross Altman 
Oceanside HS, Oceanside, NY 
Intel semi-finalist
Synthesis of Kekulene on a Cyclodextrin Scaffold: Computational Analysis
Dr. Nancy Goroff
Chemistry
Joan Bosco 
Kings Park HS, Kings Park, NY 
Intel semi-finalist
The Apoptotic Effect of Lipoic Acid Palladium Complex, A Novel Non-toxic Chemotherapy, on Breast Cancer Cells
Dr. Frank Antonawich
Neurology
Katya Botchkina 
Ward Melville HS/ *InSTAR, E. Setauket, NY
Intel semi-finalist
What Can be Done to Recover the Roseate Tern on Long Island? Sensitivity Testing on a Demographic Model of the Long Island Sterna dougalliiPopulation
Dr. Lev Ginzburg
Ecology & Evolution
Heather Casper 
Plainview-Old Bethpage JFK HS, Plainview, NY 
Intel semi-finalist
***Third place in Intel's International ISEF Fair for team project with Benjamin Pollack, Plainview-Old Bethpage JFK HS, Plainview, May 2005
Carbonic Anhydrase: Expression in Dioscorea and Molecular Evolution inArabidopsis thaliana, Oryza sativa, and Dioscorea Species
Dr. R. Geeta 
Ecology & Evolution
Stanley Chiang 
John L Miller-Great Neck North HS, Great Neck, NY 
Intel finalist


A Step Closer to the Quantum Computer: Fabrication of Novel Superconducting Josephson Junctions to Couple Multiple Flux States of a Quantum Bit
Dr. James Lukens
Physics & Astronomy
Jeffrey Fei 
Ward Melville HS/ *InSTAR, E. Setauket, NY 
Intel semi-finalist
Mutagenic Bypass Pathway Involved in the Eukaryotic Cellular Response to Anticancer Drug Resistance
Dr. Holly Miller
Pharmacology
Marissa Goldblatt 
Plainview-Old Bethpage JFK HS, Plainview, NY 
Intel semi-finalist
The Evolution of Male Courtship Behavior in Oriental Drosophila Species with Wing Spots
Dr. John True
Ecology and Evolution
Jason Goodman
Roslyn HS, Roslyn Heights, NY 
Intel semi-finalist
Investigation of Facial Recognition and Mechanical Properities of Aging Skin Through DIgital Image Speckle Correlation
Dr. Miriam Rafailovich
Materials Science & Engineering
Chelsea Gordon 
Half Hollow Hills HS E., Dix Hills, NY 
Intel semi-finalist
A Novel Method of Polymer Metallization
Dr. Miriam Rafailovich
Materials Science & Engineering
Tina Ho
Smithtown HS, Smithtown, NY 
Intel semi-finalist
Design and Synthesis of Novel Cytotoxic Alkaloids by Mimicking the Taxoid Skeleton
Dr. Iwao Ojima
Chemistry
Samuel Hollander
Great Neck North HS, Great Neck, NY 
Intel semi-finalist
Manipulating DNA, Poly-L-Lysine, and PEO-PPO-PEO Triblock Copolymer Nanoparticles for Use in High Efficiency Gene Delivery Vehicle
Dr. Benjamin Chu
Chemistry
Ben Huang
Longwood HS, Coram, NY 
Intel finalist
 
Charged Particle Production in High Energy Nuclear Collisions
Dr. Thomas Hemmick
Physics & Astronomy
John Michael Iraci 
Kings Park HS, Kings Park, NY 
Intel semi-finalist
Tri-blends: A Novel Procedure to Create Ideal Plastics Using Recycled Materials Exposed to Supercritical Carbon Dioxide
Dr. Miriam Rafailovich
Materials Science & Engineering
Alexander Kenigsberg 
Ward Melville HS/ *InSTAR, E. Setauket, NY 
Intel semi-finalist
Biochemical and Genetic Studies of a Highly Attenuated Poliovirus: A Vaccine Candidate for the Post Poliovirus Eradication Era
Dr. Aniko Paul
Molecular Genetics & Microbiology
Stephanie Leventhal 
Hauppauge HS, E. Setauket, NY 
Intel semi-finalist
Value Differences in the Age of the Internet
Dr. Judith Tanur
Sociology
Eric Mansfield 
Smithtown HS, Hauppage, NY 
Intel semi-finalist
Optimization of Hyaluronic Acid Hydrogels for Wound Healing
Dr. Miriam Rafailovich
Materials Science & Engineering
Amit Mehta 
St. Anthony's HS, South Huntington, NY 
Intel semi-finalist
DNA Electrophoresis of Mega-Base Pair and Circular DNA on MIcro-Patterned Surfaces
Dr. Miriam Rafailovich
Materials Science & Engineering
Sagar Mehta 
The Wheatley School, Old Westbury, NY 
Intel finalist
 
Optimizing the Properties of Hyaluronic Acid (HA) Hydrogel Scaffolds for Wound Healing and Tissue Engineering
Dr. Miriam Rafailovich
Materials Science & Engineering
Lauren Mohr Miller 
Ward Melville HS/ *InSTAR, E. Setauket, NY 
Intel semi-finalist
The Effects of High Concentrations of Petroleum Hydrocarbons on Growth Rate and bioaccumulation of the Polychaete Nereis succinea
Dr. Bruce Brownawell
Marine & Atmospheric Sciences, School of (SOMAS)
Samuel Ocko 
Ward Melville HS/ *InSTAR, E. Setauket, NY 
Intel semi-finalist
A Study of the Thermal Properties of the 1D Lennard Jones System
Dr. Philip Allen
Physics & Astronomy
Andrei Petrenko 
Ward Melville HS/ *InSTAR, E. Setauket, NY 
Intel semi-finalist
Investigation of Nuclear Mass Formula Fits to the Liquid Drop Model of the Nucleus
Dr. James Lattimer
Physics & Astronomy
Smita Prakash 
Ward Melville HS/ *InSTAR, E. Setauket, NY 
Intel semi-finalist
Grasping Einstein's Gravitational Waves
Dr. Madappa Prakash
Physics & Astronomy
Feini Qu 
Half Hollow Hills HS E., Dix Hillls, NY 
Intel semi-finalist
Using Supercritical Carbon Dioxide to Enhance Polymer Compatibility in Ultra-Thin Filrms
Dr. Miriam Rafailovich
Materials Science & Engineering
Aditi Ramakrishnan 
Ward Melville HS/ *InSTAR, E. Setauket, NY 
Intel semi-finalist
Are Nanoparticles Safe? Cytotoxicity of Citrate Coated Gold Nanoparticles
Dr. Nadine Pernodet
Dr. Miriam Rafailovich
Materials Science & Engineering
David Rosenman 
Half Hollow Hills HS West, Dix Hills, NY 
Intel semi-finalist
Analysis Through MD Simulations on the Effects of the Y88C Mutation inBacillus stearothermophilius MutY Adenine Glycosylase on Its Repair of 8-oxoG: A DNA
Dr. Carlos Simmerling
Chemistry
Matthew Schlossberger 
Plainview-Old Bethpage John F. Kennedy HS, Plainview, NY 
Intel semi-finalist
Electrospinning of Polystyrene and POSS Nanofibers
Dr. Miriam Rafailovich
Materials Science & Engineering
Jonathan Scholl 
The Wheatley School, Old Westbury, NY 
Intel semi-finalist
Surface Directed Crystallization of Polymer Thin Films in Supercritical Fluids
Dr. Miriam Rafailovich
Materials Science & Engineering
Zachary Travis 
North Shore HS, Glen Head, NY 
Intel semi-finalist
The Development of a New Vertebral Loading Model Based on the Effects of Prolonged Hind Limb Suspension
Dr. Stefan Judex
Biomedical Engineering
Neal Wadhwa 
Ward Melville HS/ *InSTAR, E. Setauket, NY 
Intel finalist
 
On Super Calabi-Yau Manifolds
Dr. Martin Rocek
Physics & Astronomy
C.N. Yang Institute for Theoretical Physics
Lily Wang 
Ward Melville HS/ *InSTAR, E. Setauket, NY 
Intel semi-finalist
How Much Heat Can Charmonium Take?
Dr. Madappa Prakash
Physics & Astronomy
John Wei 
Ward Melville HS/ *InSTAR, E. Setauket, NY 
Intel semi-finalist
Construction of Indoleamine 2,3-Dioxygenase (IDO) Expressing Keratinocytes
Dr. Marcia Simon
Dental School
Jonathan Wu 
William A. Shine Great Neck South HS, Great Neck, NY 
IIntel semi-finalist
The Beauty of Less Perfect Light: A High Resolution Interferometer for Characterizing Broadband Light Sources
Dr. John Noé &  Dr. Harold Metcalf
Physics & Astronomy 

Angela Yang 
Jericho HS, Jericho, NY 
Intel semi-finalist
The Relationship Between the Normal and Mutated Expression of Connexin 43 and Oculodentodigital Dysplasia (ODDD)
Dr. Thomas White &  Dr. Peter Brink 
Physiology & Biophysics
Tiffany Yeh 
Syosset HS, Syosset, NY 
Intel semi-finalist
Human Dermal Fibroblast Growth and Response to Polybutadiene-Cloisite 6A Nanocomposite Surfaces
Dr. Miriam Rafailovich
Materials Science & Engineering

 




 

 

2004

 

Intel STS 2004

HIGH SCHOOL STUDENTS

PROJECT TITLES

STONY BROOK FACULTY ADVISORS

Jonathan Birnbaum
John L Miller-Great Neck North HS, Great Neck, NY 
Intel semi-finalist
A Comparison of Flow Through Monoleaflet and Bileaflet Mechanical Heart Valves Utilizing in vitro Digital Particle Imaging Velocimetry and Computational Fluid Dynamics
Dr. Danny Bluestein
Biomedical Engineering
Jennifer Braverman 
Ward Melville HS/ *InSTAR, E. Setauket, NY 
Intel semi-finalist
A Novel Method of "On-On" Cell Patterning on Polymer Surfaces
Dr. Miriam Rafailovich
Materials Science & Engineering
Katherine Chiang
John L Miller-Great Neck North HS, Great Neck, NY 
Intel semi-finalist
A Novel Study of Oceanic Bacterial Activity: ALPHA-Proteobacteria Enrichment in Aerosolsand the Microlayer
Dr. Josephine Aller
Marine & Atmospheric Sciences, School of
Daniel Choi 
Syosset HS, Syosset, NY 
Intel finalist
 
DNA Microarray Analysis of Shewanella oneidensis Grown for Fuel Cell Use
Dr. Anil Dhundale & Melissa Monaghan
Biomedical Engineering
Sharon Chou
William A. Shine Great Neck South HS, Great Neck, NY 
Intel semi-finalist

Design of Drug Release Profile Using Polyelectrolyte Complexes

Dr. Benjamin Chu
Chemistry
Yiyi Deng
Ward Melville HS/ *InSTAR, E. Setauket, NY 
Intel semi-finalist
A Novel Technique for the Quantification of Trapping Force in Optical Tweezers
Dr. John Noé &  Dr. Harold Metcalf
Physics & Astronomy 

Maanit Desai
John L Miller-Great Neck North HS, Great Neck, NY 
Intel semi-finalist
A Simplified Method for Characterizing Complex Media by the Coherent Backscattering of Light
Dr. John Noé &  Dr. Harold Metcalf
Physics & Astronomy 

Matthew Di Pasquale
Kent School, Kent, CT
Intel semi-finalist
Single Electron Devices Using Gold Nanoparticle Monolayers
Dr. Miriam Rafailovich
Materials Science & Engineering
Sarah Fink 
Commack HS, Commack, NY 
Intel semi-finalist
Design and Synthesis of Novel Taxoid-Fatty Acid Conjugates as Tumor Specific Anticancer Agents
Dr. Iwao Ojima
Chemistry
Michelle Forman 
Stella K. Abraham HS for Girls, Hewlett Bay Park, NY 
Intel semi-finalist
Nanostructured Thin Films for Hydrogen Storage
Dr. Miriam Rafailovich
Materials Science & Engineering
Neil Haranhalli
Syosset Sr. HS, Syosset, NY 
Intel semi-finalist
Analysis of Orthology and Molecular Evolution of the Carbonic Anhydrase (CAH) Gene of Dioscorea Species, Arabidopsis thaliana, and Oryza sativa
Dr. R. Geeta 
Ecology & Evolution
Jonathan Hefter 
Davis Renov Stahler Yeshiva HS for Boys, Woodmere, NY 
Intel semi-finalist

The Thermally Stabilizing Effects and Mechanisms of Clay Fillers on Acrylic Paints, Coatings, and Adhesives

Dr. Miriam Rafailovich
Materials Science & Engineering

Madelyn Meng-Ling Ho
William P. Clements HS, Sugar Land, TX
Intel semi-finalist

Actin Organization Response to Micro- and Nano-Scale Topography
Dr. Miriam Rafailovich
Materials Science & Engineering
Xiaodong (Jessica) Jiang
Ward Melville HS/ *InSTAR, E. Setauket, NY 
Intel semi-finalist
Synthesis of Fe-Cr Core/Shell Nanoparticles in Pluronic(R) by Thermal Decomposition

Dr. Miriam Rafailovich
Materials Science & Engineering

Samuel John
Plainview-Old Bethpage John F. Kennedy HS, Plainview, NY 
Intel semi-finalist
Differential Effects of Blockade of GABAA Receptors on Inspiratory Phase Fast Oscillatory Rhythms
Dr. Ki Chon 
Biomedical Engineering
Maiko Kume 
Paul D. Schreiber HS, Port Washington, NY 
Intel semi-finalist
Is PCR a Revelant Tool for the Analysis of Microbial Diversity?
Dr. Jackie Collier
Marine Sciences Research Center

Vivek Kuncham 
The Wheatley School, Old Westbury, NY 
Intel semi-finalist

Development of an Optimal Polymer Coating Through Crystalline Modification
Dr. Miriam Rafailovich
Materials Science & Engineering

Steven Lubin 
West Islip High School, West Islip, NY 
Intel semi-finalist

Applications of Supercritical Fluid Technology to Polymer Blends
Dr. Miriam Rafailovich
Materials Science & Engineering
Kristen Lurie 
Oceanside HS, Oceanside, NY 
Intel semi-finalist
Inhibition of the Cell Division Protein FtsZ: A Novel Target for Anti-Tuberculosis Drug Discovery
Dr. Peter Tonge and  Dr. Iwao Ojima 
Chemistry
Oleg Polyakov
Ward Melville HS/ *InSTAR, E. Setauket, NY 
Intel semi-finalist
A Femtotesla Optical Magnetometer Suitable for Applications in Multi-channel Magnetic Imaging
Dr. John Noé &  Dr. Harold Metcalf
Physics & Astronomy 

Eric Petersen 
Ward Melville HS/ *InSTAR, E. Setauket, NY 
Intel semi-finalist
DNA Electrophoresis on Micro-Patterned Surfaces
Dr. Miriam Rafailovich
Materials Science & Engineering
Jeremy Price 
Jericho HS, Jericho, NY 
Intel semi-finalist
Cell Culture Studies as a Model of the Interaction Between Two Inflammatory Diseases: Periodontitis and Coronary Artery Disease
Dr. Lorne Golub
Oral Biology and Pathology
Nikhilesh Ray-Mazumder 
Ward Melville HS/ *InSTAR, E. Setauket, NY 
Intel semi-finalist
Successful Transfection Using Functionalized Gold Nanoparticles
Dr. Miriam Rafailovich
Materials Science & Engineering
Eduard Reznik 
Ward Melville HS/ *InSTAR, E. Setauket, NY 
Intel finalist/5th place
 
New Exact Solutions to Einstein's Equations
Dr. James Lattimer
Physics & Astronomy
Xiaojing (Sunny) Tang 
Ward Melville HS/ *InSTAR, E. Setauket, NY 
Intel semi-finalist
Development of a Novel Ibuprofen Film for the Prevention of Postoperative Atrial Fibrillation
Dr. Glenn Gaudette
Biomedical Engineering
Christopher Tingue 
Ward Melville HS/ *InSTAR, E. Setauket, NY 
Intel semi-finalist
A Ground-Penetrating Radar Survey of the Ashley Schiff Preserve, Stony Brook, New York
Dr. Daniel Davis
Geosciences
Alexander Slade 
Plainview-Old Bethpage John F. Kennedy HS, Plainview, NY 
Intel semi-finalist
The Expression of Connexin 36 in GABAergic Neurons in Respiratory Related Brainstem Regions of Adult Rat
Dr. Irene Solomon
Physiology & Biophysics
Kevin Wang 
Ward Melville HS/ *InSTAR, E. Setauket, NY 
Intel finalist
 
A Novel Simulation Method for Protein Structure Prediction
Dr. Carlos Simmerling
Chemistry

 




 

 

2003

 

Intel STS 2003

HIGH SCHOOL STUDENTS

PROJECT TITLES

STONY BROOK FACULTY ADVISORS

Nina Bai 
Plainview-Old Bethpage John F. Kennedy HS, Plainview, NY 
Intel semi-finalist
Synthesis and Characterization of Well-ordered Thin Films of Decanethiolated Gold Nanopartarticles
Dr. Miriam Rafailovich
Materials Science & Engineering
Hyeyeon Choi 
Half Hollow Hills HS East, Dix Hills, NY 
Intel finalist
 
The Effect of Supercritical Fluids on Polymer Thin Films
Dr. Miriam Rafailovich
Materials Science & Engineering

Stephen Dawson-Haggerty
Ward Melville HS/ *InSTAR, E. Setauket, NY 
Intel semi-finalist

Diffraction: Experiment, Simulation and Application to Polymer Fibers

Dr. Christian Burger
Dr. Benjamin Chu
Chemistry
Jessica Dickenson
Earl L. Vandermeulen HS, Port Jefferson, NY 
Intel semi-finalist
Sizing Neutron Stars
Dr. Madappa Prakash
Physics & Astronomy
Alexander Ellis
Stuyvesant High School, New York, NY 
Intel semi-finalist
The Design and Performance of an Astigmatic Laser Mode Converter
Dr. John Noé &  Dr. Harold Metcalf
Physics & Astronomy 

Robert Neil Fisher
Hebrew Academy of Nassau County, Uniondale, NY 
Intel semi-finalist
Improving Plastic Recycling Using Modified Organoclays
Dr. Miriam Rafailovich
Materials Science & Engineering
Hilary Fleischer
South Side HS, Rockville Centre, NY 
Intel finalist
 
Optical Analysis of a Flowing Soap Film
Dr. John Noé &  Dr. Harold Metcalf
Physics & Astronomy 

Vikas Gupta
Comsewogue HS, Port Jefferson Station, NY 
Intel semi-finalist
The Synthesis of Second Generation Taxoids as Potential Treatments for Malaria, Leishmaniasis,and Trypanosomiasis
Dr. Iwao Ojima
Chemistry
Stacey Kallem 
Plainview-Old Bethpage John F. Kennedy HS, Plainview, NY 
Intel semi-finalist
Self-esteem and Schematic Processing as Precursors of Depression in Children

Dr. Daniel Klein
Psychology

 

Tara Kelly 
Plainview-Old Bethpage John F. Kennedy HS, Plainview, NY 
Intel semi-finalist
Genetic Variation in a Sexually Selected Male Trait in Drosophila
Dr. John True
Ecology and Evolution
Sirish Kondabolu 
Half Hollow Hills HS West, Dix Hills, NY 
Intel semi-finalist
Identification of Cerebrospinal Fluid Leaks: Implications in Safe Epidural Anesthesia
Dr. Srinivas Pentyala
Anesthesiology; Physiology & Biophysics
Kerry Lanigan 
Kings Park HS, Kings Park, NY 
Intel semi-finalist
The Design and Synthesis of Water-soluble Taxoids for Tumor-activated Prodrugs in Cancer Chemotherapy
Dr. Iwao Ojima
Chemistry

Rachel Lavon
John L Miller-Great Neck North HS, Great Neck, NY 
Intel semi-finalist

Testing the Mechanical and Adhesive Properties of Hyaluronic Acid for Its Use on Vascular Stents

Dr. Miriam Rafailovich
Materials Science & Engineering

Karen Law 
Ward Melville HS/ *InSTAR, E. Setauket, NY 
Intel semi-finalist

The Effect of Age on Emotional Brain Reactivity
Dr. Turhan Canli
BioPsychology
Joshua Levine
Ramaz school, New York, NY 
Intel semi-finalist
Polymer-Cell Interactions: Analysis of Polymer Elastomer Feedback and Cardiac Resynchronization on Micro- and Nanofabricated Polymers in vitro
Dr. Miriam Rafailovich
Materials Science & Engineering
Evan Marshak
Herricks HS, New Hyde Park, NY 
Intel semi-finalist

Optically-stimulated Luminescence in Al203:C

Janaki Parameswaran 
Plainview-Old Bethpage John F. Kennedy HS, Plainview, NY 
Intel semi-finalist
IInitiation of Vascular Tissue in the Primordia of Dioscorea alata and Dioscorea Nipponica

Dr. R. Geeta 
Ecology & Evolution

 

Neil Patel 
John Glenn HS, Elwood, NY 
Intel semi-finalist
Photon Orbits Around a Black Hole
Dr. Madappa Prakash
Physics & Astronomy
Anh Pham
Jericho HS, Jericho, NY 
Intel semi-finalist
The Effect of Epsilon D173A Mutation on Antagonism of Nicotinic Acetylcholine Receptors by Pancuronium and Cistracurium
Dr. James Dilger
Anesthesiology
Kenneth Schultz 
William A. Shine Great Neck South HS, Great Neck, NY 
Intel semi-finalist
Star Searching in the Orion OB1a Association: Photometric Analysis, Identification, and Determination of Characteristics of Low-mass Pre-Main Sequence Stars
Dr. Frederick Walter
Physics & Astronomy
Tedhar Setton
Plainview-Old Bethpage John F. Kennedy HS, Plainview, NY 
Intel semi-finalist
Isolating the Effect of Polymer Mechanical Properties on Cardiac Fibroblasts Morphology, Proliferation and Growth
Dr. Miriam Rafailovich
Materials Science & Engineering
Farheen Shaikh 
Half Hollow Hills HS East, Dix Hills, NY 
Intel semi-finalist
The Effects of Tonsillectomy and Adenoidectomy on the Sleep Architecture of Children with Obstructive Sleep Apnea Syndrome
Dr. Marta Maczaj
Psychiatry/Sleep Disorders Center
Limor Spector 
Ward Melville HS/ *InSTAR, E. Setauket, NY 
Intel semi-finalist
A Novel DNA Delivery Vehicle: Smart Biodegradable Electrospun Membranes

Dr. Kwang-sok Kim, Dr. Liang Dehai,
Dr. Benjamin Chu,  Dr. Benjamin Hsaio 
Chemistry

Wolodymyr Szczupak 
Ward Melville HS/ *InSTAR, E. Setauket, NY 
Intel semi-finalist
Trapping Force Studies in a Low-power Optical Tweezers Device
Dr. John Noé &  Dr. Harold Metcalf
Physics & Astronomy 

Rui Tang 
Ward Melville HS/ *InSTAR, E. Setauket, NY 
Intel semi-finalist
The Relationship Between the Velocity of Fluid Flow and the Amplitude of the Sound Generated and the Development of a Novel Acoustic Non-invasive Flow Meter
Dr. David Ebin 
Math Department
Amit Moshe Taylor
Ward Melville HS/ *InSTAR, E. Setauket, NY 
Intel semi-finalist
Modulation of Apoptotic Regulatory Gene Expression as a Function of the Apoptotic Cascade of the Pathogenesis of Huntington's Disease
Dr. Frank Antonawich
Neurology

Mandeep Virdi
Plainview-Old Bethpage John F. Kennedy HS, Plainview, NY 
Intel semi-finalist

 

The synthesis of a Taxoid Porphyrin Conjugate for Selective Drug Delivery
Dr. Iwao Ojima
Chemistry

 




 

 

2002

 

Intel STS 2002

 

HIGH SCHOOL STUDENTS

PROJECT TITLES

STONY BROOK FACULTY ADVISORS

Peter Amendola
Kings Park HS, Kings Park, NY 
Intel semi-finalist

Design and Construction of Optimized Optical Tweezers
Dr. John Noé &  Dr. Harold Metcalf
Physics & Astronomy
Minou Arjomand 
Ward Melville HS/ *InSTAR, E. Setauket, NY 
Intel semi-finalist
  Are Attachment Relationships the Prototype for Adolescent Relationships?
Dr. Harriet Waters
Psychology
Jason Beiger
Kings Park HS, Kings Park, NY 
Intel semi-finalist
Design and Synthesis of Anticancer Taxoid-Porphyrin Conjugate SB-T-1103001
Dr. Iwao Ojima
Chemistry

Molly Bright
Bayport-Blue Point HS, Bayport, NY 
Intel semi-finalist

Characterizing Turbid Media Using Mueller Matrix
Dr. John Noé &  Dr. Harold Metcalf
Physics & Astronomy
Mordechi Bronner
Rambam Mesivta HS, Lawrence, NY 
Intel finalist 
 
Improving Adhesion at Polymeric Interfaces Containing Carbon Black

Dr. Miriam Rafailovich
Materials Science & Engineering

Vladimir Djuric 
Ward Melville HS/ *InSTAR, E. Setauket, NY 
Intel semi-finalist

Analysis of Gamma-ray Burst Photon Count Data by Continuously Time-varying Poisson and Bernoulli Models

Dr. Ralph Wijers
Physics & Astronomy
 Courtney Drayer
Plainview-Old Bethpage John F. Kennedy HS, Plainview, NY 
Intel semi-finalist

Petrographic and Geochemical Analysis of Mesozoic Fossils to Evaluate Potential for Direct Dating with Emphasis on Uranium

Dr. E. Troy Rasbury
Geosciences &
Dr. Catharine Forster
Anatomical Sciences
Kristen Goodrich
West Islip HS, West Islip, NY 
Intel semi-finalist



Influence of Common Organic Nitrogen Species Introduced by Groundwater Underflow on Aureococcus anophagefferens and Competing Phytoplankton

Dr. Gordon Taylor
Marine Sciences Resaerch Center

Arthur Hall
Ossining HS, Ossining, NY 
Intel semi-finalist




Comparison Between the Extrasolar Planet System and an Unbiased Sample to Determine the Statistical Distributions of the Extrasolar Planet System's Eccentricity Period and Sub-Stellar Mass Function

Dr. Michal Simon
Physics & Astronomy

Cristina Hung
Commack High School, Commack, NY 
Intel semi-finalist

Synthesis of Novel Taxoid-Porphyrin Conjugates SB-T-110711, SB-T-110712, SB-T-110713 for Cancer Chemotherapy




Dr. Iwao Ojima
Chemistry

Vinitha Anne Jacob
Hicksville Senior HS, Hicksville, NY Intel semi-finalist




DNA Electrophoresis Without Topological Constraints

Dr. Miriam Rafailovich
Materials Science
Sherman Jia
Wheatley School, Old Westbury, NY Intel semi-finalist

Synthesis and Analysis of Molybdenum Oxide Nanostructures Created via Water-soluble Polymers and Organic Molecules

Dr. Benjamin Chu
Chemistry

 Rahal Kahanda 
Ward Melville HS/ *InSTAR, E. Setauket, NY 
Intel semi-finalist

Promotion of Bony Ingrowth by Frequency and Pressure Specific Fluid Flow Stimulation




Dr. Yi-Xian Qin
Biomedical Engineering/Orthopaedics

Stephanie Kaszuba 
Smithtown HS, Smithtown, NY 
Intel semi-finalist
Fibronectin Fibrillogenesis on Sulfonated Polystyrene Surfaces: Properties of Synthetic Protein Growth
Dr. Miriam Rafailovich
Materials Science
Dhruva Kumar Kothari
Jericho Senior HS, Jericho, NY 
Intel semi-finalist

Effect of Acridine Orange on the Nicotinic Acetylcholine Receptor Channel




Dr. James Dilger
Anesthesiology

Michael Laufer 
Ward Melville HS/ *InSTAR, E. Setauket, NY 
Intel semi-finalist

Gamma-ray Bursts: X-ray and Optical Band Afterglow Decay of Dark Bursts and the Fireball Model

Dr. Ralph Wijers
Physics & Astronomy
Yang Li 
Ward Melville HS/ *InSTAR, E. Setauket, NY 
Intel finalist 
 
Discovery of a Unique Protective Epitope on Outer Surface Protein C of Lyme Disease Agent Borrelia burgdorferi: Implications for First OspC Peptide Vaccine

Dr. Benjamin Luft
Medicine/ Infectious Diseases

Sahil Viplov Mehta
Wheatley School, Old Westbury, NY 
Intel semi-finalist

Mechanical Testing of EPON SU-8, a High Aspect Ratio Resist for Microelectromechanical Systems Using Scanning Interferometry with Electron Microscope

Dr. Fu-pen Chiang
Mechanical Engineering
Lukasz Oleszak 
Ward Melville HS/ *InSTAR, E. Setauket, NY 
Intel semi-finalist

Using Computer Aided Speckle Interferometry to Determine Regional Deformation in the Beating Rabbit Heart

Dr. Fu-pen Chiang
Mechanical Engineering

Edmund Palermo 
Bay Shore HS, Bay Shore, NY 
Intel semi-finalist

Improving the Properties of Polymer Blends with Supercritical Carbon Dioxide

Dr. Miriam Rafailovich
Materials Science & Engineering

Kathryn Rhindress
New Hyde Park Memorial HS, New Hyde Park, NY 
Intel semi-finalist

Masses of Black Holes in X-ray Binaries

Dr. Madappa Prakash
Physics & Astronomy

Joshua Ruderman
Syosset High School, Syosset, NY 
Intel semi-finalist

 

Spectroscopy in Orion's Belt: Discovery of New S
Dr. Frederick Walter
Physics & Astronomy

Ali Zarrabi
Northport HS, Northport, NY 
Intel semi-finalist




Inhibition of Membrane-bound Neutrophil Elastase as an Anti-Metastatic Strategy: In Vitro Study

Dr. Sanford Simon
Biochemistry & Cell Biology; Pathology

 




 

 

2001

 

 Intel STS 2001

HIGH SCHOOL STUDENTS

PROJECT TITLES

STONY BROOK FACULTY ADVISORS

Craig Berman 
Ward Melville HS/ *InSTAR, E. Setauket, NY 
Intel finalist
 

Characterization of Ultrasound in Osteoporotic-like Bone Tissue and its Clinical Application as a Non-Invasive Diagnostic System

 

Dr. Yi-Xian Qin
Biomedical Engineering


Joel Gedalius 
Lawrence HS, Cedarhurst, NY 
Intel semi-finalist

Comparison of NCEP, UKMO, and NCEP Reanalysis Models of Antarctic Upper-Atmospheric Temperatures: Discovery of an Annual Summer

Dr. Robert de Zafra 
Physics & Astronomy
Dina Gewaily 
Jericho HS, New Hyde Park, NY 
Intel semi-finalist
Droplet Morphology and Its Application for DNA Electrophoresis on a Chip
Dr. Miriam Rafailovich
Materials Science & Engineering
Aaron Goldman 
Great Neck North HS, Great Neck, NY 
Intel semi-finalist

The Fabrication of a Porous Layer of Metal Through Plasma Based Nano-Patterning

Dr. Miriam Rafailovich
Materials Science & Engineering



Heidi Hsieh 
Smithtown HS, Great Neck, NY 
Intel semi-finalist

Formation of Nano-scaled Super Zeolite-like Meso-structure by Various Block Copolymer Matrices
Dr. Miriam Rafailovich
Materials Science & Engineering
Hila Katz 
Ward Melville HS/ *InSTAR, E. Setauket, NY 
Intel semi-finalist
Parents: You Can't Live with Them, You Can't Live without Them: Harmony, Independence, Maturity, and Closeness in Gender-based Parent-child Relationships

 

Andrew Koller 
Brien McMahon HS, S. Norwalk, CN 
Intel semi-finalist
Magneto-optical Tachometer Based on the Faraday

 

Dr. John Noé &  Dr. Harold Metcalf
Physics & Astronomy

Miriam Lense 
Ward Melville HS/ *InSTAR, E. Setauket, NY 
Intel semi-finalist
Computer Aided Speckle Interferometry as a Novel Technique for Measuring Myocardial Deformation with High Spatial Resolution

Dr. Irwin Krukenkamp & Dr. Glenn Gaudette -Surgery, Physiology & Biophysics

Jonathan Lubin 
Ward Melville HS/ *InSTAR, E. Setauket, NY 
Intel semi-finalist


 

Effect of Gonadal Hormone Deficiency on the Acetylcholine Innervation of the Hippocampus and Possible Implications for Alzheimer's Disease
Dr. Mary Kritzer 
Neurobiology & Behavior
Michele Nudelman 
Commack HS, Commack, NY 
Intel semi-finalist



Computer Analysis and Simulation of Thermal Spray Processes to Optimize Efficiency and Coverage

Dr. Christopher Berndt
Materials Science & Engineering
Lindsey Paluska 
Northport HS, Northport, NY 
Intel semi-finalist
In vitro Effects of Mucin on the Inhibitors of Human Neutrophil Elastase
Dr. Sanford Simon, 
Biochemistry & Cell Biology, Pathology & Elizabeth Roemer, Pathology
Michael Polyakov 
Ward Melville HS/ *InSTAR, E. Setauket, NY 
Intel semi-finalist



Diffuse Reflectance Spectroscopy of Living Tissue and its Application for Medical Diagnostics




Dr. John Noé &  Dr. Harold Metcalf
Physics & Astronomy




Elizabeth Reitano 
Ward Melville HS/ *InSTAR, E. Setauket, NY 
Intel semi-finalist

Effects of Aspirin on the Cardioprotective Benefits of Arachidonic Acid in Ischemic Preconditioning and Myocardial Infarction

Dr. Irwin Krukenkamp & Dr. Glenn Gaudette,
Surgery, Physiology & Biophysics
Anshul Shah 
Ward Melville HS/ *InSTAR, E. Setauket, NY 
Intel semi-finalis

Effect of Fillers on Adhesion at Polymer Interfaces

Dr. Miriam Rafailovich
Materials Science & Engineering
Peter Stone 
Ward Melville HS/ *InSTAR, E. Setauket, NY 
Intel semi-finalist
Formation of Hollow Gold Nanospheres by a Block Copolymer Matrix
Dr. Benjamin Chu
Chemistry

Karen Wu 
Ward Melville HS/ *InSTAR, E. Setauket, NY 
Intel semi-finalist

Osteoporosis Educational Initiative through Dental Practices: A Pilot Program
Dr. Elinor Schoenfeld 
Preventive Medicine
Xiaoti Xu 
Ward Melville HS/ *InSTAR, E. Setauket, NY 
Intel semi-finalist
Functional Domains of the Runt Protein Drosophila melanogaster

 

Dr. J. Peter Gergen 
Biochemistry & Cell Biology

David Yao 
Jericho HS, Jericho,NY 
Intel semi-finalist
Segregation of Long and Short Chain Polystyrene

Dr. Miriam Rafailovich ,  Dr. Jonathan Sokolov , 
Dr. Dilip Gersappe 
Materials Science & Engineering

John Yoon 
Jericho HS, Jericho,NY 
Intel semi-finalist



Cross-sectional Assessment of Fluid Perfusion in Simulated Osteoporotic Bone

Dr. Yi-Xian Qin
Biomedical Engineering




 




 

 

2000

 

Intel STS 2000 *incomplete

HIGH SCHOOL STUDENTS

PROJECT TITLES

STONY BROOK FACULTY ADVISORS

Daniel Alliance 
Roslyn HS, Roslyn Heights, NY 
Intel semi-finalist
Effects of Electric Fields on Protein Adsorption on Different Surfaces
Dr. Miriam Rafailovich ,  Dr. Jonathan Sokolov , 
Materials Science & Engineering; & 
Dr. Kenneth McLeod
Grace Cheung 
Plainview-Old Bethpage John F. Kennedy HS, Plainview, NY 
Intel semi-finalist
Compatibilization of Polymer Blends in Clay
Dr. Miriam Rafailovich &  Dr. Jonathan Sokolov
Materials Science & Engineering
Medha Goyal 
St. Anthony's HS, South Huntington, NY 
Intel semi-finalist
Metallic Nanoparticles and Dendritic Thin Films
Dr. Miriam Rafailovich &  Dr. Henry White 
Materials Science & Engineering
Jonathan Hertz 
Half Hollow Hills HS East, Dix Hills, NY 
Intel finalist
 
Factors Controlling Desorption and Assimilation Efficiencies of Sediment-Associated Contaminants in Deposit Feeding Polychaetes
Dr. Glenn Lopez 
Marine & Atmospheric Sciences
Kenneth Hung 
Kings Park HS , Kings Park, NY 
Intel semi-finalist
Synthesis of Taxanes as Potent New MDR Reversal Agents for Cancer Chemotherapy


Dr. Iwao Ojima
Chemistry
Dorothy Jean 
Ward Melville HS/ *InSTAR, E. Setauket, NY 
Intel semi-finalist
Formation of Multi-Functional Molybdenum Oxide Nanoscaled Meso-Structures by Various Block Copolymer Matrices
Dr. Benjamin Chu
Chemistry
David Kahne 
Syosset HS, Syosset, NY 
Intel semi-finalist
Autoregulation of Serotonin Development: Behavioral Studies in an Autism Model


Dr. Patricia Whitaker-Azmitia
Psychology
Keon-Kyu Rhee 
Jericho HS, Jericho, NY 
Intel semi-finalist
Preparation and Performance of Smart Polymeric Hydrogels
Dr. Benjamin Chu
Chemistry
Brian Rosenfeld 
Ward Melville HS/ *InSTAR, E. Setauket, NY 
Intel semi-finalist
A Novel Method for Measuring Brain Aneurysms Using CT Scans
Dr. Yi-Xian Qin
Biomedical Engineering
Eric Schrag 
Kings Park HS , Kings Park, NY 
Intel semi-finalist
A Study of the Properties of Polymethyl Methacrylate (PMMA) as a Function of the Percentage of Polyhedral Oligomeric Silesquioxane (POSS) Added to the PMMA
Dr. Miriam Rafailovich &  Dr. Jonathan Sokolov
Materials Science & Engineering
Elizabeth Scordato 
Horace Greeley HS , Chappaqua, NY 
Intel semi-finalist
Using 16S rRNA Targeted Fluorescent Probe Hybridization as a Tool for Examining the Activity of Sedimentary Bacteria in Wet Tropical Marine Food Webs
Dr. Josephine Aller &  Dr. Paul Kemp 
Marine & Atmospheric Sciences
Monica Sharma 
Ward Melville HS/ *InSTAR, E. Setauket, NY 
Intel semi-finalist
Differential Influence of Fibronectin Surface Coatings vs. Fibronectin on CellMorphology

Dr. Miriam Rafailovich, Materials Science & Engineering; & Dr. Kenneth McLeod

Tina Shih
Townsend Harris HS , Flushing, NY 
Intel semi-finalist
Doubling the Frequency of Light: Second Harmonic Generation in Periodically Poled Lithium Niobate
Dr. Harold Metcalf
Physics & Astronomy
Chia-Jung Tsay 
Ward Melville HS/ *InSTAR, E. Setauket, NY 
Intel semi-finalist
Evaluating Changes in Density of Synaptic and Dendritic Markers after Chronic THC Treatment in Adult Rats: New Methods of Quantifying Dendrites and Cells
Dr. Patricia Whitaker-Azmitia
Psychology

 

1999

 

Intel STS 1999 *Incomplete

HIGH SCHOOL STUDENTS

PROJECT TITLES

STONY BROOK FACULTY ADVISORS

Christina Costa 
Garden City HS, Garden City, NY 
Intel semi-finalist
Bioaccumulation of Benzo(A)Pyrene in the Worm Nereis Succinea
Dr. Bruce Brownawell 
Marine & Atmospheric Sciences
Sandra Nudelman 
Commack HS, Commack, NY 
Intel semi-finalist
Investigation, Design, and Development of Fully-Steerable Optical Tweezers
Dr. Harold Metcalf
Physics & Astronomy
Justin Paluska 
Northport HS, Northport, NY 
Intel semi-finalist
Analysis of Factors Affecting Success of Consensus-Based Environmental Protection Programs: Investigation into National Estuary Program

Dr. John Scholz, Political Science

Ellan Spero 
Ward Melville HS/ *InSTAR, E. Setauket, NY 
Intel semi-finalist
Chemically Modified Tetracyclines on the Inhibition of Sputum Elastase in the Presence of Polyanions
Dr. Sanford Simon, 
Biochemistry & Cell Biology, Pathology






 

 

1998

 

Intel STS 1998 *Incomplete

HIGH SCHOOL STUDENTS

PROJECT TITLES

STONY BROOK FACULTY ADVISORS

Jonathan Arbeit 
Ward Melville HS/ *InSTAR, E. Setauket, NY 
Intel semi-finalist
Redesign, Maintenance, and Retesting of a Prototype Hadron Blind Detector
Dr. Thomas Hemmick
Physics & Astronomy
James Cascione 
Ward Melville HS/ *InSTAR, E. Setauket, NY 
Intel semi-finalist
Glaciotectonic Formations of End Moraines: Model of the Ronkonkoma Moraine
Dr. William J. Meyers 
Geosciences
Chris Gerson 
Ward Melville HS/ *InSTAR, E. Setauket, NY 
Intel finalist
 
Analog Modeling of Oblique Margin Strain
Dr. Daniel Davis
Geosciences
Adam Gottlieb 
Ward Melville HS/ *InSTAR, E. Setauket, NY 
Intel semi-finalist
Adding a Recognizable FLAG Epitope to the NH2 Terminus of the runt Transcriptional Regulator on Early Drosophila embryogenesis
Dr. J. Peter Gergen 
Biochemistry & Cell Biology
Grace Lau 
Ward Melville HS/ *InSTAR, E. Setauket, NY 
Intel finalist


Protease-Antiprotease Interactions and the Use of Green Tea as an Elastase Inhibitor
Dr. Sanford Simon, 
Biochemistry & Cell Biology, Pathology
Clyde Law 
Ward Melville HS/ *InSTAR, E. Setauket, NY 
Intel finalist


Compressions of Nuclear Matter Through the Elliptic Flow of Protons in Relativistic Heavy Ion Collisions
Dr. Roy Lacey
Chemistry
Thomas Petersen 
Ward Melville HS/ *InSTAR, E. Setauket, NY 
Intel finalist
 
Dynamics of Polymers in Free-Standing Thin Films
Dr. Miriam Rafailovich &  Dr. Jonathan Sokolov
Materials Science & Engineering
Jamie Tong 
Flushing HS , Flushing, NY 
Intel semi-finalist
Factors Affecting Speckle Patterns and a New Method of Measuring Its Size
Dr. Harold Metcalf
Physics & Astronomy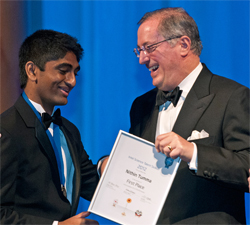 Maintained by Karen Kernan, URECA Program (Undergraduate Research)
Link to  High school research programs at SBU