Skip Navigation
Mentors
Finding a Research Mentor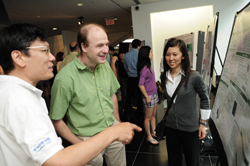 Applicants who are selected for the program will be assigned to mentors/research groups with SB faculty mentors.
Note: Some applicants already have Stony Brook mentors/research placements. Others are in the process of contacting Stony Brook faculty to make arrangements for the upcoming summer ( note: a mentor-arrangement is not required for admission to the program). For applicants who are searching for a potential mentor at Stony Brook University, we recommend that you look up previous Simons mentors, particularly in the past 4-5 years (See alumni listings of Simons Fellows/Mentors) and contact faculty by email. You may also want to consult departmental webpages (look under Faculty or People), focusing on descriptions of faculty research areas matching your scientific interests:
Academic Departments and Programs
Updates Regarding Research Placements?:
Applicants who do not have a research placement at the time of the application submission but subsequently obtain/accept a research placement with a faculty mentor at Stony Brook University should notify the Simons Summer Research Program Director as soon as possible as to the arrangements they have made. (Otherwise, accepted applicants will be assigned to a mentor determined by the Simons program staff). Requests for specific mentors (or for changes to the assigned research group placement) cannot be accommodated after March 1.
---
*Note: Availability of research placements/mentors varies year to year; in some summers, the right matches for particular applicants are just not available. Students interested primarily in doing Materials Science /Polymers Research should apply to the Garcia Program as limited numbers of placements are available through the Simons Program. For listings of alternate high school program offerings at SB, go to >> http://www.stonybrook.edu/sb/highschool.shtml