Skip Navigation
President's Spouse: Dr. Ellen Li, MD, PhD
Professor of Medicine, Professor of Microbiology and Molecular Genetics,
Stony Brook University School of Medicine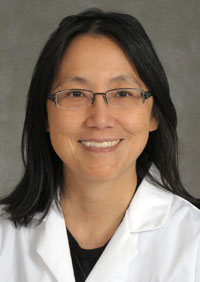 Dr. Ellen Li, MD, PhD, a gastroenterologist and research scientist, was born in the neighborhood of Hyde Park on the south side of Chicago. Shortly after World War II, her parents emigrated from Shanghai to study at the University of Chicago, intending to return to China. After the Chinese revolution in 1949, however, they made the difficult decision to stay in the US. Despite limited means and enormous self-sacrifice, her parents supported Dr. Li's undergraduate education at Stanford University, where she received her BS in Chemistry.
She received her MD and PhD degrees in 1980 from the Washington University St. Louis Medical Scientist Training Program, partially funded by the Olin fellowship program. She did her residency training in internal medicine in Boston at the Massachusetts General Hospital, where she met her husband, Samuel L. Stanley Jr.
Drs. Li and Stanley returned to St. Louis to complete their subspecialty training in gastroenterology and infectious diseases, respectively. They both subsequently joined the faculty and rose through the ranks at Washington University St. Louis.
Dr. Li was a founding member and past president of the Academic Women's Network at Washington University. She was a Lucille B. Markey Scholar and a Burroughs Wellcome Fund toxicology Scholar. She was also elected to the  American Society for Clinical Investigators and the Association of American Physicians.
Prior to leaving Washington University to join her husband at Stony Brook University, she was the Director of the NIH-sponsored Silvio Conte Digestive Diseases Research Core Center and was the driving force in developing the Biobanking core within this center.
Dr. Li's major research interest is on defining the role of the gut microbiome in digestive diseases, particularly inflammatory bowel diseases, colon cancer, and functional GI disorders (e.g. irritable bowel syndrome). Since coming to Stony Brook in 2009, Ellen has launched an interdepartmental Digestive Diseases Biobanking Core, with the generous support of the Simons Foundation, that will provide an infrastructure that encourages collaborations between clinicians and basic scientists in conducting clinical translational research. She is the author of 77 peer-reviewed articles and several chapters in the Textbook of Gastroenterology. Dr. Li participates in the training of medical students, residents, and fellows at the Stony Brook University School of Medicine.
Dr. Li is extremely grateful for the mentoring she has received throughout her education and career and is very much interested in mentoring the next generation. She is especially interested in improving undergraduate premedical education, particularly for students coming from disadvantaged backgrounds. She currently devotes her Sunday afternoons to tutoring Education Opportunities Program students in General Chemistry and Organic Chemistry. She also mentors several undergraduates as well as high school students in conducting independent research projects in her laboratory.
Dr. Ellen Li is the proud mother of four beautiful and accomplished children, James, Susan, Katherine, and Samuel III.