Skip Navigation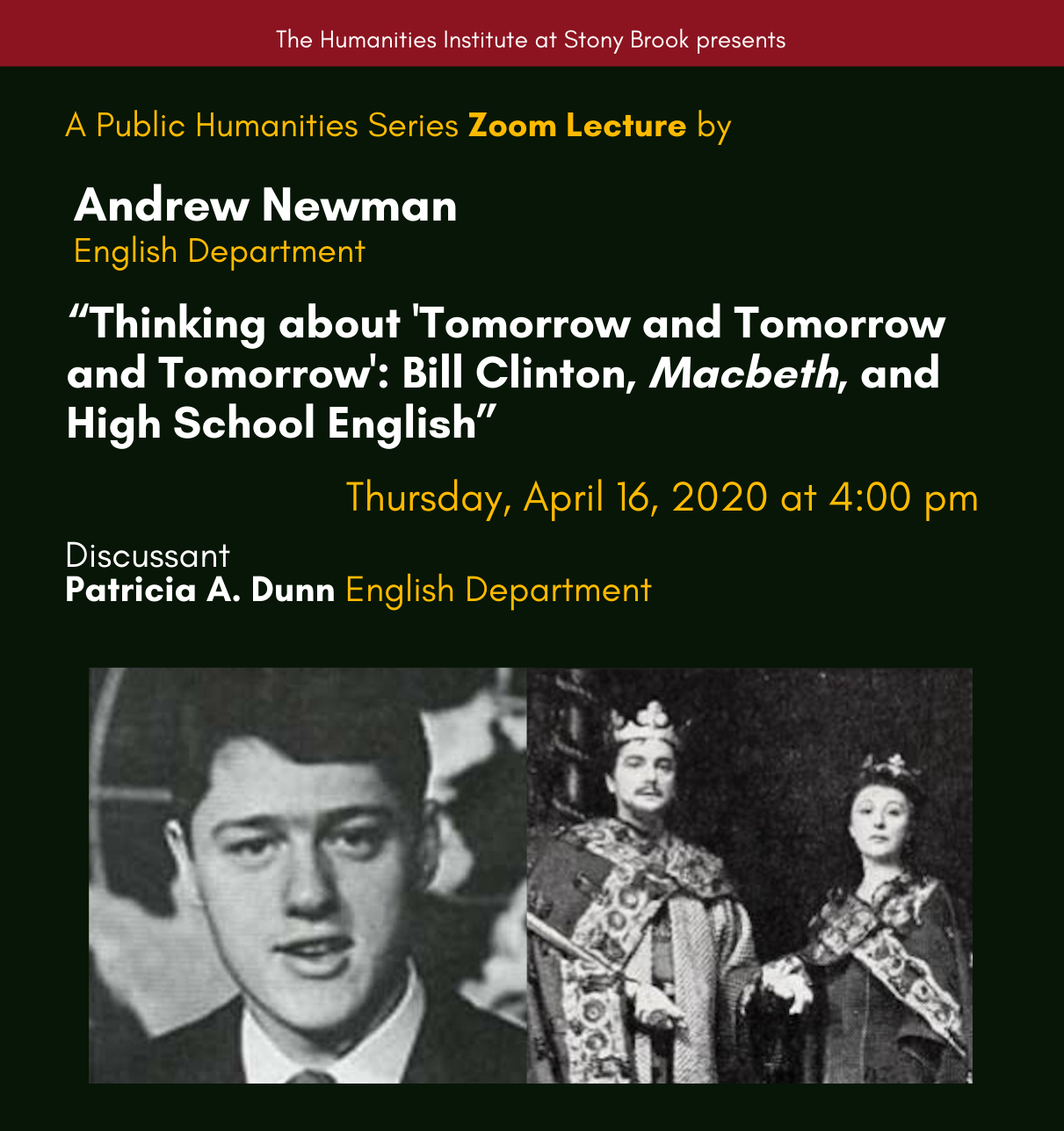 In 1990, then Governor Bill Clinton walked into an English class in rural Arkansas as they were studying Macbeth, and recited a soliloquy from the tragedy that he had memorized during his own senior year. The moment represented a remarkable convergence between literature, politics and the history of education.
Details:
 A SBU e-mail address is required to use this Zoom invitation.
 Individuals without a SBU e-mail address must e-mail click here to request permission to gain access.
 

Entrance and/or removal of participants from the lecture/meeting room will be at the discretion of HISB

.
 The waiting room for the Zoom Lecture will open 15 minutes before the event start time.
 Generally, lectures run approximately 45 minutes followed by a 10-15 Q&A.
 All participants will be muted when they enter the lecture/meeting room.
 As each participant has to be added to the lecture/meeting room one at a time, please bear with us as we admit everyone into the room.
 If you have a question during the Q&A, please use the virtual "hand raise" function. We will get to as many questions as possible.
Join Zoom Meeting https://stonybrook.zoom.us/j/187403436?pwd=UE1ZRzlDTzNIWDZPdUdkVVFJMkNSdz09
Meeting ID: 187 403 436    Password: 1mE3yOeW
                                                        

Andrew Newman is a Professor of English, affiliated with History, at Stony Brook, and the author of two books in early American studies. His current research project, supported by a Guggenheim Fellowship, is a cultural history of literature instruction in American high schools.

 
A former high school English teacher, Patricia A. Dunn is a professor in the English department whose areas are the teaching of writing, rhetoric, disability studies, and young adult literature. Her latest book is Disabling Characters: Representations of Disability in Young Adult Literature (2015). She is currently working on a book through Teachers College Press, Columbia University, about using student-produced, juxtaposed visual representations as a way to process abstract concepts.