Skip Navigation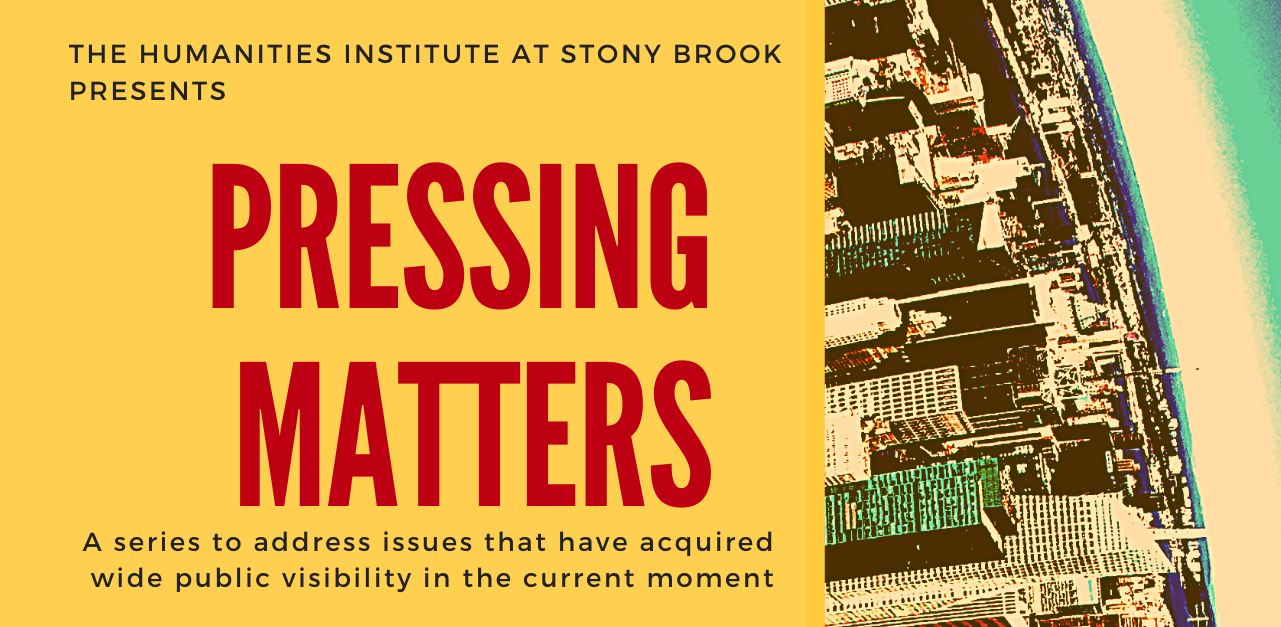 The series seeks to address issues that have acquired wide public visibility in the current moment from a scholarly, artistic, literary, activist, or critical perspective. Topics include the pandemic, confinement, BLM, protests, new-nationalisms, global realignment, environmental emergencies, vulnerable groups.  
To download a pdf of the event poster, click here.
To view the Spring 2021 call for proposals for SBU CAS humanities faculty, click here.
                                            
 

Monday, September 21, 2020   4:00-5:30pm

A Conversation with Edwidge Danticat, Novelist, Essayist

She will discuss storytelling and how writing about trauma and pain can be a tool to help students make sense of what is incomprehensible and impossible. Zoom Registration is required.Registration deadline September 20.Please click here to register.

Monday, October 12, 2020    6:00-7:30pm

A Conversation with Sebastián Calfuqueo Aliste, Mapuche visual artist

They will present about their recent work, contemporary Chilean politics, and the ongoing extractive industries in Wallmapu. Zoom Registration is required.Registration deadline October 11. Please click here to register.

Wednesday, October 28, 2020   4:30-6:00pm

A Conversation with Simon Balto, University of Iowa

He will discuss the historical context of police brutality and systematic racism. Zoom Registration is required.Registration deadline October 11.Please click here to register.

Tuesday, December 8,  2020   5:00-6:30pm


A Conversations with Tyshawn Sorey, Musician and Composer

Students in the music theory and analysis courses of Professors August Sheehy and Judy Lochhead will engage in conversation with composer and improviser Tyshawn Sorey, MacArthur grant winner and Presidential Professor of Music at the University of Pennsylvania.

The discussion will focus on Invisible Ritual, a largely improvised work created by Sorey and violinist Jennifer Curtis, the recording of which was released on New Focus Recordings earlier in 2020. Students will share and discuss their analyses of the work with Sorey and discuss creative processes in contemporary music. 

The discussion is open to all interested members of the Stony Brook community. You must have a Stony Brook e-mail address to participate.

 Zoom Registration is required.Please click here to register.
Edwidge Danticat was born in Haiti and was raised by her aunt and uncle there. At the age of 12 she and her brothers joined her parents in the United States. A prolific writer of multiple genres, her books include Breath, Eyes, Memory; Krik? Krak!; The Farming of Bones; The Dew Breaker; Brother, I'm Dying;The Art of Death; and Everything Inside. Her memoir, Brother, I'm Dying, was a 2007 finalist for the National Book Award and a 2008 winner of the National Book Critics Circle Award for autobiography. She is a 2009 MacArthur fellow, a 2018 Ford Foundation "The Art of Change" fellow, and the winner of the 2018 Neustadt International Prize and the 2019 St. Louis Literary Award.
 Of Mapuche origin, Sebastián Calfuqueo Aliste's work appeals to their cultural inheritance in order to propose a critical reflection on the social, cultural and political status of the Mapuche subject in contemporary Chilean society and Latin America. Spanning installation, ceramics, performance and video art, their work explores the cultural similarities and differences as well as the stereotypes produced from the cross between indigenous and western ways of thinking. Their work has been exhibited in many countries across the Americas, Europe and Australia. More recently, they were awarded with the Municipalidad de Santiago award in 2017 and Premio Fundación FAVA in 2018.

Simon Balto teaches, researches, and writes about African American history in the United States in the University of Iowa's Department of History. His research has been funded by multiple fellowships from the National Endowment for the Humanities, the American Council of Learned Societies, and the Mellon Foundation, among others. His first book, Occupied Territory: Policing Black Chicago from Red Summer to Black Power which explores the development of a police system in Chicago's Black neighborhoods, won the Hooks Institute's National Book Award on the American Civil Rights Movement and its legacy. His writing has also appeared in TIME magazine, The Washington Post, The Progressive, the Journal of African American History, Labor, and numerous other popular and scholarly outlets.
Newark-born Newark-born multi-instrumentalist and composer Tyshawn Sorey is celebrated for his incomparable virtuosity, effortless mastery and memorization of highly complex scores, and an extraordinary ability to blend composition and improvisation in his work. Sorey has composed works for major orchestras and performers nationwide, while his music has been performed at notable venues such as the Walt Disney Concert Hall, the John F. Kennedy Center for the Performing Arts, and the Newport Jazz Festival, to name a few. He has performed nationally and internationally with his own ensembles, as well as artists such as John Zorn, Vijay Iyer, Roscoe Mitchell, Muhal Richard Abrams, and Wadada Leo Smith. Sorey has released twelve critically acclaimed recordings that feature his work as a composer, co-composer, improviser, multi-instrumentalist, and conceptualist. Among his awards, he was the 2015 recipient of the Doris Duke Impact Award and was named a 2017 MacArthur fellow. Sorey will join the faculty at the University of Pennsylvania in Fall 2020.