State Family and Medical Leave Act
The FMLA entitles eligible employees of covered employers to take unpaid, job-protected leave for specified family and medical reasons with continuation of group health insurance coverage under the same terms and conditions as if the employee had not taken leave.
Eligibility:
Protection for Individuals Under FMLA:
Qualifying Reasons for Leave under FMLA:
Medical Certification of a Serious Health Condition:
Employee Notice Requirements under FMLA:
FMLA Frequently Asked Questions
Procedure to Apply for FMLA Leave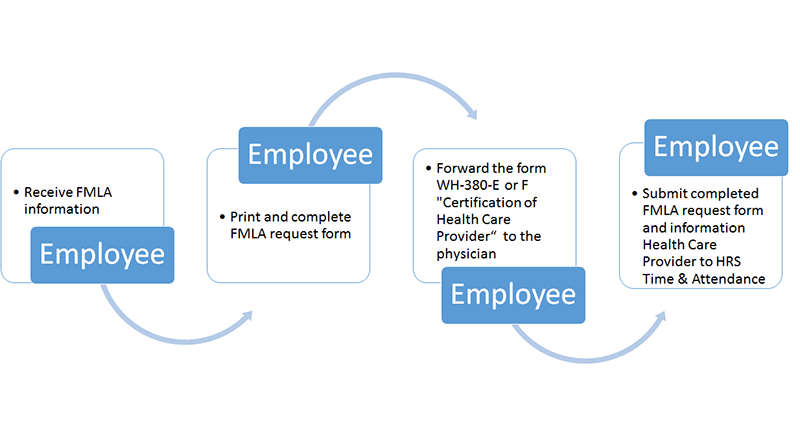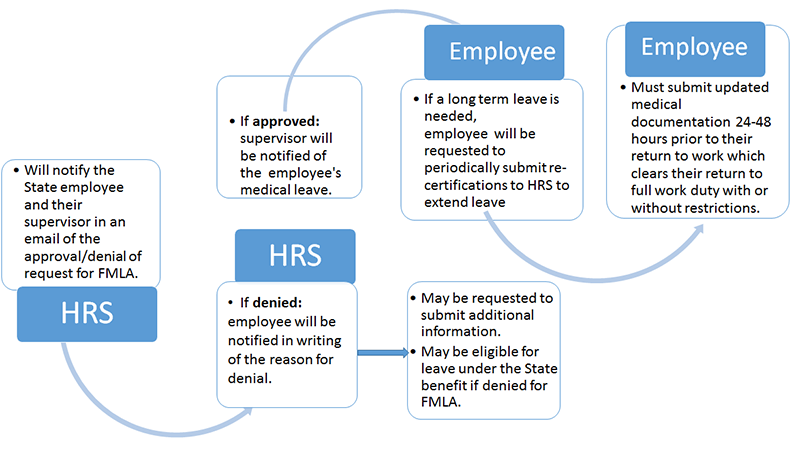 Subsequent leaves require submission of a new request for a FMLA leave by the State employee.
*Returning to work prior to the end of the original leave is deemed an end to the State employee's FMLA.*
*A request to cancel an FMLA leave must be made by the State employee in writing to Human Resources.*
FMLA Forms
FMLA Leave Request Form
FMLA Certification of Healthcare Provider (For employee's own serious health condition)
FMLA Certification of Healthcare Provider (For employee's family member's health condition)
Consecutive Leave Schedule
A period of incapacity (i.e., inability to work, attend school or perform other regular daily activities due to the serious health condition, treatment therefore, or recovery there from) of more than three consecutive calendar days, and any subsequent treatment or period of incapacity relating to the same condition
To extend an approved long term leave additional medical documentation is required.
Intermittent / Reduced Work Schedule
Employees may take FMLA leave intermittently when it is medically necessary, taking leave in separate blocks of time for a single qualifying reason (this is a day here and there for flare ups or treatments) or on a reduced work schedule (reducing the employee's usual weekly or daily work schedule).
Leave to care for or bond with a newborn child or for a newly placed adopted or foster child may only be taken intermittently with the employer's approval and must conclude within 12 months after the birth or placement.
Time Reporting for Leave schedule
When a foreseeable intermittent absence is needed, it should be scheduled in advance. Appointments should be scheduled outside of the normal work day where possible, and department processes should be taken into consideration. When an unscheduled intermittent full day FMLA absence or late arrival is needed you must call your supervisor and indicate that the absence or lateness is FMLA related. If an FMLA early departure is required, you must notify your supervisor prior to leaving. "FMLA" must be indicated on the time sheet for all FMLA related absences. Any absences that are in excess of the approved FMLA or absences of five or more consecutive days requires additional medical documentation.
*Medical Clearance to Return to Work*
Employees who have been on a consecutive leave due to their own illness must submit updated medical documentation after a doctor visit 24-48 hours prior to their return to work.
Medical documentation should be from their authorized Health Care Provider and be on their official letterhead. Sufficient medical clearance specifies: return to work date and, whether they can return to full work duty with or without accommodations.
Employees out on a consecutive leave for family members are required to notify their supervisor of their return prior to reporting to work. Supervisors will notify HRS Time and Attendance.