Fall 2015 Films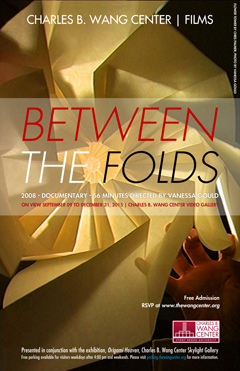 Between the Folds
On View September 9 to December 31, 2015
Charles B. Wang Center Video Gallery
(2014 | 56 minutes | Documentary | Directed by Vanessa Gould)
This award–winning documentary that has been translated into more than ten languages and broadcast in dozens of countries chronicles the stories of ten fine artists and intrepid theoretical scientists who have abandoned careers and scoffed at hard–earned graduate degrees—all to forge unconventional lives as modern–day paper folders.

As they converge on the unlikely medium of origami, these artists and scientists reinterpret the world in paper,and bring forth a bold mix of sensibilities towards art, expressiveness, creativity and meaning. And, together these offbeat and provocative minds demonstrate the innumerable ways that art and science come to bear as we struggle to understand and honor the world around us—as artists, scientists, creators, collaborators, preservers, and simply curious beings.
RELATED PROGRAM
Lecture
Origami and the Making of Between the Folds
Vanessa Gould, Director of Between the FoldsWednesday, September 9, 2015 at 5:00 PMCharles B. Wang Center Theatre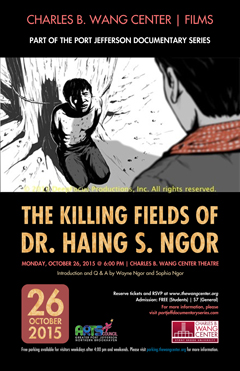 Port Jefferson Documentary Film Series
The Killing Fields of Dr. Haing S. Ngor
Monday, October 26, 2015 at 6 PM
Charles B. Wang Center Theatre
(2015 | USA | 87 min. | English | documentary | Directed by Arthur Dong )
Introduction and Q & A by Wayne Ngor (nephew of Dr. Haing S. Ngor & narrator of the film) and Sophia Ngor (niece of Dr. Haing S. Ngor, who appears in the film)
Set against the backdrop of Cambodia's Khmer Rouge reign of terror, The Killing Fields of Dr. Haing S. Ngor chronicles a powerful journey of love, loss and reconciliation. The years encapsulating this horrific period are seen through the eyes of Dr. Haing S. Ngor, who escaped to America and recreated his experiences in The Killing Fields, winning an Oscar® for his first film. From 1975 to 1979, the Khmer Rouge's social experiment transformed the country into a communist agricultural utopia, causing the deaths of some two million Cambodians who perished from mass starvation, forced labor, torture, slavery, ethnic cleansing and political executions. Dr. Ngor became the de facto worldwide ambassador for truth and justice in his homeland, only to be gunned down in an alley in Chinatown Los Angeles – a case still surrounded by transnational conspiracy theories.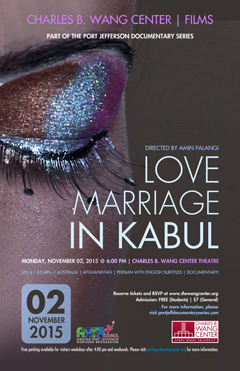 Port Jefferson Documentary Film Series
Love Marriage in Kabul
Monday, November 2, 2015 at 6 PM
Charles B. Wang Center Theatre
(2014 | 85 min. | Australia | Afghanistan | Persian with English subtitles | documentary | Directed by Amin Palangi)
http://lovemarriageinkabul.com/
Love Marriage In Kabul is a fascinating and moving story following romance, courtship and marriage practices in Afghanistan. The film won the Audience Award for best documentary at the 2014 Sydney Film Festival. Love Marriage in Kabul details Mahboba's untangling of a seemingly forbidden love between Abdul, an orphaned boy, and Fatemeh, the girl next door. The documentary is driven with suspense as the characters plot and journey tirelessly to unite Abdul and Fatemeh. This is a film which transcends its genre. It is not a mere recounting of events, nor is it a dramatisation. Rather, the filmmakers have cracked the surface of the story, allowing audiences to be compelled and engrossed in the human drama. In addition, an unexpected pivot escalates tension to a feverish pitch, and the documentary becomes gripping reality.
People are the Sky: Journey to North Korea
Thursday, November 12, 2015 at 6 PM
Charles B. Wang Center Lecture Hall I
(2015 | Korea | 90 minutes | Korean with English subtitles | documentary | Directed by Dal Sil Kim-Gibson)
Introduction & Q&A by film's producer, Dai Sil Kim-Gibson
People Are the Sky, Kim-Gibson's eighth, and most personal film, connects two ideas: the search for home, and the nature of ordinary people, while exploring the evolution of the Democratic People's Republic of Korea (DPRK) in relation to the Republic of Korea (ROK) and the USA. The film's title was inspired by Dong Hak, or eastern learning, the indigenous Korean religion / philosophy that arose in the late 19th century. Dong Hak teaches that God is Ha Nu Nim – he who resides in the sky – and that all people are equal with God: a teaching that elevates common people and gives rise to the saying "People Are the Sky."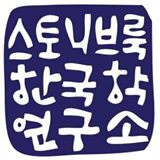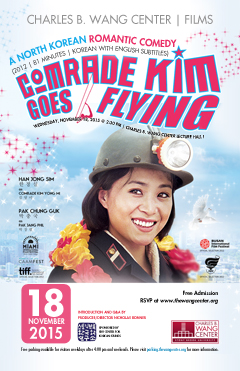 Comrade Kim Goes Flying
Wednesday, November 18, 2015 at 2:30 PM
Charles B. Wang Center Lecture Hall I
(September 8th 2012 | 81 minutes | Korean (English subtitles) | Romantic Comedy | Directed by Nicholas Bonner Anita Daelemans, and Gwang Hun Kim)
http://comradekimgoesflying.com/
Introduction and Q&A by Producer/Director Nicholas Bonner
Comrade Kim Goes Flying is a 2012 joint British-Belgian-North Korean romantic comedy feature film, set and filmed in Pyongyang, North Korea. The film's star Han Jong-sim, a real life aerialist, took acting lessons especially for the film. She plays a young woman named Kim Yong Mi who is sent from her small mining town to Pyongyang to work at a construction site. She becomes a valued worker and pursues her dream of becoming a circus trapeze artists even as her family and community disapprove. This groundbreaking film tells a story not common in North Korea. It highlights feminist individualism and is void of propaganda. Unlike standard North Korean films, Comrade Kim Goes Flying avoids a leading man and a leading role for the state. Comrade Kim Yong Mi succeeds in winning over the circus bureaucracy and her nemesis, the circus strong man Pak Jang Phil (and his mother) by the strength of her talent, beauty, personality and cleverness.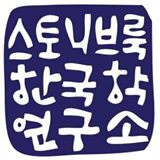 About Director-Producer Anja Daelemans
Anja Daelemans graduated from film school in Brussels as a radio and television director, but soon moved over to production. In 1996 she founded the production company Another Dimension of an Idea and began producing projects in 2001. To date her company has won 61 awards through the international film festival circuit. The highlights of her career are two Academy Award® nominations for the short films Fait d'Hiver and Tanghi Argentini. Comrade Kim Goes Flying is her feature directorial debut. Currently, she is working as a drama consultant on a number of television series.
About Director-Producer Nick Bonner
British filmmaker Nick Bonner had earned the trust of the North Korean government by producing the BBC documentary The Game of Their Lives, a largely positive depiction of North Korea's success in the 1966 World Cup. Bonner says Comrade Kim Goes Flyingwas largely inspired by the popularity of another girl-power film, Bend It Like Beckham. He and his colleagues struggled for six years to have the film approved and made for a North Korean audience. In order to remove state control he decided to take the footage out of the country to be edited.
About Director Kim Gwang Hun
Kim Gwang Hun graduated from the Pyongyang University of Drama and Cinema. He follows in the footsteps of his father who directed various films. Kim joined the Korea April 25th Film Studio in 1985 as an assistant director and in 2002, he directed his first feature Unforgettable Man. He remained making military-themed films until the opportunity arose to direct Comrade Kim Goes Flying, the making of which allowed him to take his first trip abroad, to Beijing, to edit the movie.
---
Spring 2015 Films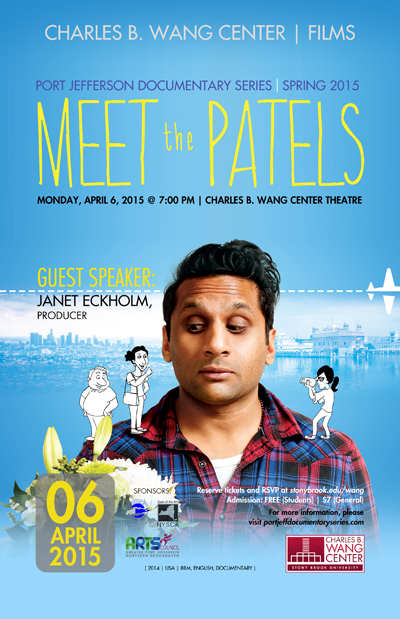 Meet the Patels
(2014 | USA | 88M, ENGLISH, DOCUMENTARY)
Port Jefferson Documentary Film Festival
Monday, April 6, 2015, 7 PM
Charles B. Wang Center Theatre
Followed by a discussion with the Producer, Janet Eckholm

Meet The Patels is a laugh-out-loud real life romantic comedy about Ravi Patel, an almost-30-year-old Indian American who enters a love triangle between the woman of his dreams and his parents. Filmed by Ravi's sister in what started as a family vacation video, this hilarious and heartbreaking film reveals how love is a family affair. Meet The Patels has won prizes including the Audience Award for Best Documentary at the Traverse City film fest, the Audience Award at the Hardacre Film Festival and the Top Ten Audience Favorite award at HotDocs.

The entire list of Port Jefferson Documentary Series Spring 2015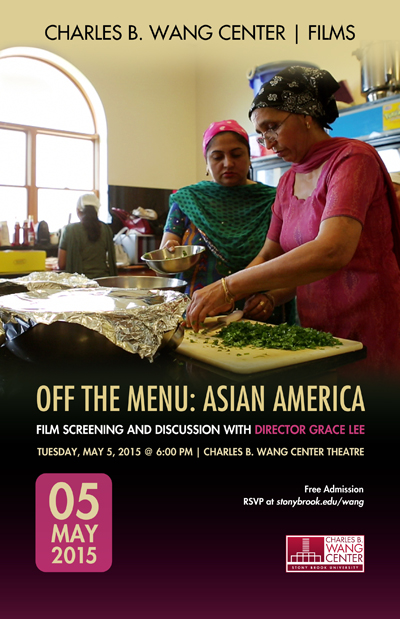 Off the Menu: Asian America
(2015 | USA | 55M, ENGLISH, DOCUMENTARY)
Tuesday, May 5, 2015, 6 PM
Charles B. Wang Center Theatre
Followed by a discussion with the director, Grace Lee
Off the Menu: Asian America is a multimedia project between the Center for Asian American Media and KQED Public Media for Northern California, featuring a one-hour PBS primetime special by award-winning filmmaker Grace Lee. Featuring a diverse range of characters from across the country, the film explores an evolving Asian America through relationships to food. From the "Sushi King" of Texas to a pair of New Yorkers who are redefining Chinese American cuisine, a Sikh temple in Oak Creek, Wisconsin and an 800 year old Hawaiian fish pond, the stories in Off the Menu show what food is in the 21st century: innovation and entrepreneurship, a building block for community, and ancient practices that are helping foster sustainability.
About the Director
Grace Lee is a Los Angeles based filmmaker of both fiction and documentary films. Lee's best known films are The Grace Lee Project (2005), American Zombie (2007), American Revolutionary: The Evolution of Grace Lee Boggs (2013) and Makers: Women in Politics (2014). Her recent feature films, Makers: Women in Politics was on air on PBS in fall 2014 and Janeane from Des Moines, premiered at the 2012 Toronto International Film Festival. Grace Lee received her MFA in Directing from UCLA.