Skip Navigation
About the Charles B. Wang Center
A Visionary Gift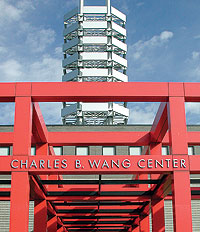 The Charles B. Wang Center is one of the most beautiful and inventive buildings given to any university. Here you'll experience spaces of surprising traditional beauty juxtaposed with the latest in communications technology. Filled with light and air, graced by gardens inside and out, the Center offers spaces suitable for conferences, performances, films, lectures, exhibitions, and cultural celebrations.
About the Wang Center Building
Bridge Across Cultures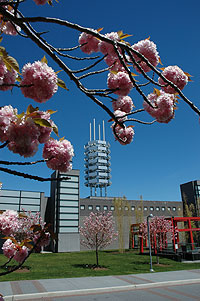 The Charles B. Wang Center building is adorned with a 100-foot octagonal pagoda, a structure traditionally associated with Chinese temples. The Center is an international hub bringing Asians and Americans into a common space, a marketplace of ideas for the 21st Century.
Architect PH Tuan has captured Wang's ideals in a building resonant with the traditions of Asian design. Spare gray walls, pierced with three red trellis entrances, invite the visitor to explore the treasures of the interior. Within, Tuan has unified the elements of interior space, the outdoors, and the enclosing sky, using wide expanses of glass to frame traditional Asian gardens, pools, and bridges. The Center has the capability to link scholars and researchers from all over the world in real time, and it welcomes many cultural and artistic activities, especially those that reflect the cultures of Asia. Scholars, students, international business people, and Asian-American communities use the facility to build bridges of understanding, exchange information, and celebrate their cultural identities.
The main ceremonial entrance leads across an ornamental pool into a spacious reception area. The three-story space is filled with natural light and the sound of fountains that flow from 12 Chinese Zodiac sculptures into the south pool. To the north of the lobby is an expansive outdoor garden, while more intimate interior galleries lie west and south. These are designed as a showcase for cultural displays and art exhibitions of varying sizes. A 239-seat theater hosts audiences for the performing arts and other events. Well equipped with conference facilities, the Center holds two mid-sized lecture halls that are wired for laptops and the most current audiovisual presentations.