Skip Navigation
Past Exhibitions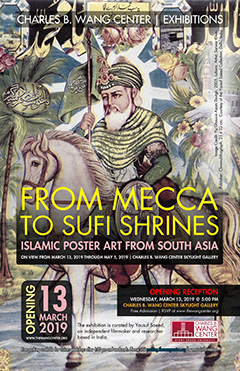 From Mecca to Sufi Shrines: Islamic Poster Art from South Asia
March 13 through May 5, 2019
Charles B. Wang Center Skylight Gallery
Curated by Yousuf Saeed, an independent filmmaker and researcher based in India, From Mecca to Sufi Shrines showcases the ephemeral objects and devotional art produced for popular consumption in the Islamic world, in particular in South Asia. Included are mass-printed Islamic posters and calendar art from India and Pakistan, which often depict images of the Hajj pilgrimage; South Asian Sufi shrines and saints; and calligraphy and talismans linked to other religious faiths found in the region.
From Mecca to Sufi Shrines raises the question of why such vibrant visual cultures continue to thrive in the South Asian Islamic world despite the skepticism and suspicion of Islamic authorities on popular art's legitimacy, as well as why images and popular culture are inevitabilities for popular piety despite orthodox Muslims' increasing dissociation from them.
Related Program
LECTURE
Pluralism in the Devotional Islamic Art of South Asia
Wednesday, March 13, 2019 @ 4 PM
Charles B. Wang Center Theatre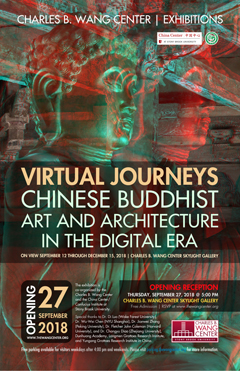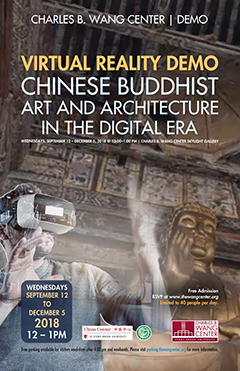 Virtual Journeys: Chinese Buddhist Art and Architecture in the Digital Era
September 12 through December 15, 2018
Charles B. Wang Center Skylight Gallery
Virtual Journeys: Chinese Buddhist Art and Architecture in the Digital Era is an innovative exhibition that uses VR technology to transport you to China to admire and explore Buddhist cave art. It showcases five famous ancient Buddhist sites of China: the Dunhuang Grottoes, the Dazu Rock Carvings, the Kaihuasi Monastery, the Yungang Grottoes, and the Longmen Grottoes.
From the 4th through 14th centuries, hundreds of caves were painstakingly carved out of the cliffsides by hand, all under the sponsorship of Buddhist monks, local officials, and wealthy families who wished to accrue karmic merit and perform acts of veneration. These decorated cave walls and ceilings are covered with elaborate paintings that depict stories of the Buddha, Buddhist sutras, ornamental designs, scenes of social and commercial life, and portraits of the projects' sponsors. The caves also contain brightly painted clay sculptures of the Buddha and other figures, the largest sculpture being over 100 feet tall. Unfortunately, many artifacts and places of ancient Chinese cultural heritage are disappearing for reasons not limited to natural disasters. The erosion of time, human destruction, war, urban development, expanding tourism, and lack of preservation technologies for excavated archaeological findings all contribute to an ongoing erasure of a fascinating past.
With rapid developments in computer science and achievements in the fields of graphic technology, digital image processing, and artificial intelligence, this exhibition celebrates the potential impact of VR on art, culture, education, and curatorial practice and provides new opportunities to conserve, restore, and research our historical past.
Special thanks to Dr. Di Luo (Wake Forest University), Dr. Wu-Wei Chen (NYU Shanghai), Dr. Jianwei Zhang (Peking University), Dr. Fletcher John Coleman (Harvard University), Dr. Changyu Diao (Zhejiang University), Dunhuang Academy, the Longmen Grottoes Research Institute, and the Yungang Grottoes Research Institute in China.
The exhibition is co-organized by the Charles B. Wang Center and the China Center/Confucius Institute at Stony Brook University.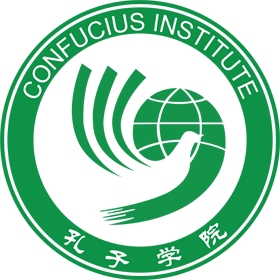 Related Programs
SYMPOSIUM
Virtual Journeys: Chinese Buddhist Art and Architecture in the Digital Era
Thursday, September 27, 2018 @ 12 PM
Charles B. Wang Center Theatre
VIRTUAL REALITY DEMO
Chinese Buddhist Art and Architecture in the Digital Era
Every Wednesday from September 12 – December 5, 2018
12 PM – 1 PM
Charles B. Wang Center Skylight Gallery
Free Admission but RSVP is required.
Limited to 20 people per day.
ART CRAWL
Guided Exhibition Tour
Wednesday, October 24, 2018 @ 1:30 PM
Charles B. Wang Center Zodiac Gallery