Skip Navigation
Events at the Wang Center
The Wang Center is open to the public, and we will ensure it is a safe environment for all of our visitors. However, due to the novel coronavirus (COVID-19), all our programs will be conducted virtually free of charge.
Fall 2021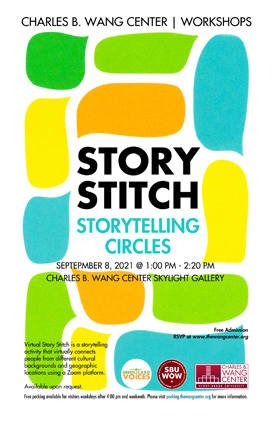 Workshop
Story Stitch: Storytelling Circles
September 8, 2021 @ 1:00 PM – 2:20 PM
Skylight Gallery
Free Admission
In conjunction with the Wang Center's current exhibition, Our Stories Carried Us Here , a team of experienced Story Stitch facilitators will facilitate an in-person card game of Story Stitch Circles. The workshop will foster deeper conversations and generate breakthroughs in how people are perceived, treated, and accepted. Story Stitch Circles builds connections between students, faculty, and community members through the telling of stories, opening minds and encouraging people to know one another.
Virtual Story Stitch is a storytelling activity that virtually connects people from different cultural backgrounds and geographic locations using a Zoom platform.
Available upon request.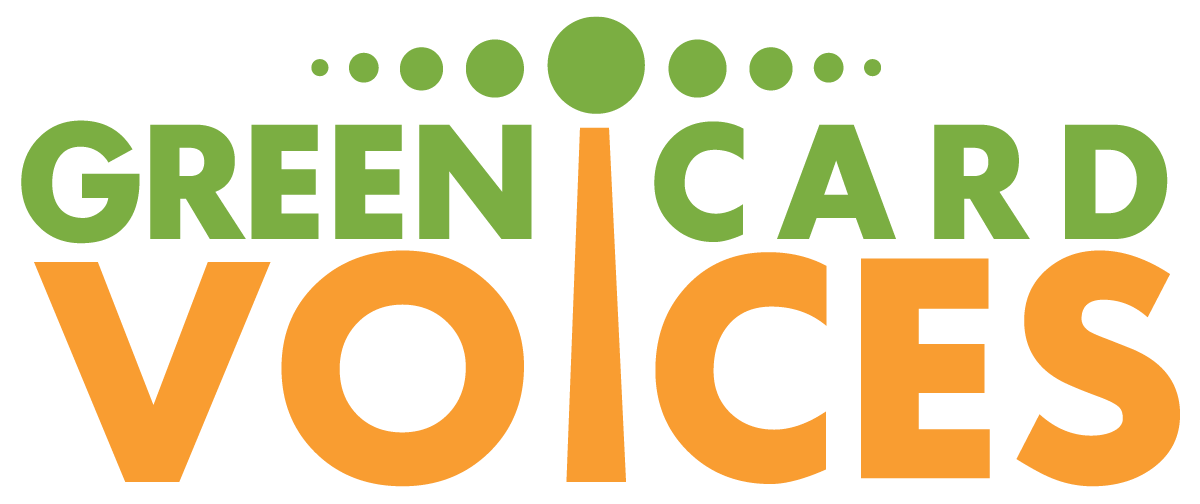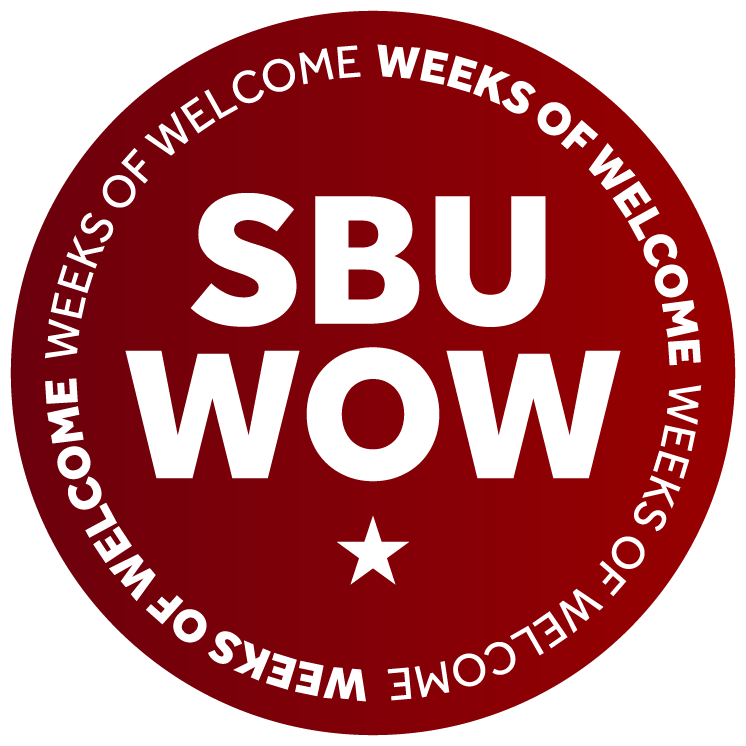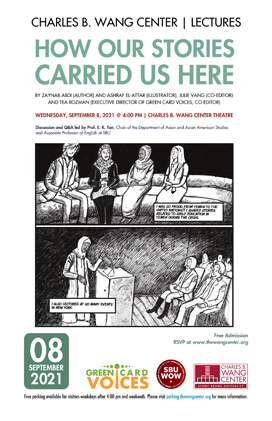 Lecture
How Our Stories Carried Us Here
By Zaynab Abdi (author) and Ashraf El-Attar (illustrator), Tea Rozman (executive Director of Green Card Voices, co-editor), and Julie Vang (co-editor)
September 8, 2021 @ 4:00 PM – 5:00 PM
Theatre
Free Admission
Discussion and Q&A led by Prof. E. K. Tan, Chair of the Department of Asian and Asian American Studies and Associate Professor of English at SBU
Panelists present the first published stories of immigrants and refugees and talk about the challenges of collecting stories with cultural sensitivity. Panelists will also share their own experiences and discuss what they aim to share through this project.
Books are available at the SBU Bookstore and www.greencardvoices.org/books/graphic-novel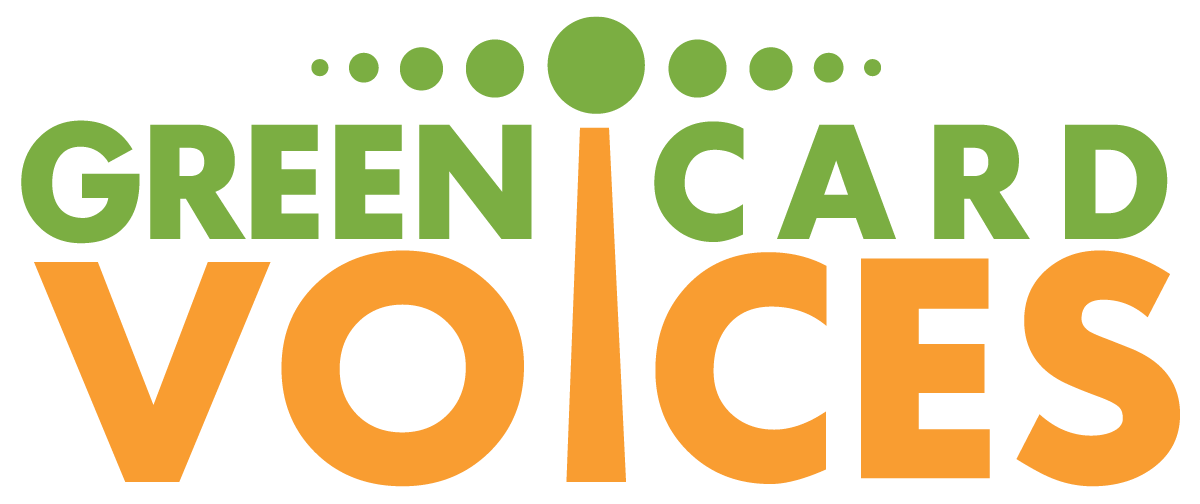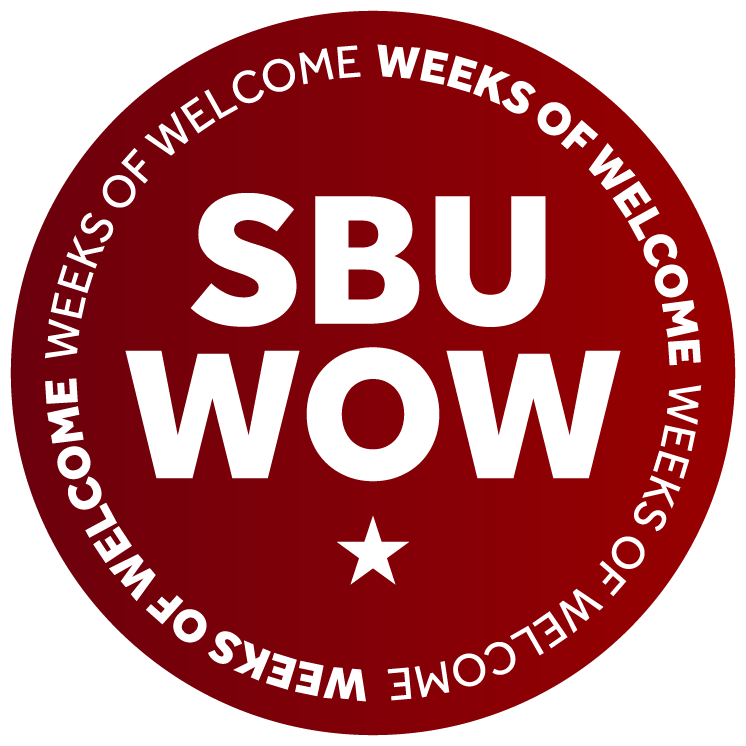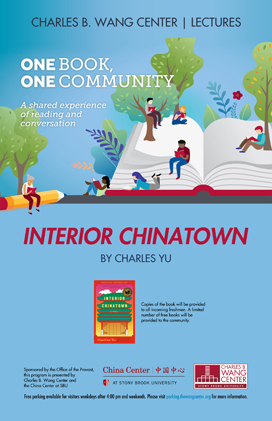 Lecture
One Book, One Community: Interior Chinatown
By Charles Yu
October 6, 2021 @ 1:00 PM and 5:00 PM
Staller Center
Free Admission
The One Book, One Community program is a fun and innovative way to unite the Stony Brook University and Three Village communities through shared reading and conversation. Through the program, you will receive a free copy of a book (first come, first served) that explores important cultural, social and ethical issues. Choose from a variety of free events that connect to the themes of the selected reading — an excellent way to meet people of different ages, backgrounds and experience; learn from each other; and promote dialogue around community values and goals. Events are free and open to the public.
View book distribution dates here.
Learn more about the program here: stonybrook.edu/onebook.
Interior Chinatown
2021 Selected Reading
New York Times bestseller and 2020 National Book Award Winner
This year's selection explores race, pop culture, immigration and identity with heart, anger and dazzling wit. Author Charles Yu spotlights a Chinese-American actor
seeking respect, love and professional success in the face of pop culture stereo typing and broader social bias.
For more information and/or a schedule of events, visit stonybrook.edu/onebook
Lecture
Korean Art Alive
Free Admission
Link coming soon
Supported by the Overseas Korean Cultural Heritage Foundation, Korea, Korean Art Alive is a free online learning resource of Korean art and culture, created with the collaboration of leading Korean art collections in the United States.
How Masculinity Appears in Attire
This video essay features particular cultural moments in Korean history through men's hat fashion, examining Korean men's inner struggles between classes, identities, cultures, masculinities, and modernity.
Korea Meets the West
This video essay examines chaekgeori paintings to reveal how exotic and foreign objects, ideas, and painting techniques from the West traveled to Korea.
Lecture
The Story of Modern Korean Art
Free Admission
Link coming soon
The Story of Modern Korean Art is a series of video essays about modern Korean art, culture, politics, philosophy, and more. Supported by the Academy of Korean Studies, the program is co-presented by Dartmouth College and Stony Brook University's Charles B. Wang Center.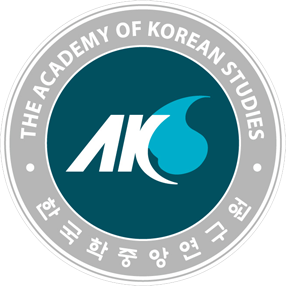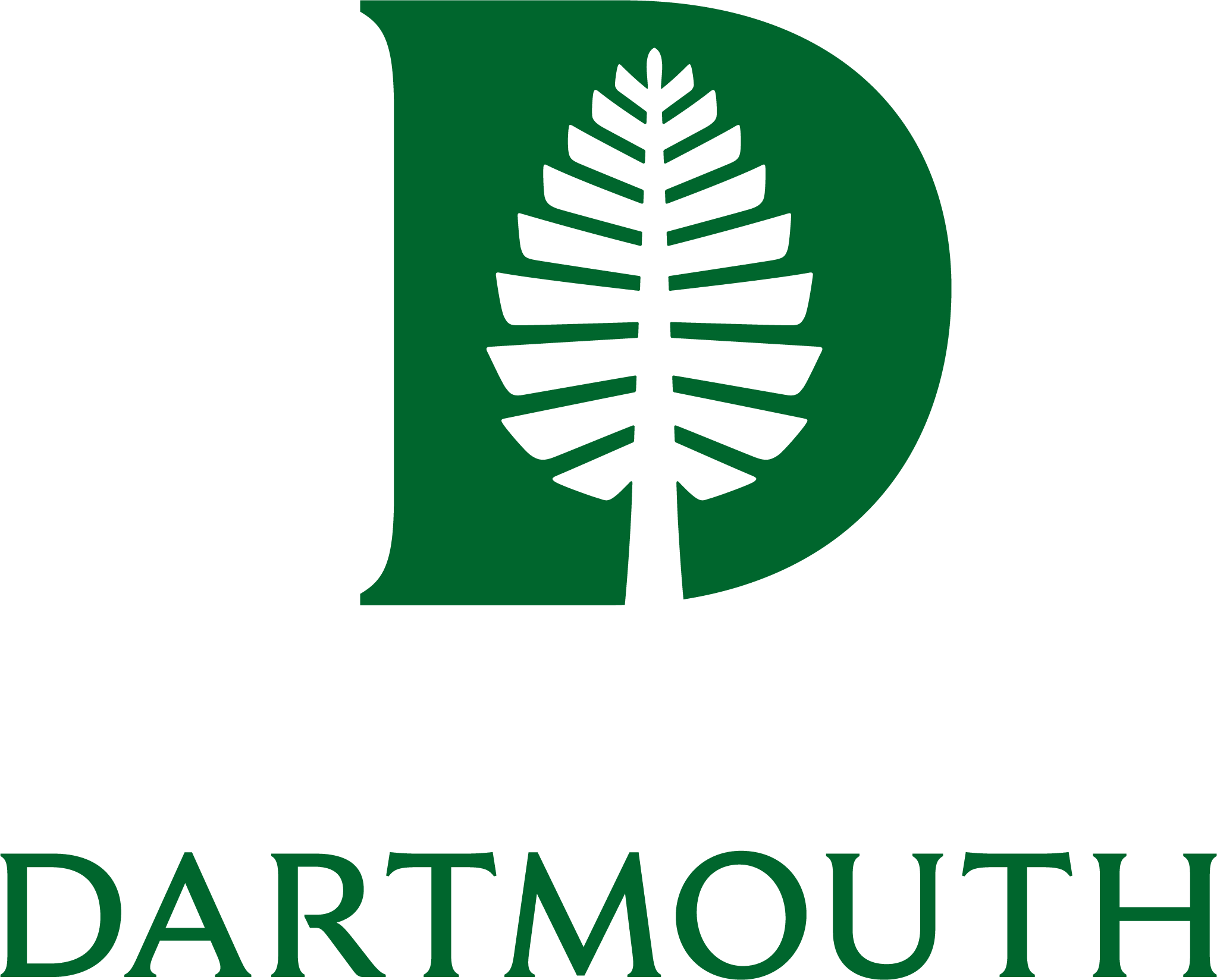 To Paint the Unspeakable
Can a painting be valid as a form of historical truth? Does art have a subjective impact that is more visceral and intense compared to photography? Can painting be a tool to seek social justice? This video essay decodes and reexamines an established narrative in art.
New Women
Who are the female artists in modern Korean art? Why are they not part of the modern art canon? This video essay takes a groundbreaking look at cultural history and legacies of Korean women artists who challenged gender, social roles, and identity issues.
What's Modern?
Modernism is a Western construct that became a global movement through the colonial aggression of the West. How does Korean modern art parallel the global modern art movement? This video essay brings a historical perspective to how modern Korean art was constructed and transformed through the art and lives of Korean modernists.
Tour
Art Crawl
A Guided Virtual Exhibition Tour of Campus Galleries
Saturday, October 23 at 1:00 PM-3:00 PM
Tour of the Charles B. Wang Center, the Zuccaire Gallery, the Alloway Gallery, the North Reading Room, and the Simons Center Gallery.
Free Admission
Learn more about the Art Crawl here
Stony Brook University hosts a variety of renowned art galleries that provide unique spaces and opportunities for cultural and artistic exchanges and collaborations. Our art crawls unite our university's galleries through a series of free, guided tours led by expert curators. This initiative directly supports the university's commitment to celebrating diversity and promotes the university's place in the global community. Each art crawl will offer tours of three to four galleries, visiting each for about 30 minutes, before ending with a reception.
The Charles B. Wang Center will offer a tour of the current exhibit, To Be Sold: Virginia and the American Slave Trade
1:00 | Charles B. Wang Center
1:30 | Paul W. Zuccaire Gallery, Staller Center
2:00 | Melville Library, Lawrence Alloway Memorial Gallery, Level 1
2:30 | Melville Library, North Reading Room, Level 2
3:00 | Simons Center Gallery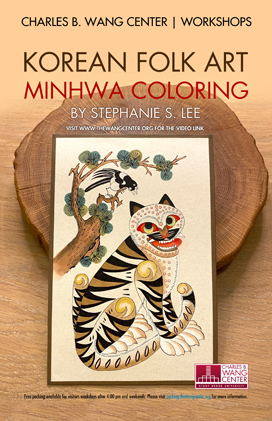 Workshop
Korean Folk Art | Minhwa Coloring
By Stephanie S. Lee
Free Admission
New York-based artist Stephanie S. Lee will share her cultural heritage and teach Korean folk painting ( minhwa), a style known for its bright color, humor, and auspicious virtues. Each workshop will feature a brief history and introduction to Korean folk paintings ( hojakdo and hwajodo), and various painting techniques. A ready-to-color downloadable template will be provided.
Workshop #1: Hojakdo (Painting of Tigers and Magpies)
Level: Beginner
Hojakdo encapsulates the Korean spirit of optimism, unconventional layouts, and combined wit and humor. It incorporates wishes of protection and well-being in the household throughout the year. The humorous and whimsical pair of tiger and magpie are distinctive motifs in Korean folk painting, and they are often specially decorated in the house or on doors on New Year's Day in order to keep evils and bad fortune away. This is because tigers possess the traits of strength to ward off bad spirits, while magpies are messengers of good news
Templates to Print:
* It is recommended that you print the template on thicker than regular paper.
List of materials to prepare for the workshop at home:
Watercolor paints
2–3 soft brushes with pointed tips
Water jar
Palette
Paper towels
Illustration board or thick mounting board (optional)
Glue stick (optional)
Scissors (optional)
Color masking tape (optional)
Workshop #2: Morando (Painting of Peonies)
Level: Intermediate
The charming and splendid peony is regarded as a symbol of wealth, prosperity, and harmony in Korean folk painting. So it was often decorated in the newly wedded couple's room. Participants will learn gradation ( barim) techniques to paint flower petals and will find that such techniques will bring new dimensions of artistic beauty.
Templates to Print:
* It is recommended that you print the template on thicker than regular paper.
List of materials to prepare for the workshop at home:
Watercolor paints
2–3 soft brushes with pointed tips
Water jar
Palette
Paper towels
Illustration board or Thick mounting board (optional)
Glue stick (optional)
Scissors (optional)
Color masking tape (optional)
Performance
Behind the Scenes | The Making of a Shadow Puppet Show
By Caroline Borderies, Suzanne Borderies, Mirna Lekic, and David McCorkle
Free Admission
Shadow Puppetry, an ancient form of storytelling, is part of the rich theatrical tradition of many Southeast Asian countries. Colonizers and travelers from France encountered this art form in the eighteenth century and brought it back to Europe with Ombres chinoises (literally "Chinese shadows," though the French mainly imitated Indonesian, Thai, and Burmese styles). These Ombres chinoises were particularly popular in England and France until the end of the nineteenth century.
French artist Caroline Borderies revives this cross-cultural form, interpreting classical Asian tales with a French flair. In this program, Borderies reveals what goes on behind the production, collaborating with puppeteer Suzanne Borderies, pianist Mirna Lekic and narrator David McCorkle. She also shows an excerpt of her highly praised production "Xieng Mieng: A Trickster from Southeast Asia", based on folk stories about a popular character from Laos and northern Thailand.
Workshop
Japanese Art Wrapping
By Prof. Eva Nagase, Lecturer in the Department of Asian & Asian American Studies
Free Admission
Link coming soon
The Japanese kanji for "wrap (包)" represents a mother carefully holding her child still in her womb. In this sense, gift wrapping has been regarded as an activity of care, protection, safety, and motherly love in Japanese culture.
Professor Eva Nagase will demonstrate various paper wrapping techniques from Japan, providing historical and cultural background. Use these techniques and really make your holiday gifts special.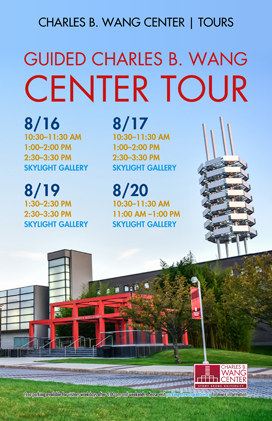 Tour
Guided Tour of the Charles B. Wang Center
Free Admission
The Charles B. Wang Center welcomes new undergraduates to the Stony Brook community by offering a guided tour. This 30-minute tour, given in small groups, will introduce students to what the Wang Center has to offer and forge new bonds between undergrads and the university through Asian art and culture. New students will sign up in advance for all "Choose Your Own" group activities. The tour will follow COVID safety protocols.
The program is co-presented by the Stony Brook University Student Affairs.
8/16 | 10:30–11:30 AM / 1–2 PM / 2:30–3:30 PM
8/17 | 10:30–11:30 AM / 1–2 PM / 2:30–3:30 PM
8/19 | 1:30–2:30 PM / 2:30–3:30 PM
8/20 | 10:30–11:30 AM / 11–1 PM