Skip Navigation
People
Charles B. Wang
Founder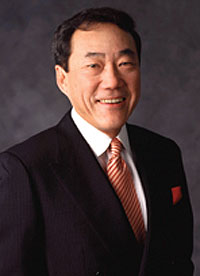 Charles B. Wang was the Founder and Chair Emeritus of Computer Associates, co-owner of New York Islanders, and philanthropist. Coming to America from Shanghai as a child of eight, Charles Wang proved a keen athlete, star student, and an outstanding businessman whose software company, Computer Associates International Inc., became a world leader. Wang embodied the American dream, but he also steeped in an older heritage: "As a Chinese-American I cherish the land of my birth," he said, "and I cherish the land that gave me a home. I am indeed doubly blessed. It's a long way from Shanghai to Stony Brook, but thanks to technology, the world is shrinking every day, and that's a very good thing for us. As we all get to know one another, as we get to interact with different cultures and different countries, the walls that divide us begin to crumble."
Wang founded Computer Associates International, Inc. with three associates in 1976. Born in Shanghai, China, in 1944, he moved to the United States with his family in 1952. He earned a BS degree in mathematics from Queen's College and began his computer career at Columbia University's Riverside Research Institute as a programming trainee. He was the author of Techno Vision II: Every Executive's Guide to Understanding and Mastering Technology and the Internet, which educates decision-makers about the e-Business Revolution. He served on several corporate boards and had been active in charitable causes such as the Smile Train, the Make a Wish Foundation, and the National Center for Missing and Exploited Children. He passionately believed that he should share the benefits of his unique experience and success. As a beneficiary of public education, Wang chose to endow Stony Brook University to reach those young people, many of them also immigrants, who will use the gift as a gateway to success. On October 21, 2018, Mr. Wang passed away in his home in Oyster Bay. His memory and contributions will long be remembered by the members of the University, and the large network of people whose lives have been changed through his presence.
---
P.H. Tuan
Architect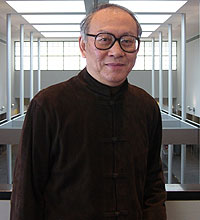 Wang Center designer P.H. Tuan was born in Shanghai, China, where he completed his secondary school education. After a brief stay in Hong Kong, he immigrated to America in 1955. He received his architectural degree from the University of Michigan in 1961. Tuan gained his early training and experience at SOM, Perkins & Will and Victor Gruen, before establishing his own practice nearly thirty years ago. His practice usually includes both design and construction management, based on the traditional concept that the architect is responsible for the design and construction of a building, from conception to completion. Tuan has described the Wang Center's unique design as "an introduction to Asian architecture." Although Tuan's work is greatly influenced by international currents, he resists being labelled as an "international style" architect.
Tuan recently designed a new university law school for 2000 students in Suzhou, China. On his many trips to China, he noted that new construction has been prolific, but discovered very few new buildings can be identified with China in a contemporary sense. For this reason, he formed a non-profit organization, the Institute for the Advancement of Contemporary Chinese Architecture (IACCA), with the long-term goal to promote a new style of contemporary Chinese architecture. IACCA is currently funded by private contributions.
---
Jinyoung A. Jin
Director, Cultural Programs
Appointed in September 2013, Jinyoung Jin is the second director of the Charles B. Wang Center at Stony Brook University. For the past ten years Jinyoung A. Jin was the Gallery Director in the Arts Department of The Korea Society located in Manhattan. A curator of modern and contemporary Asian art, Jin brings to Stony Brook's Charles B. Wang Center a wide range of academic training and institutional experience in cultural and artistic matters.
During her tenure at The Korea Society, Jin played a critical role in establishing the Arts Department. She introduced diverse programs including in-house and traveling exhibitions, musical performances, films, lectures, and workshops that provided a wider understanding of Korea and its culture to United States audiences. Jin's particular focus is on visual culture, where she often explores unique subjects and materials. Some of the exhibitions that Jin curated include The Hidden Beauty of Korea Captured by Five Artists from Abroad 1920s-1950s (2013), 10,000 Threads: The Collected Works of Quilt Master Kim Haeja (2011), Missionary Photography in Korea: Encountering the West Through Christianity (2009), North Korean Images at Utopia's Edge (2008), Toy Stories: Souvenirs from Korean Childhood (2008), Korean Funerary Figures: Companions for the Journey to the Other World (2007), Gods, Demons, and Generals: Icons of Korean Shamanism (2006) and Korean Comics: A Society Through Small Frames (2005). Jin's exhibitions often garnered major laudatory reviews in the New York Times, Japan Times, L.A. Weekly, and a number of academic journals.
As Director of Cultural Programs, Jin's primary role is to establish the Charles B. Wang Center as a premier cultural venue that promotes cross-cultural exchanges and an understanding of Asian and Asian-American cultures.
Jin has been successful in reinvigorating the Wang Center's cultural activities. She envisions each exhibition as a unique jewel where the extraordinary assemblage of content illuminates an aspect of Asian culture that is too little known. She strives to identify important collected materials in various subject areas and to provide a showcase in which to illustrate the materials' distinctive qualities and their importance in their cultures.
Jin has organized the critically acclaimed exhibitions including, Forgotten Faces: Visual Representation of Trauma and Mass Killings in Asia (2020), Korea: A Land of Hats (2019), Virtual Journeys: Chinese Buddhist Art and Architecture in the Digital Era (2018), Potasia: Potatoism in the East (2018),The Way of Tea in Asia (2017), The Power and Pleasure of Possessions in Korean Painted Screens (2016), Origami Heaven (2015), Comfort Women Wanted (2014), and Seas of Blue: Asian Indigo Dye (2014). Many of her curated exhibitions have been featured in the New York Times, the Wall Street Journal and the PBS. Jin's recent publication includes "The Evolution of Visual Spectacle: A Virtual Reality Exhibition" (Ars Orientalis, January 2021), Chaekgeori: The Power and Pleasure of Possessions in Korean Painted Screens (SUNY Press, 2017) which she contributed an essay. Currently Jin services as a member of Community Advisory Board Member of WNET13/WLIW21 New York Metro Area. She holds a Ph.D. in Cultural Analysis and Theory from Stony Brook University and an MA in Art History from Columbia University.