Skip Navigation
Upcoming events at the Wang Center
Fall 2019 programs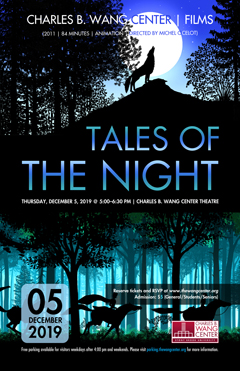 Film
Tales of the Night
Thursday, December 5, 2019 @ 5 PM
Charles B. Wang Center Theatre
(2011 | 84 minutes | Animation | Directed by Michel Ocelot)
Admission: $5 (General/Students/Seniors)
From renowned animator and storyteller Michel Ocelot ( Kirikou and the Sorceress, Azur & Asmar) comes a dazzling and magical film that is certain to delight children, families, and animation fans of all ages. Silhouetted characters are set off against exquisitely detailed backgrounds bursting with color and kaleidoscopic patterns. Tales of the Night weaves together six fables, each unfolding in a unique locale, ranging from Tibet to medieval Europe, from an Aztec kingdom to the African plains, and even to the Land of the Dead. In Ocelot's storytelling, history blends with fairy tale as viewers are whisked off to enchanted lands full of dragons, werewolves, princesses, sorcerers, and enormous talking bees. Each fable ends with its own ironic and surprising twist.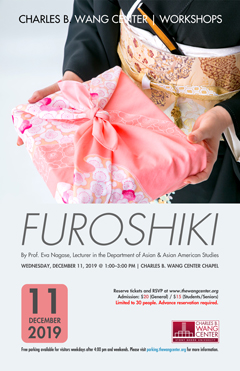 Workshop
Traditional Japanese Gift Wrapping: Furoshiki
By Prof. Eva Nagase, Lecturer in the Department of Asian & Asian American Studies
Wednesday, December 11, 2019 @ 1 PM (Please note the date change)
Charles B. Wang Center Chapel
Admission: $20 (General) | $15 (Students/Seniors)
Limited to 30 people. Advance reservation is required
A furoshiki is a traditional Japanese cloth used to wrap all sorts of objects, often in elaborate shapes. In Japanese culture, the furoshiki functions as a method of communication, with its many knots and ties representing the bonds between people. Commonly used to pack lunches and wrap presents, furoshiki is a fun and eco-friendly way to wrap your holiday gifts. Join us to learn how to use cloth to wrap a gift for that someone special!
Past Events
Film
Patema Inverted
Thursday, September 5, 2019 @ 5 PM
Charles B. Wang Center Theatre
(2013 | 98 minutes | Animation | Directed by Yasuhiro Yoshiura)
From visionary director Yasuhiro Yoshiura ( Time of Eve ) comes a perspective-twisting sci-fi adventure about two kids separated by opposite gravities. Patema lives in an underground world of tunnels, the long-abandoned ruins of a giant industrial complex. Age is a student on the surface world, living in a totalitarian society whose compliant population has been brainwashed against the "sinners who fell into the sky." When he spies Patema hanging upside-down from a tree, he pulls her down to safety, struggling with all his might to keep her earthbound as she grips on to him for dear life. Together, their weights cancel each other out, and once they master the art of navigating competing gravitational forces, they set out to evade the leaders of Age's world and discover the secret that keeps their worlds apart.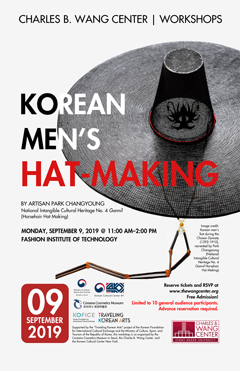 Workshop
Korean Men's Hat-Making
By Park Changyoung
Monday, September 9, 2019 @ 11 AM
C507 and C510, Feldman Center, Fashion Institute of Technology,
New York City
Craft your own traditional Korean men's hat ( Got) made of genuine horsehair with a bamboo frame. This once symbol of social class has recently been revived through Kingdom (2019), a popular Korean zombie series airing on Netflix. Artisan Park Changyoung (National Intangible Cultural Heritage No. 4 Gannil Horsehair Hat Making) will use authentic materials from Korea and demonstrate how to make a traditional hat. This workshop is intended for both the general public and students from the Fashion Institute of Technology in New York City.
Supported by the "Traveling Korean Arts" project of the Korean Foundation for International Cultural Exchange and the Ministry of Culture, Sport, and Tourism of the Republic of Korea, this workshop is co-organized by the Coreana Cosmetics Museum in Seoul, the Charles B. Wang Center, and the Korean Cultural Center New York.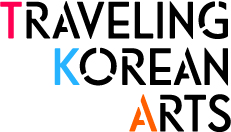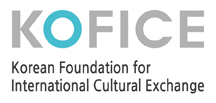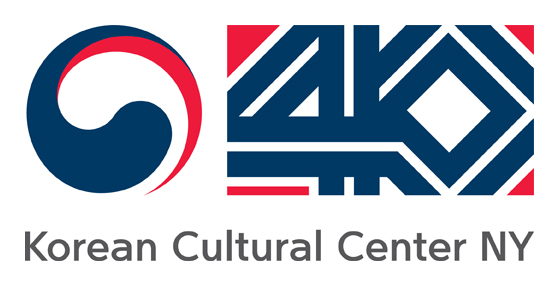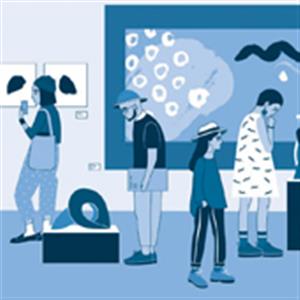 Art Crawl: A Guided Tour of Campus Galleries
Tuesday, September 10, 2019 @ 4:30 PM
Tour of the Simons Center Gallery, Alloway Gallery, the Zuccaire Gallery, and the Charles B. Wang Center
Stony Brook University hosts a variety of renowned art galleries that provide unique spaces and opportunities for cultural and artistic exchanges and collaborations. Our art crawls unite our university's galleries through a series of free, guided tours led by expert curators. This initiative directly supports the university's commitment to celebrating diversity and promotes the university's place in the global community. Each art crawl will offer tours of three to four galleries, visiting each for about 30 minutes, before ending with a reception.
The Charles B. Wang Center will offer a tour of the current exhibit, Korea: A Land of Hats , at 4:30 PM and host the reception. Please join us in wearing any kind of hat to celebrate the exhibition. Baseball caps or festive hats are welcome.
3:00 PM   Simons Center Gallery
3:30 PM   Alloway Gallery
4:00 PM   Zuccaire Gallery
4:30 PM   Charles B. Wang Center
5:00 PM   Reception, Charles B. Wang Center
Fall 2019 Opening Reception
Tuesday, September 10, 2019 @ 5 PM
Charles B. Wang Center Skylight Gallery
Join us for the opening reception to celebrate the Fall exhibition, Korea: A Land of Hats (on view from September 10 through December 15, 2019 at Skylight Gallery and Zodiac Gallery).
Dress code: Any kind of hat—from fezes to fedoras, top hats to trilbys, berets to baseball caps, all are welcome!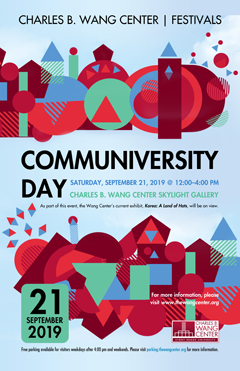 Festival
CommUniversity Day
Saturday, September 21, 2019 @ 12 PM
Academic Mall at SBU
Free Admission!
CommUniversity Day is a free, campus-wide open house designed to showcase the best of Stony Brook University and to build better campus and community relations. As part of this event, the Wang Center's current exhibit, Korea: A Land of Hats , will be on view. The exhibit explores a century of hat fashion in early modern Korea.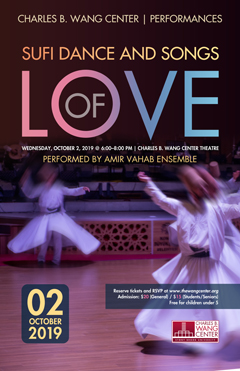 Performance
Sufi Dance and Songs of Love
By Amir Vahab Ensemble
Wednesday, October 2, 2019 at 6 PM
Charles B. Wang Center Theatre
Composer and vocalist Amir Vahab will bring Sufi and folk music to the Wang Center, accompanied by the spiritual whirling Sufi dance. The repertoire of Vahab and his ensemble is grounded in traditional Persian poetry and music, long known for its power to transport listeners to heightened spiritual states through melody, improvisation, and rhythm. In Sufism, dance is a spiritual practice known as samâ and is related to "spiritual listening." To reach the deepest realms of their souls, dancers whirl to the repetitive cadence of Sufi music. The powerful rhythm of the music and dance are reminiscent of the human heartbeat, creating a mystical intoxication of percussion and movement.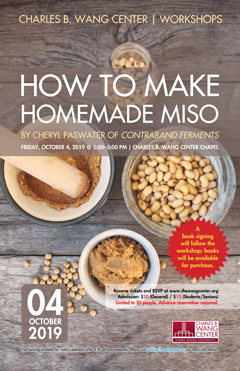 Workshop
How to Make Homemade Miso
By Cheryl Paswater of Contraband Ferments
Friday, October 4, 2019 @ 1 PM
Charles B. Wang Center Chapel
Miso is an essential seasoning in Japanese cuisine, and it has been gaining worldwide interest due to its richness in proteins, vitamins, and minerals. In this workshop, you will learn how to make your own homemade miso, in both soy-based and non-soy-based varieties, as well as discuss the basic fermenting science behind miso making. You'll also do some tasting! Participants will take home recipes and cooking tips.
About the Instructor
Cheryl Paswater is a certified fermentationist, educator, and health coach, who after a near-death experience turned to holistic medicine for help. After radical diet and lifestyle changes, she started teaching others about fermentation, Old World food preservation, healthy eating habits, sustainable food, and holistic health. Based in Brooklyn, Paswater runs a popular fermentation project and community-supported agriculture group called Contraband Ferments. ( www.contrabandferments.com).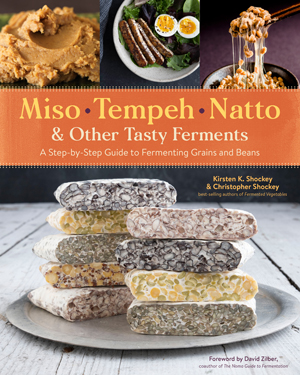 Miso, Tempeh, Natto & Other Tasty Ferments: A Step-by-Step Guide to Fermenting Grains and Beans (2019) that Cheryl Paswater contributed will be available for purchase. A book signing will follow the workshop. Books will be available for purchase.
Lecture
Nutritional Healing with Chinese Medicine
By Ellen Goldsmith, M.S.O.M., L.AC., DIP.C.H.
Tuesday, October 8, 2019 @ 1 PM
Charles B. Wang Center Theatre
Free Admission!
Food might just be the most powerful medicine we know. Eating well is essential to overall good health. One of the basic principles of Chinese medicine is that food and medicine are inseparable. By making distinctive and long-lasting changes in the way we eat, many modern-day chronic health problems can be improved upon. Ellen Goldsmith introduces how to apply the ancient wisdom and traditions of healing through food according to Chinese medicine in everyday life. This is an old-turned-new way of thinking about what foods we need to achieve internal balance and ultimately improve our health. Goldsmith provides a keen and comprehensive understanding behind the basic principles of Chinese medicine that can be easily applied to daily lives.
About the Speaker
Ellen Goldsmith is a licensed acupuncturist, educator and co-founder of Pearl Natural Health, a naturopathic and Chinese medicine clinic in Portland, Oregon. She is a graduate of the National University of Natural Medicine's College of Classical Chinese Medicine and holds an M.S. in Oriental medicine where she currently teaches. She is certified in Chinese herbal therapy. Goldsmith is the author of Nutritional Healing with Chinese Medicine: +175 Recipes for Optimal Health. She has hosted the podcast Health Currents Radio and radio show Healthwatch on Pacifica radio.
Supported by Jacqueline M. Newman Endowed Fund, the program is co-presented by the Stony Brook University Libraries.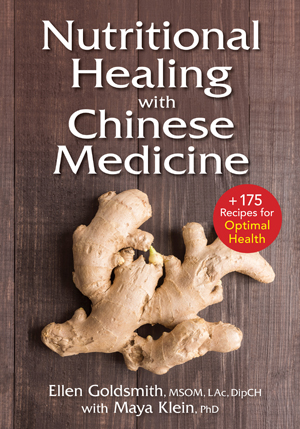 A book signing will follow the lecture. Books will be available for purchase.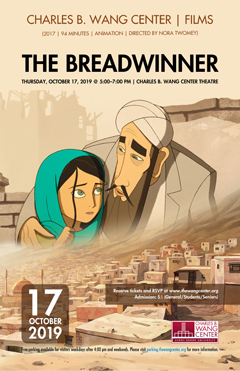 Film
The Breadwinner
Thursday, October 17, 2019 @ 5 PM
Charles B. Wang Center Theatre
(2017 | 94 minutes | Animation | Directed by Nora Twomey)
From executive producer Angelina Jolie and the creators of The Secret of Kells and Song of the Sea comes the Academy Award–nominated feature based on Deborah Ellis's bestselling novel. Parvana is an 11-year-old girl growing up under the Taliban in Afghanistan in 2001. When her father is wrongfully arrested, Parvana cuts her hair and dresses like a boy in order to support her family. Working alongside her friend Shauzia, Parvana discovers a new world of freedom–and danger. With undaunted courage, she draws strength from the fantastical stories she invents, embarking on a quest to find her father and reunite her family. Equal parts thrilling and enchanting, The Breadwinner is an inspiring and luminously animated tale about the power of stories to sustain hope and carry us through dark times.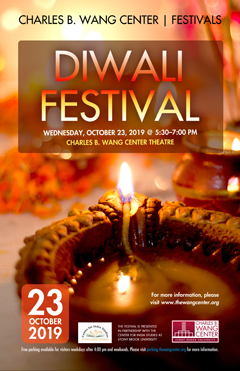 Festival
Diwali: Lights Up!
Wednesday, October 23, 2019 @ 5:30 PM
Charles B. Wang Center Theatre
5:30–6:30 PM   Worship ritual
6:30–7:00 PM   Procession of lights
Diwali is a festival of lights that marks the victory of good over evil in Hindu mythology. This joyous festival is celebrated by South Asians all over the world and is India's most important holiday. People celebrate and wish for blessings of good fortune by lighting millions of lamps and exchanging sweets. Please join us for a puja (a traditional worship ritual) and our procession of lights, followed by Indian sweets.
Presented with the Mattoo Center for India Studies at Stony Brook University.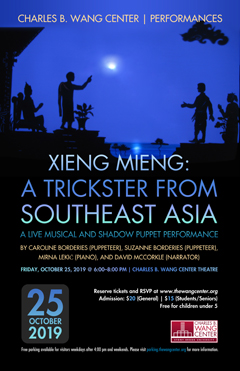 Performance
Xieng Mieng: A Trickster from Southeast Asia
A Live Musical and Shadow Puppet Performance
Friday, October 25, 2019 at 6 PM (45 minutes)
Charles B. Wang Center Theatre
In Laos and Northern Thailand, Xieng Mieng is a very popular trickster character that represents the common man's ability to lay low the mighty. He appears in folk tales and legends of many other parts of Southeast Asia under different names (Srithanonchai in Central Thailand, Ah Thonchuy Prach in Cambodia, Saga Dausa in Myanmar), but always as the representative of the subordinate ready to mock and defeat the overweening authority. Xieng Mieng stories come in many episodes, all featuring the notorious trickster using his wit and tricks to navigate through difficulties or to get the better of the rich and powerful.
In this new production, artists Caroline and Suzanne Borderies (puppeteers), Mirna Lekic (pianist), and David McCorkle (narrator) retell some adventures of the notorious trickster with shadow puppetry and live music.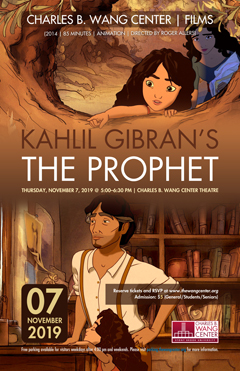 Film
Kahlil Gibran's The Prophet
Thursday, November 7, 2019 @ 5 PM
Charles B. Wang Center Theatre
(2014 | 85 minutes | Animation | Directed by Roger Allers)
The Prophet, by celebrated Lebanese author Kahlil Gibran, is among the most popular volumes of poetry ever written, with over 100 million copies in forty languages sold since its first publication in 1923. Gibran's timeless verses are given enchanting new form in this painterly cinematic adventure about freedom and the power of human expression.
This breathtaking animated feature, produced and spearheaded by Salma Hayek, was an official selection at the Cannes Film Festival and made its North American premiere at the Toronto International Film Festival. Written and directed by Roger Allers ( The Lion King), the film intersperses Gibran's elegant poetry within stunning sequences by a host of award-winning animators from around the world. It also features music from Damien Rice, Glen Hansard, and Yo-Yo Ma.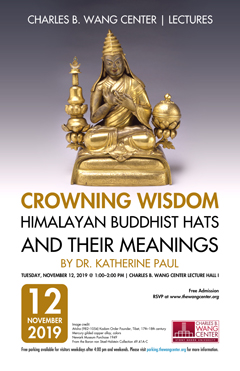 Lecture
Crowning Wisdom: Himalayan Buddhist Hats and Their Meanings
By Dr. Katherine Anne Paul
Tuesday, November 12, 2019 @ 1 PM
Charles B. Wang Center Lecture Hall I
As the highest part of our bodies and arguably most revered portion of human anatomy, the head is the seat of not only our brain but also of our faculties of sight, smell, sound, and taste. Throughout the Himalayas, headgear is worn to signify monastic and political allegiances, along with social and spiritual rank and accomplishments. Headgear can also be a tool to activate divine powers. Numerous materials and sculptural forms can be used; some are generated from practical considerations, others are formulated as aspects of conspicuous consumption. This lecture will introduce a dazzling array of crowns, diadems, hats, and caps that function in intriguing ways. These uses may be as transcendent as to temporarily harness the powers of the universe or as mundane as indicating the passing of scholastic exams or even an ingenious adaptation to protect the wearer from rain.
About the Speaker
Katherine Anne Paul is a curator of Asian Art at the Birmingham Museum of Art and the author of numerous publications showcase rich, multi-faceted aspect of classic and contemporary art from the diverse nations of Asia. A Tibetologist by training, Dr. Paul has held posts at the Philadelphia Museum of Art, the American Museum of Natural History, the Textile Museum in Washington, DC, and the Newark Museum. A Fulbright scholar, she has performed field research in twenty-six nations during the past twenty years.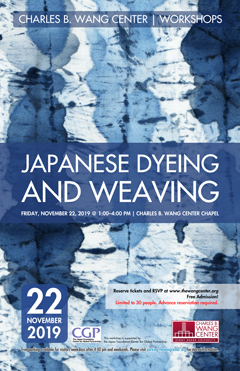 Workshop
Japanese Dyeing and Weaving
Friday, November 22, 2019 @ 1 PM
Charles B. Wang Center Chapel
Free Admission!
Limited to 30 people. Advance reservation is required
Come and learn about traditional Japanese textile techniques, including how to dye (shibori) and weave silk (hakata-ori)! Shibori dyeing typically involves folding, twisting, or bunching cloth and dyeing it in indigo. Characterized by fine, supple, and thick material, hakata-ori is created by twisting multiple thin yarns together. Masters of Japanese textile design will demonstrate several delicate techniques that have been handed down through the generations in this hands-on workshop. Beginners welcome! No previous experience necessary.
This workshop is supported by the Japan Foundation Center for Global Partnership.