Skip Navigation
Events at the Wang Center
Spring 2020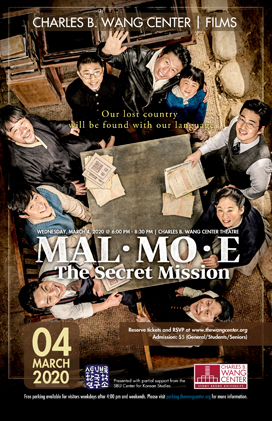 Film | Asian Animation Series
MAL-MO-E: The Secret Mission
Wednesday, March 4, 2020 @ 6 PM
Charles B. Wang Center Theatre
(2019 I 135 minutes I Historical drama I Directed by Yu-na Eom)
Admission: $5 (General/Students/Seniors)
By the 1940s, Korea had been a Japanese colony for decades. Under Japanese rule, the use and the teaching of the Korean language was outlawed. As the native words of his land begin to fade and are replaced with the sounds of Japanese, Kim Pan Soo defies the government and joins the Korean Language Society with the goal of publishing a Korean dictionary. Meanwhile, the Japanese authorities close in on the group.
"Mal-Mo-E" refers to a word from an old Korean dialect that translates to "collecting vocabularies."
Yu-na Eom, the screenwriter for A Taxi Driver (2017), displays her skillful cinematic storytelling in this historical drama.
Discussion and Q&A led by Prof. Heejeong Sohn, Assistant Director of the Center for Korean Studies, SBU.
This film is co-presented with the Center for Korean Studies at Stony Brook University.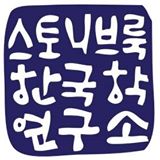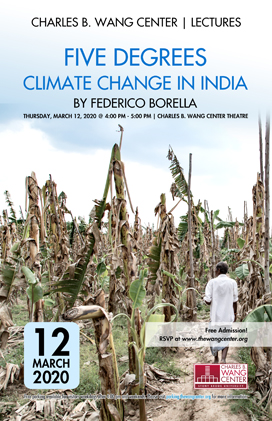 Lecture
Five Degrees: Climate Change in India
By Federico Borella
Thursday, March 12, 2020 @ 4 PM
Charles B. Wang Center Theatre
Free Admission
Italian photojournalist Federico Borella explores the correlated relationship between our current climate crisis and the phenomenon of farmers committing suicide in the drought-hit region of Tamil Nadu, India. Climate change threatens mankind as a whole and on the individual level, affecting us regardless of national boundaries and circumstances. Borella will share his experience of capturing something invisible but extremely real and concrete, with potentially tragic consequences.
About the Speaker
Federico Borella is a freelance photojournalist. He was recently named "Photographer of the Year" at the 2019 Sony World Photography Awards. His work has been featured in numerous publications and articles, including Newsweek, Time, National Geographic, CNN, and Days Japan, among others.
Related Program
Exhibition
Forgotten Faces: Visual Representation of Trauma and Mass Killings in Asia
On view March 12 through June 14 , 2020
Charles B. Wang Center Skylight Gallery
Spring 2020 Opening Reception
Thursday, March 12, 2020 @ 5 PM
Charles B. Wang Center Skylight Gallery
Free Admission
Join us for the opening reception to celebrate the Spring exhibition, Forgotten Faces: Visual Representation of Trauma and Mass Killings in Asia (on view from March 12 through June 14, 2020 at Skylight Gallery and Zodiac Gallery).
>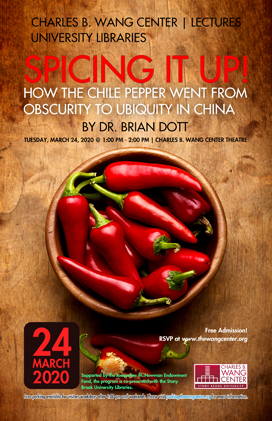 Lecture
 Spicing It Up! How the Chile Pepper went from Obscurity to Ubiquity in China 
By Dr. Brian Dott
Thursday, March 24, 2020 at 1 PM
Charles B. Wang Center Theatre
Free Admission
It's hard to imagine Chinese cuisine without the chile pepper. Yet there weren't any chiles at all in China before the 1570s. Introduced from the Americas, chile peppers initially struggled to gain a foothold in China. Now they are so common that many Chinese assume that they are native. Brian Dott will discuss how the chile pepper arrived in China and how this drastic transition—from obscurity to ubiquity—took place. Part of the chile's success in China is due to its versatility, and it eventually was integrated into traditional Chinese medicine, garden aesthetics, and literature, as well as cuisine. This incredible versatility also allowed for different regions to emphasize or deemphasize different aspects of the vegetable, leading to an impressive diversity of cuisines and combinations. The humble chile has come to influence many aspects of Chinese culture, even changing the meaning of the Chinese word "spicy" (la).
Supported by Jacqueline M. Newman Endowed Fund, the program is co-presented by the Stony Brook University Libraries.
About the Speaker
Dr. Brian Dott is an associate professor of history at Whitman College. His specialties include ancient and modern East Asia, especially China and Japan, as well as religion and gender. His book Identity Reflections: Pilgrimages to Mount Tai in Late Imperial China details pilgrimages to the sacred Mount Tai during the late imperial period. He has recently studied the modern meanings of mountains and his new book, The Chile Pepper in China: A Cultural Biography ,will be published by Columbia University Press in May 2020.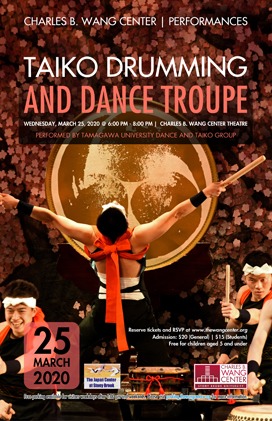 Performance
Japanese Taiko Drumming and Dance
Performed by the Tamagawa University Dance and Taiko Group
Wednesday, March 25, 2020 at 6 PM
Charles B. Wang Center Theatre
Admission: $20 (General) / $15 (Students/Seniors)
Free for Children Under 5
One of the top-ranking taiko groups in Japan will perform thundering taiko drum rhythms accompanied by traditional Japanese dance, with nearly 30 drummers and dancers taking the stage. The Tamagawa University Dance and Taiko Group has gone on tours around the world since 1961, visiting Mexico, England, Greece, Canada, Malaysia, Russia, Indonesia, Africa, and the United States. This is their fourth visit to the Charles B. Wang Center as part of their annual East Coast Tour.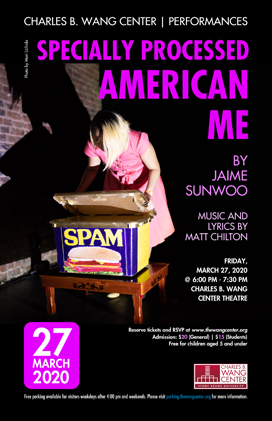 Performance
Specially Processed American Me
Friday, March 27, 2020 at 6 PM
Charles B. Wang Center Theatre
Admission: $20 (General) / $15 (Students/Seniors)
Free for Children Under 5
Specially Processed American Me by Jaime Sunwoo is a surreal autobiographical performance using SPAM, the canned meat, as a portal into her Asian American upbringing and her family's experiences of the Korean War. It investigates SPAM's legacy in the military, its significance in the Asia-Pacific, and its influence on Asian cuisine through music, shadowplay, and cooking. Oscillating wildly between absurd humor and sober tragedy, Specially Processed American Me is a thought-provoking exploration of one of America's most misunderstood foods.
Specially Processed American Me was developed through Failsafe Festival, Leviathan Lab, BAX Upstart Program, Barn Arts Residency, HB Studio Rehearsal Space Residency 2019, and Queens Council on the Arts' Artist Commissioning Program 2020.
About the Artist and Staff
Jaime Sunwoo (Playwright, Co-director, Performer, Props Designer) is a Korean American multidisciplinary artist from Brooklyn, New York. She combines video, audio, sculpture, and storytelling to create sensory performances in galleries, theaters, and public spaces. Her works discover uncomfortable truths between humor and tragedy. She studied art at Yale University, and is an alum of the Laundromat Project for socially engaged art. Her work has been seen at JACK, Abrons Art Center, BAX, The Tank, Flux Factory, Open Source Gallery, DUMBO Arts Festival, and Art in Odd Places. She is one of the hundred women artists commissioned for Park Avenue Armory's 100 Years | 100 Women in May 2020. She is currently working on Specially Processed American Me , a multidisciplinary performance project exploring the history of SPAM, the canned meat, in the Asia-Pacific and its place in the Asian American experience. www.jaimesunwoo.com
Matt Chilton (Lyricist, Composer, Sound Designer) is a musician and performer raised in the ever-changing soundscapes of New York City. Their work focuses on the interplay of sound, space, and memory through architecture, instruments, and other material culture. Active in a variety of theatrical and musical genres as a composer, sound designer, and multi-instrumentalist, their recent theater projects include reGENEration lab (Failsafe Festival) and Specially Processed American Me (The Tank, Failsafe Festival), both with Jaime Sunwoo, An Iliad (Greek Embassy, Atlas PAC, Washington DC) with Iason Togas and Conor Bagley, and they have previously worked with Aya Aziz on Eh Dah: Questions for my Father (NYMF, Fringe Festival). They are currently dreaming up compositions for used bookstores, abandoned parking garages, and other unconventional spaces.
Alex M. Lee (Stage Manager/Dramaturg) is a theatremaker and visual artist from Seoul, Korea, recently based in New York City. She is a graduate of the Brown/RISD Dual Degree Program from which she holds a BA in Theatre Arts and a BFA in Film/Animation/Video. When not in the theatre, she works at HERE Arts Center as a graphic designer, and would love to talk to you about dungeons & dragons & design. Upcoming: First Violin (Mabou Mines)
Karim Muasher (Co-director) Karim Muasher is an Arab American deviser, director, and teacher working at the intersection of performance and education. He is the Co-Artistic Director of Animal Engine Theatre Company, and  has devised and performed in every production. Among his other collaborations are daredevil clown Bello Nock's Drama Desk award-winning show "Bellomania" at the New Victory Theatre and physical comedian Martin Gindick's multimedia solo show "Wingman" at the United Solo Festival. He has taught theatre and devising at institutions such as the Royal Central School of Speech and Drama, Guthrie Theater, Roundabout Theatre Company, Abrons Arts Center, International Thespian Festival, and Wingspan Arts. Karim is a graduate of Ithaca College, the London International School of Performing Arts at Naropa University, and a member of the Association of Theatre Movement Educators.
Kyu Shin (Scenic Designer) is NYC based Scenic designer for theatre. He has designed sets for Paisieu(Connelly Theatre), Acappella(New York Musical Theatre Festival), Half Moon Bay, Comes a Faery(The New Ohio Theatre), Dead Shot Mary(The Bridge Theatre), Intrerview(St. Clement Theatre), The Briefly Dead(59E59), The Talmud(Target Margin Theatre), The Niceties(HeritageTheatre Festival) and more.  www.kyushindesign.com
Cinthia Chen (Video Designer) is an interdisciplinary artist, operating primarily in the theater and film space. She has been a Mabou Mines SUITE/Space Artist, Theater Mitu Hybrid Arts Lab Fellow, Fresh Ground Pepper BRB Resident Artist, and a Creators Collective AEIN artist. She also works in prop design and video design. Credits include: festival prop designer for Corkscrew Theater Festival, video designer for Chinese Opera and a Modern Drama (Lenfest Center for the Arts) and The Yellow Wallpaper (IRT Theater). In film, she has worked as a freelance editor for independent artists as well as production companies, such as NextRound Productions, Five Sisters Productions, and ARRI China.
Emma Rivera (Lighting Designer) is the Space and Production Manager at The Performance Project @ University Settlement (NYC). Select freelance work: Company SBB Stefanie Batten-Bland (Bienvenue欢迎WelcomeBienvenidoأهلا بك, Spoleto Festival dei Due Mondi 2018; Spoleto, Italy; The Winter Yard 2019, Martha's Vineyard, MA), Karen Bernard (Showgirls, NYC 2018;Poolside, NYC 2019), and André Zachery/Renegade Performance Group (Dapline! NYC, NY; August Wilson Cultural Center, Pittsburgh, PA; Untamed Space, Wexner Center for the Arts, OH). She also produces FailSafe Festival, a performance arts festival for works-in-progress. 
Justin Perkins (Set Builder) is a puppet artist currently appearing in 'Madama Butterfly' at Met Opera (puppeteer cover). Other recent work includes 'Hansel and Gretel' (Michigan Opera Theater), 'Shank's Mare' (NYC, Paris, Chicago, Houston), 'Alaxska|Alaska' (La Mama, tour). In 2019, he presented 'DIANAMAS', an immersive installation at Puppet Lab. Forthcoming work includes 'Unicorn Afterlife', for which he received a workshop grant from the Jim Henson Foundation. Justin is a curator at Object Movement Puppetry Festival, a residency program for puppet artists and the Program Director at New Country Day Camp. http://www.justinaperkins.com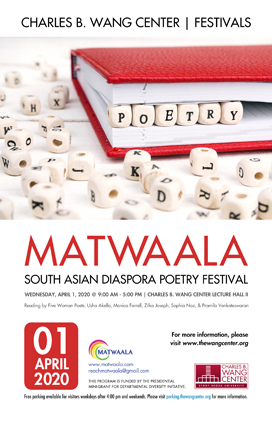 Festival
Matwaala: South Asian Diaspora Poetry Festival
Wednesday, April 1, 2020 @ 9 AM
Charles B. Wang Center Lecture Hall II
Free Admission
Directed by Usha Akella and Pramila Venkateswaran, the Matwaala Festival is a platform intended to showcase the voices of talented South Asian female poets in America. The festival will offer poetry readings by both established and emerging poets (including Sophia Naz, Zilka Joseph, Monica Ferrell, Usha Akella, and Pramila Venkateswaran), a panel discussion on gender and racial issues, and a writing workshop with students. Students from any background are welcome to participate in presenting their poems.
This program is funded by the Presidential Mini-Grant for Departmental Diversity Initiative.
Poetry Festival Schedule of Events
| | |
| --- | --- |
| 9:00–9:15 | Introductions |
| 9:15–11:30 | Session I: Poetry Reading |
|   | 9:15–9:40   Sophia Naz |
|   | 9:40–10:05   Zilka Joseph |
|   | 10:05–10:30  Pramila Venkateswaran |
| 10:30–11:30 | GUP CHUP (Conversations and Q/A) |
| 11:35–1:30 | Session II: Poetry Reading |
|   | 11:35–12:00   Monica Ferrell |
|   | 12:00–12:25   Usha Akella |
| 12:30–1:30 | GUP CHUP (Conversations and Q/A) |
| 1:30–2:00 | Lunch Break |
| 2:00–2:30 | Session III: Student Participants' Open Mic |
| 2:30–5:00 | Session IV: Writing Workshops |
|   | 2:30–3:00   Monica Ferrell |
|   | 3:00–3:30   Zilka Joseph |
|   | 3:30–4:00   Sophia Naz |
|   | 4:00–4:30   Pramila Venkateswara |
|   | 4:30–5:00   Usha Akella |
Get excited about our headliners!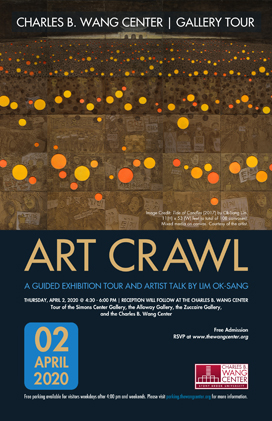 Art Crawl: A Guided Tour of Campus Galleries
Thursday, April 2, 2020 @ 4:30 PM
Tour of the Simons Center Gallery, the Alloway Gallery, the Zuccaire Gallery, and the Charles B. Wang Center
Free Admission
Stony Brook University hosts a variety of renowned art galleries that provide unique spaces and opportunities for cultural and artistic exchanges and collaborations. Our art crawls unite our university's galleries through a series of free guided tours led by expert curators. This initiative directly supports the university's commitment to celebrating diversity and promotes the university's place in the global community. Each art crawl will offer tours of three to four galleries, visiting each for about 30 minutes, before ending with a reception.
The Charles B. Wang Center will offer an artist talk by Lim Ok-Sang, whose work is on view at the current exhibit, Forgotten Faces: Visual Representation of Trauma and Mass Killings in Asia , at 4:30 PM. The Wang Center will also host the reception.
A native of South Korea, Lim Ok-Sang takes into account the fierce context of Korean modern political history in his artwork, and in his pieces, he is social witness, testifier, analyzer, declarer, and participator to speak out against injustice and inhumanity. His recent work (consisting of a total of 108 canvases), entitled Tide of Candles II (2017), deals with the tragic subject of the deaths of teens as victims of politics, capitalism, and social and economic inequality. Lim will talk about how to depict unspeakable trauma in a crisis of representation and how art facilitates political acts into larger historical narratives.
About the Artist
Lim Ok-sang is one of the leading artists of the Minjung ("People") art movement in South Korea, which began in the 1980s. Following his graduation from Seoul National University with a BA in sculpture and MA in painting, Lim studied at the Anglaim Art School in France. Lim's work is featured in collections at the National Museum of Contemporary Art (Korea), the Seoul Museum of Art, the Leeum Art Museum, and the Busan Museum of Art, among other institutions.
3:00 PM   Simons Center Gallery
3:30 PM   Alloway Gallery
4:00 PM   Zuccaire Gallery
4:30 PM   Charles B. Wang Center
5:00 PM   Reception, Charles B. Wang Center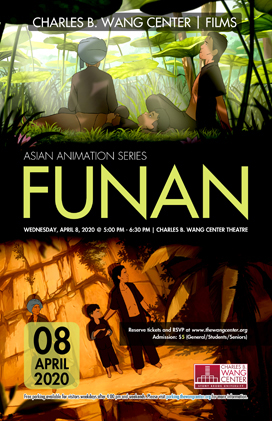 Film | Asian Animation Series
Funan
Wednesday, April 8, 2020 @ 5 PM
Charles B. Wang Center Theatre
(2018 I 84 minutes I Animation I Directed by Denis Do)
Admission: $5 (General/Students/Seniors)
Set in Cambodia in 1975, Funan tells the story of Chou, a young woman whose simple life is upended when the Khmer Rouge topple the government. After being forcefully evacuated from their village, she and her husband are separated from their young son. She is forbidden to search for him, instead having to work night and day in view of watchful soldiers. During these travails, Chou maintains her resolve to reunite her family, no matter how great the risk—and no matter how high the cost. Winner of the top prizes at the 2018 Annecy Animation Festival and the 2018 Animation Is Film Festival, Funan is a searing and remarkable debut from filmmaker Denis Do, who uses his own family history as inspiration for a thrilling story of love, loss, and enduring hope in the most trying of times. The film features the voices of Bérénice Bejo ( The Artist) and Louis Garrel ( The Dreamers).
Related Program
Exhibition
Forgotten Faces: Visual Representation of Trauma and Mass Killings in Asia
On view March 12 through June 14 , 2020
Charles B. Wang Center Skylight Gallery
LECTURE
Alive: 40 Years After the Khmer Rouge War by Kim Hak
Tuesday, April 28, 2020 @ 1 PM
Charles B. Wang Center Lecture Hall I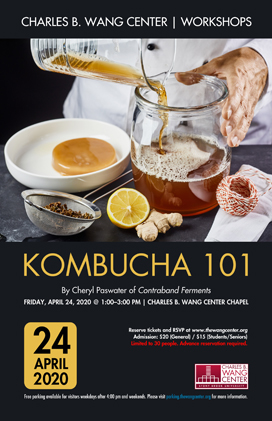 Workshop
Kombucha 101
By Cheryl Paswater of Contraband Ferments
Friday, April 24, 2020 @ 1 PM
Charles B. Wang Center Chapel
Admission: $20 (General)
$15 (Students/Seniors)
Limited to 30 people. Advance reservation is required.
Fermentation is one of the oldest food processing methods still used today. Scientifically known as zymology, it is the conversion of carbohydrates into alcohols, carbon dioxide, yeast, or bacteria. Beer, miso, sourdough, kefir, kimchi, and many other delicious foods we love are the products of fermentation. Cheryl Paswater will cover the basic science behind making kombucha and teach you how to make it yourself. All participants will take home a starter kit!
About the Instructor
Cheryl Paswater is a certified fermentationist, educator, and health coach, who after a near-death experience turned to holistic medicine for help. After radical diet and lifestyle changes, she started teaching others about the science and benefits of fermentation, Old World food preservation, healthy eating habits, sustainable food, and holistic health. Based in Brooklyn, Paswater runs a popular fermentation project and community-supported agriculture group called Contraband Ferments ( www.contrabandferments.com).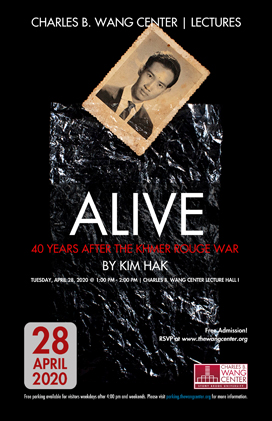 Lecture
Alive: 40 Years After the Khmer Rouge War
By Kim Hak
Tuesday, April 28, 2020 @ 1 PM
Charles B. Wang Center Lecture Hall I
Free Admission
Cambodian photographer Kim Hak was born shortly after the fall of the Khmer Rouge regime (1975–1979). Having grown up hearing tales of this dark period from his parents, Kim uses his work to raise awareness of his country's dark history. Through his lens, he has brought Cambodian culture to a wider audience, including survivor stories and a variety of scenes found within his homeland, both natural and architectural. Kim will share how art can express dark histories as well as his own visual journey of connecting crimes against humanity and works of art.
Related Program
Exhibition
Forgotten Faces: Visual Representation of Trauma and Mass Killings in Asia
On view March 12 through June 14 , 2020
Charles B. Wang Center Skylight Gallery
FILM
Asian Amination Series: Funan
Wednesday, April 8, 2020 @ 5 PM
Charles B. Wang Center Theatre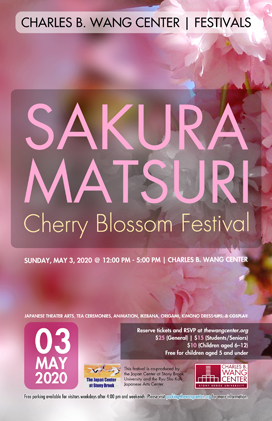 Festival
Sakura Matsuri: Cherry Blossom Festival
Sunday, May 3, 2020 @ 12 PM (Rain or Shine)
Charles B. Wang Center
Admission: $25 (General) / $15 (Students/Seniors) / $10 (Children ages 6–12)
Free for children ages 5 and under
Admission includes all film viewings, workshops, and theater presentations.
Welcome spring to Long Island with the blooming of sakura (cherry blossoms), the sounds of taiko drums, and a wondrous array of Japanese cultural exhibits at the Wang Center! The Wang Center will provide many exciting activities, including a documentary about the legendary animation director Hayao Miyazaki ( Never-Ending Man), ikebana flower arrangement, tea workshops, manga drawing, origamipaper folding, kimono dress-ups, and cosplay(costumed role-play of a Japanese manga character) for all ages. Please join us in your favorite manga character costume.
This festival is co-produced by the Japan Center at Stony Brook University and the Ryu Shu Kan Japanese Arts Center.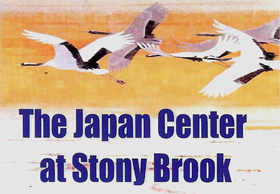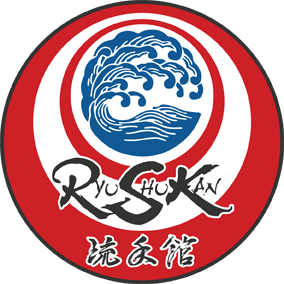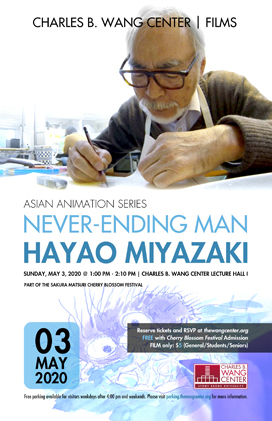 Film | Asian Animation Series
Never-Ending Man: Hayao Miyazaki
Sunday, May 3, 2020 @ 1 PM
Charles B. Wang Center Theatre
(2018 I 70 minutes I Documentary I Directed by Kaku Arakawa)
Admission: $5 (General/Students/Seniors)
FREE ADMISSION with Cherry Blossom Festival Admission
As one of an array of diverse Japanese cultural programs offered at our Cherry Blossom Festival, the Wang Center will show a documentary film about the legendary Japanese animator Hayao Miyazaki. Miyazaki has helmed many well-known animated films with Studio Ghibli, including Ponyo (2008), Howl's Moving Castle (2005), Spirited Away (2002), Princess Mononoke (1997), and My Neighbor Totoro (1988). Best known as an adamant advocate of hand-drawn animation, he confronted new challenges brought on by a new generation of animators who are more skillful with computer-generated imagery (CGI). This film goes behind the scenes over two years as Miyazaki overcomes struggles to create a short film using CGI.
Film | Asian Animation Series
Lu Over the Wall
Wednesday, May 6, 2020 @ 5 PM
Charles B. Wang Center Theatre
(2017 I 107 minutes I Animation I Directed by Masaaki Yuasa)
Admission: $5 (General/Students/Seniors)
From visionary animator Masaaki Yuasa comes a joyously hallucinogenic yet family-friendly take on a classic fairy tale. A little mermaid named Lu comes ashore to join a middle-school rock band and propels them to fame. However, since ancient times, the people in the village have believed that mermaids bring disaster. Soon there is trouble between Lu and the townspeople, putting the town in grave danger. Winner of the Grand Prize at the prestigious 2017 Annecy Animation Festival and an official selection at Sundance 2018, Lu Over the Wall is a toe-tapping, feel-good demonstration of Yuasa's genre-mixing mastery that will leave you humming long after you leave the theater.