Skip Navigation
Events at the Wang Center
Fall 2023
Workshop
Holiday Ornament-Making with Cable Ties
By Sui Park
Saturday, December 2, 2023 at 2:00 PM – 4:00 PM
East Hall
Admission:
$20 (General)
$15 (Students/Seniors)
The fee includes all necessary materials, including cable ties in an array of colors and sizes.
Limited to 30 people. Advance reservation is required.
Get into the festive spirit and unleash your creativity with an exciting workshop led by Sui Park! Join us for a delightful session of holiday ornament-making, where you will learn how to transform everyday materials into stunning, one-of-a-kind ornaments that will add a touch of whimsy to your holiday decor.
Sui Park is a talented artist known for her innovative use of cable ties in sculptural creations. In this workshop, she will guide you through the process of crafting unique holiday ornaments using cable ties. With her expert guidance, you will discover the endless possibilities of this versatile material and learn techniques to create intricate, eye-catching designs.
This workshop is suitable for individuals on their own as well as families and friends looking to spend quality time together during the busy holiday season. It is a chance to tap into your imagination, connect with others, and create cherished memories while making something beautiful by hand.
About the presenter
Sui Park is a Korean American artist based in New York. Her work involves creating three-dimensional flexible forms in a comfortable ambiance that is dynamic yet illusionary. These organic forms are often made with mass-produced industrial materials, particularly cable ties.
Tour
A Guided Gallery Tour by Sungsook Setton
Wednesdays, December 6, 2023 at 12:00 PM – 12:30 PM
Skylight Gallery
Embark on a captivating journey through the world of contemporary ink painting in this guided gallery tour of our featured exhibition, Park Dae Sung: Ink Reimagined. This exclusive event will be hosted by the acclaimed local ink painter Sungsook Setton. Throughout the tour, Setton will offer invaluable insights, providing a deeper understanding of the symbolism, themes, and cultural context present in Park Dae Sung's art. You will be free to ask questions, engage in meaningful discussions, and gain a unique perspective on contemporary ink painting.
This guided gallery tour is open to art enthusiasts, collectors, students, and anyone eager to explore the dynamic and captivating world of contemporary ink painting. Whether you are a seasoned art connoisseur or simply curious about this expressive medium, this tour promises to be a truly enriching experience.
About the presenter
Sungsook Hong Setton is a Korean American painter whose works combine gestural abstraction with East Asian traditions of water-ink painting (sumi-e) to explore the idea of "living ink" and the interconnectedness of things. Setton has exhibited throughout New York and New England as well as in Canada, England, China, Taiwan, and Korea, with solo presentations in New York City, Long Island, and Seoul. She is on the faculty of the China Institute in Manhattan and the Art League of Long Island, and she has had invitational painting workshops throughout the United States. She is also an author of The Spirit of the Brush (2017).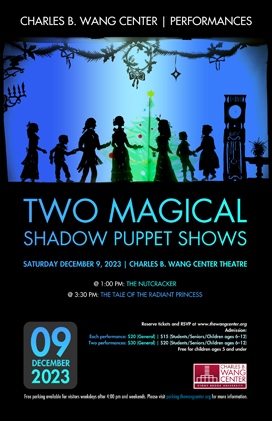 Performance
Two Magical Shadow Puppet Shows
Saturday, December 9, 2023
Theatre
1:00 PM:The Nutcracker
3:30 PM:The Tale of the radiant Princess
Admission for each performance:
$20 (General)
$15 (Students/Seniors/Children ages 6–12)
FREE for children ages 5 and under
Admission for two performances:
$30 (General)
$20 (Students/Seniors/Children ages 6–12)
FREE for children ages 5 and under
Caroline and Suzanne Borderies (puppeteers), Mirna Lekic (pianist), and David McCorkle (narrator) will present two original shadow puppet shows with intricate illustrations and lighting palettes that move from black and white to riotous color. Featuring animated characters and stories from Asian folk tales and a holiday favorite, the two shows will transport viewers to worlds of magic and wonder. Immerse yourself in captivating tales of love, sacrifice, and the pursuit of destiny. Each 30-minute show will be followed by a behind-the-scenes tour with the artists.
The Nutcrackerat 1:00 PM
Adapted from E. T. A. Hoffmann's fantastic tale, this new production of the Christmas classic features live narration and solo piano selections from Tchaikovsky's celebrated ballet score. Follow Clara on Christmas Eve as she embarks for the Land of Sweets with her nutcracker transformed into a handsome prince.
The Tale of the Radiant Princessat 3:30 PM
Inspired by the timeless Japanese folktale, The Tale of the Bamboo Cutter, this mesmerizing production follows the journey of a humble bamboo cutter as he discovers a luminous bamboo shoot and unlocks the secret within. Witness the birth of Kaguya-hime, a celestial princess with unparalleled beauty and wisdom, whose presence illuminates the lives of those around her.
---
Past Programs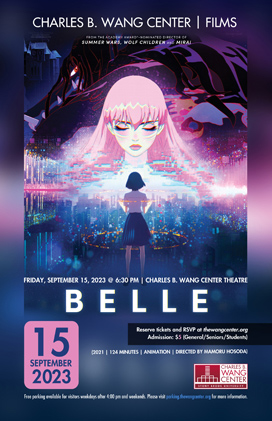 Film
Belle
Friday, September 15 at 6:00 PM – 8:00 PM
Theatre
(2021 | 124 minutes | Animation | Directed by Mamoru Hosoda)
Suzu is a shy, everyday high school student living in a rural village. For years, she has only been a shadow of herself. But when she enters "U," a massive virtual world, she escapes into her online persona as Belle, a gorgeous and globally beloved singer. One day, her concert is interrupted by a monstrous creature chased by vigilantes. As their hunt escalates, Suzu embarks on an emotional and epic quest to uncover the identity of this mysterious "beast" and to discover her true self in a world where you can be anyone.
From the celebrated Academy Award-nominated director Mamoru Hosoda and Studio Chizu, creators of Mirai, Wolf Children, Summer Wars, and more, comes a fantastical, heartfelt story of growing up in the age of social media.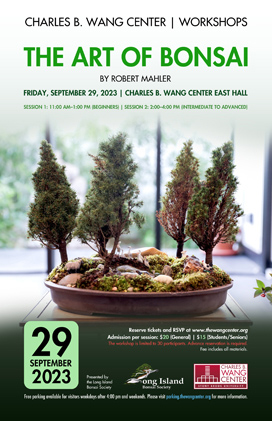 Workshop
The Art of Bonsai
By Robert Mahler
Friday, September 29, 2023
East Hall
The Charles B. Wang Center is delighted to offer two bonsai workshops that allow you to learn from Robert Mahler, an esteemed bonsai master. Following his highly successful workshop from our previous season, Mahler returns to share his expertise and insights this fall, catering to beginners and experienced enthusiasts alike. His expert instruction and hands-on demonstrations will equip participants with the knowledge and skills needed to embark on their own bonsai journeys.
Co-presented by the Long Island Bonsai Society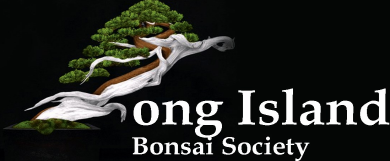 About the presenter
Robert Mahler is the president of the Pennsylvania Bonsai Society. He oversees the bonsai exhibit at the Pennsylvania Horticultural Society's annual Philadelphia Flower Show. Mahler discovered his passion for bonsai early in life and apprenticed under the exclusive direction of the world-renowned bonsai artist Susumo Sudo. He also served as the curator of bonsai at the Brooklyn Botanical Garden (1994–2005) and currently runs Kifu Bonsai. He continues to consult for various horticultural institutions.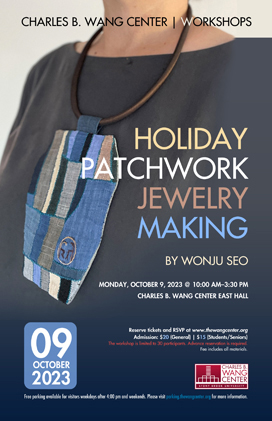 Workshop
Holiday Patchwork Jewelry Making
By Wonju Seo
Monday, October 9 at 10:00 AM – 3:30 PM
East Hall
Join this festive workshop for the chance to design and craft unique jewelry pieces using Korean patchwork techniques. This hands-on workshop will be perfect for those who want to explore their artistic side and create personalized accessories, whether to use themselves or to give as heartfelt presents during the holiday season.
You will learn the art of patchwork jewelry making from the contemporary textile artist Wonju Seo. She will guide you through the process of selecting and combining various fabric patterns and textures to create stunning, modern jewelry pieces that capture the joy and spirit of the holiday season.
About the presenter
Wonju Seo is a Korean American textile artist who was born in South Korea and currently lives in New Jersey. Her large installation, White Wonderland, is a signature artwork in the Wang Center's Skylight Gallery. Her work has been reviewed in the New York Times, and she has taught at the Korea Society and the Lee Young Hee Museum of Korean Culture in New York City.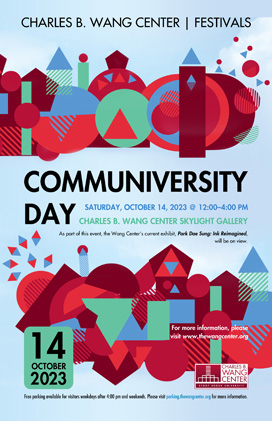 Festival
CommUniversity Day
Saturday, October 14, 2023 at 12:00 PM – 4:00 PM (Rain or Shine)
Please note the rescheduled new date above.
Academic Mall at SBU
Arising out of the university's Plan for Equity, Inclusion, and Diversity, this event will showcase the many facets of our campus community. The day has been planned for our neighbors, regional partners, alumni, employees, and other friends. CommUniversity Day will highlight the campus through interactive activities, fun entertainment, and thought-provoking mini-talks. We encourage families to attend!
CommUniversity Day will be held on the Academic Mall from noon to 4 p.m. "Neighborhoods" will be stationed throughout the mall area for visitors to explore. From music to medicine, food to fun, we invite you to experience all that Stony Brook University has to offer.
CommUniversity Day admission is free and open to the public.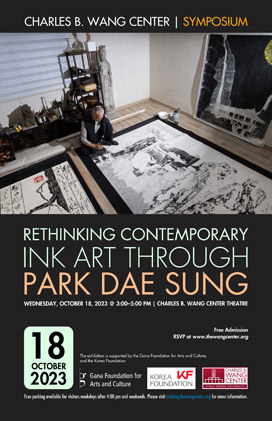 Symposium
Rethinking Contemporary Ink Art Through Park Dae Sung
Wednesday, October 18, 2023 at 3:00 PM – 4:30 PM
Theatre
The Charles B. Wang Center presents a stimulating symposium that delves into the multifaceted works of the contemporary ink artist Park Dae Sung. A short presentation by esteemed scholars will illuminate the diverse subjects encompassed in Park's fascinating oeuvre, including calligraphy, landscapes, animals, and still lifes, and engage an appreciation of the current exhibition, Park Dae Sung: Ink Reimagined. Through in-depth analysis, five scholars will offer fresh insights into Park's artistic vision, shedding light on the rich tapestry of themes and techniques employed by this masterful artist.
Topics to be covered include:
"An Introduction of the Artist," by Sunglim Kim, Associate Professor of Art History, Dartmouth College
"Resurrected Ruins and Renovated Visions of Gyeongju: The Dream Journey of Park Dae Sung" by Jungsil Jenny Lee, Adjunct Assistant Professor, University of Cincinnati
"Visualizing the Ideal Relationship Between Animals and Humans: Park Dae Sung's Zoomorphic and Anthromorphic Images," by Suzie Kim, Associate Professor of Art History, University of Mary Washington
"Park Dae Sung's Way of the Brush," by Jiyeon Kim, Curator of Korean Art, Peabody Essex Museum
"How Park Dae Sung's Archaic Beauty Paintings Reinvent the Past," by Jinyoung A. Jin, Director of Cultural Programs, Charles B. Wang Center
Park Dae Sung: Ink Reimagined is organized by Jinyoung A. Jin, director of Asian art and culture at the Charles B. Wang Center, with the special support from the Gana Foundation for Arts and Culture, as well as the generous support from the Korea Foundation.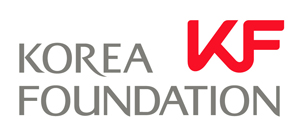 Film
New Gods: Yang Jian
Friday, October 27, 2023 at 6:00 PM – 8:00 PM
Theatre
(2023 | 116 minutes | Animation | Directed by Zhao Ji)
Thirteen years after Yang Jian (known to some as Erlang Shen) imprisoned his sister beneath a mountain, the once powerful god now scrapes by as a penniless bounty hunter. When a mysterious woman hires him for a new job, Yang Jian soon finds himself chasing down a familiar figure. He must stop his long-lost nephew Chenxiang, who is in search of the magical lotus lantern that will free his mother, even if it will bring catastrophe. As Yang Jian confronts his past, he must face a host of dangerous vigilantes seeking the same treasure with the power to alter the balance of their world.
Lecture
Photography and Korea
By Jeeyhey Kim
Thursday, November 9, 2023 at 1:00 PM – 2:00 PM
Theatre
Dr. Jeehey Kim, a historian of photography, will present an enthralling lecture that delves into the intriguing realm of Korean photography. This lecture provides a comprehensive overview of the historical development of Korean photography, its milestones, and its key figures, offering multiple perspectives on the country, the Korean diaspora, influential Korean artists, and the invaluable contributions of local photographers. This highly anticipated event will be accompanied by a captivating visual presentation that will showcase a multitude of striking images. For individuals with a keen interest in the history of Korea and its arts, this lecture is an absolute must-attend.
The lecture will be followed by a book signing and sale of Dr. Kim's groundbreaking publication, Photography and Korea.
About the presenter
Dr. Jeehey Kim is an assistant professor of art history at the University of Arizona. Her research encompasses the history of photography, visual culture, and film studies in East Asia. She has written articles on photographic practices as well as on documentary films and visual culture in relation to the Cold War and gender politics in East Asia. As a curator, she has organized exhibitions such as the recent Pyongyang Bookstore at Seoul Metropolitan Library, which presented North Korean artists of the 1950s and '60s. Dr. Kim is currently working on a book, Photography and Death: Funerary Photo-Portraiture in East Asia.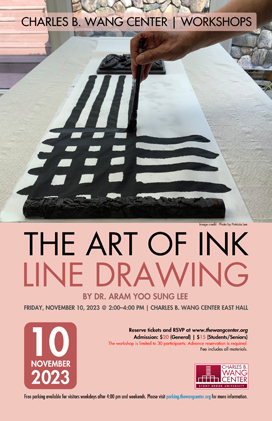 Workshop
The Art of Ink: Line Drawing
By Dr. Aram Yoo Sung Lee
Friday, November 10, 2023 at 2:00 PM – 4:00 PM
East Hall
Delve into the captivating world of ink art with our exciting workshop! In this immersive, hands-on experience, you will explore the versatility of line-drawing techniques using the timeless medium of ink.
Whether you are a beginner or an experienced artist, this workshop welcomes all skill levels. The New York–based calligrapher Aram Yoo Sung Lee will provide both guidance and inspiration as you learn how to convey depth, movement, and emotion through the fluidity of ink lines.
About the presenter
Yoo Sung Lee (pen name, Aram) is a practitioner of calligraphy of the Korean script (Hangul) in the scholarly tradition. Over forty years ago, he started as one of a handful of individuals who would continue a mental discipline that had been the Korean way of life for two thousand years. He has contributed to the modern shaping of calligraphy's unique dynamic energy (ki) in contemporary practice. He has taught, lectured, and demonstrated widely, including at the New York Hall of Science, Good Morning America (ABC Network Television), the Tenri Cultural Institute, the Fashion Institute of Technology, Yale University, and the Art Student League of New York. His recent shows include a solo exhibit in a co-curatorial role at Yale University's Sterling Memorial Library entitled The Splendor of Hangeul: The Korean Script in Calligraphy and Print. He also authored an introduction to The World Encyclopedia of Calligraphy (eds. Christopher Calderhead and Holly Cohen-Roochvarg, 2011).
Film
INU-OH
Friday, November 17, 2023 at 6:00 PM – 7:30 PM
Theatre
(2022 | 98 minutes | animation | Directed by Masaaki Yuasa)
Born to an esteemed family, Inu-oh is afflicted with an ancient curse that has left him on the margins of society. When he meets the blind musician Tomona, a young biwa priest haunted by his past, Inu-oh discovers a captivating ability to dance. The pair quickly become business partners and inseparable friends as crowds flock to their electric, larger-than-life concerts. But when those in power threaten to break up the duo, Inu-oh and Tomona must dance and sing to uncover the truth behind their creative gifts.
Featuring character creation by Taiyō Matsumoto (Tekkonkinkreet, Ping Pong the Animation) and awe-inspiring vocals by Avu-chan (Queen Bee) and Mirai Moriyama, Inu-Oh is a glam-rock ode to the power of music and a forceful statement on artistic freedom from one of animation's singular talents.