Skip Navigation
Events at the Wang Center
Fall 2022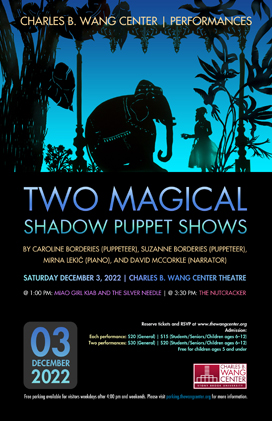 Performance
Two Magical Shadow Puppet Shows
Saturday, December 3, 2022
Theatre
1:00 PM:Miao Girl Kiab and the Silver Needle
3:30 PM:The Nutcracker
Admission for each performance:
$20 (General)
$15 (Students/Seniors/Children ages 6–12)
FREE for children ages 5 and under
Admission for two performances:
$30 (General)
$20 (Students/Seniors/Children ages 6–12)
FREE for children ages 5 and under
Caroline and Suzanne Borderies (puppeteers), Mirna Lekic (pianist), and David McCorkle (narrator) will present two original shadow puppet shows with spare, intricate illustrations and lighting palettes that move from black and white to riotous color. Featuring animated characters and stories from Asian folk tales and a holiday favorite, the two shows will transport viewers into worlds of magic and wonder. Each 30-minute show will be followed by a behind-the-scenes tour with the artists.
Miao Girl Kiab and the Silver Needle at 1:00 PM
Inspired by folk tales from the Miao—a mountain-dwelling people who live in China, Vietnam, Laos, Myanmar, and Thailand—this original modern fairy tale features a young girl named Kiab who follows a giant butterfly and finds a silver needle in a river inhabited by a frightful dragon.
The Nutcracker at 3:30 PM
Adapted from E. T. A. Hoffmann's fantastic tale, this new production of a Christmas classic features live narration and solo piano selections from Tchaikovsky's celebrated ballet score. Follow Clara on Christmas Eve as she embarks for the Land of Sweets with her Nutcracker turned into a handsome prince.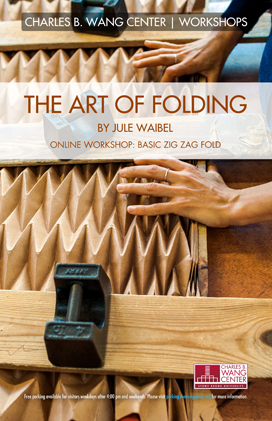 Online Workshop
The Art of Folding
By Jule Waibel
Free Admission
The Miao people of Guizhou Province in southwest China are well known for their indigo-dyed pleated skirts. Pleating is an ancient technique that remains vibrant in contemporary fashion. Jule Waibel, a fashion designer and multimedia artist, skillfully incorporates pleats in her art, fashion, and performances. By emphasizing the beauty of pleats, Waibel adds emotion, surprise, and humor to her work. She will reveal how you can create your own pleated textiles by utilizing origami techniques and geometry.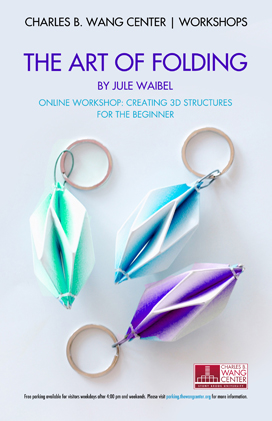 Online Workshop:
1. Basic: Zig Zag Fold
(For Beginners)
This workshop teaches you the basic folding of zig zag. Participants will learn the foundational techniques of paper folding step by step and be ready to move on to create a keychain and vase fold.
Downloads for this workshop
Instructions and List of Materials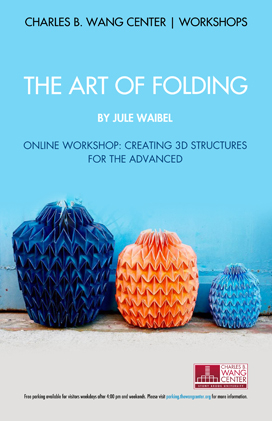 Online Workshop:
2. LEVEL I: Folded Key Chain (For Beginners)
This workshop takes an innovative approach to paper folding. Participants will learn the foundational techniques of paper folding step by step. Through the study of geometry, you will be able to turn a flat sheet of paper into a kinetic 3D object. Participants will use a traditional paper-folding pattern to create a keychain designed by Jule Waibel.
Downloads for this workshop
Instructions and List of Materials
Online Workshop:
2. LEVEL II: Folded Vase (For the Advanced)
This more advanced workshop takes an innovative approach to paper folding. Participants will learn the basics and traditional techniques of paper folding step by step. Through the study of geometry, you will be able to turn a flat sheet of paper into a kinetic 3D object. Participants will use a traditional paper-folding pattern to create a vessel designed by Jule Waibel.
Downloads for this workshop
Instructions and List of Materials
Video Essay
Korean Art Alive
Free Admission
Supported by the Overseas Korean Cultural Heritage Foundation, Korea, Korean Art Alive is a free online learning resource of Korean art and culture, created with the collaboration of leading Korean art collections in the United States.
Hats Make the Korean Man
This video essay features particular cultural moments in Korean history through men's hat fashion, examining Korean men's inner struggles between classes, identities, cultures, masculinities, and modernity.
Chaekgeori: A Korean Curiosity Cabinet
This video essay examines chaekgeori paintings to reveal how exotic and foreign objects, ideas, and painting techniques from the West traveled to Korea.
Video Essay
The Story of Modern Korean Art
Free Admission
The Story of Modern Korean Art is a series of video essays about modern Korean art, culture, politics, philosophy, and more. Supported by the Academy of Korean Studies, the program is co-presented by Dartmouth College and Stony Brook University's Charles B. Wang Center.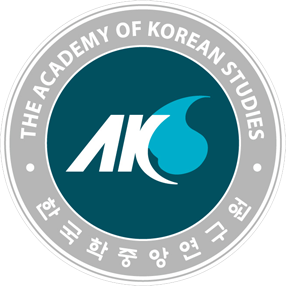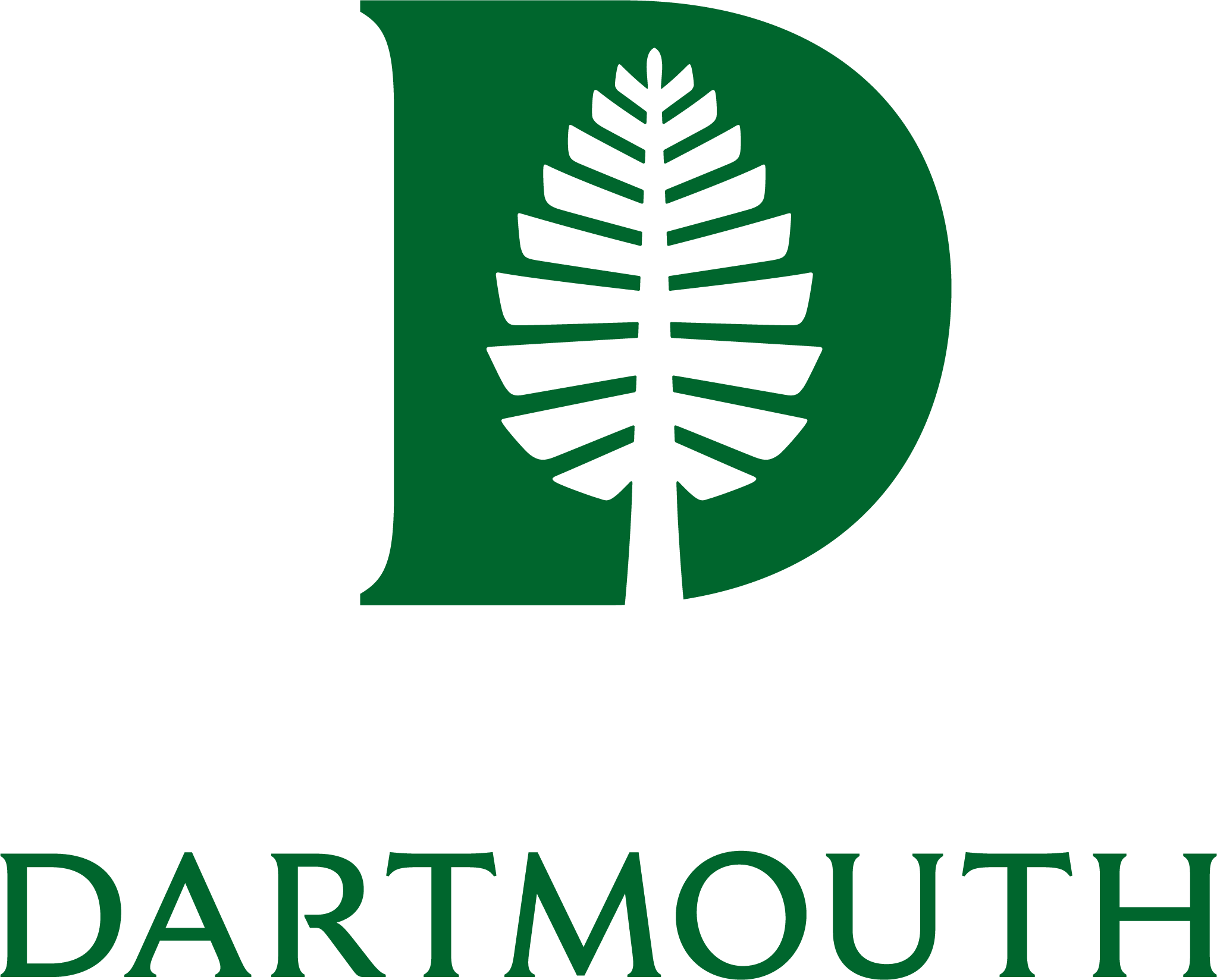 To Paint the Unspeakable
Can a painting be valid as a form of historical truth? Does art have a subjective impact that is more visceral and intense compared to photography? Can painting be a tool to seek social justice? This video essay decodes and reexamines an established narrative in art.
Modern Girls
This video essay takes a groundbreaking look at cultural history and the legacies of modern Korean girls who challenged gender, social roles, and identity issues.
What's Modern? Modernism Through the Lens of Lee Jung-Seop's Bulls
Modernism is a Western construct that became a global movement through the colonial aggression of the West. How does Korean modern art parallel the global modern art movement? This video essay brings a historical perspective to how modern Korean art was constructed and transformed through the art and lives of Korean modernists.
---
Past Programs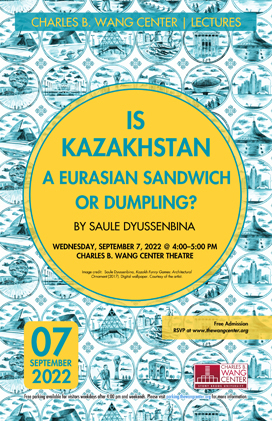 Lecture
 Is Kazakhstan a Eurasian Sandwich or Dumpling?
By Saule Dyussenbina
Wednesday, September 7, 2022 @ 4:00 PM – 5:00 PM
Theatre
Free Admission
Today, Kazakhstan comprises a diverse, ethnic mix of diasporic communities and indigenous nomadic tribes. Its recent Soviet past embodies certain fantasies that continue to impact Kazakh society. Addressing both past and present, the Kazakh artist Saule Dyussenbina creates works with symbolic ambiguity that enhance the idiosyncrasy of time and fuse past, present, and future. In this lecture, Dyussenbina will discuss cultural and geopolitical motifs in her art.
Performance
Koto & Shamisen Ensemble
Presented by Masayo Ishigure, Zac Zinger, and the Miyabi Ensemble
Friday, September 23, 2022 @ 6:00 PM – 7:00 PM
Theatre
Join the Wang Center in appreciating new and traditional music that features the koto (a Japanese 13-stringed zither) and shamisen (a Japanese 3-stringed instrument) performed by Masayo Ishigure, Zac Zinger, and the Miyabi Ensemble. Founded and directed by Masayo Ishigure, the Miyabi Ensemble is a New York-based group of musicians from the Sawai Koto Academy, one of the most prominent schools for contemporary koto and shamisen music. The performers extend the range of music for Japanese instruments through an array of innovative and entertaining styles.
Tour
Art Crawl
A Guided Exhibition Tour of Campus Galleries
Thursday, October 6, 2022 at 1:00 PM – 3:30 PM
Tour of the Charles B. Wang Center, the Zuccaire Gallery, the Alloway Gallery, the Central Reading Room, and the Simons Center Gallery.
Stony Brook University hosts a variety of renowned art galleries that provide unique spaces and opportunities for cultural and artistic exchanges and collaborations. Our art crawls unite our university's galleries through a series of free guided tours led by expert curators. This initiative directly supports the university's commitment to celebrating diversity and promotes the university's place in the global community. Each art crawl will offer tours of five galleries, visiting each for about 30 minutes.
The Charles B. Wang Center will offer a guided tour of our current exhibition, Saule Dyussenbina: Kazakh Funny Games and New Mythologies at 1:00 PM.
1:00 | Charles B. Wang Center
1:30 | Paul W. Zuccaire Gallery, Staller Center
2:00 | Melville Library, Lawrence Alloway Memorial Gallery, Level 1
2:30 | Melville Library, Central Reading Room, Level 1
3:00 | Simons Center Gallery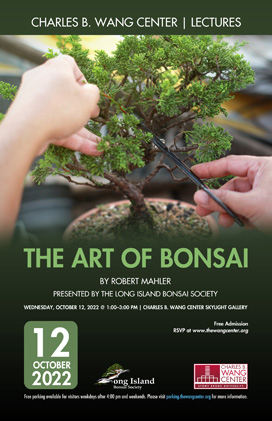 Lecture
The Art of Bonsai
By Robert Mahler
Wednesday, October 12, 2022 @ 1:00 PM – 3:00 PM
Skylight Gallery
Bonsai is an ancient Japanese art of growing and cultivating miniature trees in pots. It is a subtle and elegant form that helps connect us to nature. Learn the artistic, philosophical, horticultural, and technical techniques to design, plant, and maintain your bonsai.
Robert Mahler will present this lecture with a demonstration on how to prune, shape, maintain, and repot bonsai trees.
Co-presented by the Long Island Bonsai Society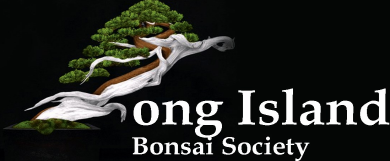 About the presenter
Robert Mahler is the president of the Pennsylvania Bonsai Society, and oversees the bonsai exhibit at the Pennsylvania Horticultural Society's annual Philadelphia Flower Show. He discovered his passion for bonsai early in life and apprenticed under the exclusive direction of world-renowned bonsai artist Susumo Sudo. He served as the curator of bonsai at the Brooklyn Botanic Garden in Brooklyn, New York (1994-2005) and currently runs Kifu Bonsai and continues to consult for horticultural institutions.
Workshop
The Art of Weaving
By Heechan Kim
Saturdays, October 8, 15 and 22, 2022 @ 1:00 PM – 4:00 PM
Connections
This workshop takes an innovative approach to traditional weaving crafts. Infused with a forward-thinking, experimental spirit, these traditional weaving techniques taught by artist Heechan Kim push the boundaries in materials, structure, and color to create an exquisite new form. Participants will learn basic weaving techniques to make a wall hanging (12 x 12 inches) that speaks to our times using 3-ply paper cord and various materials.
About the presenter
Heechan Kim applies traditional craft techniques in new contexts to reimagine and explore outcomes, and he enjoys challenging art's visual potential. Kim is currently the resident artist at the Museum of Art and Design and is an adjunct faculty member at Parsons School of Design and the City College of New York. He received an MFA in woodworking and furniture design from the Rochester Institute of Technology and a BFA in metal arts and jewelry from Seoul National University.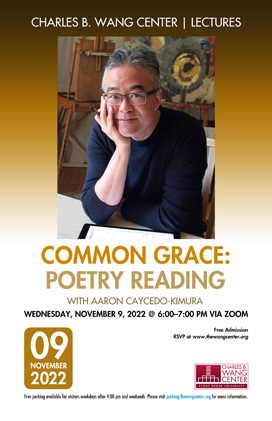 Lecture
Common Grace: Poetry Reading
By Aaron Caycedo-Kimura
Wednesday, November 9, 2022 @ 6:00 PM
Zoom
Free Admission
This reading is the launch of Common Grace (Beacon Press, 2022), a poetry collection by writer and visual artist Aaron Caycedo-Kimura. A deft, deeply felt triptych opens with his life as an artist, delves into the inherited trauma within his Japanese American family, and finally ends on the close bond between him and his wife. In these poems, the visible world radiates meaning, memory becomes palpable, and loss is acknowledged.
About the presenter
Aaron Caycedo-Kimura is the author of Ubasute, which won the 2020 Slapering Hol Press Chapbook Competition. His honors include a Robert Pinsky Global Fellowship in Poetry, a St. Botolph Club Foundation Emerging Artist Award in Literature, and nominations for the Pushcart Prize, Best of the Net, and Best New Poets anthologies. His poetry has appeared or is forthcoming in Beloit Poetry Journal, Poetry Daily, RHINO, upstreet, Verse Daily, DMQ Review, Poet Lore, The Night Heron Barks, and more. His paintings have appeared in galleries throughout Connecticut, including Chester Gallery, the John Slade Ely House, the Westport Arts Center, and City Lights Gallery in Bridgeport. He earned his MFA in creative writing from Boston University, and is also the author and illustrator of Text, Don't Call: An Illustrated Guide to the Introverted Life (TarcherPerigee, 2017).
Film
Long Island South Asian Film Festival
Saturday, November 19, 2022
Theatre
Film festival runs from 12–6 PM
VIP cocktail reception at 6–8 PM
Save the date for the first-ever Long Island South Asian Film Festival (LISAFF)! Shorts, documentaries, and feature films from India, Nepal, Pakistan, Bangladesh, Sri Lanka, Bhutan, Afghanistan, and the Maldives will take center stage at the Charles B. Wang Center.
Produced by JINGO Ventures, in association with Harbinder Singh, presented by Curry Club @ Saghar, and supported by The Mattoo Center for India Studies, this day-long festival will be hosted by the Wang Center and aims to attract cinephiles, film enthusiasts, aspiring filmmakers, and interested viewers looking for an eclectic mix of films. The finely curated program will include never-before-seen films that will make their Long Island premieres during the festival.
Visit https://www.longislandsaff.com/ for more info.