Skip Navigation
Events at the Wang Center
FREE Asian Films List:
On view online from May 4 through June 30, 2020
The Charles B. Wang Center and the Korean Cultural Center New York are offering 14 Asian films to be viewed online for FREE! Don't miss this great opportunity to view all four Asian animation films and ten Korean films online during this limited screening from May 4 through June 30, 2020.
Patema Inverted
(2013 | 98 minutes | Animation | Directed by Yasuhiro Yoshiura)
From visionary director Yasuhiro Yoshiura ( Time of Eve ) comes a perspective-twisting sci-fi adventure about two kids separated by opposite gravities. Patema lives in an underground world of tunnels, the long-abandoned ruins of a giant industrial complex. Age is a student on the surface world, living in a totalitarian society whose compliant population has been brainwashed against the "sinners who fell into the sky." When he spies Patema hanging upside-down from a tree, he pulls her down to safety, struggling with all his might to keep her earthbound as she grips on to him for dear life. Together, their weights cancel each other out, and once they master the art of navigating competing gravitational forces, they set out to evade the leaders of Age's world and discover the secret that keeps their worlds apart.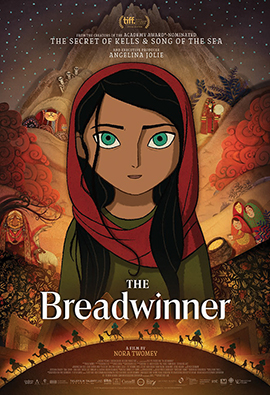 The Breadwinner
(2017 | 94 minutes | Animation | Directed by Nora Twomey)
From executive producer Angelina Jolie and the creators of The Secret of Kells and Song of the Sea comes the Academy Award–nominated feature based on Deborah Ellis's bestselling novel. Parvana is an 11-year-old girl growing up under the Taliban in Afghanistan in 2001. When her father is wrongfully arrested, Parvana cuts her hair and dresses like a boy in order to support her family. Working alongside her friend Shauzia, Parvana discovers a new world of freedom–and danger. With undaunted courage, she draws strength from the fantastical stories she invents, embarking on a quest to find her father and reunite her family. Equal parts thrilling and enchanting, The Breadwinner is an inspiring and luminously animated tale about the power of stories to sustain hope and carry us through dark times.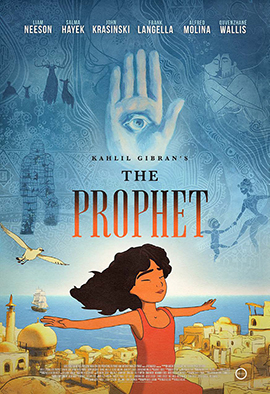 Kahlil Gibran's The Prophet
(2014 | 85 minutes | Animation | Directed by Roger Allers)
The Prophet, by celebrated Lebanese author Kahlil Gibran, is among the most popular volumes of poetry ever written, with over 100 million copies in forty languages sold since its first publication in 1923. Gibran's timeless verses are given enchanting new form in this painterly cinematic adventure about freedom and the power of human expression.
This breathtaking animated feature, produced and spearheaded by Salma Hayek, was an official selection at the Cannes Film Festival and made its North American premiere at the Toronto International Film Festival. Written and directed by Roger Allers ( The Lion King), the film intersperses Gibran's elegant poetry within stunning sequences by a host of award-winning animators from around the world. It also features music from Damien Rice, Glen Hansard, and Yo-Yo Ma.
Tales of the Night
(2011 | 84 minutes | Animation | Directed by Michel Ocelot)
From renowned animator and storyteller Michel Ocelot ( Kirikou and the Sorceress, Azur & Asmar) comes a dazzling and magical film that is certain to delight children, families, and animation fans of all ages. Silhouetted characters are set off against exquisitely detailed backgrounds bursting with color and kaleidoscopic patterns. Tales of the Night weaves together six fables, each unfolding in a unique locale, ranging from Tibet to medieval Europe, from an Aztec kingdom to the African plains, and even to the Land of the Dead. In Ocelot's storytelling, history blends with fairy tale as viewers are whisked off to enchanted lands full of dragons, werewolves, princesses, sorcerers, and enormous talking bees. Each fable ends with its own ironic and surprising twist.
Korean Cultural Center New York: Movie Night at Home
Enjoy a selection of 10 hit Korean films available for a limited screening online!
Spring 2020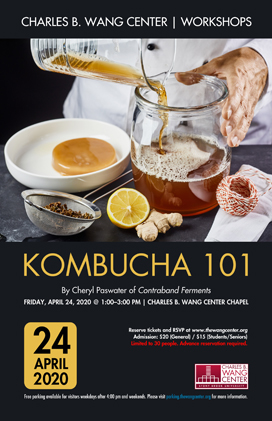 Workshop
Kombucha 101
By Cheryl Paswater of Contraband Ferments
Friday, April 24, 2020 @ 1 PM
Charles B. Wang Center Chapel
The event is canceled, but we are offering a virtual workshop as an alternative. View the video below.
Fermentation is one of the oldest food processing methods still used today. Scientifically known as zymology, it is the conversion of carbohydrates into alcohols, carbon dioxide, yeast, or bacteria. Beer, miso, sourdough, kefir, kimchi, and many other delicious foods we love are the products of fermentation. Cheryl Paswater will cover the basic science behind making kombucha and teach you how to make it yourself. All participants will take home a starter kit!
About the Instructor
Cheryl Paswater is a certified fermentationist, educator, and health coach, who after a near-death experience turned to holistic medicine for help. After radical diet and lifestyle changes, she started teaching others about the science and benefits of fermentation, Old World food preservation, healthy eating habits, sustainable food, and holistic health. Based in Brooklyn, Paswater runs a popular fermentation project and community-supported agriculture group called Contraband Ferments ( www.contrabandferments.com).