Skip Navigation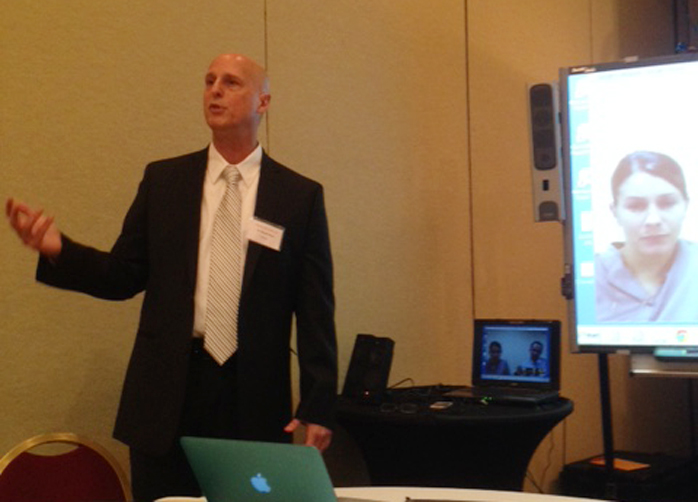 EDL Faculty and Alumnus Take the Stage at School Administrators Conference
Thomas Short, Andrew Greene, Joan Daly-Lewis and John Genova '14 Presented
Current and past EDL faculty and a recent alumnus represented their school districts and Stony Brook University's Educational Leadership Program at the fall conference of the Long Island Association for Supervision and Curriculum Development (LIACSD). Hundreds of building and district leaders throughout Long Island attended the conference, including Stony Brook faculty, staff and at least 15 members of the EDL Fellows program.
The conference theme was "The Essential Core: Quality Learning for All." Three EDL faculty and a recent alumni delivered five presentations, all of which are described below.
Dr. Thomas Short is the Director of Math, Science, and Instructional Technology K-12 for the Westhampton Beach UFSD, a 1:1 computing school district. His presentation was titled "Bring Your Own Device (BYOD) Programs in Education." In his session, he explored the successes and challenges of implementing BYOD programs in K-12 schools.
Andrew Greene is the principal at Candlewood Middle School in the Half Hollow Hills School District and is the current co-president of the Suffolk County Middle Level Principal Association. His presentation, "Observing Instruction with an Understanding by Design Mindset," explored the connection between Danielson's Framework for Teaching and the Understanding by Design protocols, and demonstrated how these two models complemented each other.
Dr. Joan Daly-Lewis has been a principal, assistant superintendent, staff developer, and school improvement specialist who has assisted over 60 districts in articulating and pursuing their goals and enhancing professional skill sets. A LIACSD past-president, Dr. Daly-Lewis delivered two presentations at the conference. The first, "Fostering Teacher Reflection in Post-Observation Conferences," provided three concrete, replicable ideas for engaging teachers in a collaborative analysis in their post-observation conferences. The second, "The Power of Explicit Learning Targets to Unleash Student Learning," offered a compelling case for all educators to focus on providing students with daily, lesson-specific learning targets.
Recent EDL graduate John Genova, a mathematics teacher at North Babylon High School and doctoral candidate at St. John's University, co-presented "The Cloud-based School Community." This session described how to achieve real-time collaboration on common assessments, use Google forms for test analysis, and foster constant collaboration on curriculum and data-driven instruction.
Everyone at the EDL program is proud to have these educators represent Stony Brook as they share their expertise within the K-12 community.
Dr. Thomas Short presented "Bring Your Own Device Programs in Education". Photo credit: Craig Markson