Skip Navigation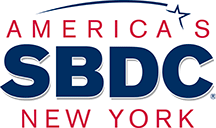 Small Business Development Center at Stony Brook University
Convenient Locations in Suffolk County
Directions To:
Stony Brook Small Business Development Center
Research and Development Park,
Research and Support Services (Building 17), Room 146
Stony Brook University, NY 11794-6016 
Using GPS?  Enter 1512 Stony Brook Road, which will bring you to the entrance of the Research and Development Park.  Follow the last bullet point in the directions below to find the Research and Support Services Building.  
CLICK HERE FOR DIRECTIONS ON GOOGLE MAPS. 
For Google, or other GPS systems, use Saint James instead of Stony Brook.
FROM THE LONG ISLAND EXPRESSWAY:
• LIE Exit 62 North (Route 97, Nicolls Road.) Proceed for about 7 miles.
• Make a left onto Nesconset Highway (Route 347.) Travel west for about one mile.
• At the second traffic light, make a right onto Stony Brook Road.
• Continue north for about 2 miles, passing the University entrance traffic light.
• Make a left into the entrance to the Research and Development Park.
• Travel one mile (passing the CEWIT Building on the right) and Building 17 will be on your left. Come into the left-hand entrance with the blue awning. Once inside, go slightly to the right and look for the signs for the Small Business Development Center.
FROM NORTHERN STATE PARKWAY:
• Take Northern State Parkway to the end, and bear left at the fork in the road (just past the State Office Buildings on the right.) Road is now Nesconset Highway
(Route 347.)
• Continue for about 8 miles, passing Smith Haven Mall on your right.
• Pass the traffic light at the Red Lobster & Friendly's, get into the left lane.
• Make a left at the next light, which is Stony Brook Road (see Duane Reade on the northwest corner, Hess gas station on the northeast corner.)
Follow directions, above, "From the L.I. Expressway."

Link to Google Maps                        Link to campus map                         Link to Written Directions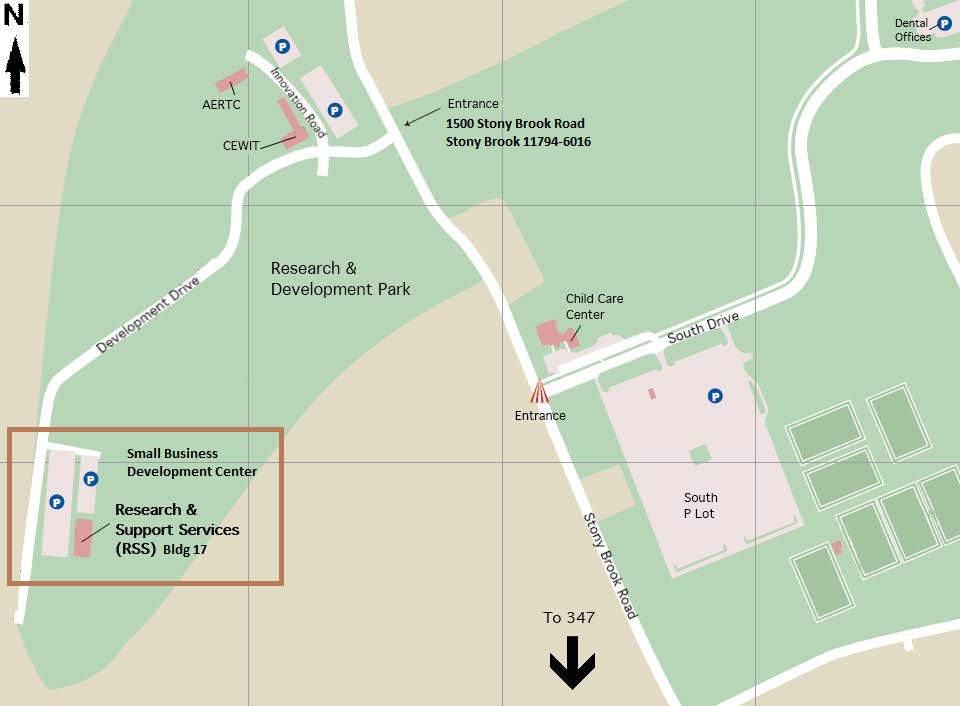 Satellite Offices:
To make our services closer to you, counselors keep office hours at several satellite locations.  Days of the week vary so please call 631-632-9070 to schedule an appointment.  You will receive directions to the location with your appointment confirmation.

  Southampton: 
Stony Brook Southampton
182 Chancellors Hall
239 Montauk Highway
Southampton, NY  11968

Calverton:
Stony Brook University Incubator at Calverton
and Agriculture Consumer Science Center (ACSC)
4603 Middle Coutry Roadilliam Floyd Parkway
Calverton, NY 11933  
  Smithtown: Smithtown Public Library
1 N Country Rd
Smithtown, NY 11787
Shirley: Mastics-Moriches-Shirley Public Library
William Floyd Parkway
Shirley, NY

Farmingville: Bookhaven Town Hall, Women's Services
Independence Hill
Farmingville, NY 
Brentwood: Brentwood Public Library
Second Avenue
Brentwood, NY
Patchogue: Patchouge-Medford Library
East Main Street
Patchogue, NY