Skip Navigation
Alumni News
---
2004
09/21/2004 Lauterbur Visit
Several Alumni took the occasion of Paul Lauterbur's visit to the campus as an opportunity to visit the department. In particular, Barry Sokol, Al Porter and Bill Rooney (Ph.D., 1990, Springer) . (If any others were there, please let us know and we'll be glad to add you to the list.
Al Porter's recent update is on this page.
Barry Sokol (B.S., 1968) provides the following update:
He is a software engineer at ITT Avionics. He is married (to Ricki, who has a BA from Stony Brook in 1969) and has two children. He obtained a Ph.D. in Chemistry from CUNY in 1973, and was engaged in research and teaching at City College, Emory University and the University of Texas Health Science Center at Dallas before his current position. He lives in Morris Plains, NJ.
Here is a picture of Barry Sokol with Paul Lauterbur.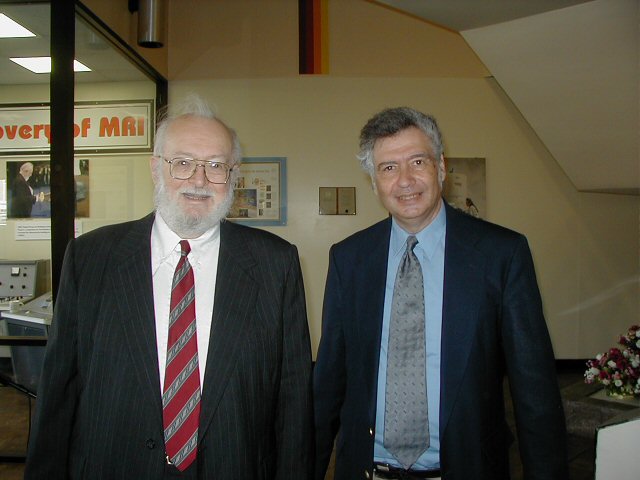 Here is a picture of Bill Rooney talking to Bill Fowler and Arnold Wishnia.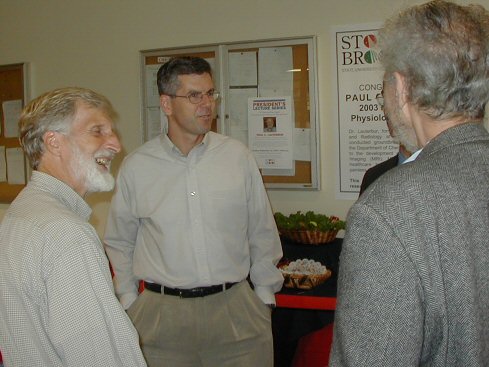 09/14/2004 Dick Ward (Ph.D., 1969, Haim) writes:
I spent two years in the Army and 33 yrs at Aberdeen Proving Ground in MD as an Army civilian scientist.
My home address is:
1332 Sweet Briar La
Bel Air,MD 21014.
09/10/2004
Al Porter (B.S., 1967)
My professional and personal life continue to be wonderful. I recently completed a second stint as acting Vice President, a clear reminder that I do not aspire to the life of the executive. At the current time I am heading Mercer Community College's Middle States reaccreditation effort. I've done that before and I frequently participate in the process as a member of evaluation teams to other institutions. This time the task feels more overwhelming, especially as an appendage to my normal responsibilities as head of the most popular division of the college. One-quarter of Mercer's 12,000 students want a health career or profession built on the foundation of the natural sciences. On the science side, our chemistry courses are thriving and we have a young and active biology faculty. Our best students can elect an exciting research option with a neighboring institution or agency (Rider, College of NJ, Princeton U, NJ Forensics Lab participate). I don't know of any community college that offers such a program. The health programs (especially nursing, radiography, med tech, phys therapy asst) are booming, with clinical affiliations in 10 hospitals and another 40 smaller agencies (e.g. physical therapy clinics) across New Jersey.
Marion and I now live on the PA border overlooking the Delaware River, with aesthetically pleasing vistas and generous opportunities for cycling (I'm no Lance, but I do log serious miles) and kayaking (sans the Eskimo roll). Our two kids now have two each themselves, which makes for fun family gatherings. And we love to travel, something I have postponed too often because of work. Ditto my other interests (I was an active potter for 20 years, but my studio has been fallow for more almost a decade). All will change in another year. I gave the president notice in June that I plan to step down from my administrative position by February. Although I agreed to stick around in a less ambitious capacity, I am determined to carve out more time for myself.
Al Porter, Dean, Science & Allied Health, 609-586-4800, ext 3384
09/02/2004
A special invitation is extended to Chemistry Alumni to a ceremony to rededicate the display of the first machine used in Dr. Lauterbur's research and an official replication of the Nobel medal awarded for the discover of MRI. The ceremony will take place at 11:30 AM on Tuesday, September 2, in the lobby of the Chemistry Building. Please RSVP to Rita Nicholaides at (631) 632-7884.
08/19/2004 Stuart Rosenblum (Ph.D., Ron Bates, 1987)
The American Chemical Society has named Stuart Rosenblum one of its "Heroes of Chemistry" for 2004. The award recognizes his role in the discovery of Zetia, a novel cholesterol reducing agent. Dr. Rosenblum is a Research Fellow at the Schering-Plough Research Institute
06/30/2004 Ashis Mukherjee (Ph.D, Bill le Noble, 1992)
I am a proud alumni of Stony Book Chemistry. Completed my PhD in the year 1992. Currently, I am the chief Scientific Officer of a Contract Research and Manufacturing company out at the southern part of India.
My name is there in the list of alumni but the email address is wrong. If you correct the address, it will be nice.
It has helped me get connected to a few of my friends in the past and I would like it to be updated if possible.
Thanks and regards,
Dr. Ashis K Mukherjee
Chief Scientific Officer
R&D Center, Shasun Chemicals and Drugs Limited
60 Velacherry Road, Chennai 600042, INDIA
Phone : 91-44-22451361, 22451010, 22445568, 69
Direct Phone : 91-44-22453717; Fax: 91-44-2244-8570
Mobile: 98410-02462; Email: ashis@shasun.com
06/04/2004 Brian Kuhlman (Ph.D., Dan Raleigh, 1998)
Brian has been named a 2004 Beckman Young Investigator Awardee. Each recipient will receive $240,000 over a three-year term to conduct innovative research. Brian did a postdoc at the University of Washington and is currently an assistant professor in the Department of Biochemistry and Biophysics at the University of North Carolina at Chapel Hill.
05/21/2004 Kenneth Aron (Ph.D., Phil Johnson, 1979)
Ken, who is Vice President for Research and Development at Abaxis Inc presented the commencement address to the graduates at this year's graduation convocation.
05/01/2004 Chris Cahill (Ph.D., Parise, 1999)
Chris Cahill, who is Assistant Professor of Chemistry at the George Washington University, returned to Stony Brook to present a seminar to the Center for Environmental Molecular Sciences on April 29.
01/20/2004 Hubert Wojtasek (Ph.D, Prestwich, 1995)
I graduated from the Department in 1995. I haven't received the Departmental newsletter for quite a while, so I guess my address is outdated. I have been moving quite a bit in the past 8 years. .......
Hubert Wojtasek
Associate Professor of Biochemistry
Institute of Chemistry
University of Opole
ul. Oleska 48
45-052 Opole
Poland
phone: +48-77-454-5841, ext. 2233 or 2545
fax: +48-77-441-0740
e-mail: wojtasek@uni.opole.pl
http://www.uni.opole.pl/chemia/inst/biochemia/wojtasek.htm
01/02/2004 Maria Tzamarioudaki (Post Doc, 1988, Ojima)
In September, 2003, as part of a more extensive tour, Iwao and Yoko Ojima visited the resting place of Maria Tzamarioudaki in Crete, and he has established a web site about the visit. The tour included visits to the University of Athens, the Technical University of Athens, and the University of Tessaloniki (Maria's Alma Mater) to give a presentation about our Granduate Chemistry Program and the Maria Tzamarioudaki Fellowship. The fellowship was established to commemorate Maria's loss of life in the Swissair airline accident in 1988. The fellowship program is described in this brochure.