Upcoming Fall 2018 Workshops
There are no more workshops for fall 2018. Please check back later for new spring 2019 programs.
---
Past Fall 2018 Programs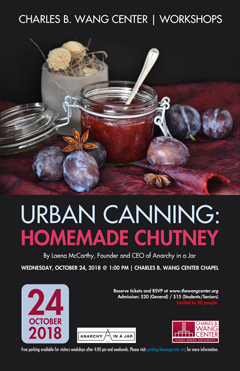 Urban Canning: Homemade Chutney
By Laena McCarthy, founder and CEO of Anarchy in a Jar
Wednesday, October 24, 2018 at 1:00 PM
Charles B. Wang Center Chapel
In this demonstration-based workshop, you'll learn the simple steps to making homemade jam, from cooking and jelling to processing and sealing. This workshop will also cover the tools and tricks of food preservation, food safety and shelf-life, sugar-free methods, and an overview of the history of canning. Finally, we'll sample the delicious fruits of our labor, tasting the plum chutney we've made as a group. You will also receive recipes, tips, and a four-ounce jar of chutney to take home.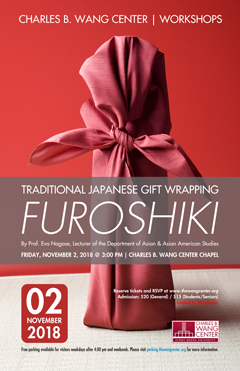 Traditional Japanese Gift Wrapping: Furoshiki
By Prof. Eva Nagase, Lecturer of the Department of Asian & Asian American Studies
Friday, November 2, 2018 at 3:00 PM
Charles B. Wang Center Chapel
A furoshiki is a traditional Japanese cloth used to wrap all sorts of objects, often in elaborate shapes. In Japanese culture, the furoshiki functions as a method of communication, with its many knots and ties representing the bonds between people. Commonly used to pack lunches and wrap gifts, furoshiki is a fun and eco-friendly way to wrap your holiday gifts. Join us to learn how to use cloth to wrap a gift for that someone special!
Dress Up! Traditional Korean Wedding Garments
Wednesday, November 14, 2018 at 3:00 PM
Charles B. Wang Center Chapel, Main Lobby
The workshop will offer a hands-on experience of the traditional Korean costume, the hanbok, in particular those used in wedding ceremonies. A master artisan and a scholar of traditional Korean dress will discuss the cultural significance of the elegant garments and the wedding ceremonies that are still practiced in Korea today. Participants will also learn the meanings behind the colors, embroidery, forms, and symbols used in hanbok.
The workshop will be followed by a traditional Korean wedding procession in which participants will take part.
The workshop is sponsored by the Hanbok Advancement Center of the Korean Craft and Design Foundation in South Korea.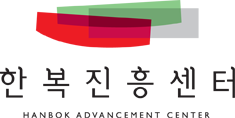 Persian Mulberry Confections: A Sweet Intro to Persian Cooking
By Azita Houshiar
Friday, December 7, 2018 at 1:00 PM
Charles B. Wang Center Chapel
Azita Houshiar is an Iranian American writer, illustrator, and cooking instructor who will share her knowledge of Persian food and culture by offering a hands-on culinary workshop. In this class, you will be taught how to make a delightful Persian sweet called tut. This staple confection is often offered at weddings, celebrations, and other festive gatherings. It is a bite-sized nibble made with ground almonds, sugar, cardamom, and rosewater mixed into a dough and formed into the shape of a mulberry. The ingredients are few and simple, and the end result is a beautiful, decidedly toothsome treat!
---
Past Programs
Please visit here to view the past programs.