Upcoming Festivals
The Charles B. Wang Center celebrates Asian cultural festivals with great flourish and fanfare. The Charles B. Wang Center takes pride in working with community leaders on campus to provide excellent resources for mounting cultural festivals featuring diverse Asian ethnicities.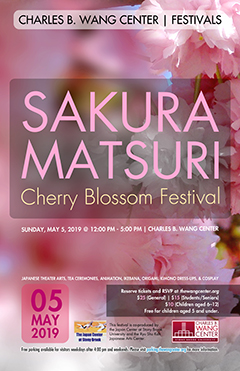 Sakura Matsuri: Cherry Blossom Festival!
Sunday, May 5, 2019
12:00–5:00 PM
Charles B. Wang Center
Admission:$25 (General) | $15 (Students/Seniors 60+) | $10 (Children ages 6–12)
Free for children ages 5 and under
Advance reservation is required.

Admission includes all hands-on workshops and theater presentations.
Welcome spring to Long Island with the blooming of sakura (cherry blossoms), the sounds of taiko drums, and a wondrous array of Japanese cultural exhibits at the Wang Center. The Wang Center will provide many exciting activities, including ikebana flower arrangement, tea workshops, manga drawing, origami paper folding, kimono dress-ups, and cosplay (costumed role-play of a Japanese manga character) for all ages. Please join us in your favorite manga character costume.
Space is limited for the performances and workshops, so make your reservation fast!
View the schedule for the festival here.
This festival is co-produced by the Japan Center at Stony Brook University and the Ryu Shu Kan Japanese Arts Center. Please check their website for more information about the festival.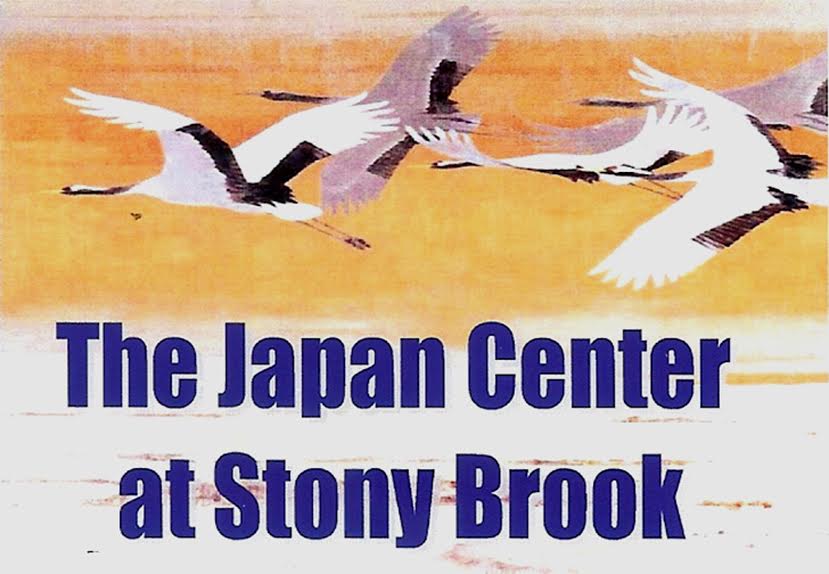 ---
Past Festivals
Nowruz: The Persian New Year Celebration
Thursday, February 28, 2019 @ 1 PM
Charles B. Wang Center Chapel
Norwuz (literally meaning "New Day") is the Iranian New Year, which commences at the exact moment of the spring equinox and is celebrated for a full two weeks. The iconic heart of Norwuz is the custom of creating a beautiful still-life table setting called Haft Seen (a Persian translation of "Seven S") that includes at least seven items that begin with the letter "S" in Persian.
Azita Houshiar, an Iranian American writer, illustrator, and cooking instructor, will invite our audience to gather around the Haft Seen to explore the history and traditions of this charming ancient fête while partaking of Persian teas and sweets to celebrate the transition from the slumber of winter to the splendor of spring and the coming of the Persian New Year.
CommUniversityDay
Saturday, September 22, 2018 at 12–4 PM
Academic Mall at SBU
Charles B. Wang Center Skylight Gallery
CommUniversity Day is a free, campus-wide open house designed to showcase the best of Stony Brook University and to build better campus and community relations. As part of this event, the Wang Center will offer a tour of our current main exhibit, Virtual Journeys: Chinese Buddhist Art and Architecture in the Digital Era, which explores hundreds of Buddhist caves and cave temples in China and the art and history within them using virtual reality technology.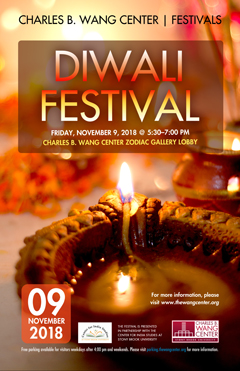 Diwali: Lights Up!
Friday, November 9, 2018
5:30–6:30 PM Worship ritual
6:30–7 PM, Procession of lights
Charles B. Wang Center Theatre
Free Admission!
Please note that the location has been changed to Theatre.
Diwali is a festival of lights that marks the victory of good over evil in Hindu mythology. This joyous festival is celebrated by South Asians all over the world and is India's most important holiday. People celebrate and wish for blessings of good fortune by lighting millions of lamps and exchanging sweets. Please join us for a puja (a traditional worship ritual) and our procession of lights, followed by Indian sweets.
---
Past Programs
Please visit here to view the past programs.