Skip Navigation
Research Highlights
Evan Trommer, Physics Senior, URECA Researcher of the Month
Evan Trommer is a senior majoring in physics and mathematics who has been exploring experimental plasma physics under the mentorship of Dr. Navid Vafaei-Najafabadi (Physics & Astronomy). Evan participated in the 2022 URECA summer program, and presented a poster on "Probing the Electromagnetic Field Structure in Plasma Wakefields Using Relativistic Electrons" at the Summer Symposium on August 4.
Evan Trommer.
Currently he is engaged in doing follow-up experimentation on this work at the Accelerator Test Facility at Brookhaven National Lab. On campus, Evan has been active in the Society of Physics Students as Deputy Secretary and currently as President of the club. He plans to pursue graduate studies in physics.
Study Sheds New Light on the Nature of Dark Matter
In a recently published study, Drs. Rosalba Perna, Rouven Essig, Peizhi Du, and collaborators propose a new way to search for novel particles not contained in the current standard model of particle physics.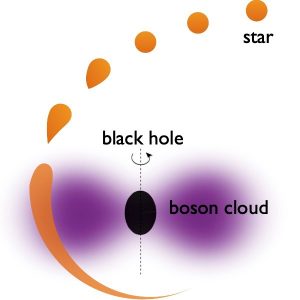 Image courtesy of Peizhi Du.
The new method could help illuminate the nature of dark matter.

"These new particles could be the dark matter, and thus the work could open up windows into a complex dark sector that hints toward more fundamental descriptions of nature such as string theory."

- Dr. Perna
The article, published in Nature Communications, may be viewed here.
Photocatalyst Surface Cooperativity Vital for Extracting H2
Drs. Cyrus Dreyer, Marivi Fernández-Serra, Matt Dawber, and collaborators have revealed the mechanism behind the splitting of water at the surface of strontium titanate (SrTiO3).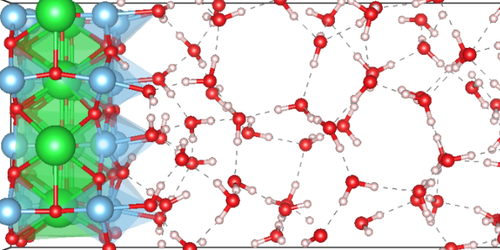 Water at the surface of the SrTiO3 can use the energy of an incoming photon to split into hydrogen (H2), an eco-friendly fuel source, and oxygen.
Similar methods of splitting water have faced difficulties achieving the needed efficiency to be practical, and the exact mechanism of the splitting was not well understood. This new research could pave the way for more systematic searches of efficient photocatalyst surfaces.

The published article may be found here.
Research Groups and Connected Research Centers