Skip Navigation
Research Highlights
Photocatalyst Surface Cooperativity Vital for Extracting H2
Drs. Cyrus Dreyer, Marivi Fernández-Serra, Matt Dawber, and collaborators have revealed the mechanism behind the splitting of water at the surface of strontium titanate (SrTiO3).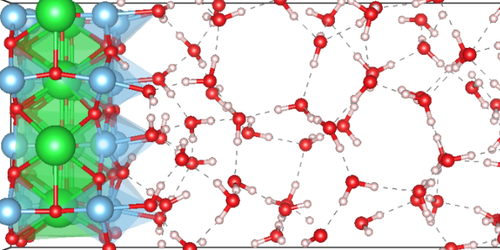 Water at the surface of the SrTiO3 can use the energy of an incoming photon to split into hydrogen (H2), an eco-friendly fuel source, and oxygen.
Similar methods of splitting water have faced difficulties achieving the needed efficiency to be practical, and the exact mechanism of the splitting was not well understood. This new research could pave the way for more systematic searches of efficient photocatalyst surfaces.

The published article may be found here.
Discovery Sheds New Light on Photonic Quantum Technologies
In a paper published in Nature Physics, a research team led by Dominik Schneble, a professor in the Department of Physics and Astronomy at Stony Brook University, reports the realization of novel quasiparticles made entirely out of ultracold atomic matter,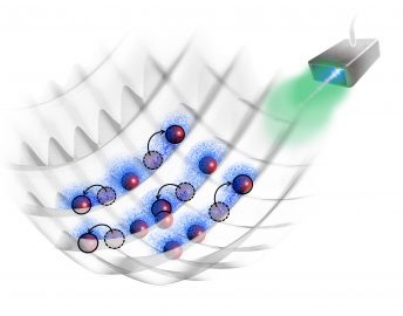 Image courtesy of Alfonso Lanuza/Schneble Lab/Stony Brook University.
The new research allows for studies of such systems with the high flexibility and control of an analog quantum simulation, promising new experimental insights into the physics underlying some of the most important QIST platforms.
The published article may be found here.
New Insights on Cold Ion-Neutral Processes
Dr. Jesus Perez Rios, a new faculty member at the Department of Physics and Astronomy from Stony Brook University, and collaborators find evidence of a reaction between a single ion and molecules at temperatures below 100 µk.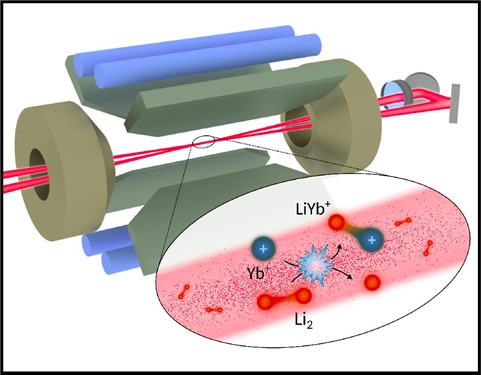 Image courtesy of H. Hirzler/University of Amsterdam.
The observed chemical reaction showed that ion-molecule collisions lead inexorably to forming a molecular ion as a product state
The highlighted work, published in Physcal Review Letters as featured in physics with editors' suggestion, may be viewed here.
Research Groups and Connected Research Centers