Skip Navigation
Parking & Directions  


Parking

Hang Tags & Garage Passes 
for OLLI members can be obtained beginning
Wednesday, August 31, 2022 after 1:00pm

. 

*Parking Update
Fall 2022*

OLLI parking has become less complicated and we are so excited to share this news with our members! 
More Information Below
---
West Campus Parking Office

Location: Stony Brook Union - Student Financial Services Office, 2nd floor

Hours of Operation:

Monday 8:30am - 5:00pm
Tuesday 8:30am - 3:30pm
Wednesday - Friday 8:30am - 5:00pm

Bring the following information with you:

OLLI welcome letter with your SBU ID number -OR- your SBU ID
Year, Make, Model, & License Plate # of your vehicle

Contact: (631) 632-2886
                        parking@stonybrook.edu
OLLI members have 3 available options for parking on Stony Brook University Campus:
1. OLLI Hang Tags: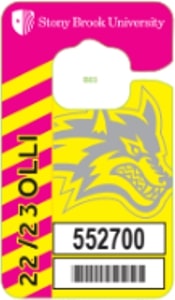 Cost: $100 Annual Hang Tag (Valid 9/1/22 - 7/31/23) or $50 Fall or Spring Term Hang Tag (Valid Fall 9/1/22 - 12/31/22  -or-  Spring 1/1/23 - 7/31/23)
The OLLI Hang Tag allows you to park in

any metered space

on the West Campus as an OLLI member with a valid tag. 

All cars that are parked in campus lots require the appropriate hang tag. 

Metered lots are enforced Monday-Friday from 7am-7pm

Members who park on campus without a hang tag or without paying a meter fee will be ticketed

2. Paying to Park: 
SBU Garage Parking Cost: OLLI members can purchase a monthly garage pass at a discounted rate of $22.72/month

You may park in any Stony Brook University parking garage for a fee. The University parking garage closest to OLLI workshop locations is Administration Garage. 

Parking garages are enforced every day.

You must have an SBU ID card to park in any garage on campus.




Metered Lots: If you do not have an OLLI Hang Tag you are still able to park in any Stony Brook University metered lot on the West Campus for a fee of $2.50/hour, payable at the lot meter stations with a debit or credit card only  (no cash is accepted).

Metered lots are enforced Monday - Friday from 7am - 7pm. Outside of those hours, there is no fee to park in these lots.


3. Park in designated spaces reserved for persons with disabilities:
Use your Disabled Parking Permit issued through your town, county or state agency and park in any designated space at no cost to you.

This does not apply to the Administration Parking Garage. All parking spaces reserved for persons with disabilities within the parking garage require paid access to the garage.


---
Parking History:
Effective

as of Fall 2019 OLLI Annual Hang tags have been reduced from $200 down to $100.

Effective as of Fall 2022 OLLI at SBU Parking has been simplified.
UPDATED PARKING MAPS FOR FALL 2022
---
Parking Reminders
From the University Transportation and Parking Department
South P Lot is now a designated commuter student parking lot only, and will be strictly enforced as such.  A Commuter Student hangtag will need to be displayed.
The Office of Parking Services is activating an annual renewal requirement.
Resident and Commuter student registration began on August 20. Faculty and Staff renewal will begin in December.
Hang tags must be clearly displayed for all designated parking areas.
If a hang tag is not displayed or does not match the designated area in which the vehicle is parked, a citation will be issued.
Parking permits are not transferable; each tag is numbered for easy identification, and can only be used by the permit owner.
WANT MORE HELP WITH DIRECTIONS? 
Use the Stony Brook University Interactive Map to help you find your way around campus!