Skip Navigation
E-News
Read our latest e-newsletters with information on our events, grants and awards received by our students and faculty.
---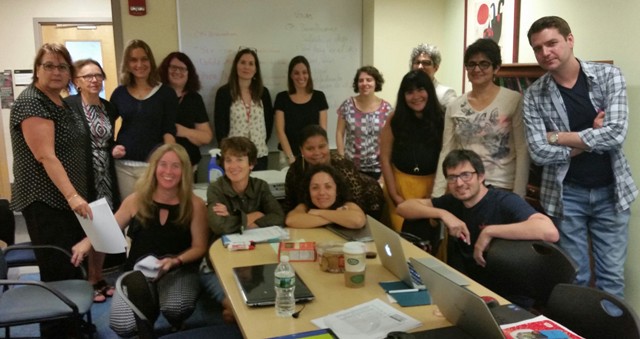 ---
News Archive
Congratulations to our PhD candidate José (Benny) Chueca and Prof. Lena Burgos Lafuente

They have received the 2018 Graduate Fellowship and Faculty Research Award

Congratulations to our PhD candidate Gabriel Rudas-Burgos

He was awarded the Stony Brook University Cornell School of Criticism and Theory Fellowship for Summer 2017!

Congratulations to our PhD candidate Javier Gastón-Greenberg

Javier was awarded a Stony Brook Public Humanities Fellowship for 2017-18! See more about his project .

Congratulations to our Joseph M. Pierce!

The 19th Century Studies Section of the Latin American Association of America (Lima 2017) gave his paper titled "Regulating Queer Desire: Carlos O. Bunge's La novela de la sangre," Honorable Mention for its Best Article Award.

Prof. Pierce receiving his award in Lima during the 2017 LASA Congress.

Prof. Daniela Flesler wins a 2016-17 National Endowment for the Humanities (NEH) Fellowship

Our colleague in Hispanic and Literature at Stony Brook University, Prof. Daniela Flesler has won a 2016-17 National Endowment for the Humanities (NEH) Fellowship in order to complete the writing of her book manuscript The Memory Work of Sepharad: New Inheritances for Twenty-First Century Spain, co-authored with Adrián Pérez Melgosa. This book explores the phenomenon of the "re-discovery" of Spain's Jewish heritage. Through oral interviews, visits to museums, newly reconfigured "Jewish quarters" and Jewish memory sites, literature, cultural performances, tourist promotional materials and speeches from public figures, it explores the recent cultural and political initiatives that seek to memorialize and re-connect Spain with its Jewish past in the context of the long history of Spain's ambivalence towards its Jewish heritage.

Visiting Scholars from Brazil in the Dept of Hispanic Languages and Literature at Stony Brook Univ (spring 2017)

Bruna Tella Guerra (UNICAMP)

Doctoral student in Theory and History of Literature at the State University of Campinas (UNICAMP), Brazil. Her research focuses on the political implications stemming from the work of the Cuban writer Leonardo Padura. To reach this aim, she studies even the recent positive reception of the author in Brazil, like his published novels, while examining how they seek to rethink many of the discourses and narratives of the Brazilian and Latin-American left. She will spend one month doing research at Stony Brook during the Spring 2017 semester.

Fábio Feltrin de Souza (UNICAMP and UFFS)

Fábio Feltrin is a post-doctoral fellow at the State University of Campinas (Unicamp), Brazil, and a Professor of History at the Universidade Federal da Fronteira Sul (UFFS), in the state of Santa Catarina, Brazil. Professor Feltrin will be working on his post-doctoral project, titled "Modernity, War, and Bio-politics: the nineteenth-century transformation of the Argentine pampas into a desert", which deals with visual representation of the Argentine pampas during the war of extermination waged by the Argentinean state against the indigenous populations of southern Argentina, during the last decades of the nineteenth century. During his two-month stay, Professor Feltrin will be working with Professor Javier Uriarte. He will do research at the Stony Brook Library, as well as the New York Public Library and the Library of the Museum of Modern Art. He will be giving a lecture, open to the university community, in the Department of Hispanic Languages of Literature, about his post-doctoral research project, and its progress during his research at Stony Brook.

Humanities Institute Fellowship 2016

Congratulations to our graduate student José Chueca (Benny) on winning the summer fellowship from the Humanities Institute at Stony Brook to attend The School of Criticism and Theory at Cornell University (2016)

ANOTHER SUCCESSFUL SEMESTER OF CAFÉ LATINO

Thanks to our students, faculty and friends! (May 2016)

Prof. and chair Kathleen Vernon and Prof. Daniela Flesler, director of undergaduate studies (in the middle), with undergraduate students Mayra Salazar and Cathy Rico, after the department's presentation at Red Carpet Day, Sunday Nov 8, 2015. Thanks to all!

Prof. Peter Hulme (Univ Essex) is Visiting Scholar in Hispanic Lang and Lit at Stony Brook University for Fall 2015

Prof. Peter Hulme, Professor in Literature at the University of Essex, is Visiting Scholar this semester in our Department at Stony Brook. He will be giving a talk in our Department and doing research in Melville library and the New York area.

Prof. Hulme has recently completed a critical edition of the previously unpublished autobiography of the Jamaican writer, W. Adolphe Roberts (1884-1962), published by the University of the West Indies Press (2015). He is currently working on a book provisionally titled The Dinner at Gonfarone's: Pan-American Writing in New York in 1919, which looks at the relationships between Hispanic and Anglo writers in New York in the early twentieth century.

He is author of very influential books in colonial and Caribbean studies, such asColonial Encounters: Europe and the Native Caribbean (1986). View comprehensive list of his publications with links to free PDFs

Prof Javier Uriarte in the news at the State University of Campinas (UNICAMP), Brazil

"O professor Javier Uriarte, do Departamento de Línguas e Literaturas Hispânicas, da Stony Brook University (SBU), de Nova York (EUA), vai oferecer um minicurso aos estudantes de graduação e pós-graduação do Instituto de Estudos da Linguagem (IEL). Especialista em cultura e literatura latino-americana, com ênfase no Brasil dos séculos 19 e 20, o professor vem à Unicamp como uma das etapas de um acordo de cooperação que vem sendo construído entre as duas instituições. Com o tema "Fazedores de desertos: guerra, espaço e linguagem na América Latina", o curso será oferecido de 17 a 21 de agosto, das 17h30 às 19h30 no próprio IEL (Vejadetalhes e como se inscrever). O evento é organizado pelo professor Marcos Aparecido Lopes, coordenador de Graduação do IEL. Uriarte destaca que vai abordar, no curso, o papel da guerra na construção dos aparatos burocráticos e militares do estado em diferentes países. "Numa palavra, estudaremos a relação entre guerra e modernização", descreve. Os problemas de representação relacionados com a guerra também serão estudados por meio de ensaios, crônicas, diários de viagem e textos de ficção. O professor falou sobre o tema em entrevista ao Portal Unicamp."

Dr. Thiago Nicodemo (UERJ, Brazil): Visiting Scholar in our Dept of Hispanic Lang and Lit at Stony Brook University

Dr. Thiago Nicodemo is Professor of Brazilian History at the Universidade do Estado do Rio de Janeiro (UERJ) is a specialist in the work of Sérgio Buarque de Holanda and author of two books: Urdidura do Vivido. Visão do Paraíso e a Obra de Sérgio Buarque de Holanda nos Anos 1950 (2008) and Alegoria Moderna. Crítica literária e história da literatura na obra de Sérgio Buarque de Holanda (2014).

Dr. Nicodemo will be giving talks and visiting seminars during his term as Visiting Scholar this spring semester 2015.

New Assistant Prof. joins our Faculty

The Department is extremely glad to announce that Assistant Prof. Aurelie Vialette has joined our faculty, beginning this fall 2014. Prof. Vialette, who received her Ph.D. from the University of California at Berkeley in 2009 specializes in 19th century literature and culture from Spain. To learn more about her research, teaching and publications, please visit her web page.

Faculty receive prestigious national awards for 2014. Congratulations to Daniela and Lena!

Prof. Daniela Flesler has been awarded a 2014 American Council of Learned Societies (ACLS) Fellowship, for the project "The Memory Work of Sepharad: New Inheritances for Twenty-First Century Spain."

Prof. Lena Burgos-Lafuente received a 2014 Ford Foundation Postdoctoral Fellowship for the project "Pedagogies of Progress: Listening to the Long 1950s in Puerto Rico".

CALL FOR APPLICATIONS 2014.
Summer travel grants for graduates doing research in

1) Spain (Departmental grants). Apply here.
2) Latin America (LACC & Tinker Foundation). Apply here.

New Faculty to start this Fall 2013

The Department is honored to welcome our two new Assistant Professors, Joseph Pierce (UT Austin) and Javier Uriarte (NYU). Please, visit their websites to read about their exciting research and teaching projects that they bring to our community.

2013 Hispanic Languages and Literature Best Undergraduate Essay Award

Once again this year we will award a prize for the best original undergraduate critical essay. Papers should be submitted by Thursday May 16, 12:00 noon. The papers should be submitted in hard copy to the office of the Undergraduate Director, Daniela Flesler, Library N3018.

The essay itself should NOT include your name. NO more than one essay can be submitted.

A separate cover page should contain:
—your name
—e-mail
—telephone
—the course and semester (Fall 2012 or Spring 2013) for which you wrote the paper

A department committee will evaluate the essays and the award will be presented at the department graduation ceremony on May 24th.

RESEARCH TRAVEL GRANTS IN LATIN AMERICA, THE CARIBBEAN AND SPAIN

We are pleased to offer 6 or 7 competitive grants for advanced doctoral students in the Humanities or Social Sciences at Stony Brook University. Travel Grants will be in the amount of US$ 2,000 to US$ 2,500, depending on the destination, and should be used for research in Latin America, the Caribbean or Spain during the summer of 2013. Students should be already involved in pre-dissertation or dissertation research at the time of the application. In all cases, the student's main research must be on Latin America, the Caribbean or Spain. There are no nationality restrictions.

Complete applications must include:

Two page research statement explaining the dissertation or pre-dissertation project and how it relates to the travel plans (700 words maximum)
A budget detailing expenses for transportation, lodging and research
Curriculum Vitae (CV)
Recommendation letter submitted by email directly by the student's adviser

All material should be emailed to lacs@stonybrook.edu. Please use "Travel Grant Application 2013" as your email subject.

Click here for the instructions and application form in PDF and here for Word.

APPLICATION deadline: Friday April 19, 2013

A multidepartmental committee will evaluate all applications and students will be notified by email on May 1, 2013.

Funded by: The Office of the Dean, College of Arts and Sciences, The Graduate School, Latin American and Caribbean Center, Department of Hispanic Languages and Literature, Department of History and Department of Sociology at Stony Brook University.

New 2013 publication by Daniela Flesler and Adrián Pérez-Melgosa

Revisiting Jewish Spain in the Modern Era

Edited by Daniela Flesler, Tabea Linhard, Adrián Pérez Melgosa.Published February 14th 2013 by Routledge.168 pages.

Uruguayan National Award to Prof. Javier Uriarte

"Fazedores de desertos: viajes, guerra y Estado en América Latina (1864-1902)," Javier Uriarte's dissertation completed last year at NYU, has been distinguised with the 2012 National Award in Uruguay, under the category of Unpublished Literary Essay (Ensayo literario inédito) by the National Ministry of Education and Culture in Uruguay.

Prof. Javier Uriarte is currently Visiting Professor in Hispanic Languages and Literature at Stony Brook and teaches undergraduate and graduate courses on Latin American literary and cultural studies.
Department of Hispanic Languages & Literature
1055 Humanities Building
Stony Brook, NY 11794-5355
Phone: 631-632-6935
631-632-6959