Skip Navigation
Joseph M. Pierce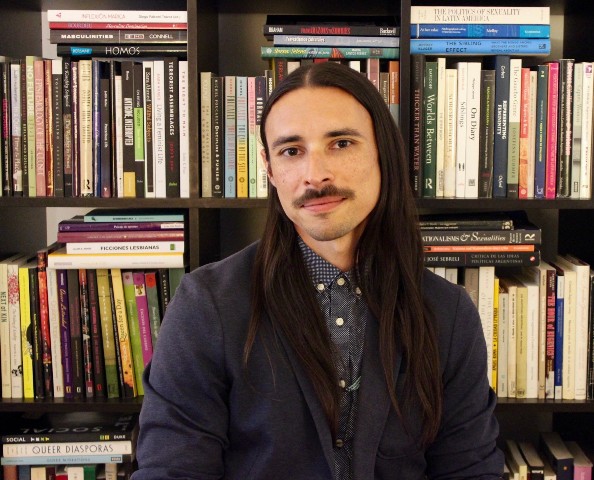 Assistant Professor
Humanities Building 1139. Phone: 631.632.7461
Joseph M. Pierce is Assistant Professor in the Department of Hispanic Languages and Literature at Stony Brook University. His research focuses on kinship, gender, sexuality, and race in Latin America, 19th century literature and culture, Indigenous studies, queer studies, and hemispheric approaches to citizenship and belonging. His book  Argentine Intimacies: Queer Kinship in an Age of Splendor, 1890-1910  is forthcoming from SUNY Press. He is co-editor with Fernando A. Blanco and Mario Pecheny of  Derechos Sexuales en el Sur: Políticas del amor y escrituras disidentes  (2018, Editorial Cuarto Propio). His work has been published recently in  Critical Ethnic Studies ,  Taller de Letras ,  Revista Hispánica Moderna ,  Biography , and  QED , and has also been featured in  Indian Country Today . He is a member of the Cuir Américas Working Group and collaborates with La Poderosa Media Project, a community-based visual arts program that encourages youth empowerment, cultural empathy, and collaborative learning across the Americas. He is a citizen of the Cherokee Nation.
Personal website: www.josephmpierce.com
Recently taught courses
Graduate Courses
SPN 662: Queer fin de siglo: Modernity, Sexuality, and Gender in the Southern Cone (1880-1910)
SPN 662: Bad Romance: Gender, Sexuality and Kinship in Latin America
SPN 595: Latin American Queer
SPN 612: Thirst: Sex and Being

Undergraduate Courses
SPN 405: Yo: Technologies of Self in Latin America
HUS 271: US Latino Literature and Culture
HUS 254: Latin America Today
SPN 396: Introduction to Spanish-American Literature II
SPN 435: Cosmic Blood: Scientific Discourses in Spanish American Prose
SPN 311: Spanish Conversation and Composition
SPN 312: Introduction to Literary Studies
SPN 435: Monsters, Cannibals, and Cyborgs
SPN 435: Latin American Masculinities
Recent publications
Políticas del amor: Derechos sexuales y escrituras disidentes en el Cono Sur. Eds. Fernando A. Blanco, Mario Pecheny, and Joseph M. Pierce. Santiago: Editorial Cuarto Propio. 2018.
"Adopted: Trace, Blood, and Native Authenticity." Critical Ethnic Studies 3:2 (Fall 2017): 57-76. [ download] 
"Our Queer Breath." QED 3.3 (October 2016): 132-134.
"Travestis, negras, boricuas, maricas." QED: 3.3 (October 2016): 135-137.
"Feeling, Disrupting." Biography 39:3 (Summer 2016): 434-437.
"'Usted no es hombre para esas cosas': Masculinidad y renegación en la obra de Carlos O. Bunge."  Taller de letras  58 (September 2016): 127-139. [ download]
"Regulating Queer Desire  in Carlos O. Bunge's La novela de la sangre."  Revista Hispánica Moderna 69.1 (June 2016):  55-71. [ download]
"He ahí un hombre: Composite Masculinity in Retratos y Recuerdos by Lucio V. Mansilla." Prisma Social 13 (December 2014-May 2015). 149-172. [ download]
García, Jorge, Joseph M. Pierce and Alejandra Zambrano. " Programas comunitarios de educación audiovisual como alternativa al servicio-aprendizaje en el extranjero." Hispania 96.2 (June 2013): 342-354. [ download]
Journal Dossier:
With Fernando Blanco, "Amor, sexualidad y género: Políticas del Cono Sur." Dossier Especial. Conversaciones del Cono Sur 2.1 (2016). [ View Site]