Skip Navigation
Bienvenidos / Welcome 
Originally established as part of a department of Romance Languages, Hispanic Languages and Literature became an autonomous department in 1970, reflecting the growing impact and intellectual vitality of Hispanic cultures both internationally and within the U.S. Our BA, MA and PhD are designed to serve a broad constituency of students with courses devoted to the language, linguistics, and literary and visual cultures of Spain, Latin America and Latinx communities in the United States. We are located in the Humanities building, office #1055.
Latest news
Fall 2019 HLL Newsletter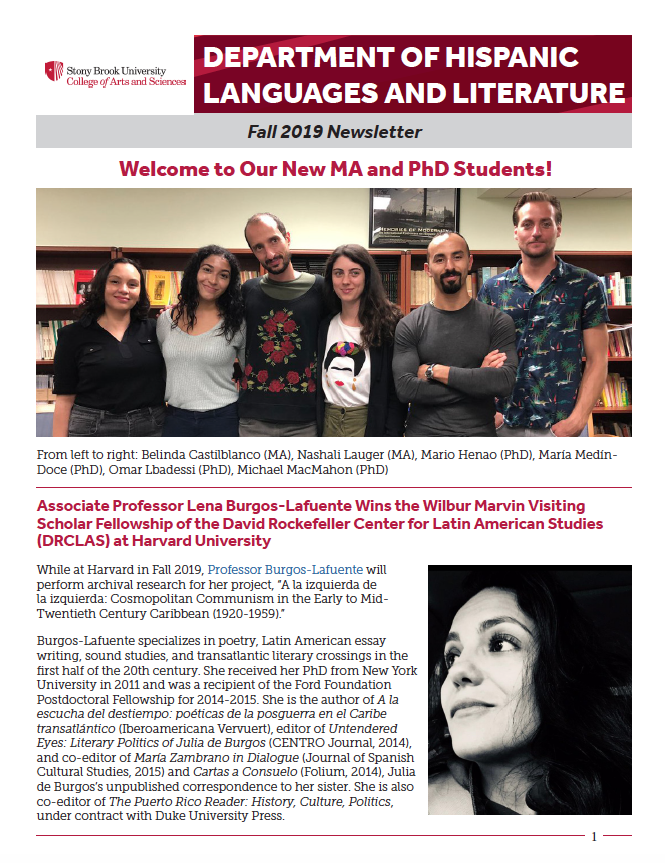 MEXICO 500+: Indigenous and Global Cultures in Colonial Mesoamerica
Mini-colloquium October 2nd, 2019 at Stony Brook University
In 1519 Hernán Cortés led the first European military penetration in Mesoamerica. His campaign radically transformed the lives of local communities and shaped the new global culture of the early modern period. This one-day mini-colloquium commemorates 500 years of writing and producing global knowledge in and about Mexico . Read more.
SPN 622: Imagining Amazonia
For those interested in understanding what is happening in the Amazon region , prof. Javier Uriarte is teaching the graduate seminar "Imagining Amazonia: Bodies, Labor, Nature" (Th, 2:30 – 5:30 PM – Humanities 2036). More info.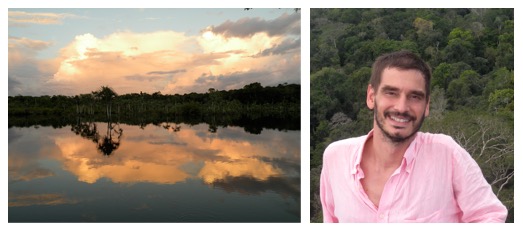 Commencement 19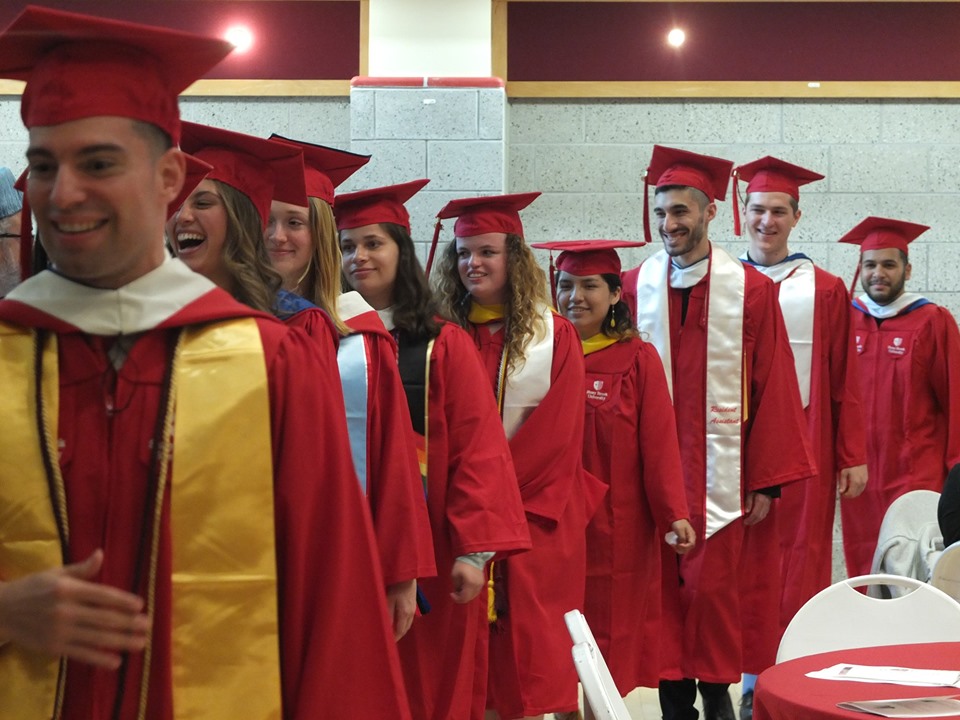 Early Modern Textuality and Journalism in Spain and South America
On March 14th and 15th 2019, the Dep of Hispanic Languages and Literature hosted a Seminar and a Digital Humanities Lab on early modern news-sheets, pamphlets,  relaciones de sucesos    and their networks in Europe and South America, between 1650 and 1750. Participants: Prof.  Paul Firbas  (Stony Brook),  Carmen Espejo Cala (Univ de Sevilla),  José Antonio Rodríguez Garrido (Univ Católica del Perú); via Skype: Prof.  Nieves Pena Sueiro  (Univ da Coruña) and Prof.  Francisco Baena Sánchez  (Univ de Sevilla). More here. 
Upcoming events
Winter ONLINE Courses (Jan 7-25, 2020)
HUS 254:  Latin America Today (Undergraduate, 3 credits),   SBC  : DIV; GLO; HUM [Dec: J].  ONLINE
An introduction to a global perspective on contemporary Latin American culture. Latin America's political, historical, and cultural developments of this century are studied. Course in taught in English.  See poster
HUS 271:  U.S. Latino Literature/Culture (Undergraduate, 3 credits),   SBC  : DIV; HUM; USA [DEC: G].  ONLINE
A topics course in English on the literature, cultures and histories of Latinos in the United States. May be repeated as the topic changes. May be used to satisfy comparative literature major requirements with permission of major department.  See poster.
SPN 503:  Spanish Linguistics. Spanish for Medical Professions. (Graduate MA, 3 credits).  ONLINE
Major issues related to the general structure of the Spanish language. The Spanish for Medical Professionals course is designed for healthcare providers or those working in a related area, such as medical technology or social work in the healthcare field.  See poster for full description.
HLL Alumni Lecture Series: Dean Allbritton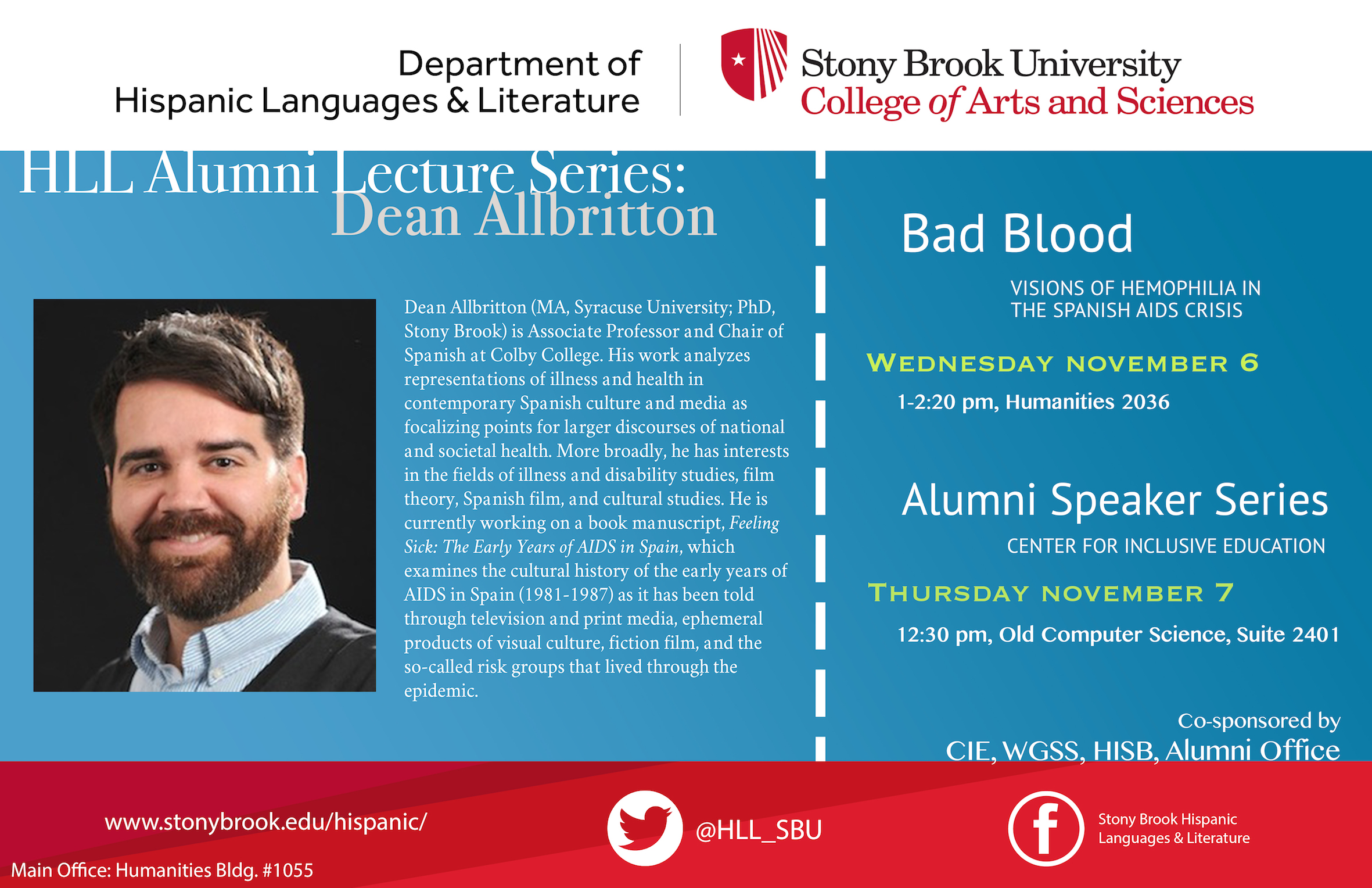 Spanish Club /Club de español
Every 2nd & 4th Wednesday of the month
1-2pm Hum #1082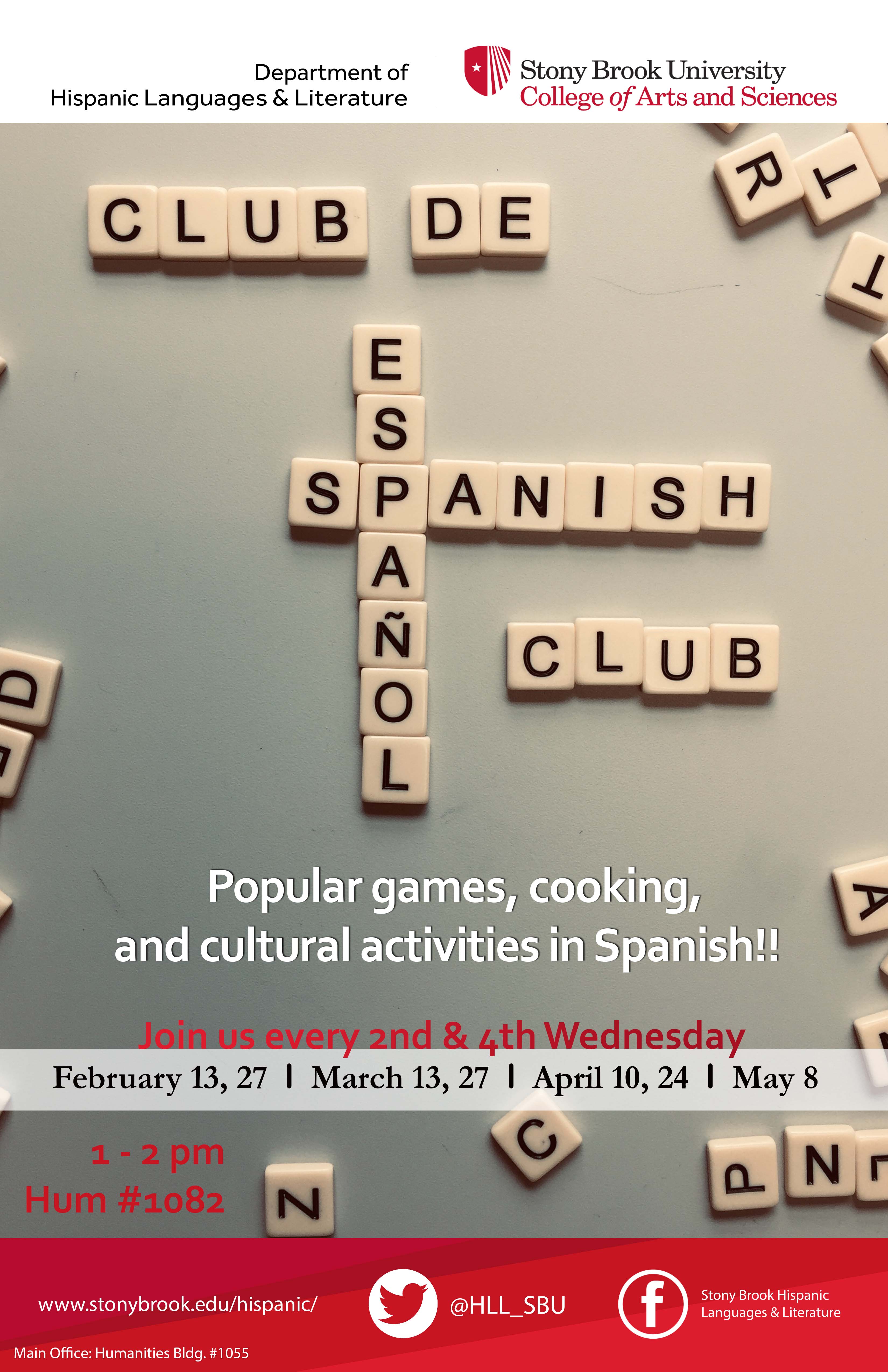 Café Latino: Spanish Conversation Group
Every Wednesday, 1-2 Hum Faculty Lounge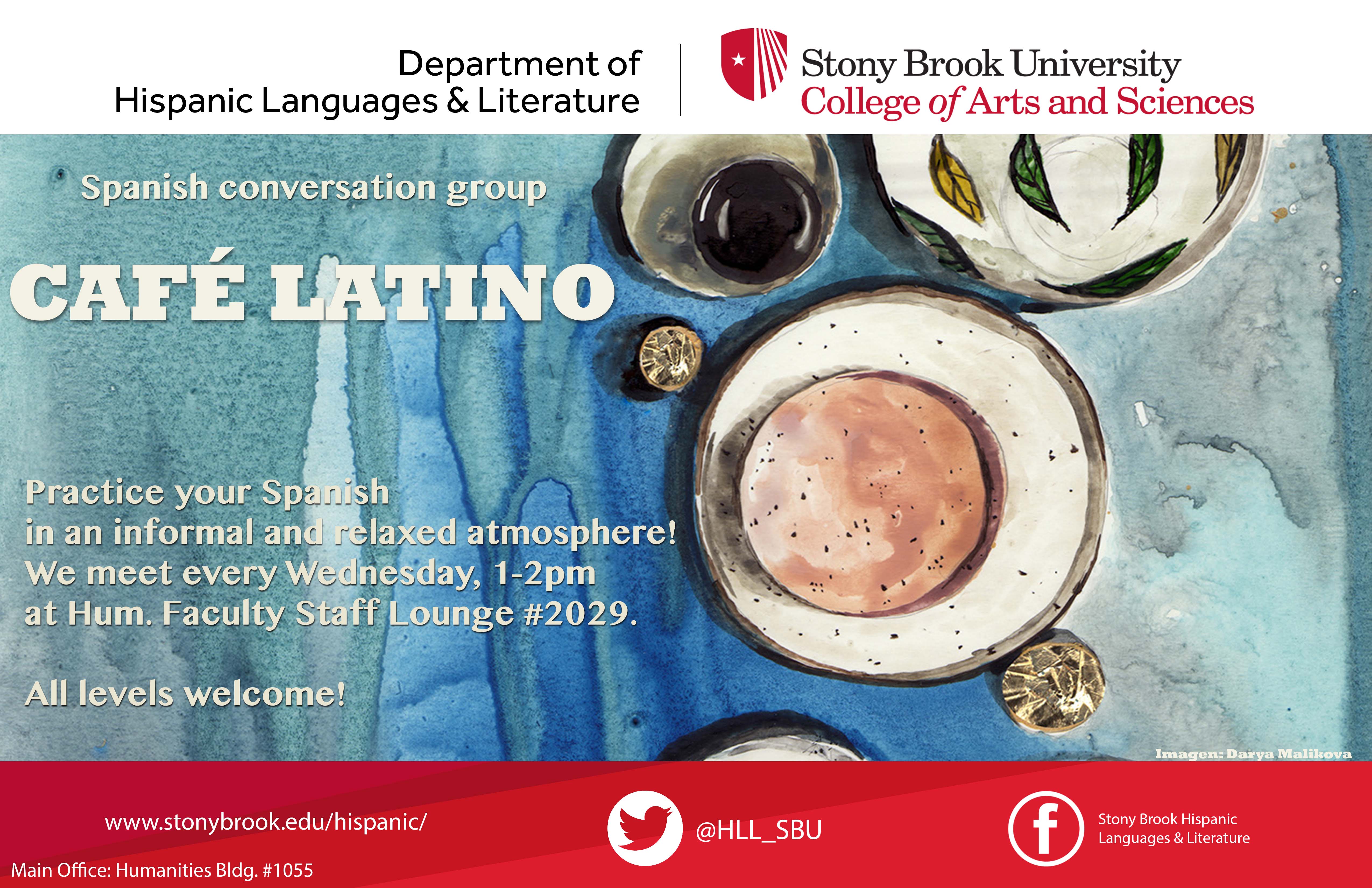 Teatro Abierto
Every Wednesday, 1-2pm at SBS S110