Skip Navigation
Researcher of the Month
January 2017
Michelle Barbosa
Marine Vertebrate Biology major, University Scholars program, Class of 2017
Research Mentor: Dr. Bassem Allam, Marine Animal Disease Laboratory, School of Marine & Atmospheric Sciences
---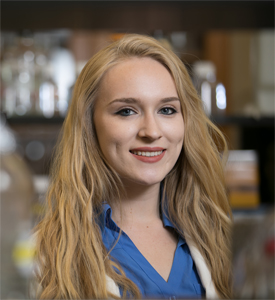 Michelle Barbosa is a Marine Vertebrate Biology major in the University Scholars Program (Class of 2017), and one of two SoMAS undergraduates who was recently recognized with the Evan R. Liblit Undergraduate Scholarship. This month, Michelle will be presenting a research talk at the Northeast Aquaculture Conference & Exposition in Providence, Rhode Island.  
For over two years, Michelle has been conducting research under the mentorship of Professor Bassem Allam, working in the Marine Animal Disease Laboratory to examine the effects of ocean acidification on larval and juvenile shellfish. Her project investigates the viability, growth and physiology of clams, oysters and mussels in order to identify the molecular process and genetic markers involved in shellfish resilience to acidification; and also aims to examine the physiological costs that resilience to acidification may have on the immune system of shellfish. Reflecting on her experience in research, Michelle comments: "Research has definitely complemented my classroom experience. … There are things that I've picked up in the lab that I haven't learned in class – like those problem solving skills I mentioned. You just can't get that from sitting in a classroom."

Michelle also points to the strong community within SoMAS that has helped her throughout her undergraduate career; and credits the Semester by the Sea experiential learning program (Fall 2016-Spring 2017) with helping her gain tremendous insight to her field of study. Michelle is a member of the Women's Leadership Council which matches high potential undergraduate women with top philanthropic leaders in the SB community. She has been a four time recipient of the Academic Achievement (4.0) award, and next fall plans to start a master's degree program in Marine Science at Stony Brook. Michelle eventually hopes to pursue a Ph.D., and to remain involved in research in the field of marine disease and immunology.
Michelle is from Mineola, NY and is a first generation college student. She has interned at the Long Island Fish Hospital; and volunteered at the Town of North Hempstead Animal Shelter and Southampton Animal Shelter Foundation. In her spare time, Michelle enjoys kayaking in Long Island waterways. Below are excerpts from her interview with Karen Kernan, URECA Director.

Photo 1 (above): Contributed courtesy of John Griffin, Office of Communications.
Photo 2 (below): Contributed courtesy of Dr. Kurt Bretsch of SoMAS, Faculty Director-Semester by the Sea.
---
The Interview:
Karen. Tell me about your current research.
Michelle. I work in the laboratory of Dr. Bassem Allam. My current project is looking at the effects of ocean acidification on shellfish development, growth, and physiology. Specifically, we are evaluating the effect of acidification on immunity and resistance of bivalve larval and juvenile stages to major microbial pathogens. We're also looking to see if there are genetic markers associated with resilience to ocean acidification that could potentially be useful in identifying stocks suitable for aquaculture and restoration projects. Ocean acidification is becoming a major concern for organisms in our waters and our project helps to shed some light on how shellfish will be affected.

I've also been involved in a separate project examining the effects of the intracellular parasite Perkinsus marinus in the evasion of host immune processes in the eastern oyster. The project is looking to see how the parasite can modulate the systems of the host and is very interesting in terms of looking at parasite-host interactions.
How long have you been involved?
I started in the lab the fall semester of my sophomore year, in 2014. I was introduced to Dr. Allam by my advisor, Dr. Mary Scranton, who has been incredibly influential in helping me find my place in research and in the university as a whole. Dr. Allam is a phenomenal mentor as well and I've been very lucky to have the opportunity to work in his lab. He's always encouraging me to apply for scholarships, look for new research opportunities, and reach outside of my comfort zone. He really motivates me to excel and I am very thankful to be able to learn from him.   
Have you observed a big learning curve through your research experience?
It's been interesting seeing the development in my research career from doing sort of basic processing tasks to engaging in more independent research. I really get to do a lot of independent work at this stage in my undergraduate career and getting to that point has definitely required learning lots of new lab procedures. I've learned many skills and techniques that will help me in graduate school. And more than any one specific lab skill, I think that learning to problem solve is really important. When I first started in the lab and ran into problems, I would go to Dr. Allam's office all the time, knock on the door, and ask him a dozen questions. Now if I have questions, I am more often than not able to figure out the answers myself and move forward. But even now, I still know that Dr. Allam is there for me if I do need help. And the graduate students in the lab are really great too; everyone is very helpful and supportive.    
What was one of the most surprising aspects about doing research?
I think it's been eye opening seeing the group effort that's involved in science research. You become part of a community where people help each other out with projects. It's definitely a more social environment than I expected when I first started.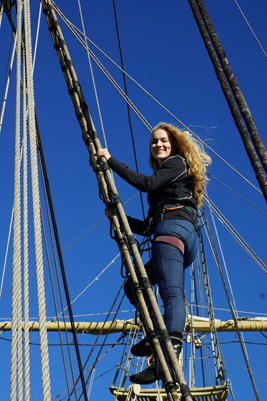 What has research added to your education?
Research has definitely complemented my classroom experience. Once you're in the lab and have hands on experience and see the concepts that you're learning in class, you begin to see how everything comes together. There are things that I've picked up in the lab that I haven't learned in class – like those problem solving skills I mentioned. You just can't get that from sitting in a classroom.  
In addition, since I've been in the lab for a while now, I've had the chance to introduce some new students to the lab, and teach them different protocols. So it's been great to be able to gain some teaching experience through research as well.
Did you have any prior research experience?
In high school I worked on a few projects, mainly looking into natural products that could be used as antibiotics. And two summers ago, I interned at the Long Island Fish Hospital working with Dr. Julius Tepper. He is an aquatic veterinarian who specializes in home pond and fish maintenance. We would go to homes around Long Island and run different tests to diagnose sick fish. He would always take the time to teach me about the different parasites and diseases that we were seeing in the fish. That was prior to my work in the lab and it was my first exposure to aquatic parasites. I learned a lot from that experience – prescribing medications, looking at how we could help these fish and ways that we can cure them. Working with Dr. Tepper inspired me to go into the field of marine disease.
What advice would you give to other students about research?
Get involved as early as possible. Research is really great in terms of augmenting your experience in the classroom, but it takes time to work up to independent projects and to build relationships within the school and the field. If you start early, you get your foot in the door and can then work your way up to independent projects. That's really helpful, particularly if you are planning to go to graduate school and want to understand what's expected of you.
You also need to remember that there are times that when you may get frustrated. But I've found out that those feelings balance out with the times when you get great results and feel incredibly accomplished. I've learned to see the forest through the trees — and even when things don't always go well, I can see what we're going to learn from the project, and how it is going to impact the field. And that motivates me to push through any frustrations.
What are your plans for after graduation?
I am very passionate about my research in Dr. Allam's lab, so I want to stay involved with the lab. I plan to enroll in the Master's program for Marine Science at Stony Brook – a two year program. After receiving my Master's, I intend to pursue a PhD.
Did you always know you wanted to do Marine Biology?
Yes I came in as a Marine Vertebrate Biology major. I'm really interested in ocean dynamics and how biological systems work within the ocean and the marine environment. The program at SOMAS really spoke to me and is one of the reasons I decided to come to Stony Brook.