Skip Navigation
Researcher of the Month
February 2017
Diana Hernandez
Comparative Literature major, Class of 2017
Research Mentor: Dr. Timothy August, Cultural Studies and Comparative Literature
---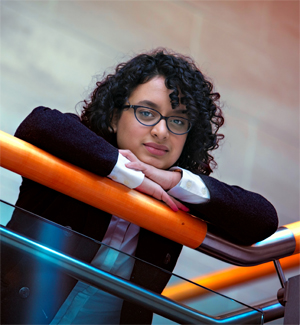 As she completes the finishing touches on her honors thesis, Diana Hernandez remarks: "It's the first big paper that I've ever done like this. And it was a really incredible experience!"
On track to graduate with honors in Comparative Literature in May 2017,  Diana is completing an honors thesis that focuses on a 1933 work written by Salvadoran author Salarrué called Cuentos de Barro (Tales of Clay), a collection of folktales about the everyday lives of El Savador's "campesinos" or impoverished farmers. Working under the mentorship of Professor Timothy August of the Department of Cultural Studies and Comparative Literature, Diana examines the language and the ways the book reproduces themes of colonization and stereotypes of indigeneity. Diana also got helpful advice from Professor Paul Firbas of the Hispanic Language and Literature Department, her instructor for Introduction to Latin American Literature and Culture. She plans to present her thesis project in April at her department's spring colloquium; and at the upcoming URECA undergraduate research symposium.
As the daughter of Salvadoran immigrants, Diana found her project to be personally meaningful as well as great preparation for graduate school. "A thesis project really tests your resolve and your determination to explore your ideas...I've learned a lot about how I pace myself…I wake up every morning thinking to myself 'this is what I have to do.' It's a priority in my life. I've really proven to myself that this is something that I want to do and I can continue doing. And just in general, writing something of this length is just incredible practice and preparation for grad school."
Diana graduated from Brentwood High School, and earned an Associate of Arts degree in Creative Writing in December 2014 from Suffolk County Community College prior to transferring to Stony Brook University. At Stony Brook, Diana has served as a Teaching Assistant for Comparative Literature 301: Theory of Literature.  She plans to pursue graduate study in either Spanish literature or Comparative Literature. Diana's hobbies include: creative writing (including writing blogs, co-founding an interactive site where students can talk about their experiences with discrimination, sexism, or prejudice of any kind). Below are excerpts of her interview with Karen Kernan, URECA Director.
---
The Interview:
Karen. What is your research project/thesis about?
Diana. I am looking at a text from El Salvador called Cuentos de Barro; in English, that's Tales of Clay. It was a book written in 1933 by an author named Luis Salvador Efraín Salazar Arrué, or Salarrué as he is commonly known. The book is broken up into individual stories, and focuses on the daily lives of the country's exploited farmers. They're called campesinos.  It's a really stark portrayal of what life in El Salvador was like at that time. Salarrué's perspective was greatly influenced by the political and social instability of the early 1930s. He was especially influenced by an event known as La Matanza. In 1932, the militant dictator Maximiliano Hernández Martínez ordered the execution of 10,000 innocent indigenous people, for allegedly having ties to the political revolt of 1931. Salarrué's work is really innovative and independent and it challenges many of the political conventions of the time. In preparation for my honors project, I really wanted to engage and interact with the text, and study the text and see what came from that. I had never really read Salvadoran literature on an academic level before. For my honors project, I'm currently writing a paper that will be about 20-25 pages. It's the first big paper that I've ever done like this. And it was a really incredible experience!
How difficult was it to narrow your focus for the honors project?
What I began to focus on, and what I began to see from the story was, that even though Salarrué sympathized with the indigenous farmers, there were certain stereotypes or elements of colonization that come up in his work…. elements that reproduce themes of colonization while reinforcing stereotypes of indigeneity through the use of language and form.  I examine the hybridity of language and how both indigenous and Castilian words are used to reinforce patterns of colonization. I do this by looking at dictionaries from the 18th century, and tracking the introduction of indigenous words into the lexicon of European languages. 
I became particularly fascinated with an interesting text in the back of his book. It's a glossary of words that Salarrué calls a "A Glossary of Idioms from the Cuzcatleco Language" In my paper, I analyze this text and argue that several words are not indigenous, and that some are in fact Castilian. I thought it was interesting--and problematic--that he would refer to this glossary as indigenous. Salarrué tries to encapsulate an image of the indigenous person in his book, and as a result, he doesn't acknowledge the fluidity of the indigenous experience. It's perfectly natural for languages to transform and change, and this wasn't reflected in his work. I also consider his usage of the name "Cuzcatleco," which is problematic as well.
Did Salarrué's audience generally consist of people unfamiliar with indigenous culture?
Yes, but to different degrees. There was a high illiteracy rate in El Salvador in 1933. So at the time, many campesinos did not have access to his work. This was probably a book written for the Salvadoran elite. It's possible they weren't intimately familiar with indigenous culture – or if they were, they'd never seen it visually represented on paper before. Or engaged with the kind of dialogue Salarrué includes in his text.
What was your first encounter with the author?
He has another book, published later, called Cuentos de Cipotes. It is a compilation of stories that deal with the impoverished farmers' children. Sometimes they're a little silly, especially when they're read aloud, but they are so fun to read. My parents used to tell me about those stories all the time when we were younger. They have that book at home so I would look through it and became familiar with it.

Did you work with the original text? Or with the translation?
For my project, I really focused on sticking to the original text and only referring to the translation when I needed to include a citation in my paper or needed some clarification on a specific quote that I really couldn't figure out. The text is a little confusing to read because of those words that Salarrué highlights as indigenous.
How did you originally settle on your research topic? Did the paper stem from a project you'd done for another class?
For the most part, I never had the opportunity to engage with Salvadoran literature in school. I'm Salvadoran, and I've always felt really passionate about Salvadoran literature. But I never thought initially that it was something I could choose to explore academically, or for an honors thesis. While I was brainstorming ideas with my advisor, Professor Timothy August, he encouraged me to follow my interests, and to look into these areas that maybe I hadn't explored in school. …
So I compiled a long list of books and essays that I was very interested in exploring, various readings related to Salvadoran literature.  I spent the summer grabbing as many books as I could. Sometimes I was limited by what resources I could find in the library. When I got back to school this past fall, I spent a lot of time consulting with my professor and trying to find a thread that I really wanted to start playing around with. I decided to focus on Salarrué's work. And the idea for my project developed from there.
It can be difficult to narrow down a thesis topic.
That was one of the initial issues that I had. Dr. August was incredibly insightful when it came to helping me find some clarity and some direction. He told me to just let the text speak to you and let it guide you. There were so many ideas in Salarrué's book that interested me but I think I started to focus on colonization and indigeneitybecause I felt a growing personal relationship with this text and its characters.I wanted to explore the text not only at an academic level but from a personal perspective as well.
I also became quite interested in developing a topic related to music history. There was a small, but very important detail in one of the stories about a father and a son trying to flee El Salvador in search for a better life. As they're making their journey north, they're playing a foxtrot on their record player. This led me to research El Salvador's music history. Because El Salvador's radio station was owned by the government, they would only allow that Western music (like foxtrots) be broadcast. And so there's this pattern of Westernization, of trying to oppress the indigenous culture while trying to build a national identity and move forward in a way that is more modern.
What are the benefits of doing an honors thesis?
One of the main things that have come out of this is pacing myself and learning how to focus on a specific idea and fleshing it out. A thesis project really tests your resolve and your determination to explore your ideas, and to really respect and be considerate of the work you're studying. It also teaches you how to be productive and independent, and perhaps not in a way that you've ever been before. I've never written anything remotely close to 25 pages. I've learned a lot about how I pace myself, and how much time I dedicate to my work. And it's proven to be a big part of my life. I've really proven to myself that this is something that I want to do and I can continue doing. And just in general, writing something of this length is incredible practice and preparation for grad school.
What are your future plans?
I've applied to several graduate programs in comparative literature/Spanish Language and Literature. And I also applied for a Fulbright to go to Peru on an English Teaching Assistantship. I'd like to someday work on translating some of Salarrué's other great pieces. It's a goal of mine to make Salvadoran literature more accessible to others.
What advice do you have for other students interested in doing an honors/thesis research project?
Start as early as possible because your ideas can change. I know mine certainly did. I explored a lot of different threads. It took me some time to really find my path and develop this project. So I would say, give yourself some time. Also, find an advisor that you feel comfortable with. Dr. August was an incredible resource. He was very helpful and insightful. I strongly believe that if you're not comfortable with your mentor, you won't feel confident talking about your ideas. You might feel hesitant about taking a leap and throwing something out there. But when you find someone that is very supportive, those ideas no longer sound so impossible. And it is reassuring to know that someone's listening to you and taking you seriously. He's an incredible mentor. 
And of course, read a lot! There are incredible resources all over campus, so go ahead and explore them. Be sure to reach out to people. I reached out to a professor in El Salvador who responded immediately and was very helpful.We got into a Skype call and he gave me advice about key texts I should refer to. Professor Paul Firbas from the Hispanic Languages and Literature department was also a really important resource. I took a class with him this past semester, so his lectures alone were helpful. But he also offered me a lot of incredible advice about language and indigeneity, which really helped clarify some ideas that I was playing with but weren't really exact. It's important to be proactive and do a lot of research and put yourself out there and contact people.
Best of luck with completing your thesis. We look forward to seeing you present this project at URECA!
Thank you!I was so passionate about this project; it was a really incredible experience.And it's made me so excited about my future. I feel like I have more direction and more clarity in terms of my future and what I'd like that to be. And now, I'm looking forward to presenting at URECA!