Skip Navigation
Submitting Your Immunization Forms
All students attending courses on Stony Brook campus must submit a completed Immunization / Meningitis Form, demonstrating compliance with New York State Health Laws. It is REQUIRED that this form be submitted to Student Health prior to enrollment and/or orientation.
If a student has not complied with this requirement, and the student is enrolled for 6 or more credits or hourly equivalent, The student will be de-registered.
1. Review the Meningitis page and complete the meningitis response form. If you need to provide the Immunization form to your doctor, you can download it on the Forms page.
2. Once you have received the form filled out by your doctor, you will need to scan them (or take pictures on your phone) so they can be uploaded on the Health Portal.  
3. Log into the Health Portal below to upload your forms and continue the steps below.
Submitting Your Proof of COVID-19 Vaccination
After Logging into the Health Portal, Go to the Upload section of the Portal located at the top of the website's toolbar. On the Upload page, Scroll down and select the drop-down listing the type of document you would like to upload. Select Covid-19 Vaccination Card/Proof as the type of document to upload proof of your COVID-19 Vaccination, attach your document and then click upload to submit your documentation.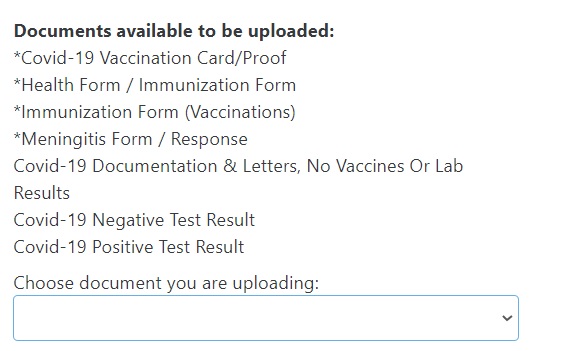 Instructions with images on uploading forms are provided below.
Watch the Video Tutorial:
View Step-by-step Instructions:
After logging in with your NetID, if you see this screen please try again after 24-48 hours.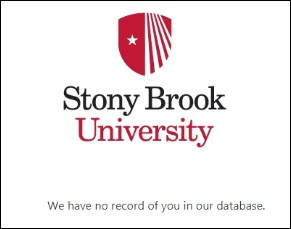 Submitting your immunizations is a two-step process.  First, you will need to enter the dates of your MMR vaccine.  And then you will need to upload the immunization forms.
Click on "Immunizations" at the top, and then click on "Enter Dates":
Enter the dates for both doses of your MMR vaccine as it's listed on your immunization forms.  This is the most common way this requirement is met.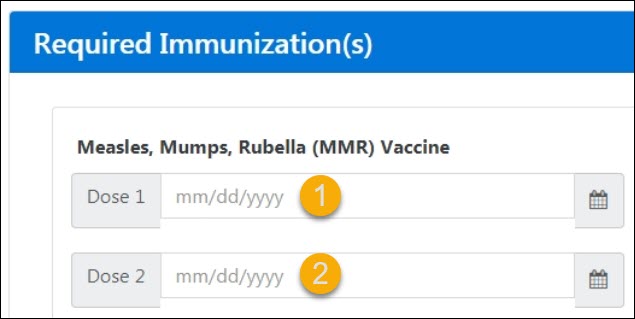 If you met this requirement in a different way, you can enter this information down below in the "Alternate" area.
Continue Reading...
You would do this if, for example, you received 1 MMR and 1 individual Measles vaccine. Or maybe you've had (2) Measles vaccines, (1) Mumps vaccine and (1) Rubella vaccine all administered on different dates, it may also be possible that you have had lab tests that provide proof of positive immunity to one or more of these diseases.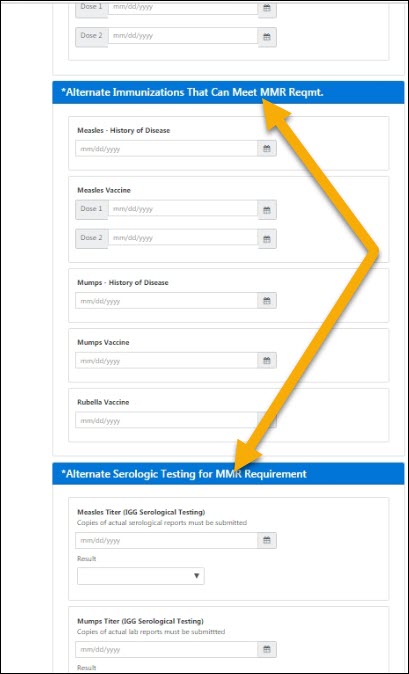 Once you are done click on the Submit button at the bottom or right side of the page.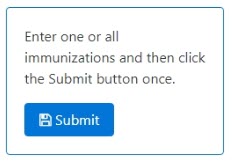 You are not done yet!  You now need to upload your forms. 

 Click on "Upload" at the top of the screen and first read the uploading instructions. 
Depending on how you filled out the information in step one, select the forms that you will be uploading.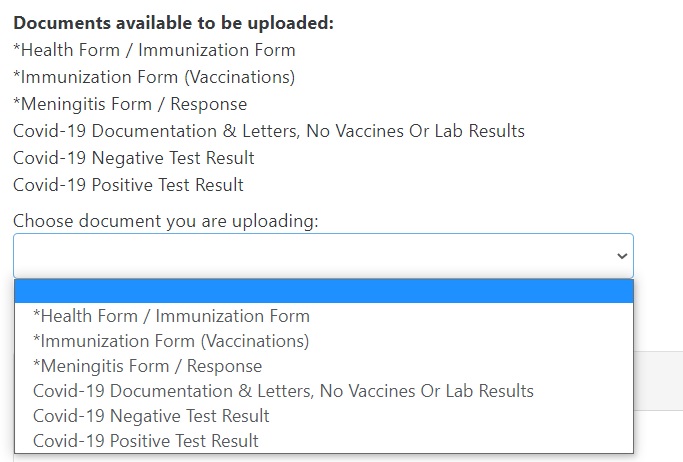 Once you have selected the file from your computer, click on upload. You can see and view the documents that are on file down below.

To see a history of immunizations you have submitted and view their status, go back to immunizations at the top and click on "View History".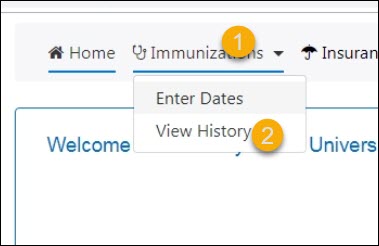 Here you can view all of the immunizations you have provided as well as their status.