Skip Navigation
Student Health Advisory Committee (SHAC)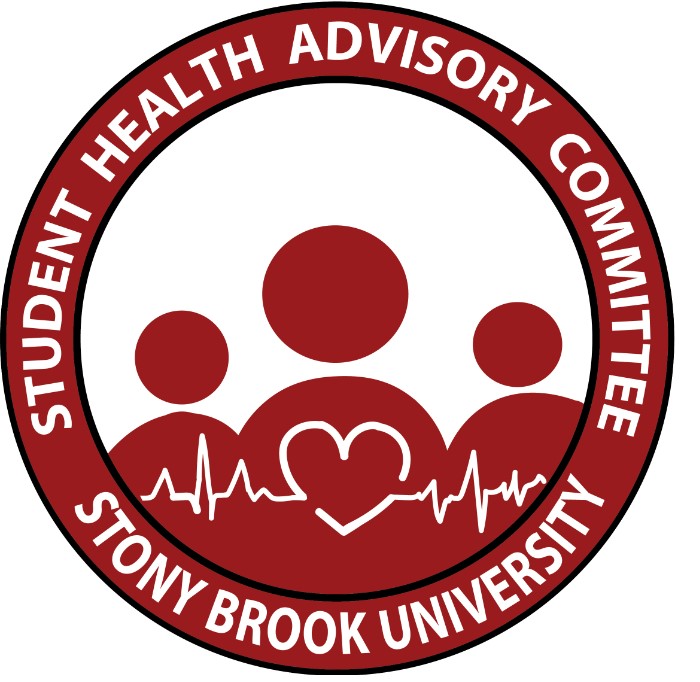 A Student Health Advisory Committee (SHAC) is mandated by the State University of New York (SUNY) Board of Trustees for each SUNY campus. Stony Brook University's SHAC has played an integral part in contributing to and enhancing the services provided by Student Health Services, the Center for Prevention and Outreach and our Counseling and Psychological Services. For several years, members of SHAC have been actively involved in reviewing the Health & Counseling Fee budget and have recommended programs, services and initiatives that best meet the needs of the student body.

Executive officers
Kerri Mahoney,  Assistant Director - Center for Prevention and Outreach
ADVISORY committee MEMBERS
| | | |
| --- | --- | --- |
| Name | Area of Representation | Email Addresses |
| Rimsha Farooq | Commuter Student Association | rimsha.farooq@stonybrook.edu |
| Vignesh Subramanian | Residence Hall Association | vignesh.subramanian@stonybrook.edu |
| Jada Franklin | Undergraduate Student Government | jada.franklin@stonybrook.edu |
| Christine Wang | Graduate Student Government | treasurer@sbgso.org |
| Madison Sleiman | Athletics  | madison.sleiman@stonybrook.edu |
| Jasmine Ting | SBVAC | president@sbvac.org |
| Ashley Narine | CPO Mental Health Intern | ashley.narine@stonybrook.edu |
| Cayla Schaeffer | CPO Physical Health Intern | cayla.schaeffer@stonybrook.edu |
| Shayna Gruder | CPO  VIPRE Intern | shayna.gruder@stonybrook.edu |
| Rachel Bergeson | Medical Director, Student Health Services | rachel.bergeson@stonybrook.edu |
| Smita Majumdar Das | Director, Center for Prevention and Outreach | smita.majumdar@stonybrook.edu |
The committee also contains non voting members that have self selected to join in the discussion around student health, wellness and prevention services.  If you are interested in joining SHAC  please fill out this google form.
advisory committee meeting information
The meetings are held throughout the academic year on the first Friday of the month from 1:30pm-2:30pm in the CPO Office. The first meeting for the Fall 2022 semester will be on October 7. 
Click the dates below to read the meeting minutes. 
2021-2022 AY
May 6, 2022- minutes will be voted on during first Fall 2022 meeting
April 1, 2022- minutes will be voted on during first Fall 2022 meeting
March 4, 2022
February 4, 2022
November 9, 2021
October 19, 2021
2020-2021 AY
April 13, 2021
March 9, 2021
February 9, 2021
December 8, 2020
November 10, 2020
October 13, 2020

2019-2020 AY
February 11, 2020
December 10, 2019
2017-2018 AY
April 10, 2018 
March 20, 2018
February 13, 2018
December 11, 2017
counseling and health fee

(formally student health service fee)
This undergraduate and graduate fee supports the safety, health, and wellness of all students.  This includes comprehensive and integrated mental health and medical services, education, and preventative health care offered by licensed clinical professionals such as psychiatrists, psychologists, social workers, physicians, nurse practitioners, physician assistants, nurses, and health educators in Counseling and Psychological Services, the Center for Prevention and Outreach, and Student Health Services.
This fee supports operations, staffing, equipment, classes, sessions, and workshops offered in-person and virtually.  Services include 24/7 telecounseling, telemedicine, telepsychiatry, the Let's Talk counseling program, individual and group counseling services, nutrition counseling with a registered dietitian, and bystander intervention and prevention programs focused on suicide, sexual assault, toxic drinking, and COVID-19.  The Health and Wellness Center offers no cost and confidential sexually transmitted infection testing as well as an onsite laboratory and pharmacy with consultative services.
Budget Review
Early in the Spring semester information will be distributed regarding proposed changes to the Counseling & Health Fee. SHAC membership will review fee proposal during February or March meeting. SHAC will consider proposal and make recommendations to the Director of Student Health accordingly. The Director of Student Health will submit SHAC fee recommendations to the AVP for Student Health , Wellness and Prevention Services  The AVP will submit the recommendations to The VP of Student Affairs who will submit fee recommendations to the Office of the President.
For more Broad Based Fees information click here.