Skip Navigation
Student Health Advisory Committee (SHAC)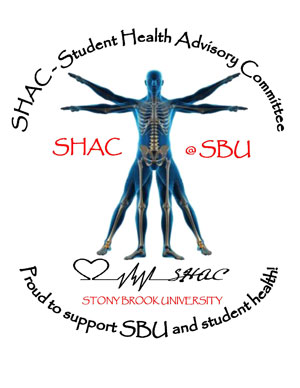 A Student Health Advisory Committee (SHAC) is mandated by the State University of New York (SUNY) Board of Trustees for each SUNY campus. Stony Brook University's SHAC has played an integral part in contributing to and enhancing the services provided by the Student Health Service as well as the Center for Prevention and Outreach and the Counseling and Psychological Services Units. For several years, members of SHAC have been actively involved in reviewing the Health & Counseling Fee budget and have recommended programs, services and initiatives that best meet the needs of the student body.
Purpose
The Student Health Advisory Committee (SHAC) is the primary avenue for student and campus community input into planning, delivery, and evaluation of health, counseling, and prevention services.
Goals
The goals of SHAC are to:
Represent students' health care concerns;
Assist professional staff formulate and develop health and mental health initiatives;
Promote health and wellness education and disease prevention;
Provide consultation to the University Administration about the

Health & Counseling Fee

.
Membership
In an attempt to create and open forum for discussion and to generate input from the campus community, SHAC Membership is comprised of student representatives from recognized student organizations.  Each year, student representatives for SHAC will be solicited from several organizations including:
Undergraduate Student Government
Graduate Student Organization
Residence Hall Association
Commuter Student Association
Health Science Center Student Government
Other student organizations that have an interest and commitment to the provision of mental and physical health services
Individual students interested in becoming members of the SHAC or wishing to express a concern may contact the Advisor for SHAC and attend SHAC meetings as at-large members.
Appointed staff includes staff representatives from the Student Health Service, Counseling and Psychological Services (CAPS) the Center for Prevention and Outreach (CPO) and the Dean of Students Office.  Other faculty and staff wishing to participate in discussions or provide input may contact the SHAC Advisor or the Director of the Student Health Service.
For any questions or are interested in joining, Please contact:
Kerri Mahoney, MPH, CHES Assistant Director, Center for Prevention and Outreach 310 Student Activity Center Office: 631.632.2626
kerri.mahoney@stonybrook.edu 
Responsibilities
The responsibilities of SHAC members are to:
Attend scheduled meetings;
Actively participate in campus health initiatives as designated by the SHAC
Facilitate effective communication between students and the Student Health Service administration and CAPS/CPO;
Assist the Student Health Service and Counseling and Psychological Services in their effort to provide quality mental and physical healthcare;
Support health-related educational programs for the benefit of students by assessing current student health concerns and/or student health-related issues;
Review health promotion programming  and make recommendations based upon best practices;
Advocate for student health concerns;
Facilitate student feedback and serve as liaisons to the student body regarding information related to health information and budgetary decisions;
Assess the allocation of health/mental health resources – make recommendations based upon best practices and contribute to the budget planning and decision-making process of the 

Health & Counseling Fee
Meetings
SHAC schedules monthly meetings when classes are in-session. Meetings during the fall semester will typically focus on nominations, election of SHAC Officers, setting goals and the assessment of general health care and outreach services.  Committee members will also begin to discuss and plan annual sponsored events, such as Health Awareness Week. 
Up to Date Meeting Information
Student Health Advisory Committee on Blackboard
Budget Review
Early in the Spring semester information will be distributed regarding proposed changes to the Health & Counseling Fee. SHAC membership will review fee proposal during February meeting. SHAC will consider proposal and make recommendations to the Director of Student Health accordingly. The Director of Student Health will submit SHAC fee recommendations to the AVP for Student Health , Counseling and Wellness.  The AVP will submit the recommendations to The VP of Student Affairs who will submit fee recommendations to the Office of the President.
Fee for 2016-2017
The Health & Counseling Fee for the current fiscal year is $169.00/semester.
Health & Counseling Fee History
2007-2008: $115.50 semester
2008-2009: $123.00 semester
2009-2010: $129.50 semester
2010-2011: $138.50 semester
2011-2012: $145.50 semester
2012-2013: $145.50 semester
2013-2014: $147.00 semester
2014-2015: $154.00 semester
2015-2016: $161.00 semester
Broad Based Fees Information:  http://www.stonybrook.edu/bursar/tuition/fees/
SHAC – Achievements/Outreach Efforts
SHAC SERVICE AWARDS
2011,2012,2013, 2014, 2016 NYSCHA - New York State College Health Association-  Outstanding Student Group Award 
2011 Student Life Award- Outstanding Campus Collaboration
U.S. President's Gold Community Service Award
2008-2009
SHAC was recognized by Stony Brook University Community Service and
service Learning Committee for their excellence in community service.  SHAC received Volunteer Service Award – Excellence in Community Service for efforts to heighten awareness of risk related to lifestyle choices through a week of wellness information outreach.
2009-2010           
SHAC received Newsday's FutureCorps Award for their campus outreach efforts during Public Health Week.  Workshops offered included: Nutrition and Fitness Series; Knock Out Disease-Disease Prevention; Keep Your COOL-Mental Health Awareness; Stay ProACTIVE-Preventive Health Opportunities.
2010           
Tobacco Control Champion– Award received in recognition of SHAC campus efforts promoting information related to cancer risk associated with the use of tobacco and circulation of information related to tobacco-cessation products on campus.
2010           
New York State College Health Association (NYSCHA) Outstanding Student Group Award – Presented to ILI Student Task Force for significant contributions to New York State college health (SHAC membership comprised over 50% of ILI Task Force membership).
SHAC Surveys:            
2005-2006: SHAC Leadership Survey

Determined health topics of most interest to student leadership. Assisted SHS in determination of brochures and outreach materials for purchase, for use, for distribution to students.

2005-2006: SHAC SAFER SEX/Condom Survey

Determined safer sex products and top condom choices of students. Assisted SHS in determination of products for purchase and sale through campus pharmacy.

2006-2007: SHAC SHS Services Survey

Assessment of student knowledge of services offered through SHS and Counseling Center. 

2006-2007: SHAC Student Brochure/Student Preference Survey

Assisted determination of information topics and brochures created, purchased, distributed through campus racks.

2008-2009: SHAC

Health & Counseling Fee

 Survey

Assisted determination of fee increase to provide additional services through SHS and Counseling Center.