Skip Navigation
Graduate Composition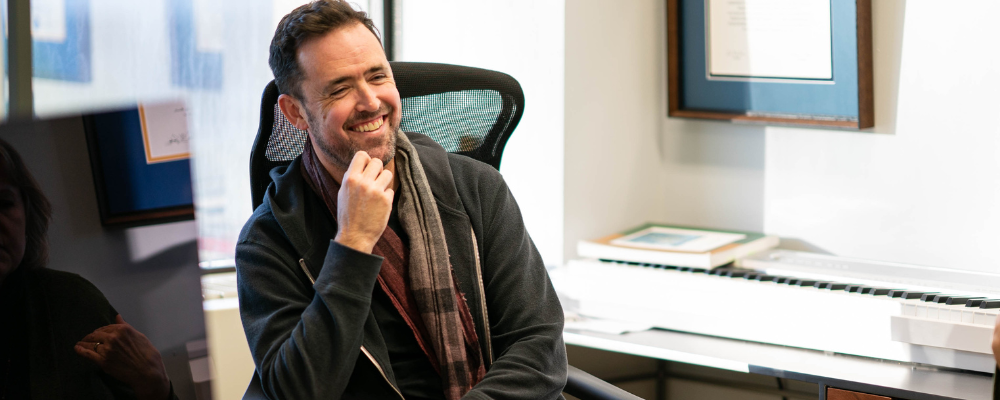 Performed in over 450 venues worldwide, our composition faculty write in a wide range of styles and idioms, and we encourage our students to develop and refine their own voices.  The Department prides itself on the close relationship between student composers and our large and excellent graduate performance program.  The tradition of new music championship runs deep in the Department, which encourages performers, composers, and scholars to interact in integral ways.
---
Composition Faculty
Matthew Barnson, Composition, Theory & Musicianship
Nirmali Fenn, Composition, Theory & Musicianship
Perry Goldstein, Composition, Theory & Musicianship  
Margaret Schedel,   Composition, Computer Music & Theory
Daria Semegen, Composition, Theory & Electronic Music
Daniel Weymouth, Composition, Computer Music & Theory
---
Graduate Studies in Composition
The Master Of Arts in Music (Composition)
The capstone of the MA in Composition is a composition portfolio.  Preparation for this includes a grounding in Western classical theory (musicianship, counterpoint, and analysis), music technology, orchestration, specialized composition topics courses, and participation in weekly Composers Forum meetings.  A principal aspect of training is weekly composition lessons.  We operate on an "open studio" model: students have the option of studying with several teachers over the course of their study. 
In the second year, in addition to submission of the composition portfolio, students take a qualifying exam in analysis of tonal and post-tonal music. 
The PhD in  Music (Composition)
In the first year of study, PhD students are assigned a faculty committee, to determine with them an appropriate course of study that takes into account prior coursework and student interest.  Students create works for a PhD portfolio. 
Prior to advancing to candidacy (normally after two or three years in the program), composition students submit their PhD portfolio, take a field exam covering "new music" from the last 100 years, present a PhD colloquium and submit a PhD essay, both on topics in 20th and 21st Century music of their choice. 
The thesis for the PhD in Composition is a substantial creative work.
---
Application Process
Read through the Admissions Information

 

page.
The application deadline for Fall 2024 admissions for the MA or PhD in Composition is December 10, 2023.
Complete the application found here:  https://graduateadmissions.stonybrook.edu/apply/

Please note that the Composition program may email you to request an interview (to be held on Zoom on January 17), in order to learn more about your interests and potential in the program. 
Required Materials for Application
 

Applications

 

– submitted through the Graduate School application system (Slate) (link on this page, above).
Application Fee

 

– paid via the application.
Personal Statement - uploaded to the application. Please indicate what you hope to accomplish from your graduate studies in Stony Brook's Music Department, what your career goals are, and what music or musicians have influenced your path as a musician. Please note: 

All written work submitted to support your application must be your own. In particular, the use of generative AI to generate entire sentences and paragraphs is not permitted and may be disqualifying.

Resume/CV

- uploaded to the application.

Three (3) Letters of Recommendation

 

– recommenders submit through the application system.
Transcripts

 

–official transcripts from institutions where a degree was received. For coursework relevant to the proposed course of study taken outside of a degree, unofficial transcripts will suffice.  Details on the submission process can be found here (see Transcripts: Requirements and Submission).
Sample Compositions with Recordings

 

– please provide 2-4 scores and recordings as appropriate, uploaded to the application.
One academic paper:  Please upload one original paper that demonstrates your ability to write effectively about music and sound. The paper, typically generated in prior coursework, should be at least 2500 words, not including the bibliography, and demonstrate familiarity with conventional citation practices.  Please note: All written work submitted to support your application must be your own. In particular, the use of generative AI to generate entire sentences and paragraphs is not permitted and may be disqualifying.
GRE Scores - GRE scores are NOT required.
TOEFL Scores (if applicable):

Applicants whose native language is not English who have received/will receive a degree from an English-speaking institution will not have to supply a TOEFL score (or approved equivalent) for the purposes of admission. 

Applicants who only have received/will receive an Artist's Diploma or Advanced Graduate Certificate in an English-speaking institution will be required to  provide a TOEFL score (or approved equivalent) for the purposes of admission.

Applicants whose native language is not English and have not received/will not have received a degree from an English-speaking institution will be required to provide a passing TOEFL (or approved equivalent- see below for acceptable tests) score in order to be admitted.  For any test, the most recent scores are counted, and the test must not be more than two years old at the time of application (this means that tests taken prior to January 2022 cannot be considered for Fall 2024 admissions).

Tests Accepted: Stony Brook University accepts either TOEFL or IELTS scores.  For Fall 2022, Stony Brook University is also accepting Duolingo, TOEFL IBT Special Home Edition and IELTS Indicator.  Currently, Stony Brook University does NOT accept TOEFL My Best Score. 

Reporting of Scores:

For TOEFL or TOEFL IBT Special Home Edition, have ETS send scores to Stony Brook University using code 2548.  Only electronic transmission of scores from ETS to Stony Brook University is considered official for TOEFL scores – copies of your results are not acceptable.
For IELTS, have the organization mail an official score report to the Music department. 
For IELTS Indicator, email the score results you receive to the Graduate School at gradadmissions@stonybrook.edu.
For Duolingo scores, email the score results you receive to the Graduate School at gradadmissions@stonybrook.edu.

Minimum Scores

Minimum score requirements are as follows:

TOEFL or TOEFL IBT Special Home Edition: 80 for MA applicants
IELTS or IELTS Indicator: An overall score of 6.5 with no subsection below 6
Duolingo: 105 for MA applicants

Spoken English

All students with a TA/GA stipend whose native language is not English and who have not received/will not have received a degree from an English-speaking institution must demonstrate a sufficient level of English-speaking proficiency and may be required to take English courses based on these measures. Proficiency is determined by the speak subsection score. For TOEFL/TOEFL IBT Special Home Edition and IELTS/IELTS Indicator speak subsection scores, please see the chart below:

| | | | |
| --- | --- | --- | --- |
| TOEFL iBT Speak | IELTS Speak | Course Requirement | Result   |
| 25-30 | 7 or higher | none | Eligible to TA |
| 22-24 | 6.5 | OAE 594 | Eligible to TA |
| 19-21 | 6 | OAE 592 | Eligible to run recitation and lab sessions and/or grade |
| 15-18 | 5-5.5 | OAE 590 | Not eligible to TA |

Duolingo scores will be assessed by Stony Brook University's Linguistics department for placement into OAE courses for doctoral students and masters students who were given a TA or GA.

More information

Please see the Graduate Bulletin for further information:

https://www.stonybrook.edu/sb/graduatebulletin/current/admissions/requirements/english.php

 
 

Applications

 

– submitted through the Graduate School application system (Slate) (link on this page, above).
Application Fee

 

– paid via the application.
Personal Statement - Please indicate what you hope to accomplish from your graduate studies in Stony Brook's Music Department, what your career goals are, and what music or musicians have influenced your path as a musician. Please note: All written work submitted to support your application must be your own. In particular, the use of generative AI to generate entire sentences and paragraphs is not permitted and may be disqualifying.
Resume/CV

- uploaded to the application.

Three (3) Letters of Recommendation

 

– recommenders submit through the application system.
Transcripts

 

– official transcripts from institutions where a degree was received.  For coursework relevant to the proposed course of study taken outside a degree, unofficial transcripts will suffice. Details on the submission process can be found here (see Transcripts: Requirements and Submission).
Sample Compositions with Recordings

 

– please provide 2-4 scores and recordings as appropriate, uploaded to the application.
One academic paper:  Please upload one original paper that demonstrates your ability to write effectively about music and sound. The paper, typically generated in prior coursework, should be at least 2500 words, not including the bibliography, and demonstrate familiarity with conventional citation practices. Please note: All written work submitted to support your application must be your own. In particular, the use of generative AI to generate entire sentences and paragraphs is not permitted and may be disqualifying.
GRE Scores - GRE scores are NOT required.
TOEFL Scores (if applicable):

Applicants whose native language is not English who have received/will receive a degree from an English-speaking institution will not have to supply a TOEFL score (or approved equivalent) for the purposes of admission. 

Applicants who only have received/will receive an Artist's Diploma or Advanced Graduate Certificate in an English-speaking institution will be required to  provide a TOEFL score (or approved equivalent) for the purposes of admission.

Applicants whose native language is not English and have not received/will not have received a degree from an English-speaking institution will be required to provide a passing TOEFL (or approved equivalent- see below for acceptable tests) score in order to be admitted.  For any test, the most recent scores are counted, and the test must not be more than two years old at the time of application (this means that tests taken prior to January 2022 cannot be considered for Fall 2024 admissions).

Tests Accepted: Stony Brook University accepts either TOEFL or IELTS scores.  For Fall 2022 , Stony Brook University is also accepting Duolingo, TOEFL IBT Special Home Edition and IELTS Indicator.  Currently, Stony Brook University does NOT accept TOEFL My Best Score. 

Reporting of Scores:

For TOEFL or TOEFL IBT Special Home Edition, have ETS send scores to Stony Brook University using code 2548.  Only electronic transmission of scores from ETS to Stony Brook University is considered official for TOEFL scores – copies of your results are not acceptable.
For IELTS, have the organization mail an official score report to the Music department. 
For IELTS Indicator, email the score results you receive to the Graduate School at gradadmissions@stonybrook.edu.
For Duolingo scores, email the score results you receive to the Graduate School at gradadmissions@stonybrook.edu.

Minimum Scores

Minimum score requirements are as follows:

TOEFL or TOEFL IBT Special Home Edition: 90 for PhD applicants
IELTS or IELTS Indicator: An overall score of 6.5 with no subsection below 6
Duolingo: 110 for PhD applicants

Spoken English

All students with a TA/GA stipend whose native language is not English and who have not received/will not have received a degree from an English-speaking institution must demonstrate a sufficient level of English-speaking proficiency and may be required to take English courses based on these measures. Proficiency is determined by the speak subsection score. For TOEFL/TOEFL IBT Special Home Edition and IELTS/IELTS Indicator speak subsection scores, please see the chart below:

| | | | |
| --- | --- | --- | --- |
| TOEFL iBT Speak | IELTS Speak | Course Requirement | Result |
| 25-30 | 7 or higher | none | Eligible to TA |
| 22-24 | 6.5 | OAE 594 | Eligible to TA |
| 19-21 | 6 | OAE 592 | Eligible to run recitation and lab sessions and/or grade |
| 15-18 | 5-5.5 | OAE 590 | Not eligible to TA |


Duolingo scores will be assessed by Stony Brook University's Linguistics department for placement into OAE courses for doctoral students and masters students who were given a TA or GA.

More information

Please see the Graduate Bulletin for further information:

https://www.stonybrook.edu/sb/graduatebulletin/current/admissions/requirements/english.php

 
See pages

critical music studies
See pages

critical music studies
Department of Music
3304 Staller Center
Stony Brook, NY 11794-5475
Phone: (631) 632-7330
Fax: (631) 632-7404