Skip Navigation
ALUMNI NEWS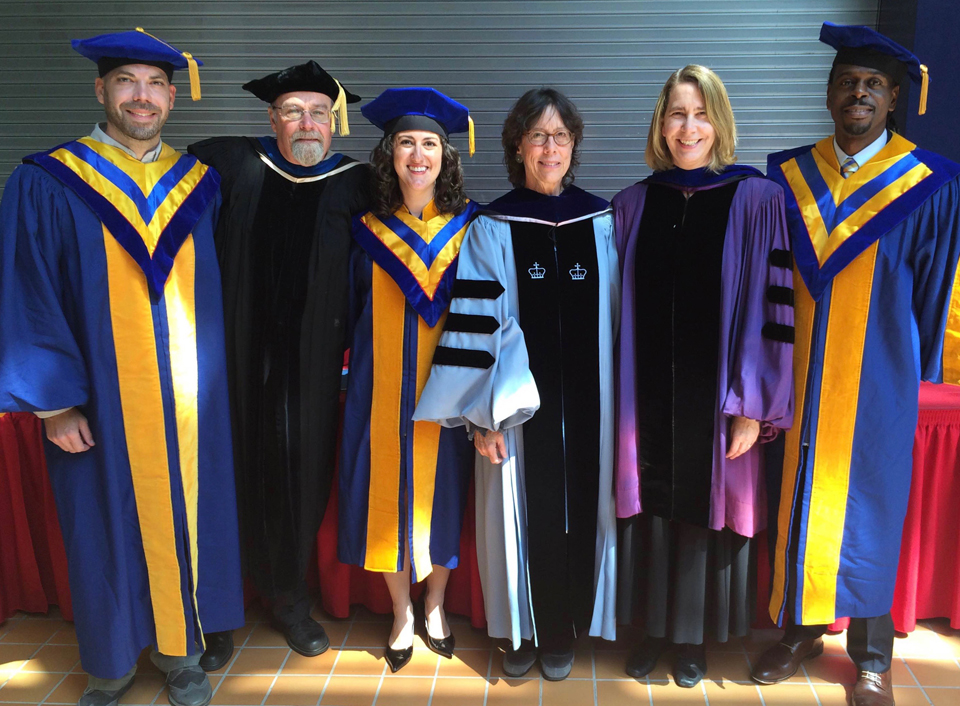 16 November 2021 - Annalyda Álvarez Calderón (PhD, 2009), recently published En búsqueda de la ciudadanía indígena: Puno 1900-1930   (2021).
---
10 November 2021- Congratulations to Paul Conrad (BA in History, '04) on the publication of his first monograph,  The Apache Diaspora: Four Centuries of Displacement and Survival  (UPenn Press).  Dr. Conrad is currently Associate Professor at the University of Texas, Arlington.
---
8 March 2021 - Aishah Scott (PhD 2019) has a secured a  joint appointment as Assistant Professor in the Health Policy and Management Department and Black Studies at Providence College. 
---
15 January 2021 — Michael Conrad (PhD 2019) is working as  Program Manager and Executive Officer for Clarkson University's Beacon Institue for Rivers and Estuaries.  He recently recorded a podcast about brickmaking in the Hudson Valley for the National Park Service.
---
8 January 2021— María Clara Torres (PhD 2020)  has won the prestigious AHA-Conference on Latin American History's Lewis Hanke Prize for best dissertation, with support to transform it into a book.  The title of María Clara's dissertation is "The Roots of an Illicit Peasant Crop: Coca in Colombia, 1950–2010."    ¡Felicidades María Clara!
---
  29 October 2020—  Clarence (Jeff) Hall  (PhD 2014), Assistant Professor of History at Queensborough Community College (CUNY), has publicated his first book,   A Prison in the Woods: Environment and Incarceration in New York's North Country  (Univ. Mass. Press, 2020). This publication is based on his doctoral dissertation.
---
13 October 2020 —  Chanhaeng Lee (PhD, '12) Secured a tenure track job in the History Department at Chungbuk National University (South Korea) and has published two recent journal articles, "   Chocolate Suburb, Vanilla Power: Race, Space and Civil Unrest in Ferguson" and "   Migration to the 'First LargeSuburban Ghetto' in America: Korean Immigrant Merchants in South Central Los Angeles in the early 1980s."
---
13 October 2020 —  Sergio Pinto-Handler (PhD, '18) Has accepted a one-year visiting assitant position at St. Olaf College in Minnesota. His dissertation, entitled "The Last Emancipation: Rio de Janeiro and the History of Atlantic Slavery & Abolition, 1879-1900," examines    the transnational history of abolition in Brazil.
---
27 August 2019 — Ron Van Cleef (PhD, '14) accepted a tenure-track faculty position at Queensborough Community College (CUNY).
---
22 October 2019 —  Neil Buffett (SCCC)  has  published an article in the Journal of Urban History entitled,  "Crossing the Line: High School Student Activism, the New York High School Student Union, and the 1968 Ocean Hill-Brownsville Teachers' Strike."
---
  25 July 2019 —  Andrés Estefane  (PhD, '17) has been promoted to director of CEHIP (a center for political history) at Universidad Adolfo Ibáñez in Chile, and elected president of the Chilean Association of Historians.
---
  2 July 2019 —  Kelly Jones  (PhD, '17) has accepted a Visiting Assistant Professor position at Texas A&M University, Corpus Christi.
---
  30 June 2019 — Ashley Black (PhD, '17) has secured a tenure-track post in Latin American History at California State University-Stanislaus. 
---
  19 December 2018  —  Justin Williams  ('11) has received tenure at CUNY's Center for Worker Education, Department of Interdisciplinary Arts and Sciences.
---
  19 December 2018  —  James Nichols  ('12) has received tenure at Queensboro Community College (CUNY).
---
  28 August 2018 —  Mark Rice  ('14) has published his new book,    Making Machu Picchu: The Politics of Tourism in 20th-century Peru    (University of North Carolina Press, 2018). Mark is Assistant Professor of Latin American History at Baruch College.
---
  30 July 2018 —  Sung Yup Kim  ('16) is newly appointed Assistant Professor of History at Seoul National University.
---
  16 July 2018 —  Raquel Otheguy  ('16)  has accepted a position as Assistant Professor of History at Bronx Community College.
---
  1 July 2018 — James D. Nichols   ('12) has published a new book,   The Limits of Liberty: Mobility and the Making of the Eastern U.S.-Mexican-U.S. Border   , has just been published by Nebraska University Press. A preview is available   here . James is Assistant Professor of History at Queensborough Community College (CUNY).
---
5 December 2017 —  Stephanie J. Smith  (Ohio State) has a new book with UNC Press:   The Power and Politics of Art in Postrevolutionary Mexico.
---
6 November 2017 — Raquel Otheguy ('16) just won the NECLAS (New England Council of Latin American Studies) annual "Best Dissertation Prize" for her thesis on race and education in Cuba.
---
30 October 2017 — Mark Rice (Baruch College) just published "Good Neighbors and Lost Cities: Tourism, the Good Neighbor Policy, and the Transformation of Machu Picchu," in Radical History Review. His book is forthcoming from UNC Press.
---
27 February 2017 — Gregory Rosenthal (Roanake College) has been selected for inclusion the  40th Anniversary Virtual Issue  of the journal for an article of his that exemplifies "path-breaking scholarship that has shaped our field."
---
19 February 2017 — Ying-Ying Chu ('16) has found full-time employment as an assistant professor of history at National Taipei University.
---
2 February 2017 —  Kevin Young (UMass Amherst) just published  Blood of the Earth: Resource Nationalism, Revolution, and Empire in Bolivia  (University of Texas Press).
---
9 January 2017 — Nichole Prescott ('15) has  landed a great job : Assistant Vice Chancellor for Academic Affairs at the University of Texas at Austin. In her new position, Prescott will focus on helping minority and underrepresented students succeed in college.
---
15 October 2016 —  Paul E. Pedisich ('98) just published  Congress Buys a Navy: Politics, Economics, and the Rise of American Naval Power, 1881–1921  (Naval institute Press).
---
16 March 2016 — Dexter Gabriel has accepted a tenure-track position at the University of Connecticut.
---
3 February 2016 — Gregory Rosenthal (Roanoke College) has been awarded the 2016 Rachel Carson Prize for best dissertation in environmental history from the American Society for Environmental History.
---
1 August 2015 — Kevin Young ('13) has begun a tenure-track position as assistant professor at the University of Massachusetts, Amherst.
---
28 September 2015 —  Michael Murphy has secured a full-time position in the Office of the Historian of the U.S. House of Representatives. The position primarily involves the production of oral histories.
---
12 June 2015 — Clarence Jefferson Hall (Queensborough Community College) has been interviewed by the  New York Times, National Public Radio, CNN, and other news outlets in regard to the recent prison outbreak in upstate New York. 
---
31 May 2015  —  Gregory Rosenthal ('15) has accepted a tenure-track faculty position at Roanoke College in Salem, Virginia.
---
19 May 2014  — Eric Cimino has accepted a tenure-track faculty position at Molloy College, Rockville Centre, New York.