Skip Navigation
Elena Davidiak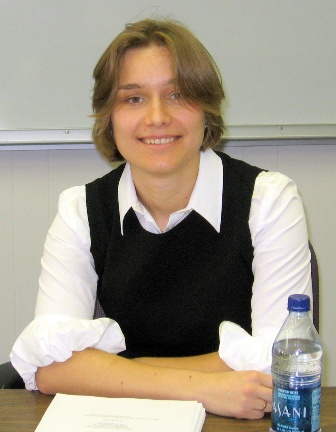 Email:  elena.davidiak @stonybrook.edu
Office: Humanities 1066
View CV
Elena Davidiak received her Bachelor's degree in foreign languages from Moscow State Linguistic University. Her graduate studies at the University of Iowa focused on language structure and acquisition, with emphasis in Spanish. She joined the Stony Brook faculty in 2007, after completing her graduate coursework, and consecutively defended her dissertation in child multilingualism and was awarded the PhD title in 2010. She has taught undergraduate and graduate courses, and also directed individual study in language acquisition and translation and acted as a reader for Masters' dissertations.
Her primary research area is the sociopragmatic aspect of bilingualism and multilingualism, with focus on bilingual language acquisition in children and code switching. She is also interested in the theory and practice of translation and interpreting and in teaching language for special purposes, especially for medical personnel.
She is fluent in English, Spanish and Russian, and her research analyzes the contact situations and relationship between these languages.
Courses taught at Stony Brook:
SPN 111- Elementary Spanish I
SPN 112- Elementary Spanish II
SPN 211- Intermediate Spanish I
SPN 212- Intermediate Spanish II
SPN 321 – Advanced Composition
SPN 322 – Practical Spanish (translation and interpreting)
SPN 503 – Graduate Seminar in Spanish Linguistics:
Summer 2010, 2011 – Fundamentals of Language Acquisition
Summer 2012 – Bilingualism
Spring 2013 – Structure and Functions of Code Switching
Talk presented in Oct. 2017 by Elena Davidiak on "The Bilingual Identity and its Expression in Oral and Written Form"  
---
Prof. Davidiak teaching one of her MA seminars (spring 2017). Cover page of her dissertation work