Skip Navigation
About Us
The college environment often offers a unique space in which students can further develop their understanding of their own identities as well as the identities of others.
LGBTQ* Services strives to provide opportunities to raise awareness and educate about gender, sexuality and LGBTQ* communities. We strive to create a welcoming, supportive and inclusive campus where students are able and encouraged to bring their entire selves to the table.

Institutional Member
News and Announcements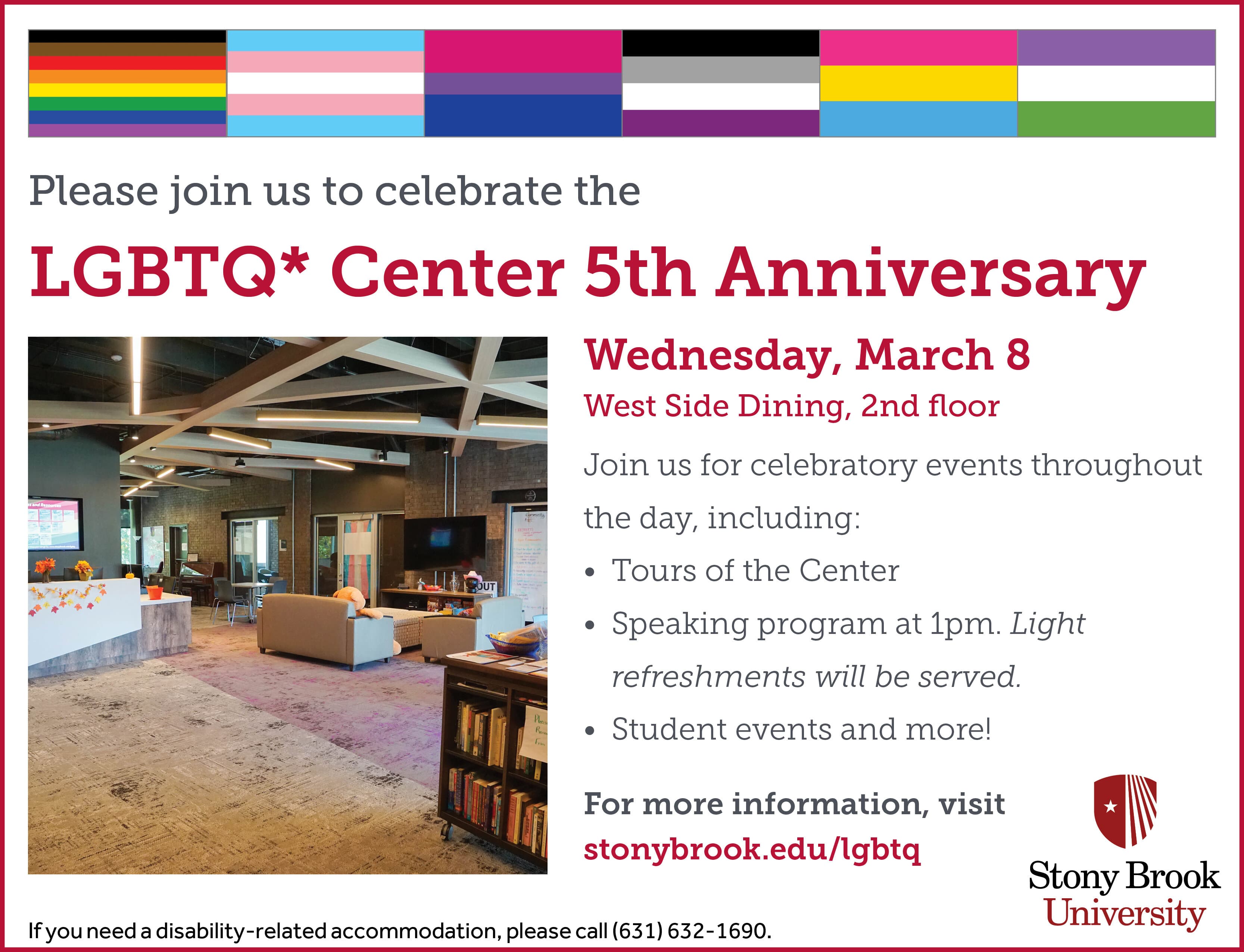 Celebrate LGBTQ* Center's 5th Year Opening!
Join us to celebrate the 5th anniversary of the LGBTQ* Center on Wednesday, March 8th! We will have celebratory events, including tours and remarks from speakers, from 1:00 PM - 2:30 PM, followed by several student events throughout the rest of the day and into the evening, such as Origami heart activity, raffles, and an open-mic. Light refreshments will be provided.
Affinity groups are for folks who share identities to share space and experiences with one another and discuss LGBTQ* topics. Click the link above to find weekly meeting times.
If you identify as LGBTQ* and would like to create a space for shared identities to meet, please click on the link here.
Get Connected to our Weekly Newsletter
Want to know the latest on upcoming events and programs from LGBTQ* Services? Click the link above to sign up for our weekly newsletter.
Chosen or Preferred Names On Stony Brook University ID Cards
In line with the Chosen or Preferred Name Policy, Stony Brook University students, faculty, and staff can now have their chosen or preferred name printed on their Stony Brook ID. Students looking to have a new ID card printed should contact Maxine Moylan to have the card replacement fee waived.