Skip Navigation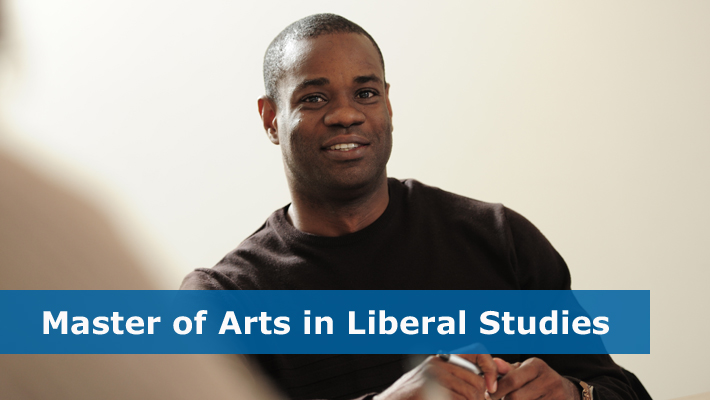 Master of Arts in Liberal Studies Program
The Master of Arts in Liberal Studies is an interdisciplinary degree program that examines issues and themes in the arts and humanities, social and behavioral sciences, and natural and applied sciences. Offering a wide selection of courses, the program affords students the opportunity to create a customized program to meet their educational needs. The program is designed primarily for working adults who seek educational enrichment and professional development on a part-time basis.
Flexible Scheduling: On-campus and Online
To meet the demands of working professionals, courses are scheduled on-campus during the evening or online. Students may choose to combine face-to-face and online courses in our traditional program, or they may apply to the online program and take all of their courses via the Internet. Prospective online students should review the online course schedules from prior semesters to see the scope of the courses we offer prior to applying.
» Learn more about online learning at the School of Professional Development.
---
Important note for teachers: The Liberal Studies degree is valid toward meeting requirements for a professional license (certification), provided the degree course work contains 12 credits relevant to your area of initial certification. It does not, however, lead directly to an initial certification. Please read the Teacher Certification page before applying.
---
Stony Brook University Excellence
Stony Brook University is one of the State University of New York's (SUNY) University Centers. It is ranked one of the top 100 universities in the nation and one of the top 60 public universities by U.S.News & World Report. The University is fully accredited by the Middle States Association and its online Master of Arts in Liberal Studies program is approved by the New York State Education Department for both in-person and online delivery.