Skip Navigation
Conferences and Symposia
International Symposium on the Art, History, and Culture of the Vijayanagara Empire
November 6, 2005

On November 6, 2005, the Center hosted a special international symposium at the Charles B. Wang Center on the arts, history and culture of the great Vijayanagara empire which was the most powerful empire in South India from the 13th to the 16thcenturies. The empire was compared to the Roman and the Elizabethan empires by contemporary visitors from Italy, Portugal, Arabia and elsewhere. Students from our Study Abroad program visit the relics of this empire every year. 
The symposium consisted of presentations by Dr. M.S. Nagaraja Rao, former Director General, Archeological Survey of India; Professor Chudamani Nandagopal, an authority on temple arts and Director of the Regional Center of the Indira Gandhi Center for the Arts, Bangalore; Professor Nalini Rao of Soka University, Los Angeles; Professor S.N. Sridhar, Professor of Linguistics and India Studies, Stony Brook, among others. A Bharatanatyam dance was performed by Ms. Malini Srinivasan and period songs by Purandara Dasa were rendered by Dr Mageri Sateesh. 
International Conference on South Asian Languages Analysis (SALA)
November 19-21, 2004
The Center hosted the 24th Annual conference of South Asian Languages Analysis group (SALA) on November 19-21, 2004 at the Charles B. Wang Center. SALA is the most important meeting of linguists and language professionals working on South Asian languages. Professor Ron Asher, Professor of Linguistics at the University of Edinburgh, U.K., Editor in Chief of International Encyclopedia of Linguistics, and a member of British Academy was the Keynote Speaker. Fifty scholars from universities in Europe, India, Malaysia, Nepal, Pakistan, and various parts of the United States presented papers on various aspects of major and minor South Asian languages.

The papers addressed language structure, acquisition, use, and policy. Special themes included comparative studies of the Indian Diaspora in England, U.S.A. and South East Asia. The gala conference banquet was attended by nearly 100 people. The evening entertainment featured classical and popular Indian music by Sangita Siromani Auna Sharma and Mr. Robert Thomas, and dances by Stony Brook students. The conference was supported by generous grants from the Office of President, the Dean of the College of Arts and Sciences, the Office of Institutional Diversity and Equity, the Charles B Wang Center and the Department of Asian and Asian American Studies.

First Stony Brook Symposium on India Studies
May 10, 2003
The Center hosted the First Stony Brook Symposium on India Studies on May 10, 2003 at the Charles B Wang Center. The Speakers at the all day symposium featured faculty and visiting scholars of the center.  

The presentation covered a wide span of subjects, ranging from the study and teaching of Indian religions in the United States (Rajiv Malhotra), Indian (Bhakti) literature (Milind Wakankar), translation of Indian literary classics into English (Narayan Hegde), preservation of Indian languages and cultures in the United States (Kamal Sridhar), Indian popular culture in the Diaspora (Sunita Mukhi), scholarly issues in the identification of famous Indian art objects (Doris Srinivasan), Hindu worship rituals (Lakshmi Swaminathan), Indian American poetry (Pramila Venkateswaran), Indian roots of modern science (S.N. Sridhar), as well as issues of sustainable development in contemporary India (Mandip Singh).

The format of the symposium encouraged a detailed conversation between the speakers and the audience at the end of each paper and this feature made it a uniquely interesting event. It was attend by about 250 persons.
Doing Business with India: Trade and Investment opportunities for U.S. Companies
April 16,1999
A panel co-sponsored with the Long Island Import and Export Association and held at the Huntington Hilton.
SYMPOSIA CO-SPONSORED BY THE CENTER
Symposium: Asian Languages and the Professions
April 8, 2008, Charles B. Wang Center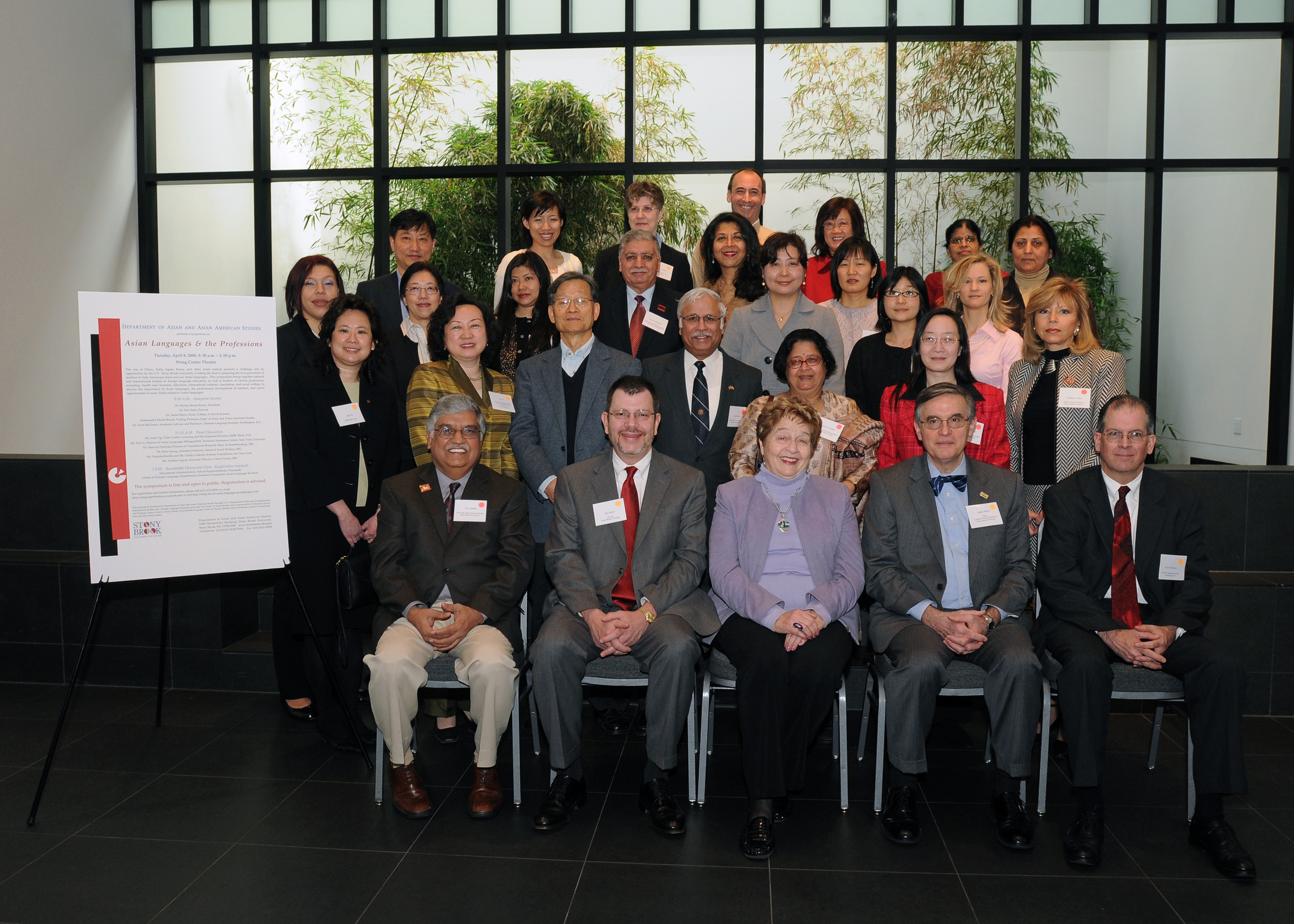 This symposium, was hosted by the Department of Asian and Asian American Studies through a U.S. Department of Education (Undergraduate International Studies and Foreign Language Program) grant and co-sponsored by The Center for India Studies, Professional Education Program, Japan Center at Stony Brook, China Studies Program, Center for Korean Studies, School of Business
School of Social Welfare , The Career Center to highlight the importance of learning Asian languages, their use in various professions, professional development of teachers, and career opportunities in fields related to Asian languages. Welcoming the participants, President Shirley Strum Kenny, Provost Eric Kaler, and Dean James V. Staros (College of Arts and Sciences), emphasized the importance of learning Asian languages as foreign and heritage languages and the timeliness of the symposium when globalization has sparked a tremendous growth in the interest in the learning of Asian languages in secondary school and college levels. They also remarked on the appropriateness of organizing it at Stony Brook University, as the most diverse research university east of Mississippi, or possibly east of California. In an interactive session, a national authority of foreign language education, Professor Scott McGinnis, Academic Advisor at Defense Language Institute, Washington, D.C., discussed national initiatives on Asian language education. Other speakers and panelists included Ambassador Harsh Bhasin and experts in various professions, including health care, business, education, international relations, translation, and social welfare. A free-wheeling Roundtable on the state and needs of Asian languages teaching on Long Island revealed an enormous interest in this area. The symposium was attended in very large numbers by school administrators and Asian language teachers on Long Island and in New York City as well as by Stony Brook's faculty and students.
India-Israel-US: Exploring Connections. 

March 6, 2007
This symposium, held in the Charles B. Wang Center, explored the economic, technological and cultural relationships between the three nations. The speakers were former Indian Ambassador to Denmark Hon. Harsh Bhasin, Hon. Ron Dermer, Minister for Economic Affairs, Embassy of Israel, Washington, D.C., Dr. Yacov Shamash, Dean of the College of Engineering and Applied Sciences; Mr. Nissim Reuben, India Officer, American Jewish Committee, and Professor Meena Sridhar, Director, Center for India Studies. 
This symposium was co-sponsored by the Center for India Studies, American Jewish committee -- Long Island Chapter, Hillel Foundation for Jewish Life, Charles B Wang Center, Department of Asian and Asian-American Studies, College of Engineering and Applied Sciences, Program of Judaic Studies, Office of the Dean, College of Arts and Sciences, Focus Israel, Hillel Student Club, and LISTNET-Long Island Software and Technology Network. May 6, 2004
Global Renaissance Symposium
April15-16, 2005
The Center was a co-sponsor, with the Humanities Institute, of the Symposium on Global Renaissance held at Stony Brook, Manhattan. The symposium included lectures by Professor Ania Lumba (University of Pennsylvania, author of "Gender, Race and Renaissance Drama" 1989 ) and Shankar Raman (M.I.T., author of "   Framing India: The Colonial Imaginary in Early Modern Culture) on Indian literature, among other topics.
Asia and America: Emerging Opportunities 
May 6, 2004
A symposium was held at the Charles B Wang Center to discuss the growing trade and economic relations between U.S.A. and Asia. Consulate Generals from China, India, Japan and Korea made detailed presentations at this symposium, which was inaugurated by President Shiley Strum Kenny. This event was co-sponsored by Center for India Studies, Charles B Wang Center, Departments of Asian and Asian American Studies, China Studies, the Japan Center and the Program in Korean Studies. 
Symposium on India Studies at the Indian Consulate New York
March 27, 2004

The Center was invited to assist in organizing and to make an hour-long presentation at a one day symposium, "India Studies in United States: Synergy of the Academy and the Community" hosted by the Indian Consulate. The symposium was attended by academics, librarians, museum curators, major cultural institutions, and community activists from Northeastern states.